Looking for a simple, yet elegant and delicious side dish? Try this recipe for bacon wrapped asparagus with balsamic glaze. The best part is you'll only need about 30 minutes and 5 ingredients to make it!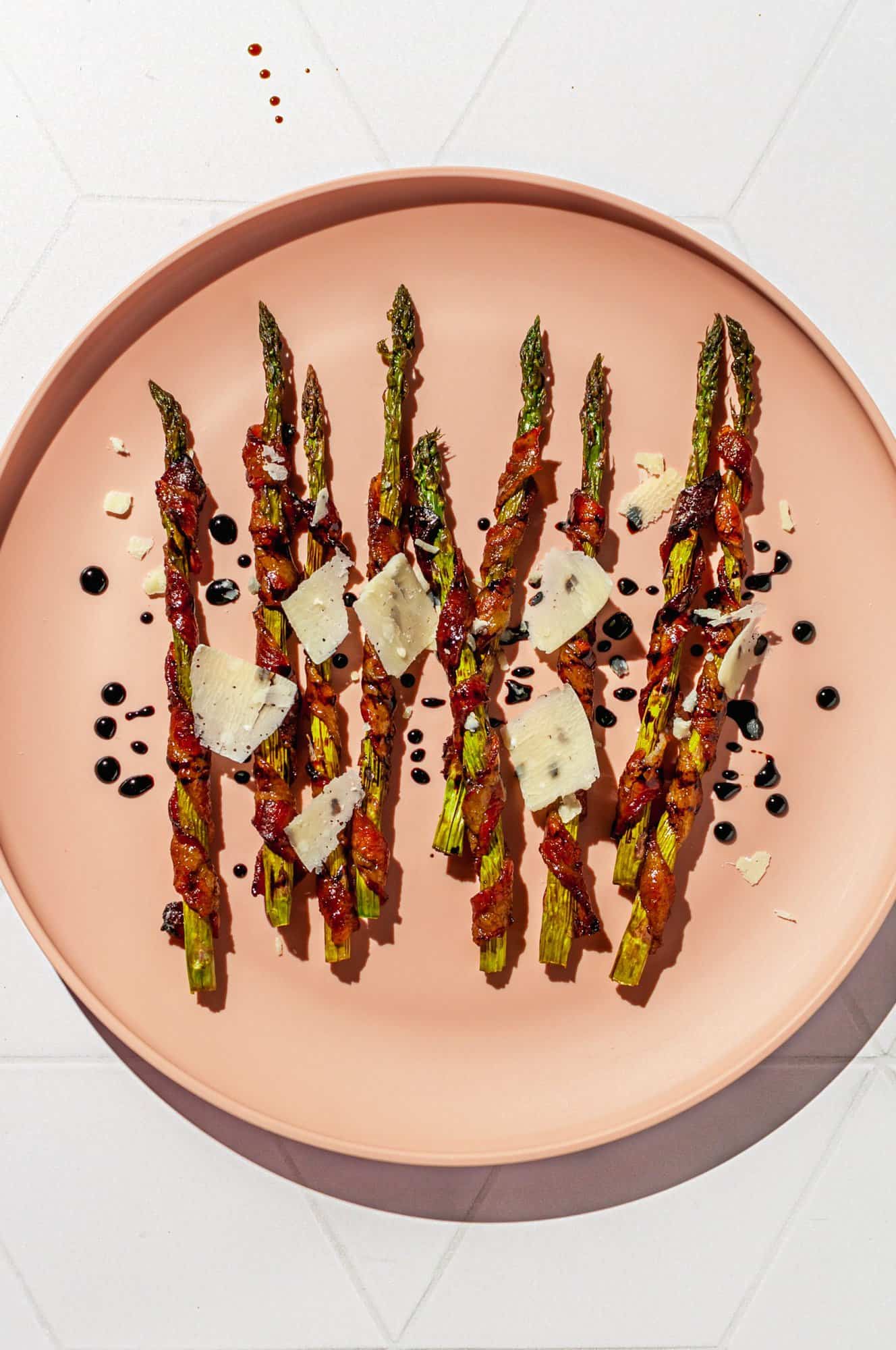 In fact, this recipe is so simple that it's almost not even a recipe at all. It's more of a guideline. I've included lots of tips and ideas on how to transform this simple vegetable into a restaurant-quality side dish, so it's worth the read!
My goal with this asparagus recipe was to create a healthy-ish ratio of bacon to asparagus. Even though I love bacon, this is supposed to be a vegetable side dish. I find lots of recipes use so much bacon that it overwhelms the asparagus. Instead, I use thin-cut, skinny strips of bacon and create a spiral with even spacing. This way you get the perfect amount of bacon and asparagus in every bite!
Side note - if you're looking for more quick & easy dinner recipes, try these potato tacos too!
Jump to:
Ingredients
Bacon - I use regular/ thinly sliced bacon (instead of thick cut). Since it's a vegetable side dish, I want it to taste like veggies (only better because there's bacon). Using thinner bacon gives the optimal asparagus to bacon ratio, IMO. Plus, it gets extra crispy in the oven.
Asparagus - personally, I don't love thick asparagus, so I use standard size asparagus. Not too thick, not too thin. If you like really thin asparagus, I'd do a small bundle of 2-3 spears. Or if you have really thick asparagus, you could use a thicker cut of bacon to balance it out. This is just my ideal ratio though!
Balsamic vinegar - All real balsamic vinegar is imported from Italy-- you'll know because it says "of Modena," "IGP," or "DOP." It shouldn't have any added ingredients besides grape must, so make sure to check the label! Since this recipe has few ingredients, using a high quality balsamic vinegar will make a big difference.
Brown sugar - I add a little sugar to the balsamic that's brushed on the asparagus prior to cooking. This gives it a lightly candied quality that is just so delicious! You can sub. granulated sugar or leave it out if you prefer.
Parmesan cheese - optional but highly recommend ◡̈ because a) balsamic and Parmesan go hand in hand, and b) I'm obsessed with Parmesan cheese. This is another ingredient worth splurging for the real stuff. I'd rather use a small amount of authentic DOP Parmigiano Reggiano than a large amount of fake processed Parm any day. And it lasts for a really long time (like, many months) in the fridge!
Vegetable oil - or any neutral oil with a high smoke point, i.e. avocado oil
Salt and pepper - only a pinch of salt, since bacon is salty too!
How to Make Bacon Wrapped Asparagus with Balsamic Glaze
First, I'll go over a few tips on how to prep the ingredients:
Asparagus: cut off at least 1 inch at the ends, up to 2-3 inches if the asparagus is older or extra thick. While it won't kill you to skip this step, the ends of asparagus are very woody/ stringy and just not very pleasant to eat.
Bacon: Depending on the width of the bacon strips, you'll want to cut them either in half or possibly thirds, lengthwise. The idea is to get long, skinny strips of bacon. The easiest way to do this is using kitchen scissors!
When you cut the bacon into thin strips, it's pretty much inevitable that some little pieces of bacon will fall off. Don't worry, this recipe calls for more than enough bacon for this amount of asparagus, even if you lose a few pieces in the process. If it just breaks a little bit at the end it should still be long enough to use for this recipe.
And don't throw away the bacon scraps! I like to cook them up separately until nice and crispy. The little crispy bacon bits are perfect for adding to pasta dishes, or they also make an excellent salad topper!
How to Assemble Bacon Wrapped Asparagus Bundles
First, assess how many asparagus spears vs. strips of bacon you have. This will help you decide if you want to have 1 piece of bacon for every piece of asparagus, or if you want to bundle a couple pieces together.
If your asparagus is less than ½ inch at the base, I'd go for bundles. My general advice is 3 thin, 2 medium, or 1 large stalk per "bundle."
Take each piece (or bundle) of asparagus and wrap a strip of bacon around it in an evenly-spaced spiral from end to end. Tuck the ends of the bacon underneath when you place it on the tray so that it stays in place.
In a small bowl, combine 2 tablespoons of balsamic vinegar with 1 tablespoon of brown sugar. Use a small pastry brush to brush a thin layer of the balsamic-sugar mixture on each of the bacon-wrapped asparagus spears.
In this recipe, I've added balsamic in 2 ways. First, brushing balsamic vinegar + sugar before cooking, & second, drizzling balsamic glaze on top after cooking.
Brushing prior to cooking helps caramelize the bacon. Adding a bit of brown sugar to the balsamic gives it an almost candied quality. If you want it less sweet, skip the added sugar. I tried it both ways, it still crisps up nicely and tastes great! I like to save the extra balsamic + sugar mixture and keep brushing on more while it cooks. This makes the bacon extra crispy and glossy!
While the asparagus is cooking, make a simple balsamic reduction. Some people add sugar or honey to make balsamic glaze, but you don't have to! Balsamic vinegar has natural sugar from grapes, so it's naturally a good combination of bitter and sweet, IMO.
How to Make Balsamic Glaze without Sugar
Time needed: 15 minutes
Learn how to make a balsamic reduction without any added sugar:
Add balsamic vinegar to a small saucepan and set over medium heat.


Make sure you choose the right pan for the job! The time it takes for a liquid (like vinegar) to reduce varies a lot depending on what type of pan you use. A shallow pan with a wide surface area allows the water content to evaporate far more quickly than a deeper pan with the same amount of liquid. For ¾ cup, choose a small pot so the vinegar is about an inch deep.

Reduce balsamic vinegar by ¾.


As the vinegar simmers, the water content evaporates, and it will begin to reduce in volume. This is what is meant by the culinary term "reduce" or "reduction." When this happens, the liquid thickens and the flavors intensify. Reducing by ¾ means you'll end up with ¼ of the original volume. In this case, you start out with ¾ cup of balsamic vinegar and reduce it down to 3 tablespoons.

When you feel like you're getting close, keep a very close eye on it and swirl the pan frequently to prevent it from burning. Immediately transfer the glaze to a separate heatproof bowl and let it cool slightly. Keep in mind, it will thicken a bit further as it cools.

If you're not sure when it's done, take it off early. You can always decide to put it back on the heat and reduce it more, but if you go too far and burn it, you'll have to start over.
How to Serve Bacon Wrapped Asparagus
This recipe makes for an excellent side dish served with chicken or any main protein. It's also a classy and delicious appetizer on its own!
For passed apps, use skewers to make it cleaner and easier to eat. Stick a skewer through the bottom end of the asparagus and have guests pick it up by the skewer rather than getting their hands sticky from the syrupy candied bacon.
The skewers can be inserted prior to cooking. If you're using wooden skewers, you should soak them in water for at least 30 minutes so that they don't get completely charred in the oven. Or you can avoid this issue by using oven-safe stainless steel skewers instead.
Variations
This recipe is super flexible! The balsamic glaze and the Parmesan are totally optional. You could simply wrap the asparagus in bacon and cook it from there, and it would still taste amazing.
If you love the flavors of the recipe but the process seems like a lot, try making a deconstructed version of it. Chop up the bacon, toss it with the asparagus on a baking sheet, and roast it all together. Then top with balsamic glaze and Parmesan when it's done!
Here are some other ideas to switch it up:
Try prosciutto-wrapped asparagus. Use Italian prosciutto in place of bacon. The process is the same, but it will take less time to cook.
Switch up the cooking method. Instead of roasting, you could use an air fryer or outdoor gas grill.
Add puff pastry. In addition to bacon, create a second spiral using a strip of thawed puff pastry dough.
If you want an even healthier ratio of veg to bacon, you can make larger bundles of asparagus. Wrap 5-7 large stalks of asparagus in a single piece of bacon to hold them together. Making bundles like this also makes it super easy to portion when cooking for a large group.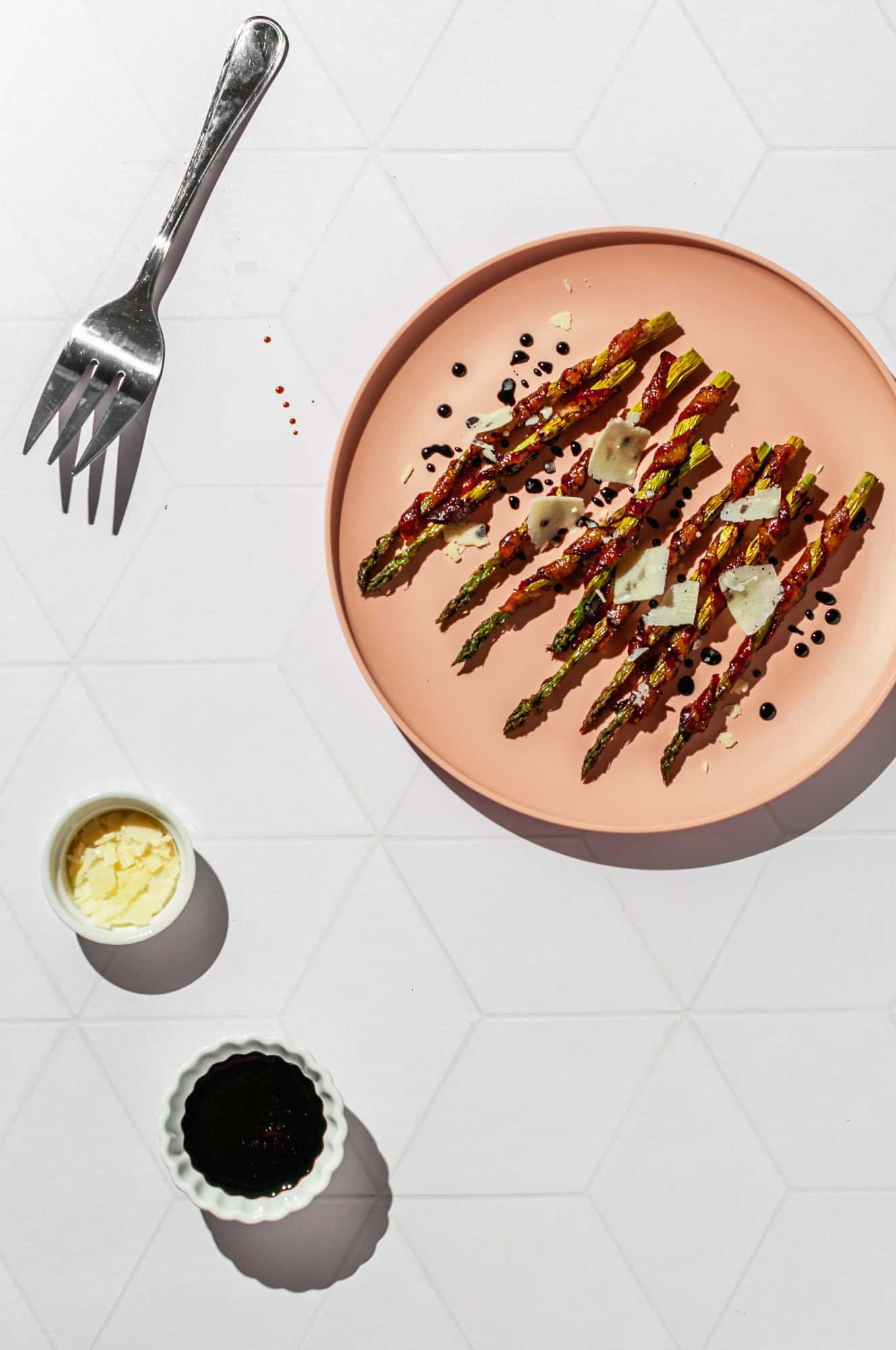 Equipment
Here's everything you'll need to make this recipe:
Kitchen shears - optional, but makes cutting bacon into strips SO much easier than a knife. Kitchen shears are also great for snipping herbs like chives or scallions. The blades come apart for easy cleaning, and these ones are dishwasher-safe too. Couldn't recommend enough!
Mixing bowl
Tongs
Sheet tray and cooling rack - it helps to get a set like this so that the rack fits perfectly inside the tray.
Aluminum foil - can get by without it, but makes cleaning up easier!
Pastry brush - for brushing on balsamic. I used a narrow 1-inch pastry brush, perfect for asparagus!
Small pot and rubber spatula - for making the balsamic glaze.
Vegetable peeler - for shaving parmesan into strips. Kuhn Rikon is my favorite brand, I literally just ordered more of these because mine is dull and rusted out. You could also use a Microplane zest grater which will grate the cheese more finely, almost into a powder. Since these tools can't be sharpened like a knife, both need to be replaced fairly often!
Sauce spoon - totally optional, but if you want to get fancy with the drizzling and make it look pretty, this is what I used. If not, a regular old spoon works great too!
Skewers - if serving as an appetizer. While you don't need to serve them on skewers, it looks super classy, it's easy to do, and makes serving easier. I love this set of stainless steel cocktail picks because they can go in the oven, and they're reusable. Plus, they come in 3 different lengths, so you'll get a ton of use out of them!
FAQ
Does balsamic vinegar have sugar?
Since balsamic is made from grapes, it does naturally contain some sugar. However, authentic balsamic vinegar will not contain any added sugars.
When is asparagus in season?
In the U.S., peak asparagus season is in the spring, between March and May. However, you should be able to find asparagus at the grocery store year-round.
How to store asparagus?

Place the asparagus in a glass cup or jar with about an inch of cold water at the bottom. It helps to give the bottoms a fresh cut before adding to the water, like a Christmas tree! Then, cover loosely with plastic and put the glass in the fridge.

I love this tip so much! It seriously helps asparagus stay fresh so much longer if you aren't going to use it right away.
Print
📖 Recipe
Crispy Bacon Wrapped Asparagus with Balsamic Glaze
Made with as little as 4 ingredients (if you leave out the optional ingredients, and not counting salt and pepper), this simple asparagus dish will BLOW YOUR MIND! It seriously tastes like it's from a restaurant, but it's surprisingly easy to make. It's perfect as a side dish with any main protein, or as a standalone appetizer. 
Author: Kelly @ Butter and Thyme
Prep Time:

10 minutes

Cook Time:

25 minutes

Total Time:

35 minutes

Yield:

4

servings

1

x
Category:

side dish, appetizer

Method:

oven-roasting

Cuisine:

American

Diet:

Gluten Free
8

ounces

bacon (sliced regular, NOT thick cut) cut in half or thirds, lengthwise

½

lb. asparagus

¾

cup

+

2

tablespoons

balsamic vinegar, divided

1 tablespoon

brown sugar (optional)
Parmesan cheese for garnish (optional)

1

½

tablespoons vegetable oil (or sub. any neutral oil)
Salt and pepper (to taste)
Instructions
Preheat oven to 400°F. Line a baking sheet or roasting pan with aluminum foil and set a wire cooling rack on top.
Trim off the bottom 1-2 inches of asparagus and discard. Toss the asparagus with vegetable oil and a pinch of salt and black pepper. 
Assemble the bacon-wrapped asparagus: wrap one strip of bacon around the asparagus spear(s)* in an even spiral going from the base to just under the tip. Place the bacon-wrapped asparagus on the prepared tray, tucking the ends of the bacon underneath to keep it in place. Repeat with all of the bacon and asparagus.
In a small bowl, mix 2 tablespoons of balsamic vinegar with the brown sugar (if using). Using a pastry brush, brush a thin layer of the balsamic-sugar mixture on each of the asparagus spears (reserving the excess balsamic mixture for later use). Transfer the tray to the oven and cook for 20 minutes. After 20 minutes, remove the tray from the oven and carefully flip each of the asparagus spears with tongs. Brush the remaining balsamic-sugar mixture on the asparagus and continue to cook until crispy, about 5-7 minutes more.
While the asparagus is roasting, make balsamic glaze: pour ¾ cup of balsamic vinegar in a small saucepan and set it over high heat. When it starts to boil, reduce the heat to medium and continue to simmer until it reduces down to 3 tablespoons, about 5-10 minutes*
Drizzle the bacon-wrapped asparagus with balsamic glaze and garnish with fresh shaved Parmesan cheese, if using.
Notes
You can make this recipe by wrapping each single asparagus spear with a strip of bacon or creating small bundles of asparagus wrapped with a strip of bacon. Bundles of 3 asparagus spears are a good option with thinner asparagus.
The time it takes for the balsamic vinegar to reduce to glaze consistency depends on a lot of factors, i.e. heat level, stovetop type, size of pot, amount of vinegar, etc. Keep a close eye on it while reducing-- it goes slow at first, but very quickly towards the end. If you reduce it too much, it will burn create a tough mess to clean up, so be careful not to burn it!

Keywords: bacon wrapped asparagus, balsamic glaze, asparagus with balsamic and bacon