Ham and cheese croquettes are the ultimate finger food! They're crunchy on the outside, rich and creamy on the inside, and super filling and satisfying for a snack. Basically everything you'd ever want in an appetizer!
These crispy croquettes are inspired by my travels to Spain, but they aren't quite the same as the authentic Spanish version. Typically, Spanish croquetas de jamón are made with Iberico or Serrano ham and a creamy bechamel filling. They're commonly served as tapas or small shared plates, and they are DELICIOUS. You have to try them if you are lucky enough to ever go to Spain!
This easy recipe for croquettes is kind of like a mashup between traditional Spanish croquettes and fried mozzarella bites. It's super flexible, and I've even provided an easy and mess-free air fryer option to make them.
Jump to:
Ingredients
Here's everything you'll need to make ham and cheese croquettes: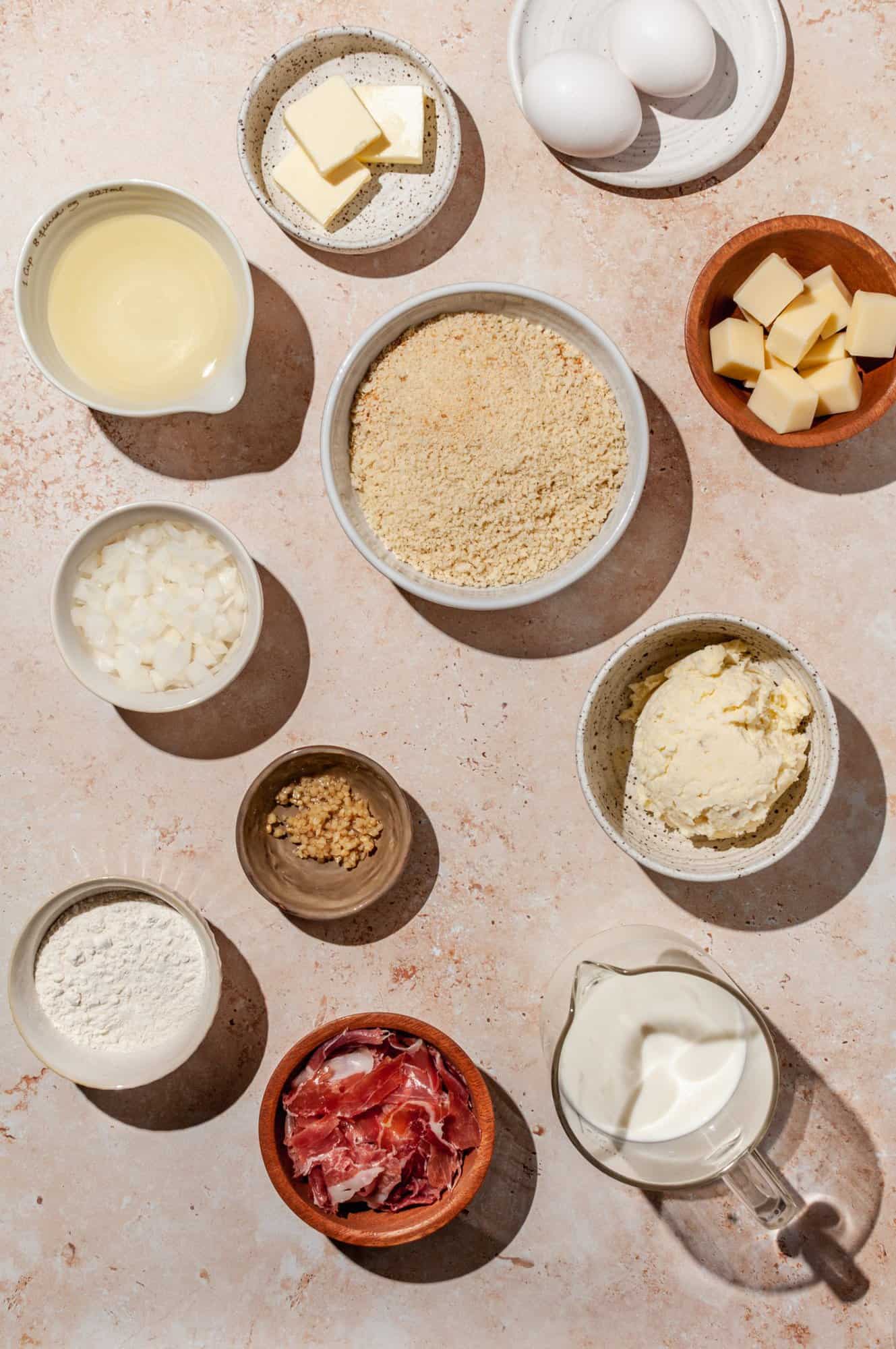 Butter
Onion
Flour - all-purpose
Garlic - minced
Milk - I used whole milk, but whatever type of milk you have will work.
Ham or prosciutto - I used Italian Prosciutto because it's more widely available in the U.S. than other cured ham products like Serrano ham or Jamon Iberico. But you could 100% substitute any type of ham or pork product, including regular deli ham or even bacon.
Mashed potatoes - adding mashed potatoes gives a little more structure to the dough and makes it easier to work with, without adding more flour. This recipe is perfect for utilizing leftover mashed potatoes! You can also use store-bought mashed potatoes or prepared instant mashed potatoes.
Cheese - I used fontina cheese, but you can use any pretty much any type of cheese for this recipe! I recommend going with a good melting cheese like fontina, gruyere, or mozzarella.
Eggs
Breadcrumbs - I prefer a 50/50 combination of panko and regular breadcrumbs. I like the texture that panko adds, but finer breadcrumbs get into all the nooks and crannies for more even and complete coverage. But if you want to use all panko or all regular breadcrumbs, that works too!
Vegetable oil - enough to cover the bottom of a large pan by about 1⁄2 inch for shallow frying. Or for air fryer ham and cheese croquettes, you'll need vegetable oil spray like Pam or something similar.
Salt and pepper
Parsley (optional, for garnish)
See recipe card for quantities.
How to Make Ham and Cheese Croquettes
Here, I'll show you how to make these yummy ham croquettes, step by step: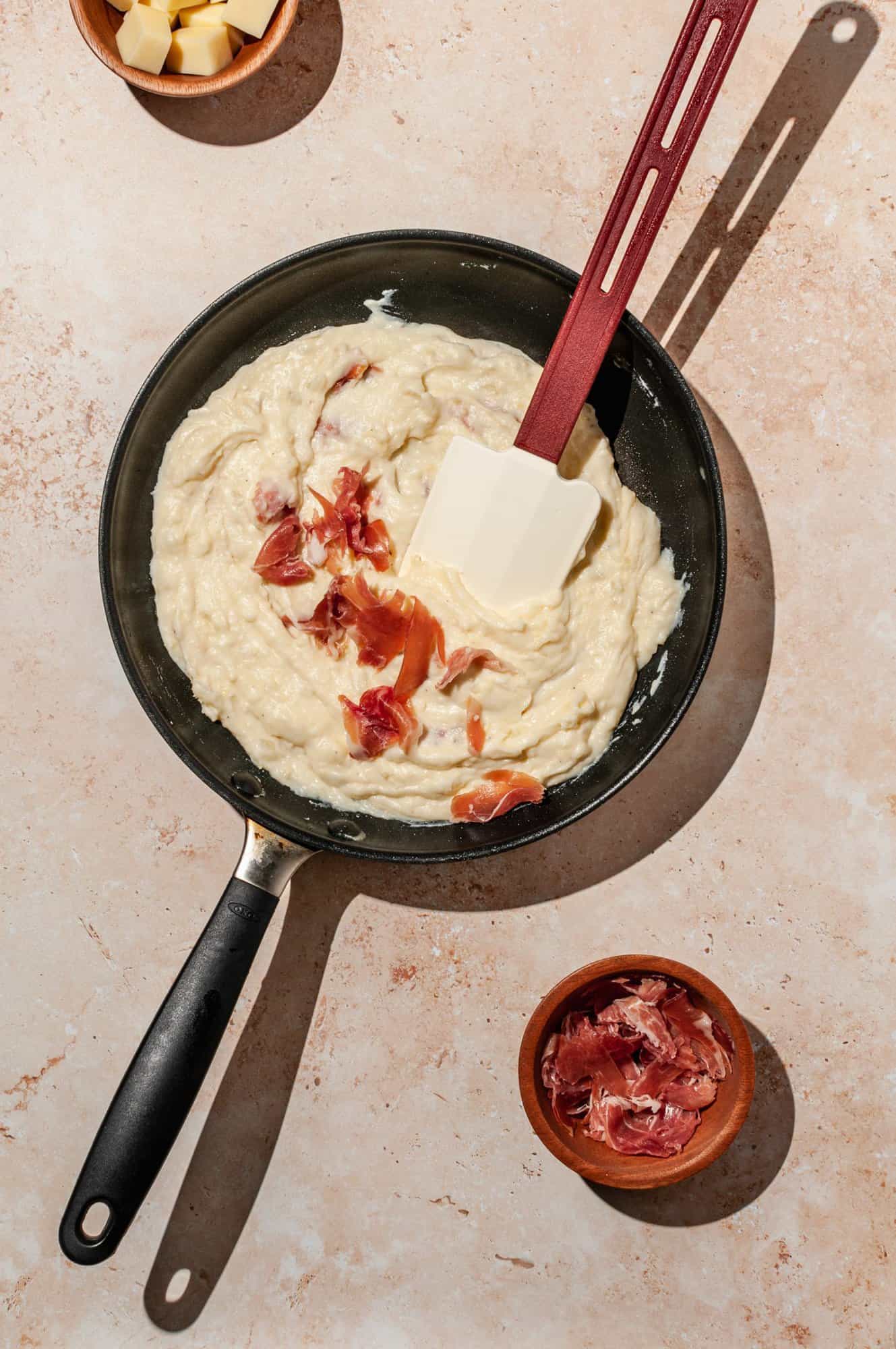 First, make the filling. It starts with a roux (butter + flour). Then, you'll mix in mashed potatoes, seasonings, and half of the ham. Once you have the filling made, chill it until firm. It makes forming the croquettes a lot easier when the filling is well-chilled!
After chilling the croquette filling, get everything ready to form and bread the croquettes. You'll set up individual bowls of flour, egg wash, and breadcrumbs (this is known as standard breading procedure). Then, split the filling into 12 equal-ish portions and roll into balls.
Now, we're gonna stuff the croquettes with cheese and more ham! Start by coating your hands with a little bit of flour to prevent sticking. Then, one at a time, take a croquette and flatten it a little in your hand. Add a cube of cheese and a small handful of ham to the center, then fold the sides over to enclose it.
After you've stuffed all of the croquettes with ham and cheese, it's time to bread them. Working one at a time, dip the croquettes into the bowl of flour, followed by the egg wash, and then into the breadcrumbs. I think it helps to use a fork for the egg wash portion, to let the excess egg wash drip off back into the bowl.
After you bread the croquettes, place them on a wire rack over a sheet tray. Then, place them in the refrigerator, uncovered, for at least 30 minutes before cooking. This helps the crust adhere so they won't fall apart as easily!
Top Tip
If the dough becomes sticky and difficult to work with after rolling into balls, pop them back in the refrigerator or freezer for 30 minutes before continuing with the breading process.
How to Fry Croquettes (2 Ways)
1. Pan Frying Method
Add enough oil to a large skillet to cover the bottom by about 1⁄2 inch, or enough so that about half of the croquettes are submerged in oil. Set the pan over medium heat and let the oil get to 325-350 degrees F (I usually use an instant read thermometer for this).
Then, carefully add the croquettes to the hot oil. To avoid crowding the pan, I usually do this in two batches. Flip them over using tongs or a fork halfway through cooking, and cook until they are golden brown on all sides. Place them on a paper-towel-lined plate or cooling rack after cooking to drain excess oil before serving.
2. Air Fryer Method
To make air fryer ham and cheese croquettes, preheat the air fryer to 375 degrees. Then, add the croquettes in a single layer and cook for about 8-10 minutes. There's no need to flip them with the air fryer, since the hot air circulates underneath them too.
Depending on your air fryer and the size of the croquettes, the cooking time may vary. Keep a close eye on them-- you'll know they're done when the first one starts to ooze a little bit of cheese.
To ensure a perfectly even golden brown exterior in the air fryer, it's important to allow enough space in between the croquettes. Avoid overcrowding the tray by cooking in batches if necessary.
Also, spray the entire surface of the croquettes LIBERALLY with nonstick canola or vegetable oil spray prior to cooking. You might argue that defeats the purpose of air frying, but it's still a lot less oil than deep frying or pan frying. If you skip this step, the croquettes will still get crispy, but they'll have a more uneven speckled appearance and won't taste quite as good.
Substitutions & Variations
You can honestly think of this recipe as more of a guideline. To make Spanish ham croquettes in a more authentic way, leave out the mashed potatoes and add a little more flour to make a thick bechamel. If stuffing the croquettes with cheese seems too fussy, you can skip that part, and mix in a little grated Parmesan or Manchego cheese instead.
Using cured ham is the most authentic option (and the tastiest IMO). But you could easily swap it for any type of pork product. If you decide on bacon, I recommend crisping it up in a skillet before adding it to the filling.
And if you don't eat pork, you can use literally whatever protein you want. Deli turkey? Leftover grilled chicken? Vegetarian meat substitute? The possibilities are endless!!!
Now, for the cheese... in general, to get that oozy molten center, the cheese that goes in the center should be a good melting cheese. Some cheeses become oozy and creamy when melted, and others just don't really. Here are some of my favs for this ham croquette recipe:
Best Types of Cheese for Croquettes
Fontina - buttery and oozy but also tastes a tiny bit nutty like Parmesan. My personal favorite, I think!
Mozzarella - more mild and reminiscent of a mozzarella stick for obvious reasons. If you go with mozzarella, make sure it's low-moisture, not fresh, for this recipe.
Gruyere - a type of Swiss that's an EXCELLENT melting cheese. Usually the go-to for topping french onion soup or making fondue.
Provolone - taste varies a lot, young provolone can be mild like mozzarella, while aged provolone is sharp, more like Parmesan or fontina.
Cheddar - I LOVE cheddar cheese and the flavor goes so well with ham! For this recipe, I'd pick a younger more mild cheddar, almost like an American cheese, for better melting properties.
Aged hard cheeses like Parmesan or some Manchego, while they are DELICIOUS and add a ton of flavor, are not great melting cheeses. This is why I recommended grating it and mixing it into the batter if you go that route. For even extra cheesiness, you can do that in addition to stuffing with a melty cheese ◡̈
How to Serve Ham and Cheese Croquettes
Croquettes are traditionally served with garlic aioli, but since these are so creamy and flavorful, they taste great without a sauce too! Or as another option, try making some easy chipotle sauce for dipping on the side.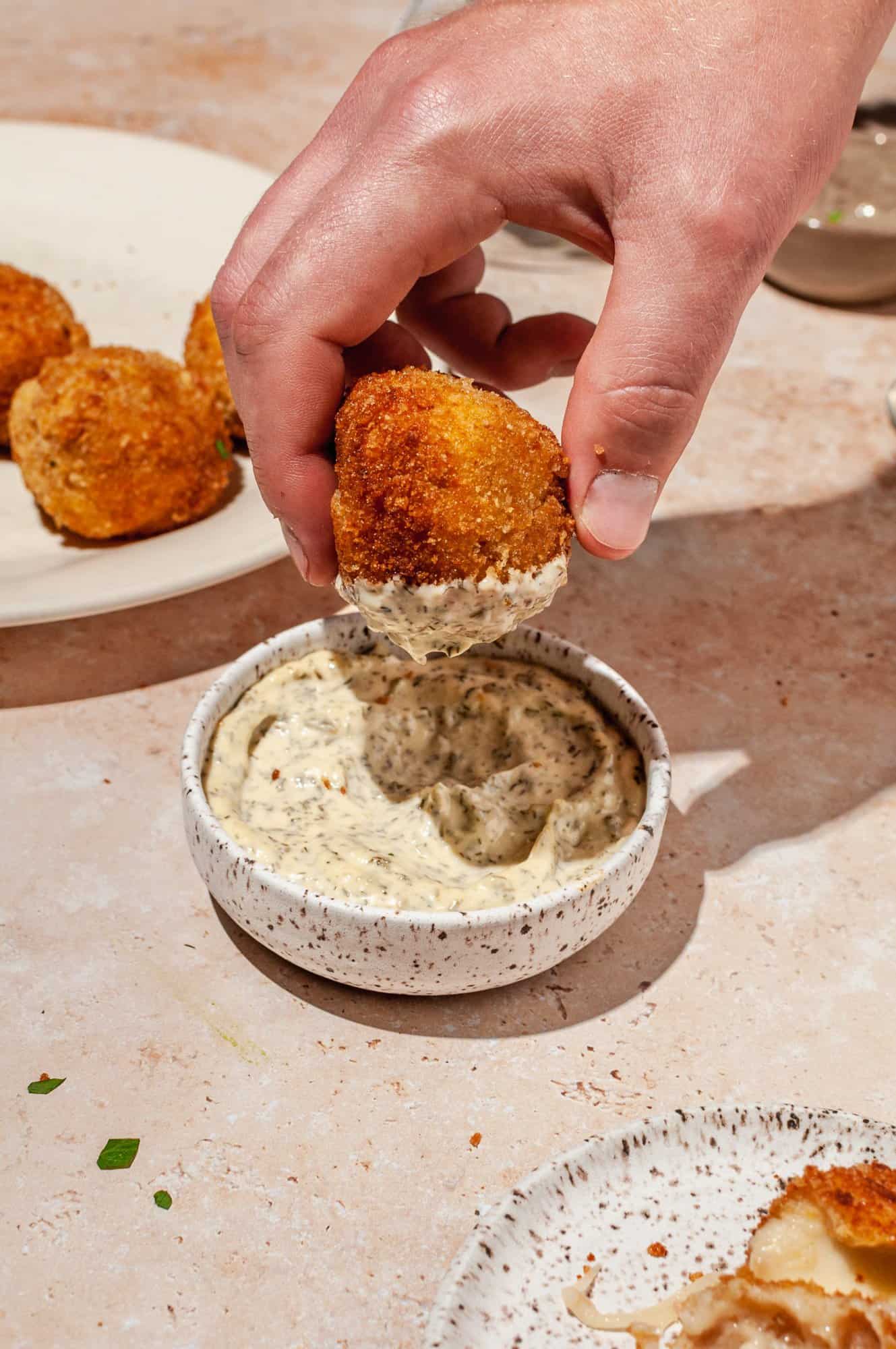 These air fryer ham and cheese croquettes would be an amazing addition to any game day snack spread. I love doing shared appetizers or tapas for dinner, and these would be perfect for that too!
Equipment
No special equipment required. Here's what you'll need to make ham and cheese croquettes:
Medium sauté pan - I used an 8 inch nonstick skillet, but you can use whatever your go-to pan or sauce pot is. And it doesn't need to be nonstick.
Rubber spatula or wooden spoon for mixing
Cutting board and sharp knife
Kitchen shears - optional, but highly recommended! I find kitchen shears are so much easier to use for cutting bacon and prosciutto. Even when I've just sharpened my knife, the meat sticks to the blade, and it's just so easy to cut into small pieces using shears.
Cookie scoop, or spoon, or kitchen scale - to evenly portion the croquettes into balls. I love a good cookie scoop for portioning things out, it's so satisfying!
Small sheet tray (optional) - if you use a sauce pot to make the filling, it's helpful to spread the filling on a sheet tray in a thin layer to help cool faster.
Air fryer (optional) - this is the air fryer that I have and I love it! It's actually a toaster oven and mini convection oven too, so I use it all the time. If you don't have an air fryer, you can use a medium or large skillet for pan frying the croquettes.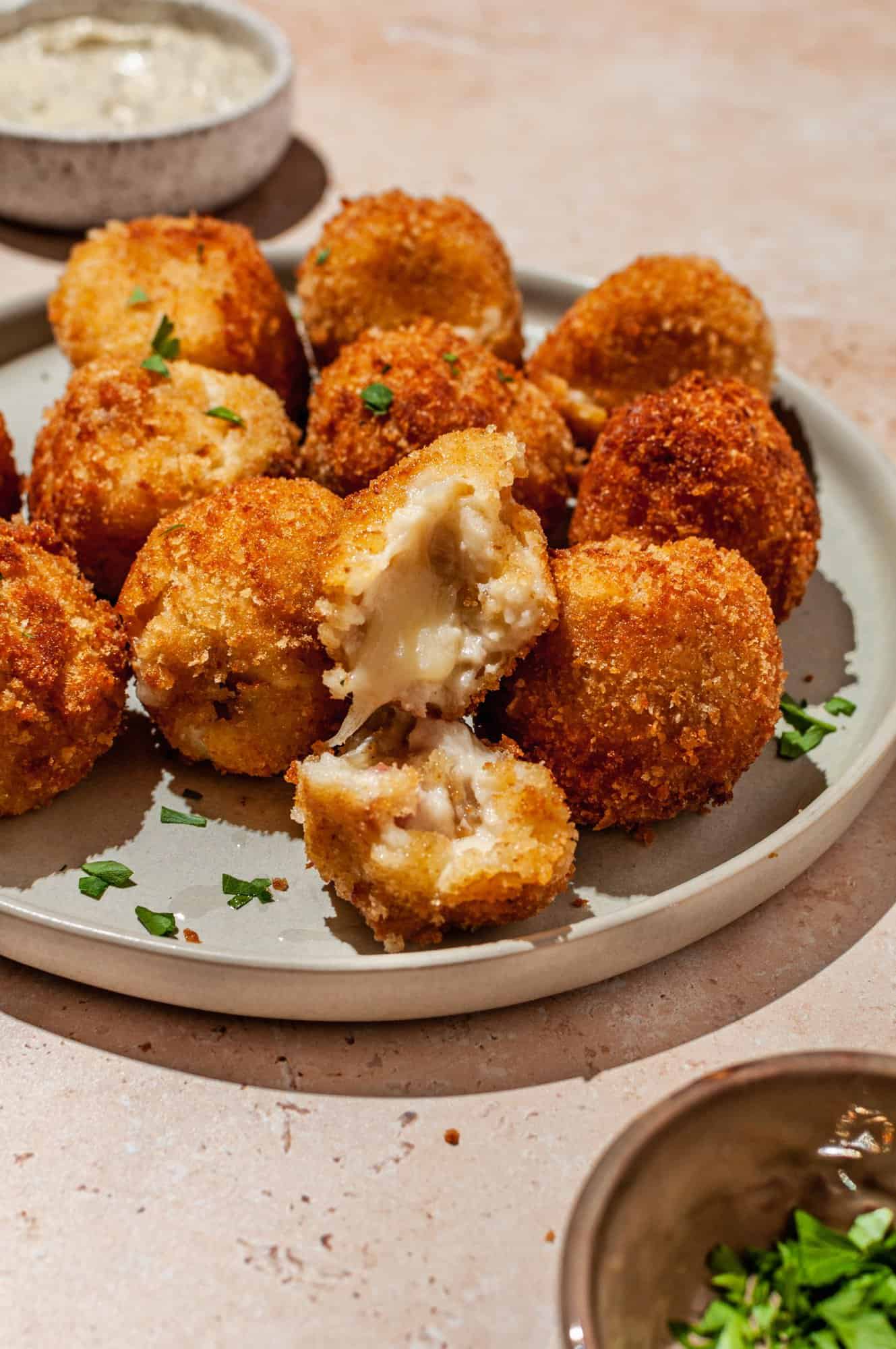 Storage & Make-Ahead Instructions
After cooking, you can store the croquettes in the refrigerator for about 3-4 days in a Tupperware. I think the best way to reheat them is in the air fryer or oven at a low temperature (around 200 degrees) until warmed through.
You can also make these ham and cheese croquettes ahead of time. To do this, make the recipe through step 3 (breading them) and freeze them on a sheet tray. Once they are frozen solid, transfer the croquettes to a ziptop bag or airtight container. They will keep in the freezer for about 6 months.
How to Cook Frozen Croquettes in Air Fryer
Air fryers are excellent for cooking fried snacks from frozen! I find that at least for my air fryer, I usually lower the temp about 25-50 degrees less than the package says, and it always takes less time than it says it will on boxed items.
To reheat these ham and cheese croquettes from frozen is the exact same. It will only take a few extra minutes to cook them from frozen. Air fry at 375 degrees for about 12 minutes, or just until the cheese begins to ooze out. You can also pan fry from frozen the same way, if you prefer.
I love making this croquette recipe and freezing them because you can pull out just a couple at a time. Heating up a couple croquettes makes for the best midday snack!
FAQ
Is Serrano ham the same as prosciutto?

No, not exactly, but they can be used interchangeably in this recipe. While they are both cured ham products and prepared in a similar way, they have different flavor profiles.

Serrano ham is a Spanish product, while prosciutto is made in Italy. If you want to try Serrano ham in this Spanish-influenced croquette recipe, you can order a full bone-in Serrano ham online! This would make an excellent gift for food lovers! If the full ham is too much, you can also buy a small portion of sliced ham imported from Spain.
Are croquettes Spanish or Cuban?
Both! I only knew of the Spanish version before this, but I read that croquettes actually originated in France and the name comes from a verb that means "to crunch." Many different cultures have some version of croquettes that is a staple to their cuisine.
What shape are croquettes?
Most authentic recipes that I've seen are oval or log shaped. I've also definitely had round croquettes while in Spain. And I've also seen some that are flattened like patties. You can do whichever you prefer!
Print
📖 Recipe
Ham and Cheese Croquettes (with air fryer option)
Croquettes are little fried bites filled with a delicious mixture of ham, melty cheese, and mashed potato. They're crunchy on the outside, creamy and cheesy on the inside, and easy to eat with your hands. You can choose to fry them in a pan or in the air fryer. 
Author: Kelly @ Butter and Thyme
Prep Time:

30 minutes

Chill Time:

30 minutes

Cook Time:

10 minutes

Total Time:

1 hour 10 minutes

Yield:

4

servings (12 croquettes)

1

x
Category:

appetizers

Method:

air fryer (optional)

Cuisine:

Spanish, Italian, American
For the Filling
3 tablespoons

unsalted butter

½

small onion, minced (about

¼

cup)

1 teaspoon

minced garlic

⅓

cup

flour

1

cup

milk

⅔

cup

leftover, store bought, or prepared instant mashed potatoes

2

oz

. prosciutto or Serrano ham, diced or torn into small pieces, divided
For the Croquettes
Flour (to coat hands)

2

eggs +

2 teaspoons

water

¾

cup

plain breadcrumbs

¾

cup

panko breadcrumbs

3

oz

. fontina cheese, cut into 12 small cubes
Vegetable oil for frying (or vegetable oil spray for air fryer method)
Aioli for serving (optional)
Instructions
Make the filling: In a medium skillet, add the butter and minced onion and cook until the onion is soft and translucent, about 5 minutes. Add the garlic and flour and cook for 1 minute. Then, slowly add the milk a little bit at a time, and then add mashed potatoes. Mix until smooth, then remove the pan from the heat, and mix in half of the diced ham (1 oz.) Chill well before breading (the filling mixture will thicken in the refrigerator). 
Set up for breading croquettes: place flour in a small bowl. In another small bowl, combine eggs and water with a fork. In another small shallow bowl, combine the two types of breadcrumbs. 
Using a cookie scoop or a large spoon, portion the chilled filling into 12 evenly sized balls. Working one at a time, place a cube of cheese and a small amount of ham in the center, and wrap the filling around to enclose the cheese. Then, briefly dip each croquette into the egg wash, followed by the breadcrumb mixture. Repeat once more for a thicker crust. After breading, place the croquettes on a wire rack and refrigerate uncovered for at least 30 minutes. 
Fry croquettes: in a large skillet, add enough oil to coat the bottom by at least ½ inch and heat oil to 325-350 degrees F. Carefully add the croquettes to the oil and fry in batches until golden brown on all sides (about 2-3 minutes per side). Alternatively, to cook croquettes in the air fryer: preheat to 375 degrees F. Spray croquettes liberally with nonstick spray and cook for 8-10 minutes, until golden brown.
Serve warm with aioli on the side for dipping (optional).
Notes
When forming the croquettes, it's less sticky/ messy if the mixture is very well chilled, so you can put them back in the fridge at any point and continue the process once they are cold. It also helps to lightly coat your hands with flour.
I chose to mix in half of the ham and use half for stuffing to make sure there's ham in every bite. If you'd rather not deal with the stuffing part, you can mix all of the ham into the dough, and grate the cheese rather than cut into cubes and mix that in too. That's a little bit easier, you just won't get the oozy cheese mozzarella stick aspect.
Keywords: ham and cheese croquettes, air fryer croquettes, ham and cheese croquettes air fryer