This no-cook chipotle lime sauce is one of my favorites and takes less than 5 minutes to make! You literally just throw everything into a blender at once and then it's done.
My other favorite thing about this lime chipotle sauce is that it tastes good on everything!! I usually make it for Mexican food night-- tacos, burritos, nachos, quesadillas... or just use it as a dipping sauce with tortilla chips. But it doesn't stop there-- it's also great on burgers, patty melts, sandwiches, etc. too!
If you love spicy food, you should also try this Cajun cream sauce. It's perfect for pasta or shrimp & grits! These air fryer patatas bravas are also super flavorful and a little bit spicy.
Jump to:
Ingredients
Here's everything you'll need to make this easy creamy chipotle lime sauce:
Chipotle peppers in adobo sauce - these are usually available in small 7 oz. cans. You can typically find them in the international aisle of most grocery stores near other Mexican ingredients. You could also order them online if that's easier! Since you likely won't use the whole can for this recipe, you can store in the extras in a container for 1-2 months in the refrigerator.
Sour cream
Mayonnaise
Garlic
Hot sauce - I usually use Cholula's for this recipe, but any Mexican red hot sauce would be great!
Paprika - I mostly add this for its vibrant red color that comes without any additional spiciness. It also adds a hint of sweetness. Use sweet (mild) paprika since you're already getting enough smoky flavor from the chipotles.
Cumin
Cayenne
Lime juice - fresh squeezed will give you better flavor. You'll probably be good with just one lime for a single batch, but I'd get 2 to be safe!
Salt and pepper
See recipe card for quantities.
How to Make Creamy Chipotle Lime Sauce
There's only one step in this easy chipotle sauce recipe! Seriously! Simply add all of the ingredients to a blender, and blend until smooth. No cooking involved, and minimal cleanup too.
If you don't have a blender, you can also use a food processor to process the ingredients until smooth. And if you don't have a food processor either, you can still make this chipotle sauce, it will just be a bit more work. You'll have to finely mince the chipotle peppers by hand, until it forms a paste. Then, mix everything together in a large bowl. It won't be quite as smooth, but it will still taste delicious!
Substitutions and Adjustments
This recipe is totally flexible! You can easily adjust it in a number of ways based on your own personal preferences.
Mayonnaise and sour cream - I use equal parts mayonnaise and sour cream, but you can use whatever combination you want and it will still turn out great (i.e. ¾ sour cream + ¼ cup mayonnaise). If you find the sauce is a little too spicy, mellow it out with additional mayonnaise and/or sour cream.
Chipotles, hot sauce and cayenne - these are the 3 ingredients contributing to the spiciness of the sauce. If you don't have hot sauce, you can add an extra pinch of cayenne instead. Or leave out the hot sauce and add extra cayenne. Chipotles add smoky flavor in addition to spice, so use more or less depending on how much of the characteristic smoky chipotle flavor you want to come through.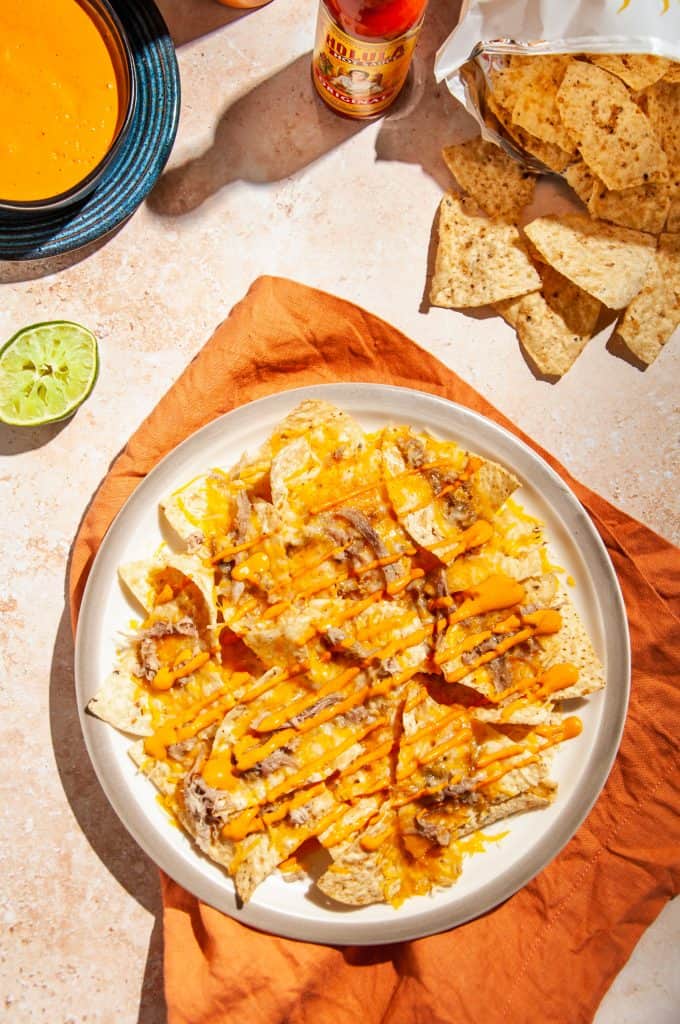 What to Serve with Chipotle Sauce
Like I said earlier, we use this sauce for SO MANY THINGS in our house. It works equally well as a dressing, sauce, and dip. Here are some great ways to use this delicious chipotle lime crema sauce:
Burritos, tacos and fajitas
Burgers and sandwiches - goes great with chicken!
Loaded nachos
Dipping sauce - for french fries, quesadillas, and grilled cheese
Salad dressing - this sauce doubles as a creamy chipotle lime dressing, especially great for taco salad!
If you're in the mood for Mexican food, this sauce goes perfectly with my recipe for spicy potato soft tacos with beef or chorizo!
Equipment
You'll only need a couple of items to make this delicious lime chipotle sauce:
High-power blender (or food processor, or a cutting board, a knife, and a large bowl)
Rubber spatula or mixing spoon
That's it! Pretty simple, right?
If you have a high power blender like a Vitamix, you can add the chipotles whole and they will get completely incorporated into the sauce, resulting in a smooth sauce. If you're using a food processor or a blender that isn't the greatest, you may want to chop up the chipotle before adding it to ensure it gets evenly dispersed.
When it comes to a blender, Vitamix is the absolute best. I got my Vitamix used from Facebook Marketplace, and it's lasted me 10 years and still works perfectly! They're even durable enough to use in restaurants. A high power blender is the key to achieving perfectly creamy soups and sauces at home.
Storage Tips
Store chipotle sauce in the refrigerator. It's convenient to keep it in a squeeze bottle like your other condiments. I usually store it in a mason jar.
It's also worth noting that you'll likely have extra chipotle in adobo after making this recipe. Due to the high acidity content, chipotles in adobo can be stored in the fridge for at least a month, if not longer. Just make sure to transfer them to a container with an airtight lid (don't leave them in the can).
Most recipes that I've seen that call for chipotles in adobo sauce don't use the whole can, since they're pretty spicy. So here's a trick: freeze them in individual ice cubes. To do this, put 1-2 chipotle peppers in each ice cube compartment, top with adobo sauce, and freeze until solid. Then transfer the cubes to a ziptop bag, and remove them from the freezer to defrost one at a time as you need them.
Top Tip: Cook Without a Recipe
I know, cooking without a recipe can seem pretty scary if you're not used to it. But if you're trying to get more comfortable cooking by taste and feel, then this is a great recipe to get started with! Reason being, it's pretty much impossible to mess it up!
Want more smokiness/ spiciness? Add more chipotle or hot sauce. Need to mellow it down? Add more mayonnaise to counteract the spice. If it tastes off and you're not sure why, adding more sour cream and/or lime juice will help balance it out with more acidity.
I just finished reading Salt, Fat, Acid, Heat by Samin Nosrat, which I highly recommend to anyone who wants to learn more about cooking. It's the best cookbook I've read as far as teaching you how to cook by feel, using all of your senses. And she's a great writer, so it's an easy read!
FAQ
What are chipotles?
Chipotles are a type of dried chili pepper. More specifically, they are ripe red jalapeños that have been smoke-dried, lending them their signature smoky flavor. They are available in dried form or canned, often in a sauce, such as adobo.
What is adobo sauce?
Adobo means different things in different parts of the world, but adobo was originally used to preserve meats. Both Mexican and Filipino adobo involve a lot of vinegar, garlic, and a variety of spices. One thing all variations of adobo seem to have in common is big flavor!
Mexican adobo sauce is thick, spicy, sweet, and acidic. It's made from chili peppers (i.e. chipotles and other dried chili varieties) along with vinegar, sugar, and a variety of spices. Adobo sauce makes a great addition to practically any Mexican slow cooker dish. I always add a little to meat chili and other Mexican-inspired soups, marinades, and sauces.
Is chipotle sauce really spicy?
I love this lime chipotle sauce recipe, but I prefer it on the mild side compared to most of my family. Luckily, it's easy to adjust the spice level with the amount of hot ingredients (chipotle, hot sauce, cayenne) vs. the amount of sour cream and mayo that tone it down.
Chipotle is really smoky, so I prefer to create different layers in terms of spiciness. What I mean is that some from the heat comes from the chipotle peppers, some from the hot sauce, and some from cayenne. That way if you really love spicy, you can make it spicier without making it too smoky.
Print
📖 Recipe
Easy Creamy Chipotle Lime Sauce
This easy, creamy chipotle lime sauce is perfect for your next taco night! It comes together in less than 5 minutes, and it's delicious drizzled on nachos or as a dip for tortilla chips.
Author: Kelly @ Butter and Thyme
Prep Time:

5 min.

Cook Time:

0 min.

Total Time:

5 min.

Yield:

1 cup

1

x
Category:

Sauce

Method:

no bake

Cuisine:

Mexican
½

small can chipotle in adobo sauce* (see note)

½

cup

sour cream

½

cup

mayonnaise

2 teaspoons

minced garlic

2 teaspoons

hot sauce (i.e. Cholula)

½ teaspoon

cumin

½ teaspoon

paprika
Pinch cayenne

1 tablespoon

lime juice
Salt and pepper
Instructions
Put all ingredients in a blender or food processor and blend until smooth, about 30 seconds.
Notes
If you don't have a blender or food processor, you can make it by hand, but it won't be quite as smooth. Mince the chipotle peppers really small, until it makes a paste. Then stir everything together in a large bowl until combined.

Chipotles are quite spicy. If you're not sure about the spice level, I would start with just 1 or 2 chiles and a couple small spoonfuls of the adobo sauce. Then, taste the sauce, and add more if you'd like the sauce to be spicier. You can also adjust the heat level by using more or less cayenne and hot sauce. 
Keywords: chipotle lime sauce, lime chipotle sauce