Whether you serve it over shrimp and grits or toss it with your favorite pasta, this simple Cajun cream sauce recipe makes for a quick and easy weeknight meal. The sauce is super flavorful and it takes about 30 minutes to make, using just one pan!
I'm always looking for new recipes to add to my easy weeknight dinner rotation. After cooking all day for work, I want something that's fairly simple to make but still satisfying. But I get sick of making the same go-to meals all the time, so this is a great recipe to switch it up every now and then.
If you like shrimp, frozen shrimp is one of the best shortcuts to a quick, easy, and healthy-ish dinner. You can take out just as much as you need and leave the rest in the freezer. And it cooks so quickly right from frozen, so it's perfect for those times when you forget to plan ahead and defrost something for dinner.
If you love seafood and shellfish, try my recipe for Crab Rangoon Egg Rolls next. They're made with REAL crab meat!
Jump to:
Ingredients
Here's what you'll need to make Cajun cream sauce for shrimp and grits:
Andouille sausage - this type of sausage is often used in Cajun recipes like jambalaya and gumbo. It's usually pretty spicy, and lends some of that signature spicy flavor to the Cajun cream sauce too.
Onion, green bell pepper, and celery - these 3 ingredients are known as the "holy trinity" in Cajun cooking. Together they form the base aromatic layer of flavor for most Cajun sauces and soups. It's similar to French mirepoix or Spanish sofrito.
Cajun or creole seasoning blend - you can order cajun spice blend online if you can't find it in your local grocery store. Or it's easy to make your own blend from spices you likely already have on hand! (More details on that below).
Paprika - I add a little extra paprika even though it's already a major component in Cajun seasoning blends. It adds color without adding spiciness!
Garlic
Vegetable oil - or other neutral oil
Butter + flour - to make a roux to thicken to sauce.
Chicken stock - or vegetable stock.
Heavy cream
Worcestershire sauce
Hot sauce - I used Cholula because it's what I had, but this would also be great with Louisiana hot sauce.
Shrimp - I almost always use frozen shrimp-- the size doesn't matter, so whatever you have! Even fresh shrimp from the supermarket is usually frozen and defrosted, so it's easier just to buy it frozen. Plus, frozen shrimp is frozen at peak freshness, so it's better than using day-old fresh shrimp.
Grits - usually cooking grits requires water, stock, salt, butter, and/ or cream. Look at the package of your grits to see what you'll need, and refer to the instructions below.
Scallions or parsley - for garnish.
See recipe card for quantities.
Instructions
Here's how to make Cajun cream sauce for shrimp and grits: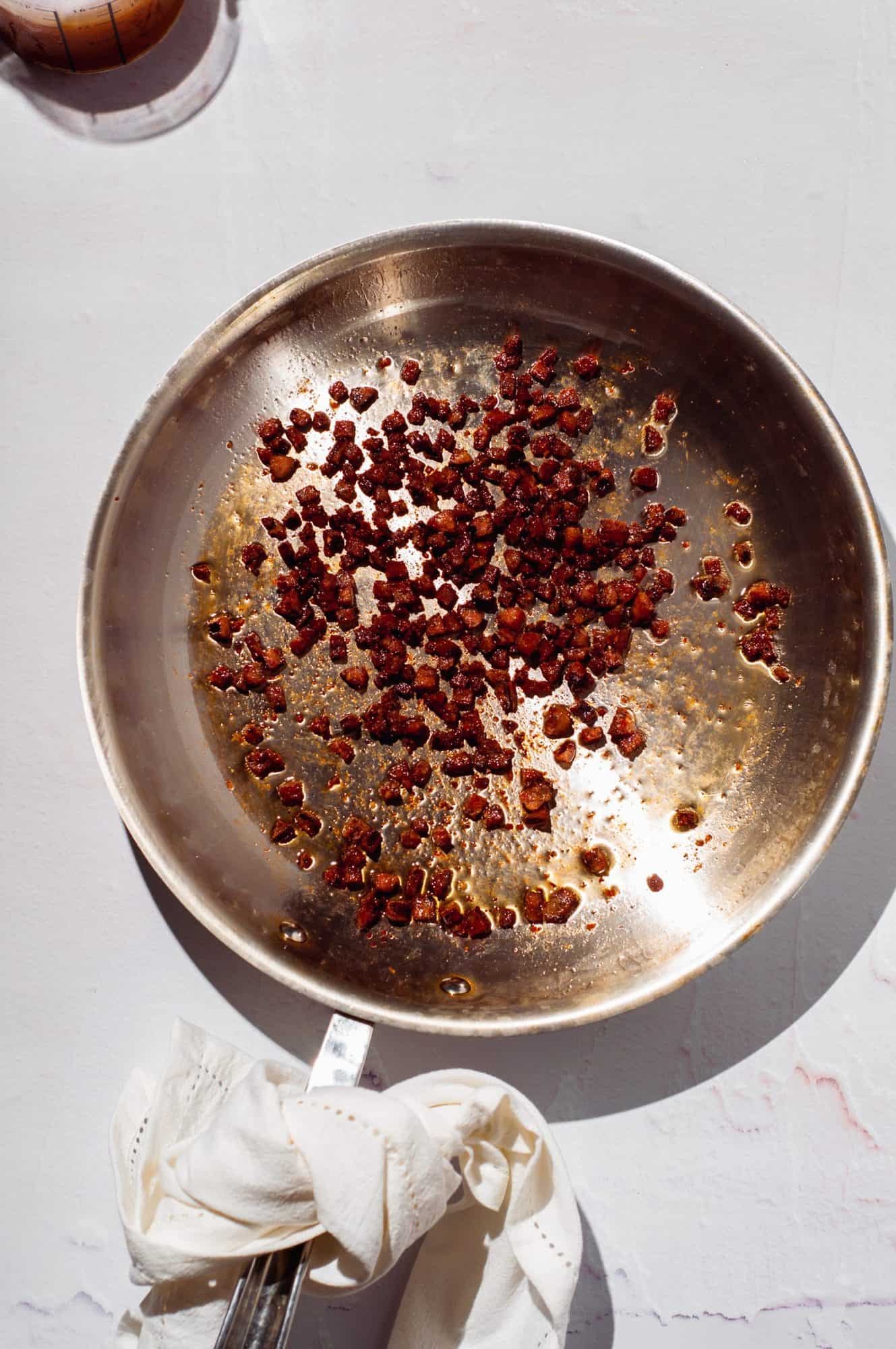 First, you'll brown the Andouille sausage, and remove it from the pan. We'll add it back in at the end.
In the same pan, add the Cajun trinity (bell pepper, onion, and celery), Cajun seasoning, and garlic.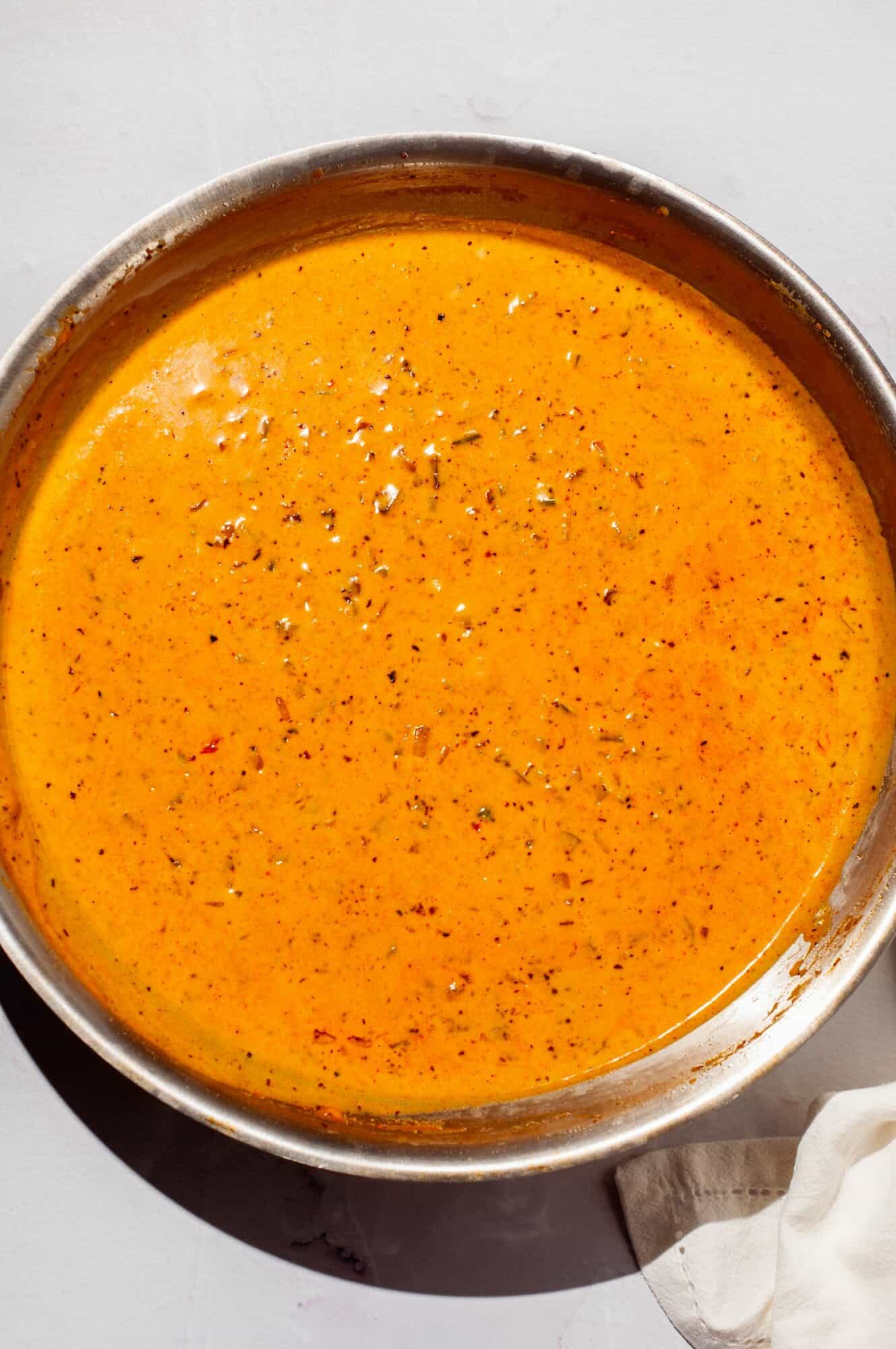 Add flour to make a roux. Then, incorporate the stock, heavy cream, hot sauce, and Worcestershire.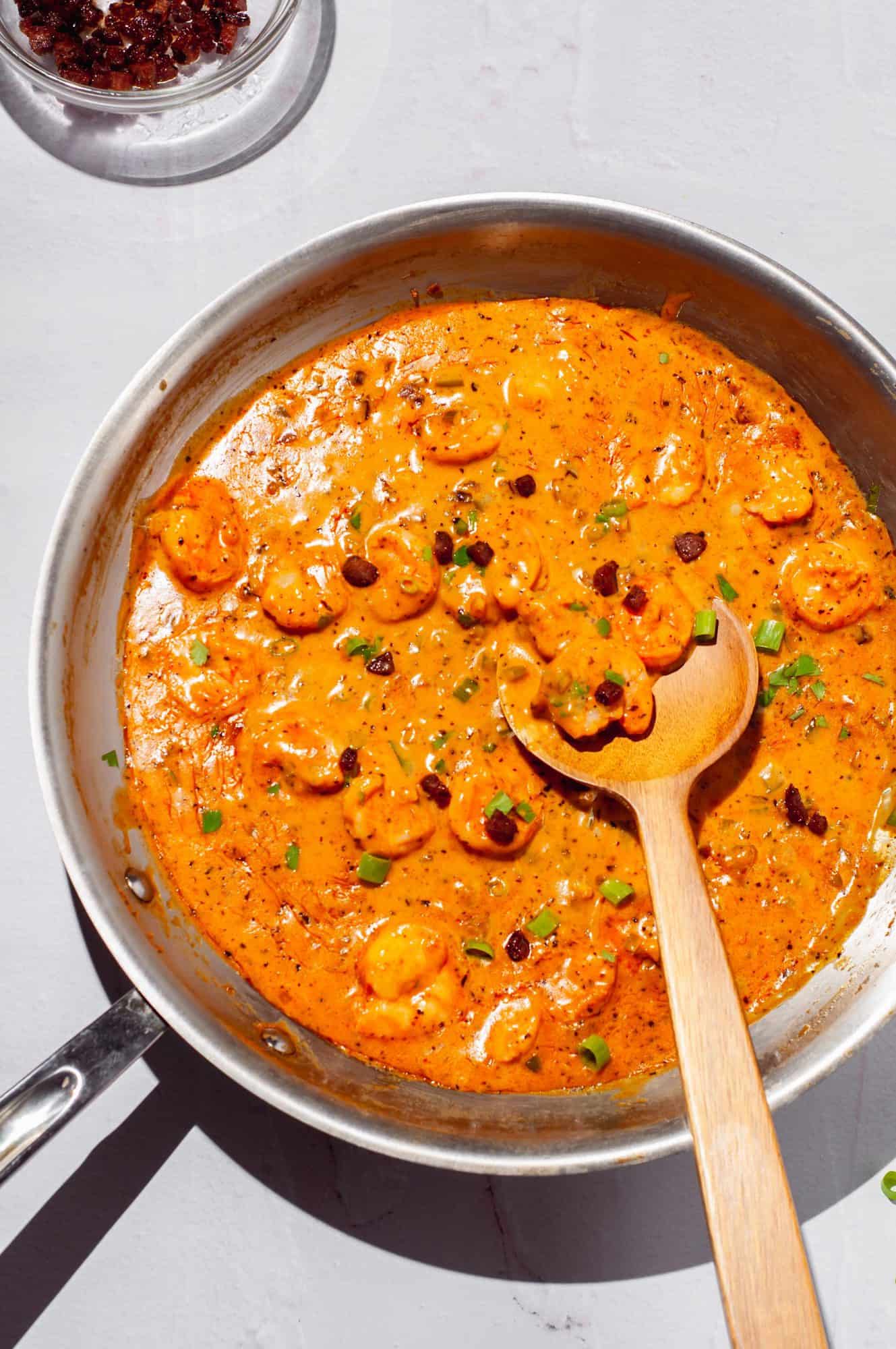 Now add the shrimp and toss to combine. Remember to mix in the sausage too, but save some for garnish.
You can use raw or cooked shrimp that has been peeled and deveined. If you're using raw shrimp, you'll have to simmer it long enough to cook through. You'll know the shrimp is done when it turns opaque. If it's already cooked, it just needed to be warmed through.
Cook the grits or pasta in a separate pot, according to the package instructions. If you're making grits, I have some tips below on how to make the best grits for shrimp and grits.
Substitutions
This recipe is really flexible. Here are some possible substitutions that may be helpful:
Andouille sausage - any type of sausage will work in this recipe. You could even use loose ground sausage rather than links to save yourself some time in prep. Kielbasa is a good option if you don't like things too spicy. Bacon would taste great too! These options will definitely be a little less Cajun-y, but still delicious.
Heavy cream - if you like a lighter sauce, you can replace some of all of the heavy cream with milk, or use additional chicken stock. It won't be as thick and creamy.
Shrimp - this cajun cream sauce recipe is perfect for a meal like shrimp and grits, but if you don't like shrimp, you can use another protein like chicken.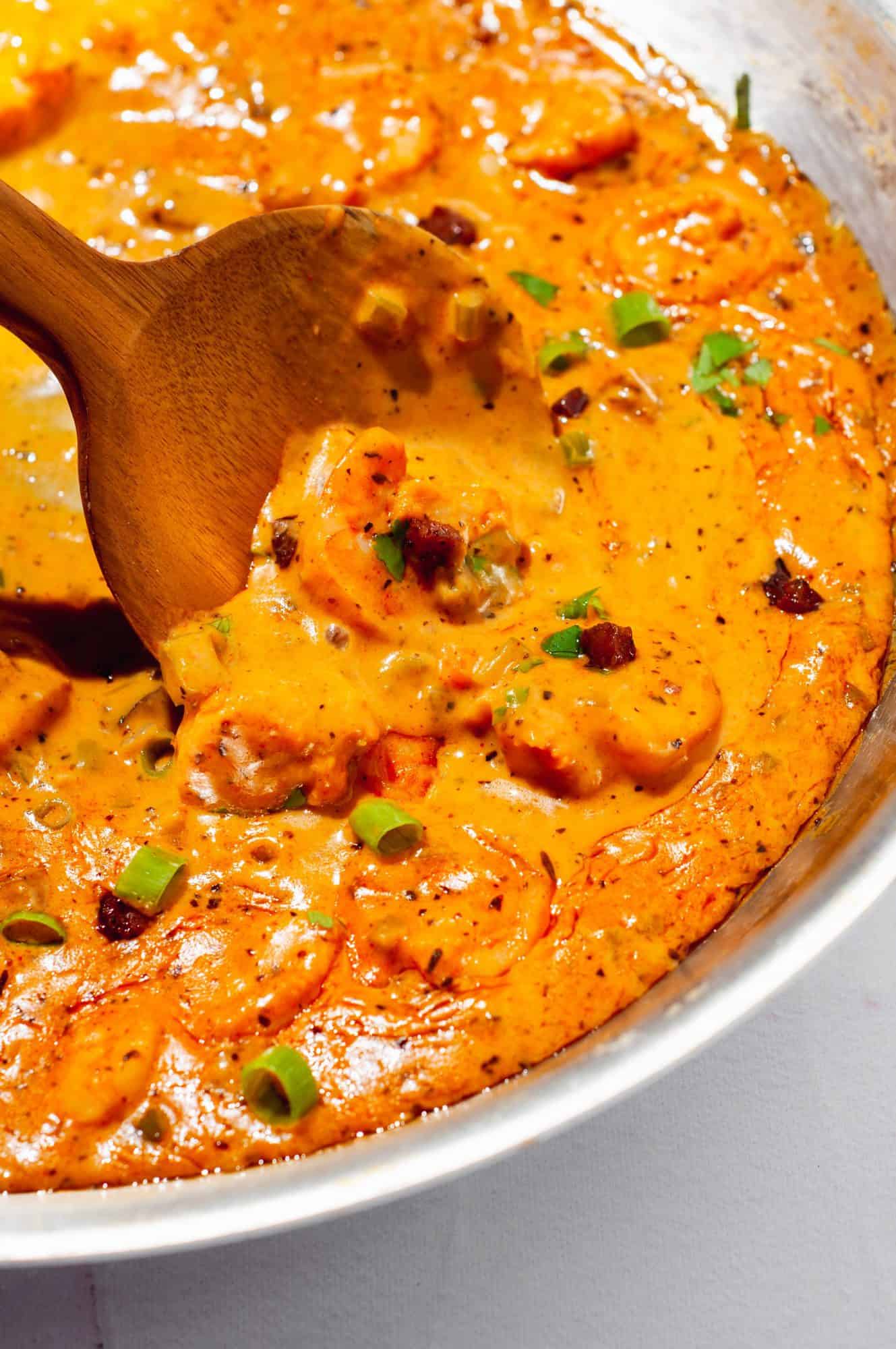 Variations
Besides being great with shrimp and grits, this cajun cream sauce is also a great pasta sauce! Making cajun cream sauce for pasta is the exact same process.
Instead of making grits, cook 8 oz. of your favorite pasta (i.e. penne) to al dente and save a little bit of the pasta water. Mix the sauce and the pasta together, and add a little pasta water as needed to bring it all together.
For a full meal, mix some cooked shrimp or chicken in with the pasta too. It's delicious!
If you have any questions about substitutions or variations, feel free to ask away in the comments! If you're wondering "Can I do [this]" or "add [this]" the answer is probably yes! But I'll try to give you some helpful advice when veering away from the original recipe.
Equipment
No fancy equipment needed for this recipe. To make cajun cream sauce for pasta, shrimp and grits, chicken, (or whatever else!), you'll need:
Large skillet or shallow saucepan - whenever I make a pan sauce like this, I like to use my stainless steel skillet. When you cook the sausage, it will create little brown bits on the bottom of the pan called fond. Then, when you add the veggies and liquids, and you can scrape up all those brown bits, and it adds a ton of flavor to the sauce. If you use a nonstick skillet, it won't really create a fond.
Rubber spatula or wooden spoon
Cutting board and sharp knife
Ladle or serving spoon
Slotted spoon (optional)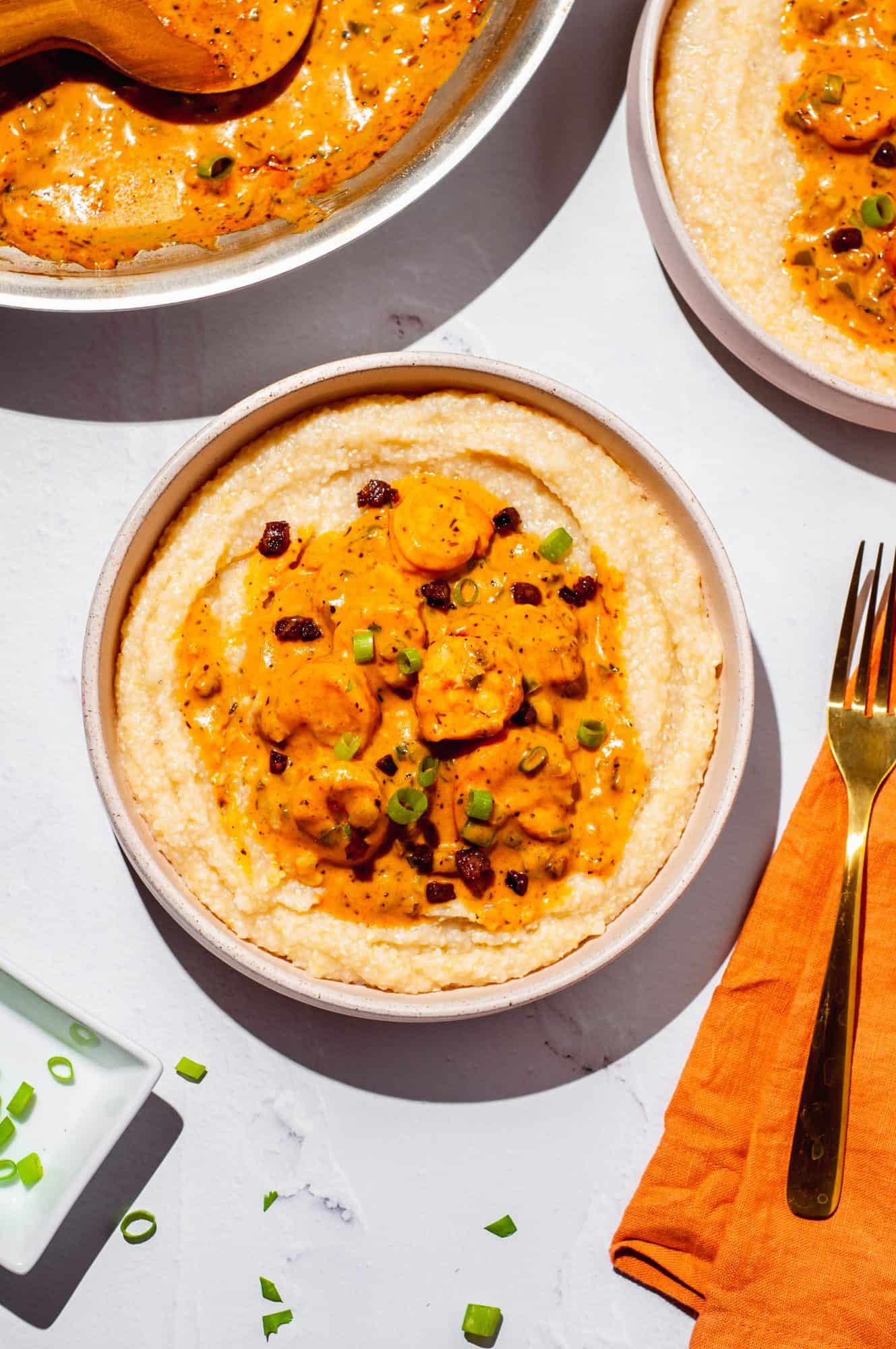 How to Cook Corn Grits
Cooking grits is very similar to cooking rice or oatmeal. You need to add a liquid which will get absorbed by the grits. The amount of liquid and time it takes depends on the type of grits. And factors like the size of the grind (coarse vs. fine) and whether they have been precooked at all make a huge difference (much like the variety of rice and whether or not the rice is precooked).
Refer to the packaging of your grits for cooking instructions-- this will give you a great starting point. For example, the packaging of the grits I used says to combine 1 cup grits + 3 cups water + ½ teaspoon salt and simmer for 35 minutes. On the other hand, quick grits or instant grits cook in just 5 minutes.
Once you have the basic recipe, you can adjust it to your liking. Many people choose to use stock instead of water to add more flavor. If you want extra creamy grits, replace some of the water with heavy cream. Adding butter and/or grated cheese at the end of the cook time also makes them creamier and more flavorful.
I like the texture that course ground grits provide, but they are harder to find than quick grits. There are lots of high quality options online-- like these Carolina stone ground grits.
Some people say that yellow grits have more flavor than white grits, but honestly I can't tell much of a difference. The difference in color just depends on the type of corn used in the milling process.
Top Tip: Stir grits often to promote even cooking and prevent clumping, sticking and burning.
FAQ
What can I use instead of Cajun seasoning?
Make your own Cajun spice blend! Most Cajun seasoning is some combination of: paprika, garlic powder, onion powder, black or white pepper, celery salt, red pepper flakes, cayenne, and dried herbs like oregano, parsley, thyme, and basil.

The best part of making your own blend is adjusting it to your personal preferences. Use less cayenne and red pepper to make it less spicy.
What's the difference between Cajun and Creole?
Cajun and Creole are both ethnic groups, each with their own history and customs. Both groups have French ancestry and each has strong effects on the culture and cuisine of New Orleans and the surrounding areas of Louisiana.

One distinction between the two cuisines is that Creole dishes usually rely heavily on tomato products, while Cajun food tends not to include tomatoes.

Creole and Cajun seasoning blends will be very similar and can be used interchangeably.
What is a roux?
A roux is roughly equal parts flour + fat (usually butter). This creates a sort of paste and is used as a thickening agent in many soups and sauces.
Print
📖 Recipe
Easy Cajun Cream Sauce for Shrimp and Grits
This easy cajun cream sauce is perfect for shrimp and grits and makes for a quick and easy weeknight meal. It's also delicious with pasta! 
Author: Kelly @ Butter and Thyme
Prep Time:

10 minutes

Cook Time:

30 minutes

Total Time:

40 minutes

Yield:

2

large servings

1

x
Category:

Quick & Easy Meals

Method:

stovetop

Cuisine:

Cajun
Cajun Cream Sauce Ingredients
2 teaspoons

vegetable oil (or other neutral oil)

4

oz

. Andouille sausage, diced small

3 tablespoons

butter

1

small yellow onion, minced (~

4 ounces

)

½

green bell pepper, minced (~

2 ounces

)

1

-

2

stalks celery, minced (~

2 ounces

)

1 tablespoon

Cajun seasoning

1 teaspoon

paprika

2 teaspoons

garlic, minced

3 tablespoons

flour

1 ½

cups

chicken or vegetable stock

1

cup

heavy cream

1 tablespoon

hot sauce (or to taste)

1 ½ teaspoons

Worcestershire sauce
Shrimp & Grits Ingredients
1

cup

grits
Chicken stock, heavy cream, and/or butter to prepare grits (refer to package instructions and see tips above)

12

ounces

shrimp (any size, frozen or fresh, peeled and deveined)
Scallions and/ or parsley (for garnish)
Instructions
For the Cajun Sauce
Heat vegetable oil in a large skillet. Cook sausage until crispy over medium heat. Using a slotted spoon, remove from sauce from the pan and set aside. 
Return the now-empty pan to the stovetop and set over medium-low heat. Add butter, minced onion, bell pepper, and celery, and sweat until softened. Add Cajun seasoning, paprika, and minced garlic and cook 1 minute longer. Add flour to make a roux. Slowly add stock, and whisk until smooth. Then slowly add the heavy cream, whisk until smooth, and increase the heat to medium. Let simmer until thickened.
Add hot sauce and Worcestershire sauce. Mix about 3 oz. of the sausage back into the sauce, saving the remaining 1 oz. for garnish. 
For the Shrimp & Grits
Prepare grits (or pasta) separately, according to package instructions (see more tips on grits above). Cook shrimp until opaque. Serve with cajun cream sauce, garnishing with Andouille sausage, chopped scallions and/or fresh parsley. 
Notes
To save yourself some dishes, you can cook the shrimp from frozen right in the pan with the sauce. Add the shrimp the pan and cook in the simmering sauce until shrimp turns pink and opaque. 
Keywords: easy cajun cream sauce, cajun sauce for shrimp, cajun cream sauce for pasta