Air fryers are the quickest, easiest way to crispy potatoes that aren't too greasy or oily! If you love crispy home fries, you'll love this air fryer patatas bravas recipe with 2 quick and easy flavorful homemade sauces.
Patatas bravas is a traditional Spanish dish consisting of crispy diced and fried potatoes served with a bold, vibrant red salsa brava (bravas sauce).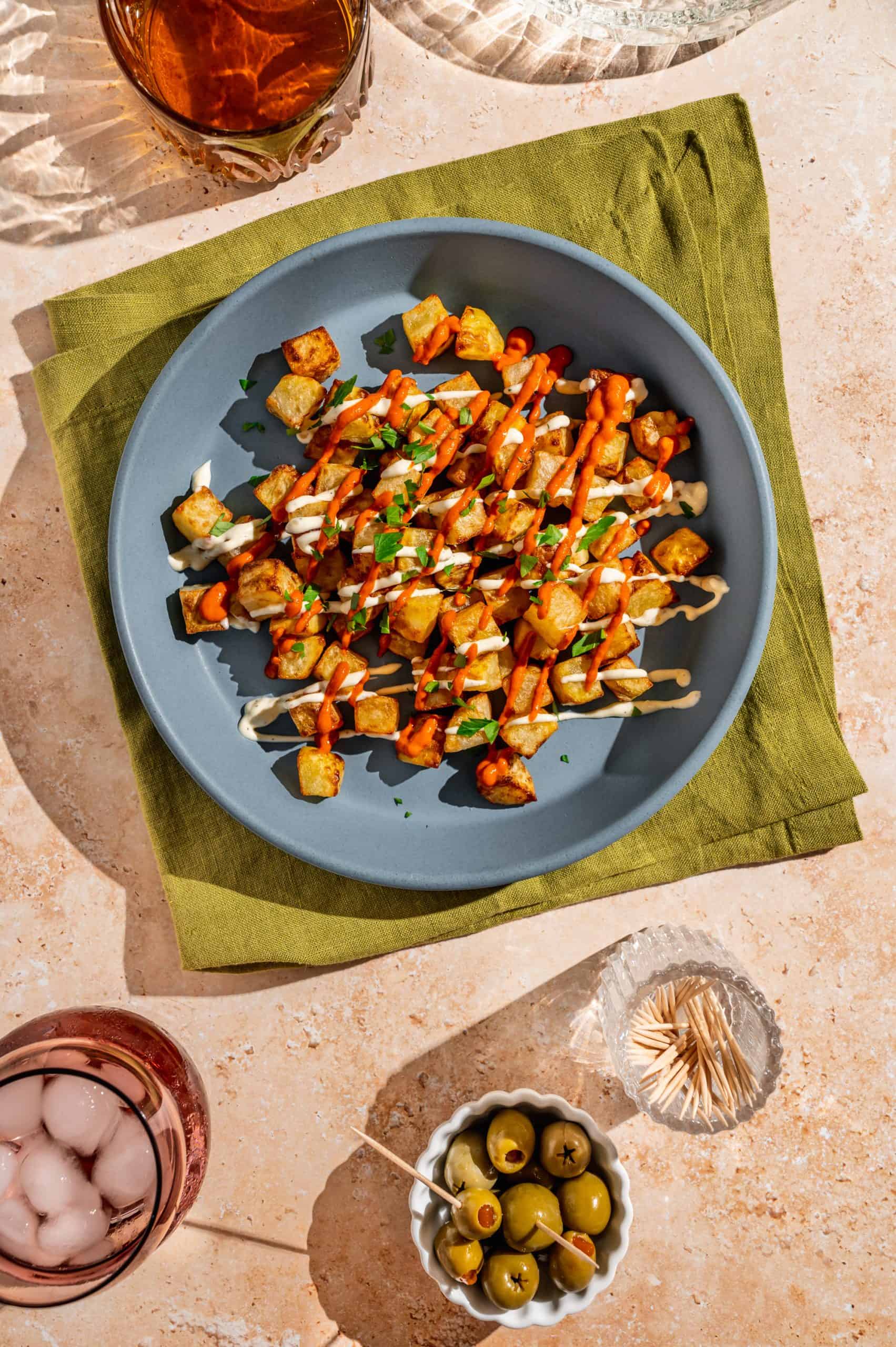 This crispy potato dish is often served with a garlic aioli in addition to the bravas sauce to add creaminess and balance out the bold, spicy red sauce. Sometimes, you might see only one creamy orange-ish sauce (similar in appearance to chipotle sauce or cajun cream sauce) but it's basically aioli + bravas sauce mixed together.
When I lived in Spain, patatas bravas were my go-to tapas order (along with ham croquettes and mixed green olives)! Every place had its own spin on the traditional recipe, but they were always a delicious and filling yet low-cost option to add to the table.
Patatas bravas make an excellent side dish or appetizer. If you're looking for more side dish recipes, try this honey pasta salad next! Another one of my favorite summertime sides.
Jump to:
Why You'll Love This Recipe
This air fryer recipe makes the perfect crispy potatoes! Golden brown and crispy on the outside, fluffy on the inside, and not overly greasy.
It's cost-effective! Potatoes are always great to feed a crowd because they're relatively cheap and filling.
The bravas sauce is SO flavorful and unique. I've personally tried MANY authentic patatas bravas recipes and I picked my favorites to emulate with this recipe. You'll get to experience a taste of Spain right at home!
About Patatas Bravas
Patatas bravas translates to "brave potatoes" (how cute! lol). Depending on the context, the word brava can also mean angry, upset, or fierce. In this context, I think fierce is the best descriptor, for describing the bold, spicy red sauce. It's not necessarily spicy as in hot, but heavily seasoned.
Bravas sauce varies from place to place. Some were spicy hot, while others were not. Some were chunky, like a salsa, and some were pureed smooth. In some places I went to in Spain, the patatas bravas were just fried potatoes drizzled with ketchup and mayonnaise, probably trying to cater to Americans haha.
Authentic Spanish bravas sauce doesn't contain tomato, although many recipes (like this one) do. Salsa brava's vibrant red color and flavor instead come from pimenton, a Spanish-style smoked paprika.
I used a combination of sweet and smoked paprika in this air fryer patatas bravas recipe to add depth of flavor. I also upped the red pepper flavor (since paprika is made from dried red peppers) by adding roasted red peppers and a pinch of cayenne.
Ingredients
Here's what you need to make these delicious air fryer patatas bravas:
Potatoes - I used Yukon gold potatoes because I like their yellow color and creamy texture. You can also use Russet potatoes, which are usually preferred for making french fries because of their high starch content.
Olive oil - You can use any type of neutral frying oil or nonstick spray for frying the potatoes. Olive oil is most authentic to Spain, but make sure you use an oil that's apt for frying. Premium extra-virgin olive oil, for example, has a lower smoke point and shouldn't be used for frying applications. But it's great for adding to the homemade aioli!
Vinegar - I use two types of vinegar in this recipe. First, add white vinegar to the water when soaking the potatoes draws the starches to the surface which helps them get extra crispy. I also add red wine vinegar (or Spanish sherry vinegar if you have it) to the bravas sauce.
Fresh parsley - an optional garnish, but adds a nice fresh element and pop of color.
Onion - yellow (or Spanish)
Garlic - minced
Tomato paste - I use just 2 tablespoons of tomato paste for the salsa brava. I recommend getting double-concentrated tomato paste that comes in a tube! An opened tube will last for months in the refrigerator, while you have to use opened cans of tomato paste within a few days.
Roasted red pepper - they usually come jarred or canned, or you can roast your own red peppers. They'll get blended, so save yourself some time by buying chopped or sliced peppers.
Paprika - this recipe uses 2 types of paprika: smoked Spanish paprika (pimentón) and sweet paprika. If you have a spice labeled just "paprika" it is likely sweet paprika.
Cayenne - adds just a little bit of heat! You can leave it out if you don't like spicy, or add extra if you like it hot.
Vegetable broth - to keep it vegetarian, or you can substitute chicken broth.
Mayonnaise - use a high-quality mayonnaise like Duke's or Cain's if you can, it makes a huge difference for the aioli, which is mostly mayonnaise.
Lemon juice - fresh squeezed adds a brighter flavor than lemon juice you buy at the store (but either work).
Salt and pepper
See recipe card for quantities.
How to Make Crispy Air Fried Potatoes
Start by prepping the potatoes. The potatoes should be scrubbed, peeled, and diced into bite-sized pieces. I recommend approximately ¾ inch dice but doesn't have to be perfect.
Soak the potatoes in a saltwater brine with a bit of vinegar for at least 30 minutes (or up to overnight). If you are letting them sit for much more than an hour, you should put the cut potatoes in the refrigerator. The brine will keep the potatoes from turning brown.
While the potatoes are soaking, go ahead and prepare the sauces (instructions below) to save yourself some time.
After soaking the diced potatoes for the air fryer patatas bravas, we cook them in 2 steps:
First, air fry the potatoes at a lower temperature to cook them and dry the outside. Then, let them cool to room temperature.
For the second fry, we'll increase the heat and air fry for a shorter amount of time. The potatoes are mostly cooked at this point, so this is to brown and crisp the outsides.
This soak and double-fry method is a common technique for french fries to get the crispiest fries possible. And it works great for home-fried potatoes too!
Top tip: Salt After Frying
Sprinkle savory fried food (or air-fried food) with salt immediately after cooking.
Why? Salt sticks to the surface of the residual oil when the food is hot out of the frier. The potatoes are already seasoned on the inside from soaking in a saltwater brine. Adding salt in multiple stages of cooking is the best way to season!
How to Make Garlic Aioli & Salsa Brava
Here, I'll show you how to make both sauces for this recipe: 1) easy homemade garlic aioli, and 2) bravas sauce (or salsa brava).
First, for the garlic aioli: combine all ingredients in a mixing bowl. Keep aioli in the refrigerator until ready to use.
Next, add the garlic and tomato paste and cook until fragrant. Add the remaining ingredients and simmer for a couple of minutes until thickened.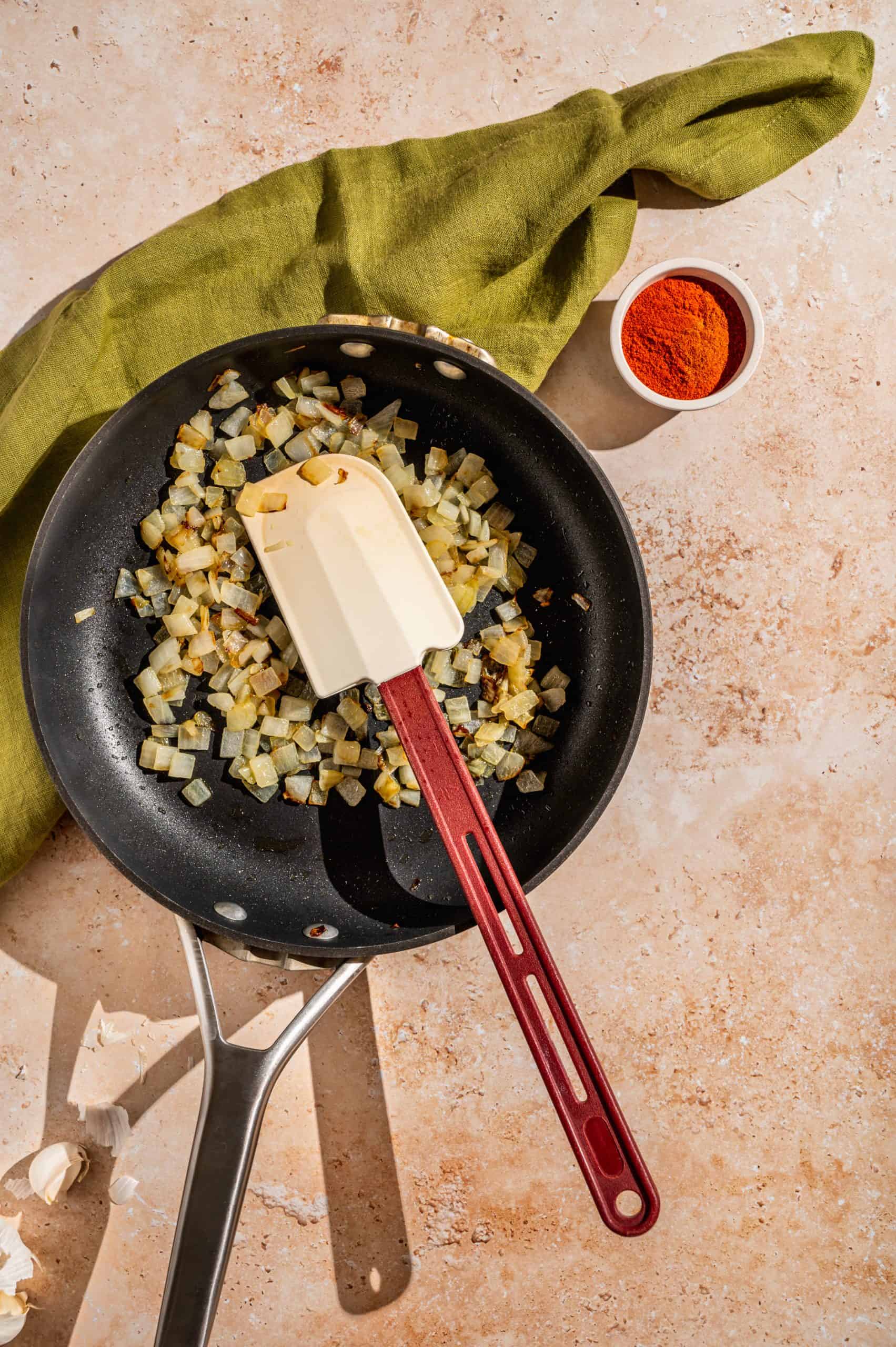 Now, start the bravas sauce. In a large skillet, saute onions in oil until softened, translucent, and beginning to brown.
Finally, transfer the mixture to a blender and blend until smooth. You can also use an immersion blender or a food processor for this step.
Both sauces act as condiments and should be served chilled or at room temperature.
Note: I prefer a smooth bravas sauce, but I've seen chunky variations as well. So if you don't have a blender, or prefer a chunky sauce, you can skip the blending step. Just be sure to chop the onions and peppers very small if you're not going to blend them at all.
Equipment
To make this air fryer patatas bravas recipe, you'll need an air fryer. If you don't have one though, you can still make this recipe. Either bake the potatoes in the oven or fry them in oil on the stovetop until crispy.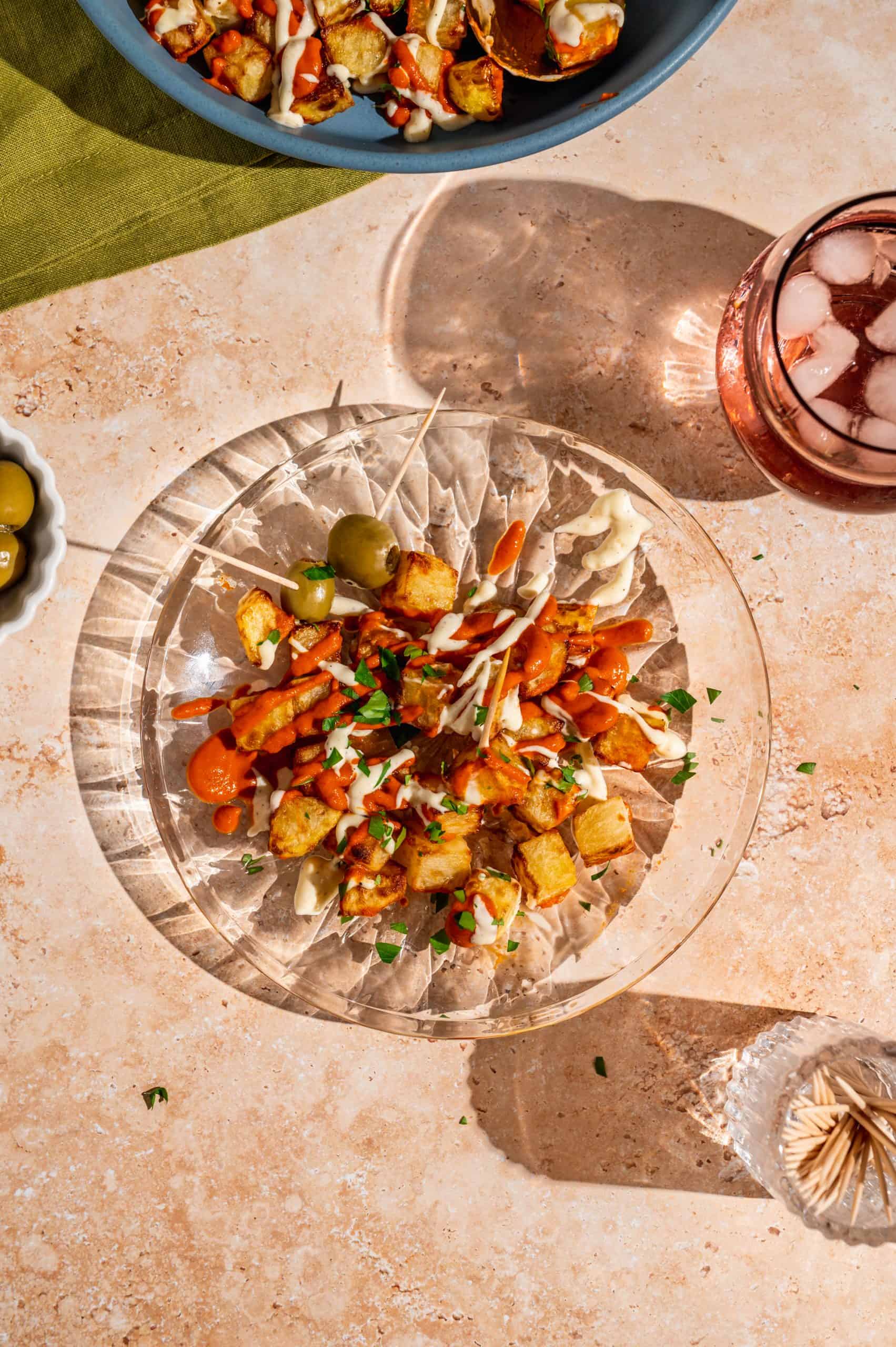 Here's some other equipment and tools you'll find helpful:
Vegetable peeler - I prefer Y-shaped peelers. I think they're easiest to use and clean.
Cutting board + chef's knife - a sharp knife will help you get straight even cuts! And a sharp knife is actually safer than a dull knife since there's less chance of it slipping. So if you need to sharpen your knives, consider an electric knife sharpener.
Mixing bowls - I have a similar set of bowls with matching lids, which is great for storing things in the refrigerator without dirtying another Tupperware. As a bonus, the ones I linked are microwave-safe!
10-12 inch skillet - stainless steel or nonstick frying pan both work for this recipe.
Rubber spatula - or a wooden spoon for mixing without scratching the nonstick coating.
Blender - if you cook a lot, I highly recommend investing in a high-power Vitamix blender. They're expensive but so durable and make your life so much easier!
Squeeze bottles (optional) - reusable plastic squeeze bottles are another great tool to have on hand. They're great for storing homemade condiments and make for a pretty presentation ◡̈
Citrus juicer (optional) - helpful for fresh lemon juice without seeds.
Storage & Reheating Leftovers
If you're going to have leftovers, make sure to store the sauces separately from the fried potatoes so the potatoes don't get soggy.
To reheat potatoes in the air fryer: preheat to 350 °F and heat until crisp and warm, about 3-5 minutes.
To reheat potatoes in the oven: preheat to 400 °F and place potatoes on a lightly greased baking sheet. Cook for about 5-7 minutes.
Store leftover condiments in squeeze bottles or Tupperware containers in the refrigerator, and serve chilled. Both sauces will last for about 5 days.
Use leftover aioli as a dip for french fries, or it's great on sandwiches or wraps. The salsa brava goes great with chicken. Both are delicious all-purpose sauces, so don't toss the leftovers!
FAQ
Is aioli the same as mayonnaise?
Pretty much, yes. Aioli is essentially a more flavorful mayonnaise. It's heavily seasoned with garlic and often contains olive oil instead of neutral vegetable oil.
Print
📖 Recipe
Easy Air Fryer Patatas Bravas
A twist on the authentic Spanish tapas dish made easy in the air fryer! Crispy diced potatoes served with a vibrant red, flavorful bravas sauce, and a quick homemade garlic aioli. 
Author: Kelly @ Butter and Thyme
Prep Time:

15 minutes

Inactive Time:

30 minutes

Cook Time:

30 minutes

Total Time:

1 hour 15 minutes

Yield:

4

servings

1

x
Category:

Appetizers & Snacks

Method:

air fryer

Cuisine:

Spanish

Diet:

Vegetarian
Crispy Air-Fried Potatoes
1 ¼

lbs

. Yukon gold potatoes, peeled and diced into ¾-inch cubes (or sub. Russet potatoes)

2 teaspoons

salt

2 teaspoons

white vinegar

2 tablespoons

olive oil (or sub. vegetable oil or nonstick spray)
Fresh parsley for garnish, chopped (optional)
Easy Garlic Aioli
Salsa Brava
2 tablespoons

olive oil

1

large yellow onion, diced into small pieces

1 tablespoon

garlic, minced

2 tablespoons

tomato paste

1

roasted red pepper (

½ cup

roughly chopped)

4 teaspoons

smoked Spanish paprika

2 teaspoons

sweet paprika

¼ teaspoon

cayenne

1 tablespoon

red wine vinegar or sherry vinegar (or sub. lemon juice)

½

cup

vegetable broth (or sub. chicken broth)
Salt and pepper to taste
Instructions
Prep the potatoes: in a large bowl, cover the diced potatoes with enough cold water to completely submerge. Then add salt and vinegar, and stir to combine. Let soak for at least 30 minutes (up to overnight).
Make the garlic aioli: combine mayonnaise, lemon juice, garlic, olive oil, salt, and pepper in a bowl, and stir to combine. Refrigerate until needed.
Make the salsa brava: set a large skillet over medium heat and add olive oil. Add the onions and cook until translucent and beginning to brown, about 7-8 minutes. Then add garlic and tomato paste, and cook for 1-2 minutes, stirring frequently, until fragrant. Add the remaining ingredients, and allow to simmer for about 1 minute before removing from the heat. Transfer the mixture to a blender and blend until smooth.* Adjust the consistency with more broth if needed. Let cool to room temperature, then refrigerate.
Air fry potatoes: preheat the air fryer to 300 °F. Drain the potatoes and dry them well with paper towels. Then toss them with 1-2 tablespoons of oil and place in an air fryer tray spaced evenly apart.* Cook for 8-10 minutes until they look dry on the surface and are barely starting to brown. Let the potatoes cool to room temperature and increase the air fryer temperature to 375 °F. Then, return the potatoes to the air fryer and cook for 5-6 minutes longer or until golden brown. Remove from the air fryer and season immediately with salt.
To serve: drizzle the air-fried potatoes with bravas sauce and aioli. Garnish with fresh parsley if using. Serve warm.
Notes
Use roasted garlic in place of raw garlic for a complex taste that adds a bit of sweetness! Garlic is much more mild and balanced when roasted, so use more of it than you would raw garlic. You can also use a combo of both raw and roasted garlic if you like things extra garlicky!
If you don't have a blender, you can also use an immersion blender or food processor. Or skip the blending and serve a chunky-style bravas sauce instead. 
Be sure to allow enough space between the potatoes to allow browning-- don't overcrowd the pan. Cook in multiple batches if needed, and toss partway through cooking for even browning.
Keywords: patatas bravas air fryer