These delicious homemade Ding Dongs are a copycat version of the Hostess treat (or nearly identical Drake's Ring Dings). They're individual-sized chocolate cakes with fresh whipped cream filling and a smooth chocolate glaze coating. YUM!
If you're more into vanilla than chocolate, I developed a recipe for vanilla ding dongs too! They're practically the same but use vanilla cake and vanilla glaze.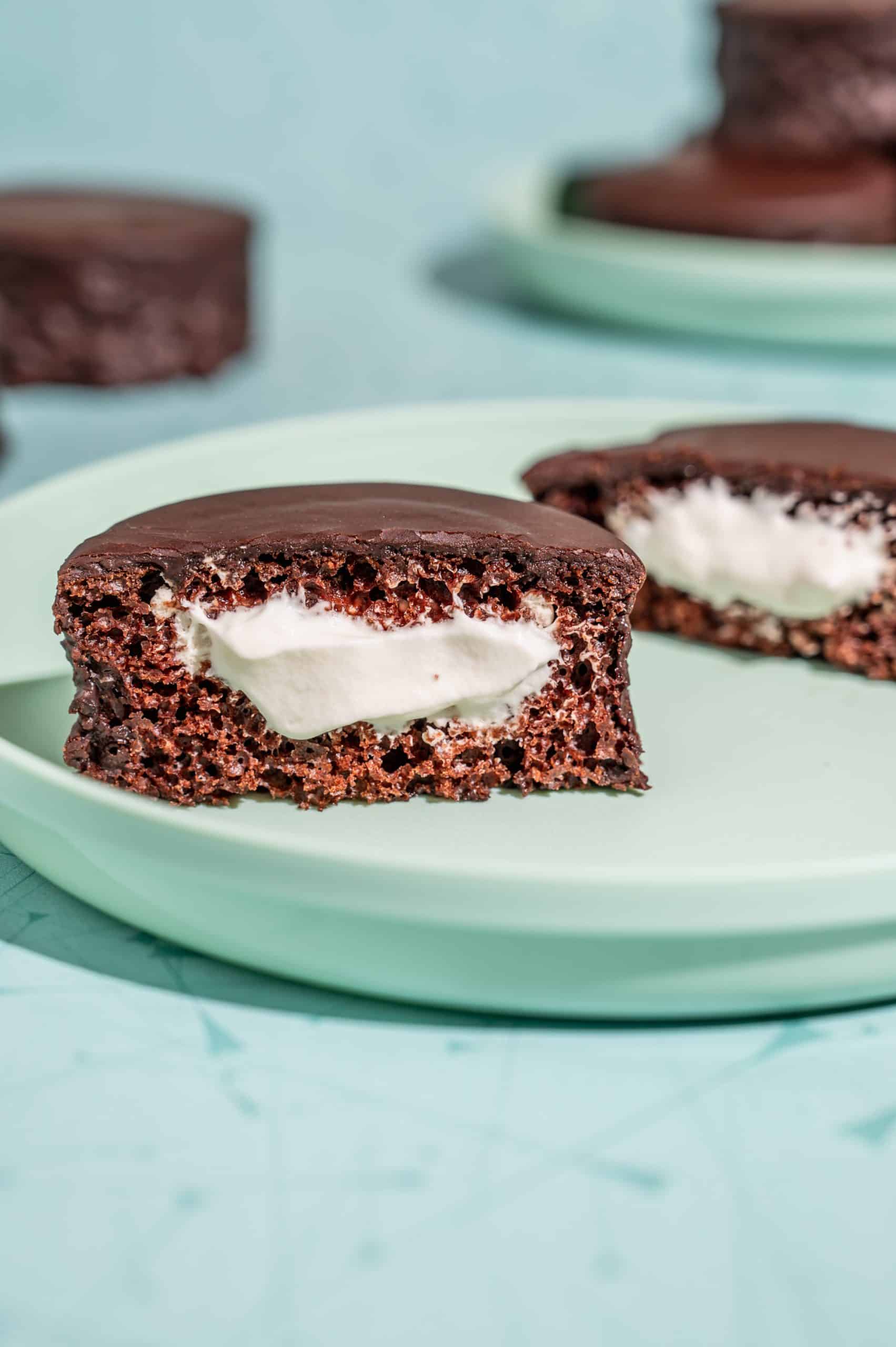 I have such a fond memory of ring dings as a child. I went to buy them and like many things that you love as a child, they weren't nearly as good as I remember. The cake is dry. And the "cream" filling is very artificial tasting, somewhere between Cool Whip and marshmallow fluff. They had so much potential, but I knew I could make them better.
I also tried the bakery-style ring dings from Ring Ding Bar at Brooklyn Smorgasburg and they were so delicious! So I wanted to make a version of this grown-up nostalgic treat for myself.
I cheated a little bit to make it easier and used a boxed cake mix for semi-homemade ring dings. To me, spending your time making the cream filling and chocolate coating is way more worth it. You can use your favorite devil's food or chocolate cake recipe if you want to make a fully homemade version!
In researching ring dings, I realized they're called ding dongs most everywhere besides the east coast, so we'll go with that. Whatever you call them, they're delicious!
Jump to:
Why You'll Love This Recipe
It's nostalgic! Eating a ring ding instantly makes me feel the joy of being a kid again.
Contains high-quality ingredients - you're in control of what goes into these. So you can use organic ingredients, avoid GMOs, and substitute plant-based alternatives if you choose. I'm not gonna say they're healthy, but it's a much better option compared to the store-bought version that's filled with preservatives.
Tastes AMAZING! Trust me, with the fresh whipped cream and decadent chocolate glaze, no one will be able to tell it's boxed cake. You're definitely gonna win at your next bake sale or dessert swap with this ring dings recipe!
Ingredients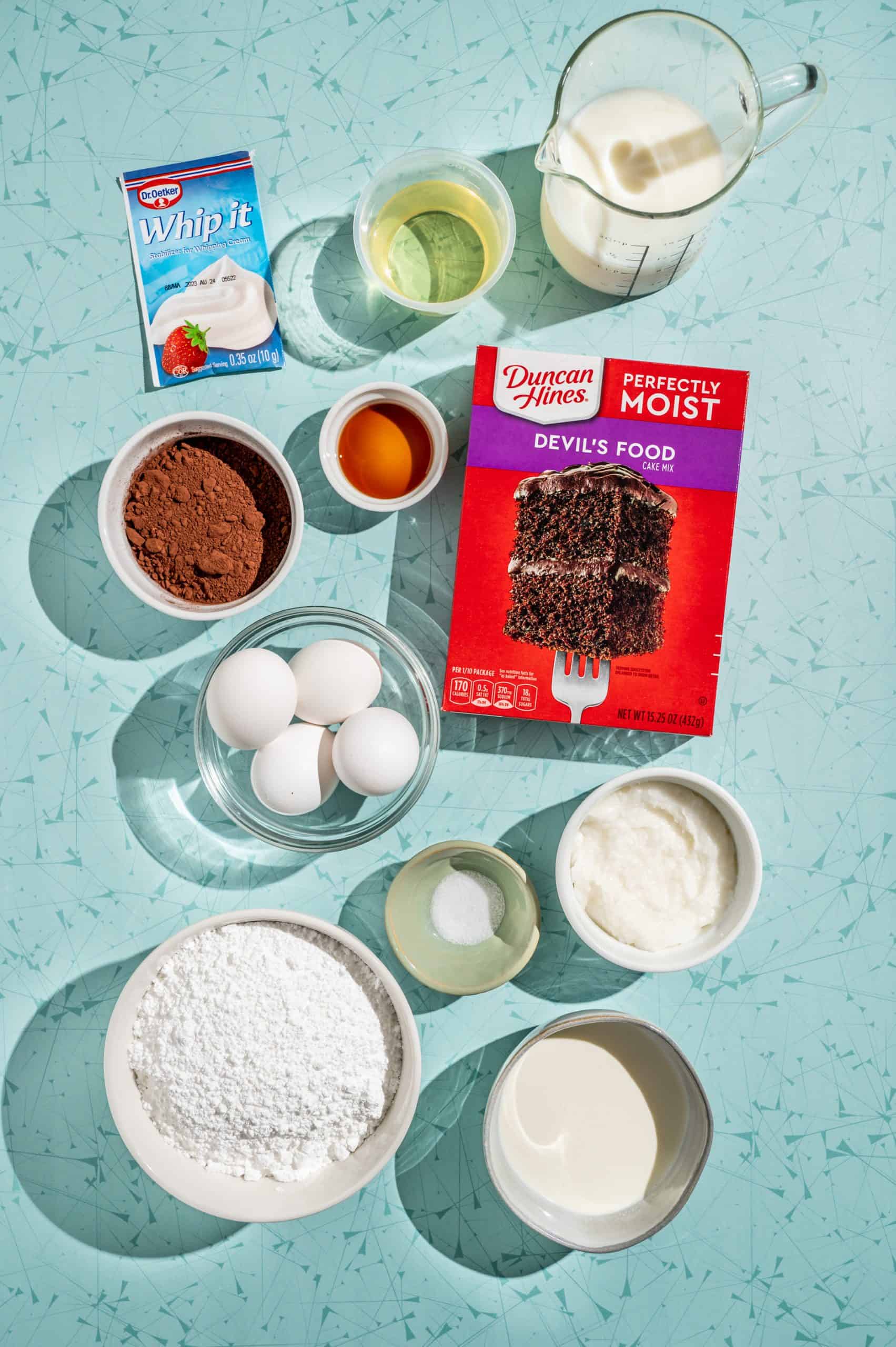 Chocolate cake mix - i.e. Devil's Food cake mix. I chose to use boxed cake mix because it doesn't make that much of a difference IMO. Freshly baked cake from a mix is still worlds better than the premade cake in store-bought ring dings. So it's a worthwhile shortcut for me.
Milk - Using milk in place of water in the cake mix makes it less airy and crumby, which helps the ding dongs hold their shape better. I recommend 2% or whole milk, but any type of milk is fine.
Eggs - use an extra egg to make the cake a little denser and less dry.
Oil - vegetable or canola oil. Or substitute any type of neutral cooking oil.
Heavy cream - a.k.a. heavy whipping cream is what you want to make fresh homemade whipped cream.
Powdered sugar - or confectioner's sugar. It's used in the chocolate glaze coating and the whipped cream filling as a sweetener and stabilizer.
Whip It - in addition to powdered sugar, Whip It helps stabilize the whipped cream so that it keeps for several days. You can substitute gelatin or any other whipped cream stabilizer (options outlined below).
Vanilla extract
Cocoa powder - I prefer Dutch-processed cocoa because it makes the glaze a deeper brown color with extra chocolate flavor. But you can substitute whatever type of cocoa powder you have. 
Coconut oil - I add coconut oil to the glaze because it's solid at room temperature. It gets melted to mix in with the glaze but then hardens as the glaze sets.
Salt - just a pinch balances out the bitterness of the chocolate.
See recipe card for quantities.
How to Make Chocolate Sheet Cake for Homemade Ding Dongs
To make homemade ding dongs, start by making a chocolate cake. Follow the box instructions with a few adjustments.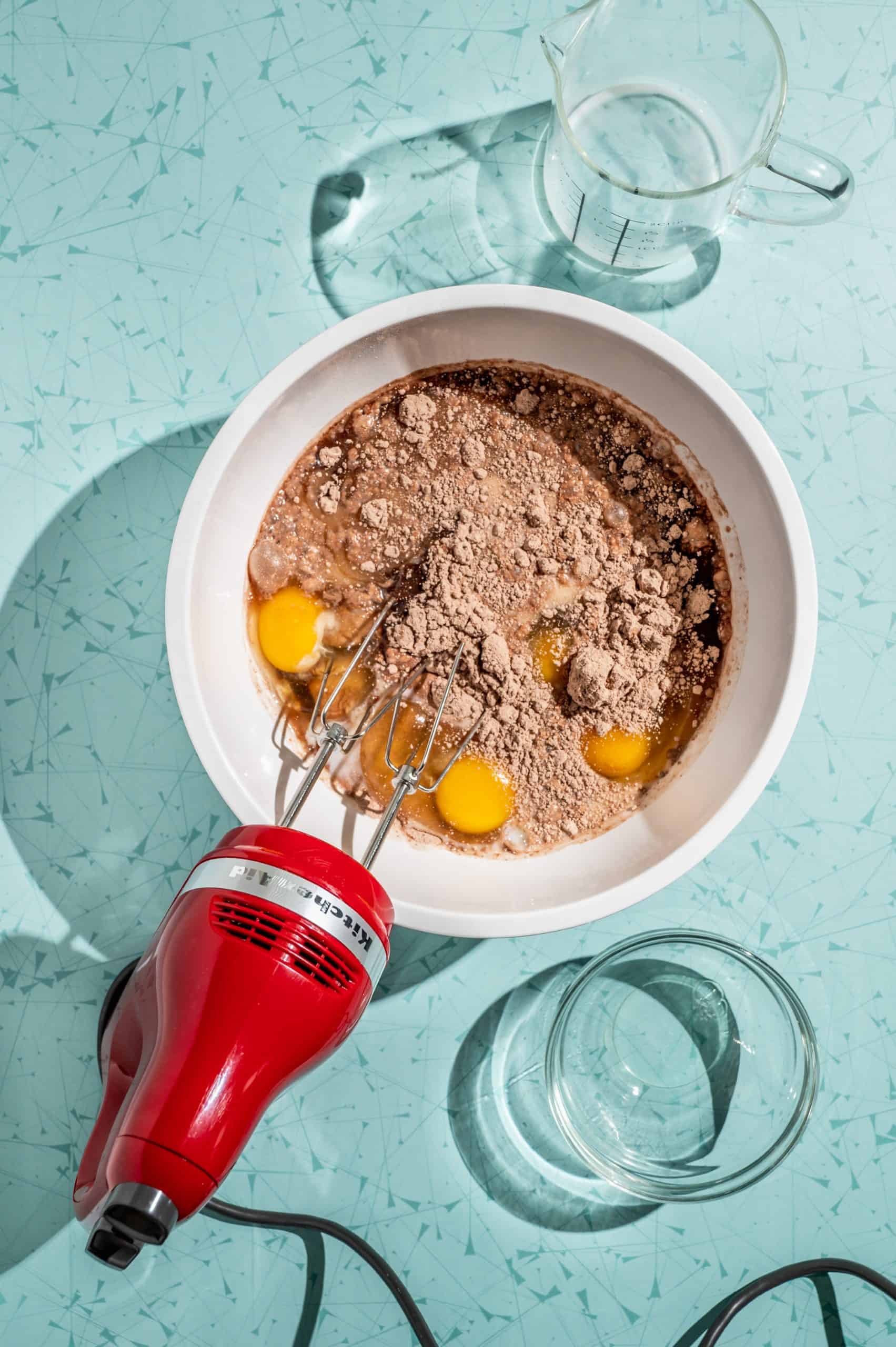 First, combine the chocolate cake mix with eggs, oil, and milk. Use one extra egg than what is called for on the box, and use milk in place of water. Mix to combine with an electric mixer until smooth.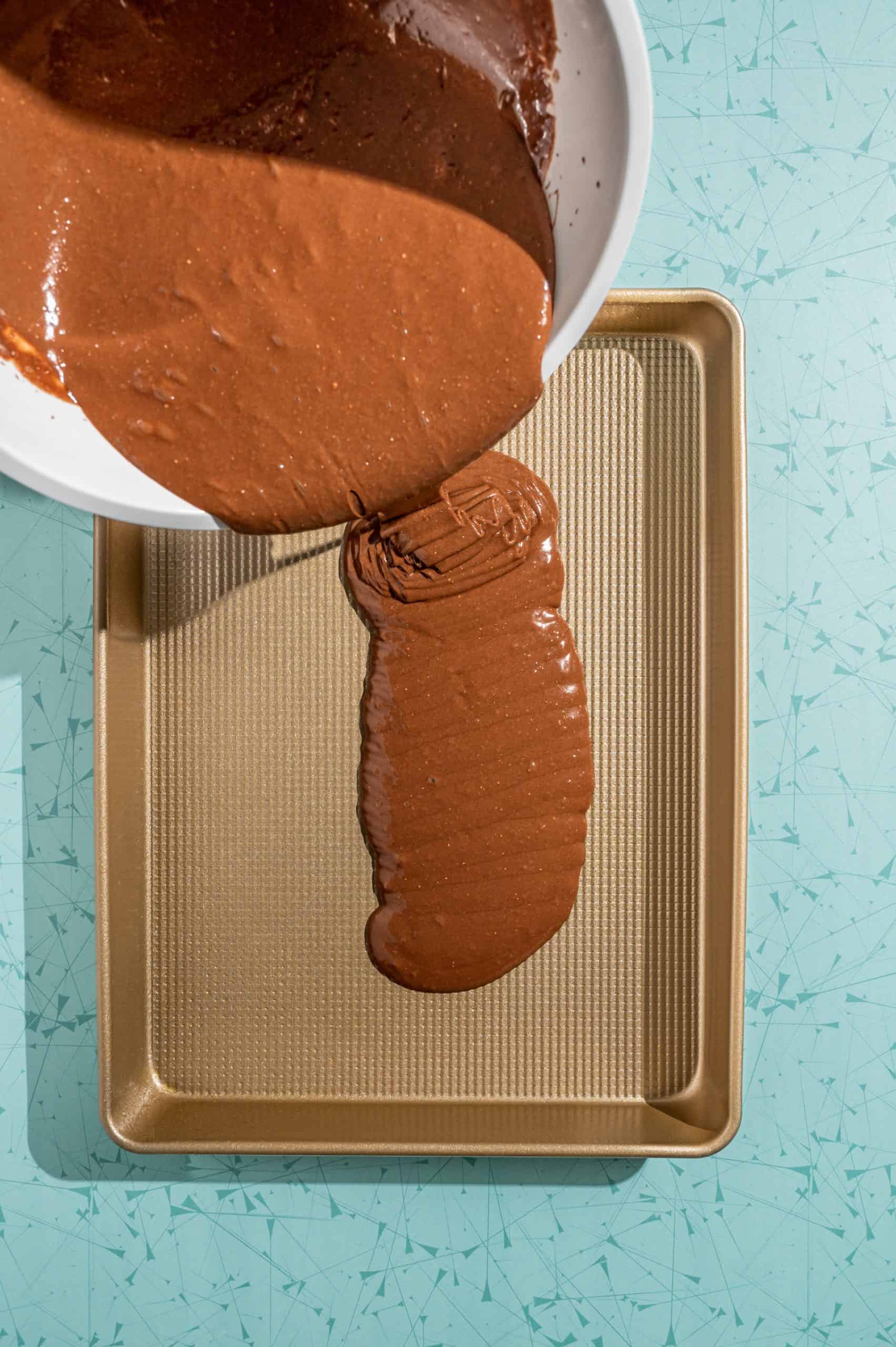 Then, pour the chocolate cake batter into a greased rectangular cake pan. A large shallow cake pan works best for to match the approximate thickness of copycat ding dongs. But a 13x9 pan or cupcake pan also works.
For a flat, smooth cake top, bang the pan against the countertop to release air bubbles. Use a toothpick to pop any air bubbles that come up on the surface.
Then, bake the chocolate cake or cupcakes until a toothpick comes out clean. I baked the cake in a 300 °F oven (rather than 350 °F). Since ring dings have a flat top, the lower oven temperature helps prevent doming.
Tips to Get a Flat-Topped Cake
Even with the lower oven temperature, the cake may still dome a bit in the oven. If this happens, place a heavy pan of similar size on top to weigh it down and flatten it while it's still warm out of the oven. Put a piece of parchment or wax paper in between the cake and the weight so it doesn't stick.
Another option is using a serrated knife to carefully level off the top.
How to Stabilize Whipped Cream
While the cake is baking and cooling, make the whipped cream for the filling. You need to use stabilized whipped cream in order for the filling to keep its shape. Otherwise, it will deflate or "weep" within a few hours.
The method of making stabilized whipped cream is super easy and exactly the same as fresh whipped cream (whip on medium speed for 5 minutes until you get stiff peaks). You just need to add an extra ingredient or two to stabilize it...
For this recipe, I chose to use Whip It, a cornstarch-based whipped cream stabilizer. It comes in small pouches (similar to yeast) and is super effective and easy to use. Here are some other ways to stabilize whipped cream:
Cornstarch - works like Whip It which largely consists of cornstarch. It may effect the taste and texture a little when used in large quantities.
Powdered sugar - use powdered sugar rather than granulated sugar in your whipped cream for a smoother texture. And since it contains a little bit of cornstarch, it also helps to stabilize whipped cream. By itself, it isn't super effective for long-term use but it works in combination with additional cornstarch.
Gelatin - this is the way the pros do it! It's a bit more involved because you need to bloom the gelatin in warm liquid before adding it to the cream so it evenly dissolves.
Store the stabilized whipped cream in a lidded container in the refrigerator until ready to use.
How to Make Ding Dongs
Now that you've got the chocolate cake and whipped cream ready, here's how to assemble your homemade ding dongs: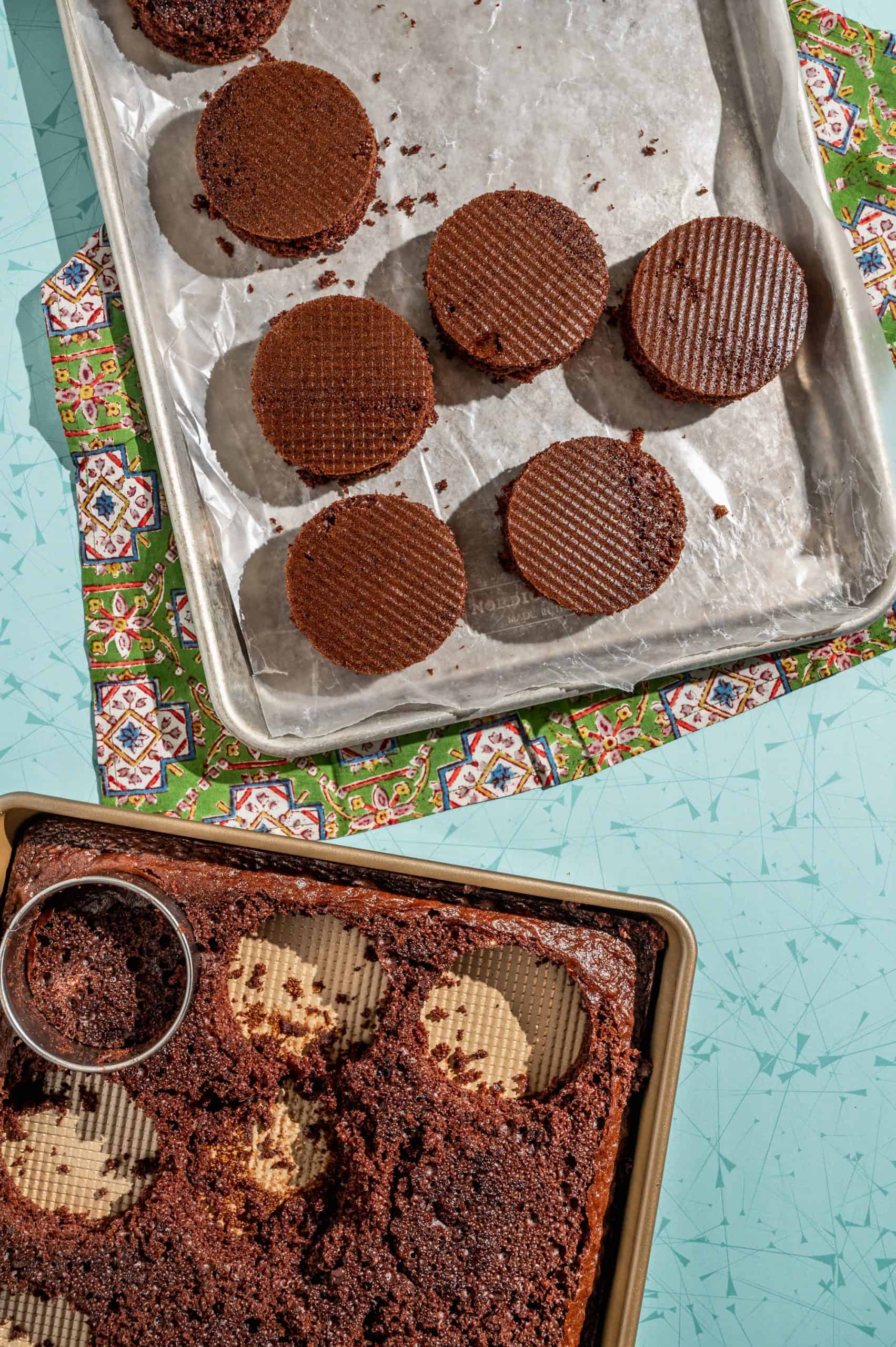 Use a round biscuit cutter (about 2.5-3 inches in diameter) to cut straight-sided round mini-cakes from the cooled chocolate sheet cake. Depending on the size pan, it should make about a dozen. Flip the cakes over so that the smooth side is on top.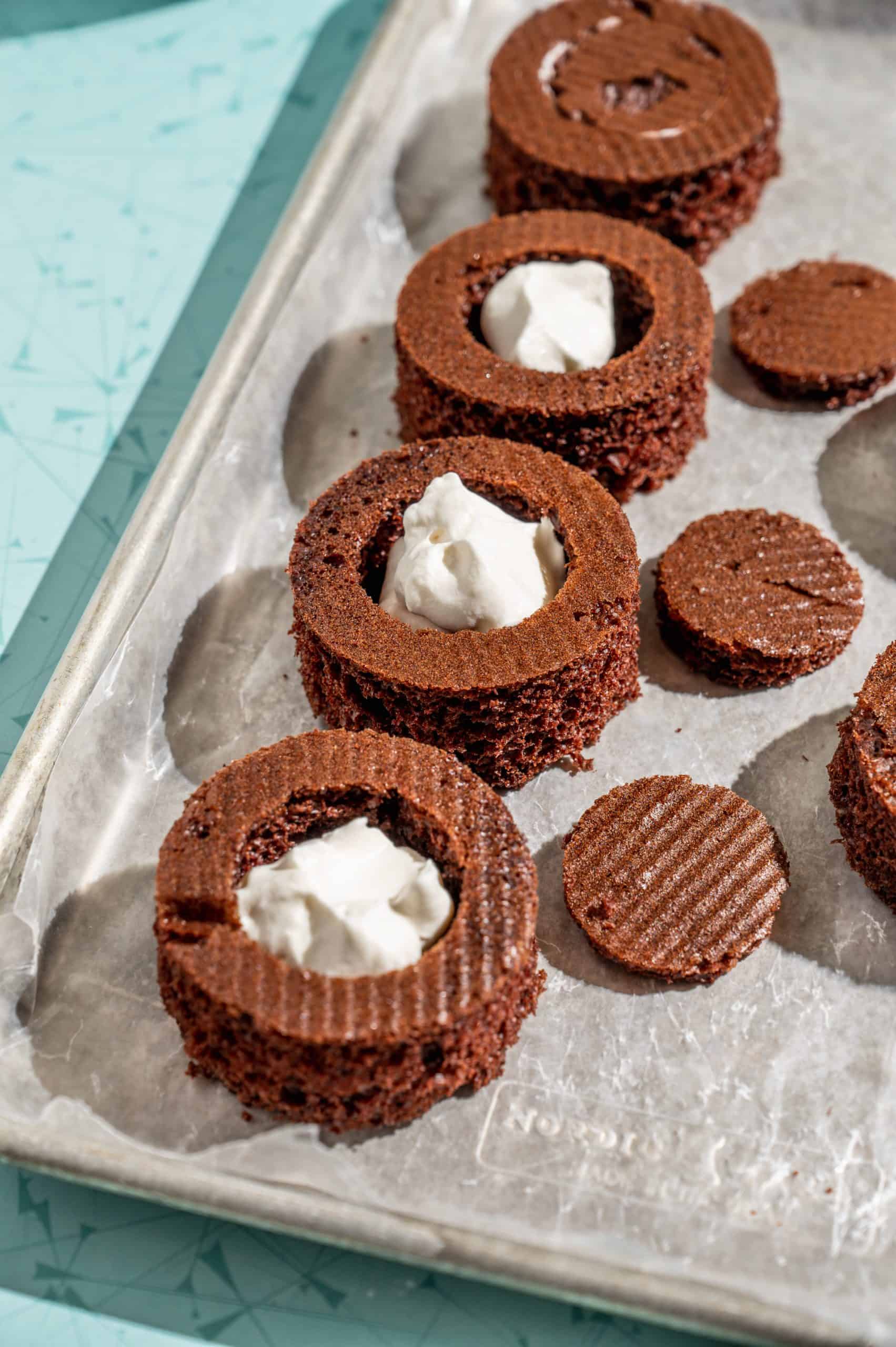 Now, fill the mini chocolate cakes with the whipped cream filling. Then replace the small round slice of cake on top to conceal the whipped cream center. The top should be flush to the cake- if it sticks out too much, you've overfilled it.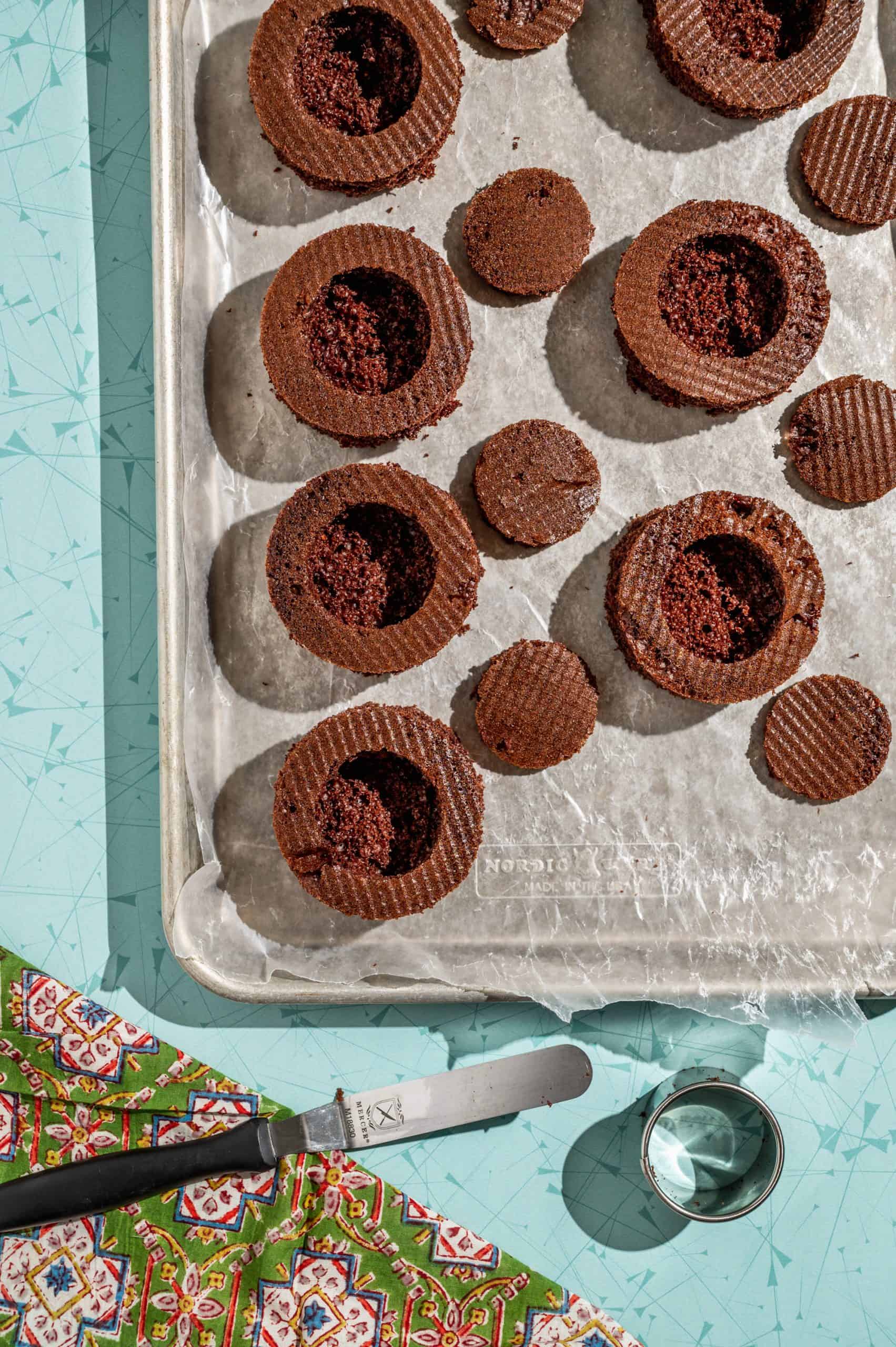 Now, use a smaller biscuit cutter (~ 1.5 inches) to press down in the center of each cake (about ¾ of the way, not all the way through). Scoop out the center with a small spoon or offset spatula to hollow out the inside. Reserve a small slice to replace the top after filling.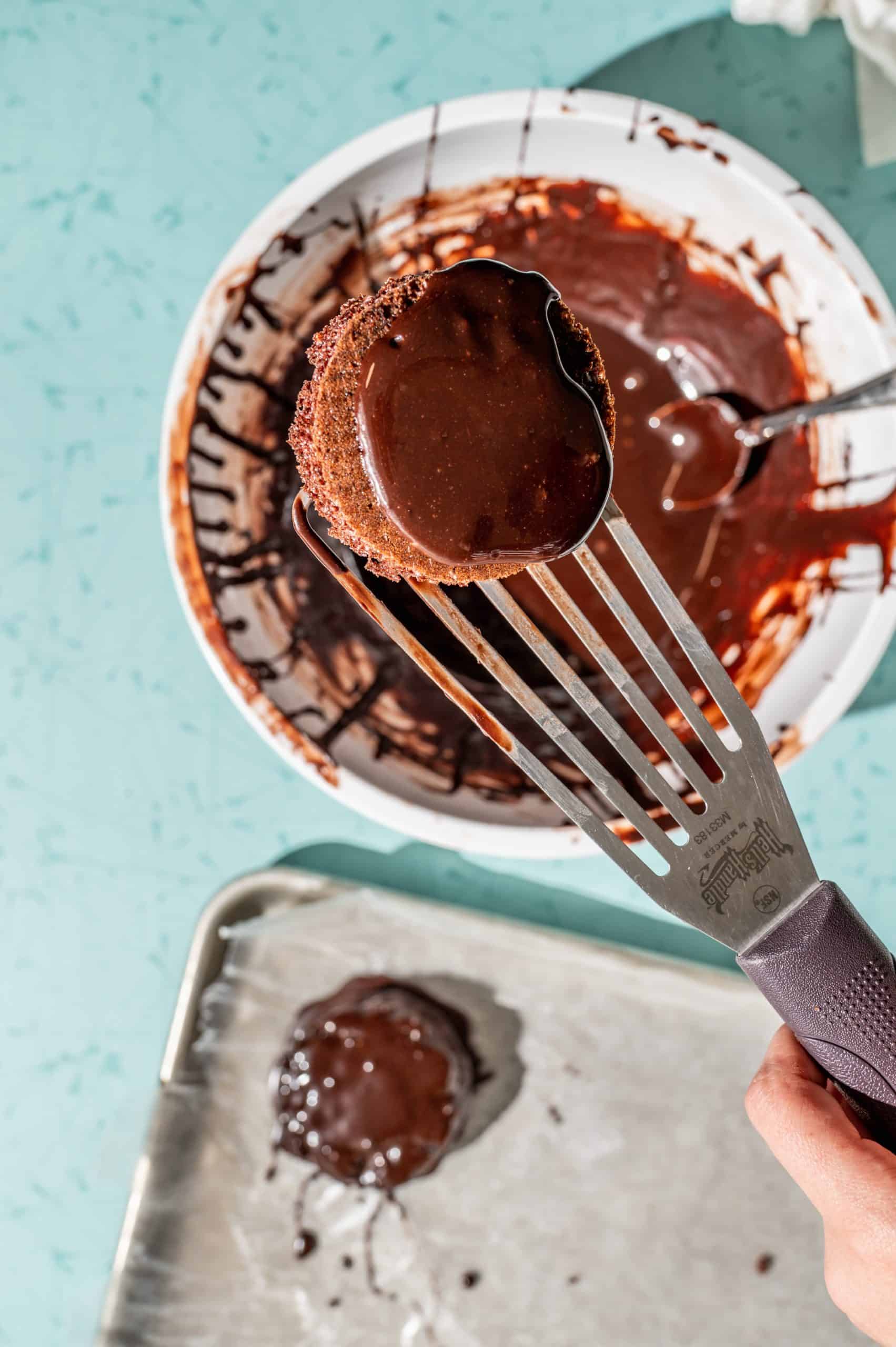 To make the chocolate glaze, combine all ingredients in a bowl and whisk until smooth. Hold the ding dongs over the bowl of glaze one at a time and spoon the glaze over top until the top and sides are completely covered.
After coating with chocolate glaze, place the ding dongs on a baking tray lined with wax paper or parchment paper. Then transfer the tray to the fridge (uncovered) to allow the glaze to fully set before serving.
Equipment
Here's what you'll need to make this recipe: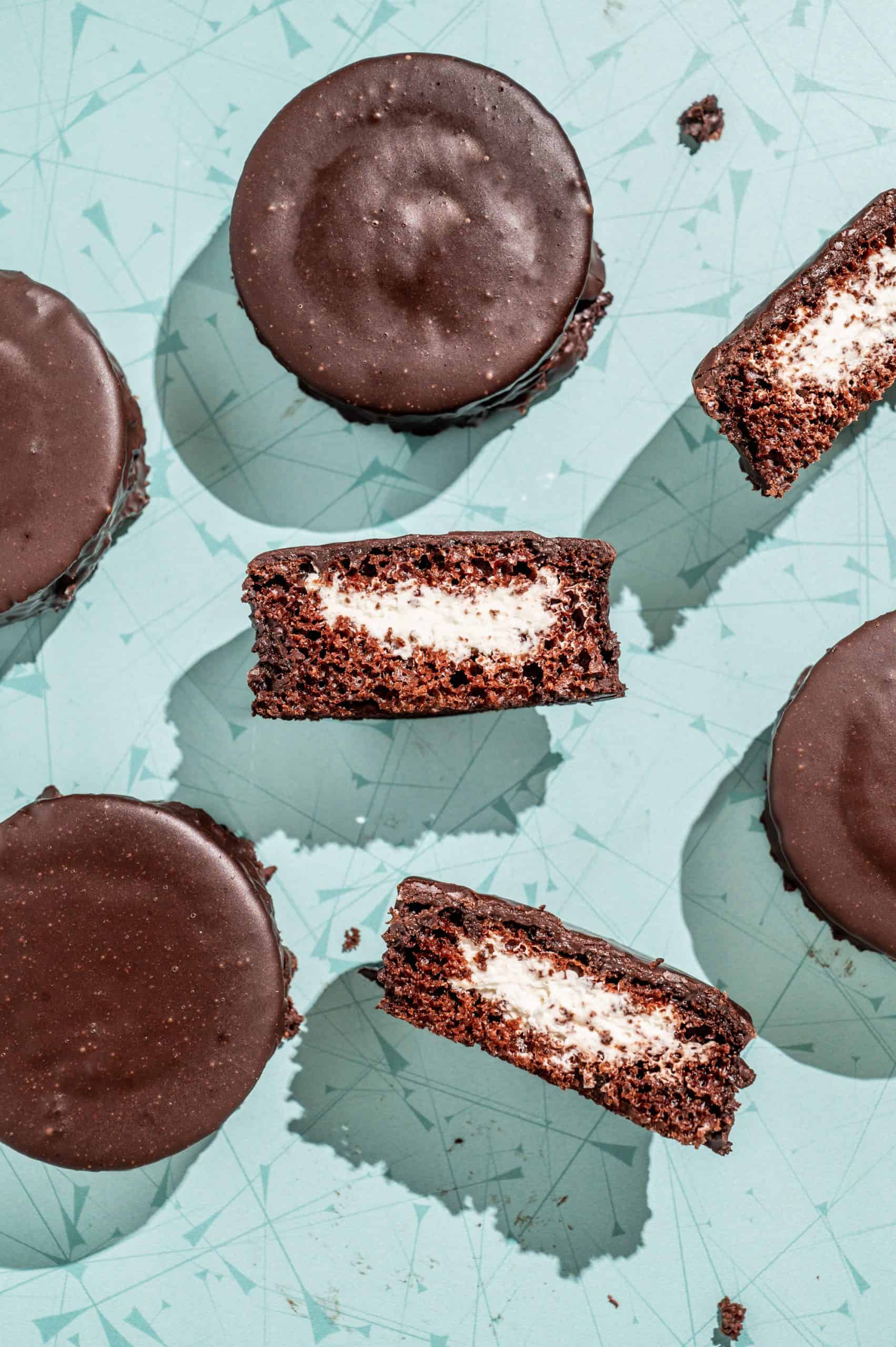 Rectangular baking pan - a large shallow pan around 12x16 inches works perfectly. If you don't have one, a 9x13 also works. Just keep in mind they will be a bit thicker and it might not make as many.
Round cookie cutters - a set of concentric biscuit cutters works great since you get a variety of circle sizes to choose from.
Electric mixer - most boxed cake mixes suggest mixing with either a handheld electric mixer or a stand mixer, but you can also mix by hand with a whisk. Stand mixers are easiest for making whipped cream, but you can also use a handheld mixer or whisk in a pinch.
Mixing bowl
Slotted spatula - a metal fish spatula with large slats is really helpful for applying the chocolate glaze. Since the cakes are pretty delicate, it's easier to use something like this rather than holding the cake in your hand.
Baking sheet or plastic tray - it's helpful to place the ding dongs on a flat tray to transfer them easily in and out of the fridge.
Wax paper or parchment paper - their nonstick surface prevents the glaze from sticking as it hardens.
Storage & Make-Ahead Instructions
Store homemade ring dings in the refrigerator uncovered on a lined sheet tray. After 1-2 days, you can move them to a large shallow Tupperware container to keep them from drying out (still store in the fridge).
I wouldn't recommend freezing these due to the fresh whipped cream filling.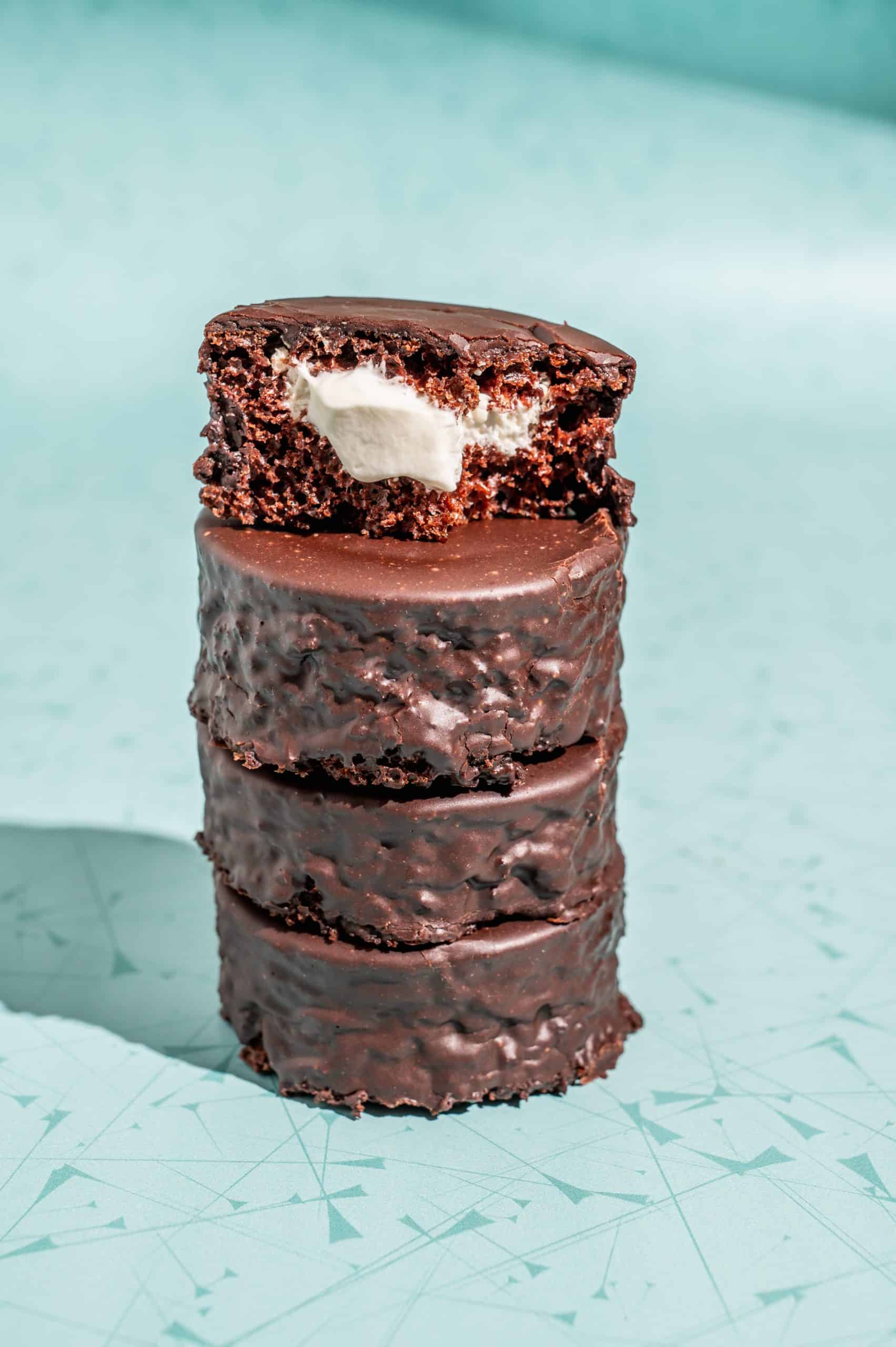 With all of the different components, this is a great make-ahead recipe! The chocolate cake and whipped cream filling can easily be made a day or two before assembling the homemade ding dongs.
What to Do with Cake Scraps
This recipe makes approximately 12 ding dongs, depending on the size and shape of the sheet cake. And you'll end up with a good amount of chocolate cake scraps. Instead of letting them go to waste, here are some ideas on how to use them:
Make cake pops or truffles - mix cake crumbs with frosting and form into balls. Then dip them in melted chocolate or chocolate glaze coating.
Make chocolate trifle - Layer bits of cake with stabilized whipped cream in a large glass dish. You can also add layers of fresh fruit, crushed candy, and/or pudding. Chocolate trifle is the ultimate lazy dessert and I love it!
Save for snacks - One of the hard things about making a cake is you can't really test it to make sure it tastes good before serving it. But in this case, you'll have plenty of scraps! Top with a little bit of whipped cream topping and you'll have a good preview of what the ring dings will taste like ◡̈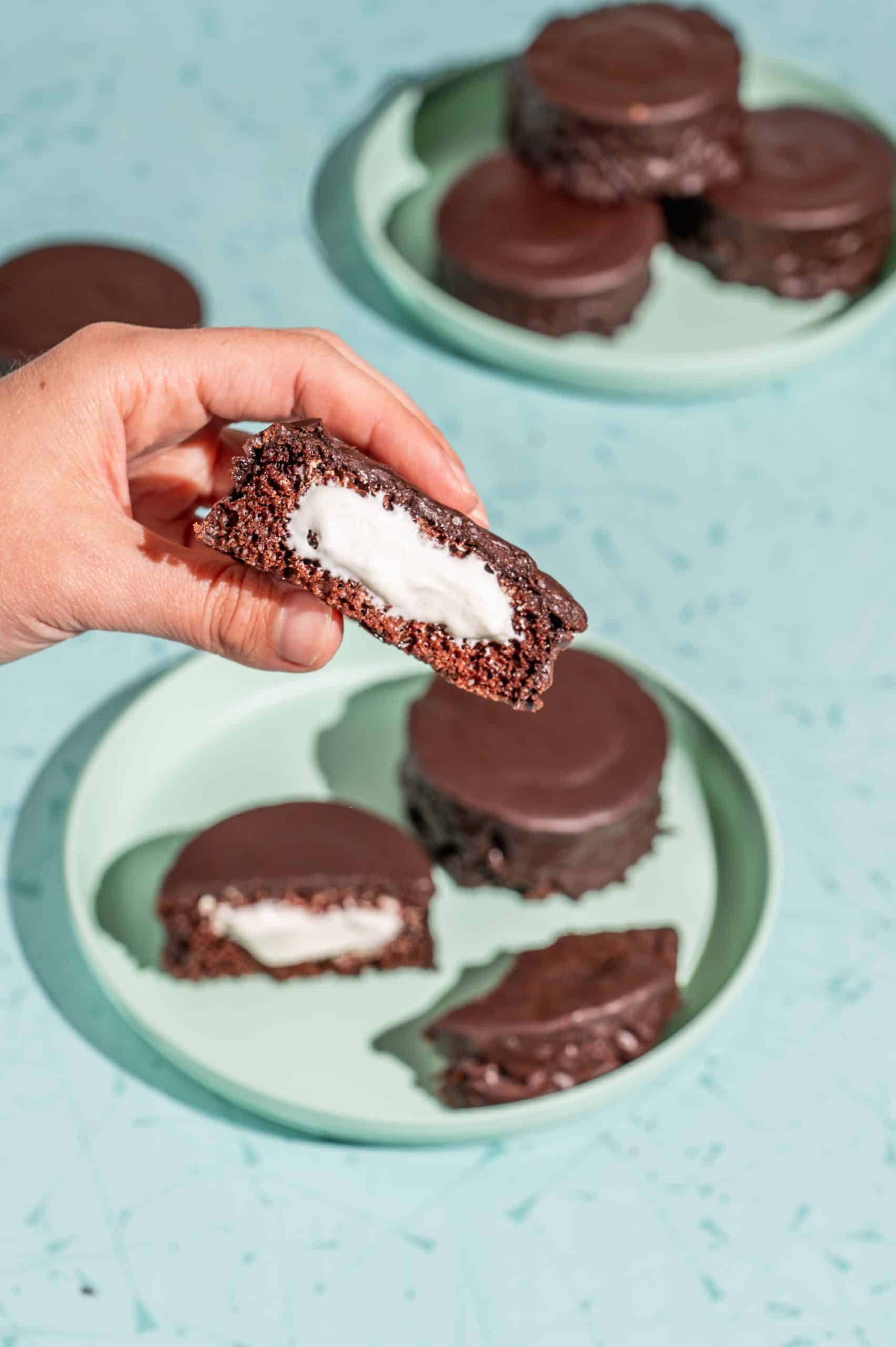 FAQ
Can I Make Ding Dong Cupcakes Instead?
Absolutely! To make ding dong cupcakes, bake the chocolate cake batter in a cupcake pan. And spoon the glaze just on top (not the sides). Besides that, the recipe is exactly the same.

Hostess cupcakes with their signature white squiggle on top are very similar to their Ding Dongs. Ding Dongs have chocolate glaze on the sides and top, a higher ratio of filling, straight sides, and a flat top. Hostess cupcakes are shaped like a regular cupcake, and the chocolate glaze is only on the top, not the sides.
Ding Dongs vs. Ring Dings
Ding dongs and ring dings are almost identical desserts made by two different companies (Drake's makes Ring Dings and Hostess makes Ding Dongs). Therefore, there are subtle differences between ring dings and ding dongs.

As I mentioned before, Ring Dings are slightly larger. I find the chocolate cake interior of Ding Dongs drier but there's a higher ratio of filling. Neither store bought option is as good as homemade, IMO!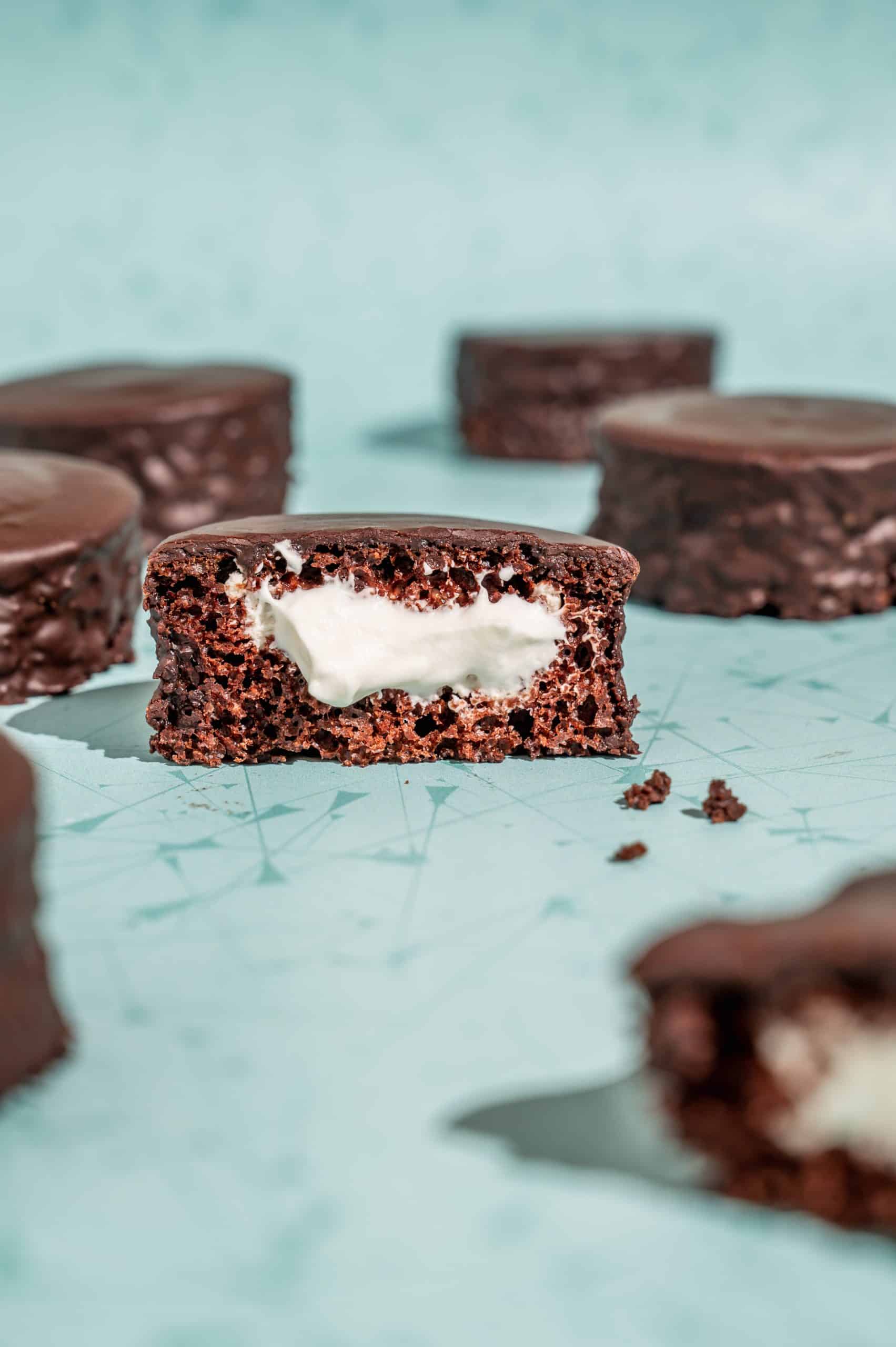 Print
📖 Recipe
Homemade Ding Dongs (Ring Dings)
These homemade Ding Dongs are a copycat version of the Hostess treat (or the nearly identical Drake's Ring Dings)! They're mini chocolate cakes filled with fresh whipped cream and coated in a delicious chocolate glaze.
Author: Kelly @ Butter and Thyme
Prep Time:

20 minutes

Cook Time:

25 minutes

Total Time:

45 minutes

Yield:

1

2

1

x
Category:

Dessert

Method:

baking

Cuisine:

American
For the Chocolate Cake
1

box chocolate cake mix (i.e. Devil's Food)

1

cup

milk

4

eggs

½

cup

oil
For the Whipped Cream Filling
1

cup

heavy cream

3 tablespoons

powdered sugar

1

packet Whip It (or substitute any whipped cream stabilizer)

½ teaspoon

vanilla extract
For the Chocolate Glaze Coating
½

cup

Dutch process cocoa powder

½

cup

refined coconut oil, melted

3

cups

powdered sugar
Pinch of salt

½

cup

warm water
Instructions
Preheat oven to 300 °F and spray a 12x16 baking pan with nonstick spray.*
Make cake batter according to box instructions, substituting milk for water and adding one extra egg. Pour the batter into the prepared pan and bake the cake for about 22-25 minutes or until a toothpick comes out clean. Let cool. 
Make the stabilized whipped cream: in the bowl of a stand mixer with the whisk attachment, combine heavy cream, powdered sugar, Whip It, and vanilla extract. Whip on medium speed for about 5 minutes or until stiff peaks form.
Assemble and fill ding dongs with whipped cream: use a round cookie cutter (about 3 inches in diameter) to cut circles out of the chocolate cake, flipping them over so the smooth side is on top. Then, use a smaller round cookie cutter (about 2 inches in diameter) to make an indent on top of each cake (pressing about ¾ of the way down, not all the way through). Use a spoon or small offset spatula to hollow out the center. Then, cut a thin slice (about ¼ inch thick) off the top of the hollowed-out center, and discard the rest of the inside of the cake, reserving just the thin top slice. Fill each ding dong with about 1-2 tablespoons of whipped cream and replace the top slice to conceal the filling. Refrigerate until well chilled. 
Make the chocolate glaze: combine all ingredients in a bowl and whisk until smooth. Adjust the consistency if necessary by adding more water to thin or more powdered sugar to thicken. 
Coat ding dongs with chocolate glaze: working one at a time, place the ding dongs on a slotted spatula and hold over the bowl of glaze. Spoon the chocolate glaze over top until the top and sides are completely coated. Then transfer to a baking sheet lined with wax paper and place the tray in the refrigerator (uncovered) to allow the glaze to set (at least 1 hour). 
Notes
If you don't have a 12x16 baking pan, you can use a 9x13 but the ding dongs will be thicker and it won't make as many. You can also use a jumbo muffin pan. 
Keywords: homemade ring dings, how to make ding dongs, how to make ring dings, ring dings recipe