These Vanilla Ding Dongs are a twist on the Hostess classic treat! For my vanilla people, they're made with vanilla cake and vanilla icing instead of chocolate. And I dyed them rainbow to celebrate Pride month!
I developed this recipe as a contribution to the #LovePrideCollab that was created to bring awareness to the LGBTQ community and celebrate diversity, equality, and inclusion. As of the time of posting this blog post, this baker-led initiative has raised over $2,500 for the Trevor Project! For more information and to see all the other amazing creations, check out the hashtag on Instagram (#LovePrideCollab).
If you've never had Hostess ding dongs (or Drake's Ring Dings) they're round mini chocolate cakes with a creme filling, coated in a thin layer of chocolate glaze. I used to love them as a kid! This is the same idea, just vanilla instead of double chocolate.
If you're more of a chocolate fan, I have an amazing copycat chocolate Ding Dongs recipe too. (And you should also check out my other chocolate recipes like chocolate satin pie and Nutella brownies!) Or for a healthy mix of chocolate and vanilla, you can mix and match the cake and glazes.
Jump to:
Why You'll Love This Recipe
Ingredients
Here's what you need to make this recipe:
See recipe card for quantities.
How to Make Rainbow Cupcakes
The first step to making rainbow vanilla ding dongs is making rainbow cupcakes! I prefer to use a jumbo muffin pan-- the size is better for ring ding/ ding dong proportions.
First, make the white cake batter according to the box instructions with a few adjustments: 1) use whole eggs instead of egg whites, 2) use milk instead of water, and 3) lower the oven temperature. These changes make the cupcakes denser and have flatter tops, which works better for ding dongs.
Split the cake batter evenly into 5 small bowls (or however many colors you want to use). Add about a teaspoon of food coloring to each bowl, making 5 different colors of cake batter. You can add more food coloring if you want the colors to be more vivid or darker, I don't usually measure it out.
Now the fun part! Fill each cup with about 1 tablespoon of red cake batter, followed by the rest of the colors in rainbow order. Try to place each color in a thin even layer, but it doesn't have to go all the way to the edges. And don't mix the colors together to keep distinct layers.
Bake the cupcakes in the oven until a toothpick comes out clean. To turn the cupcakes into ding dongs, use a 2.5-3 inch round cutter to cut a straight-sided cylinder out of each cupcake. (You can always skip this step, but this makes them look more like traditional ding dongs.)
Then, use a knife to make a horizontal cut across the top to flatten each cupcake. Flip them over so the smooth (red) side is on top. Make sure to let the cupcakes fully cool before proceeding.
How to Make Stabilized Whipped Cream Filling
If you've ever made fresh whipped cream, the process is exactly the same. You just need to add a stabilizer to keep it from deflating. There are a few different ways to do this:
How to Fill & Assemble Homemade Ding Dongs
Now that we have the whipped cream ready to go, cut a small hole out of the top of each cake cylinder. You can do this by using a small cutter and pressing about ¾ down (make sure not to cut all the way to the bottom). Then scoop it out with a small spoon or spatula, and cut away most of the middle, reserving about ¼ inch slice of cake to replace the top after filling.
Here you can see the hollowed-out cakes with the matching tops on the side. Fill each cake with about 1-2 tablespoons of whipped cream (fill most of the way, but don't overfill). Then carefully place the small round slice of cake on top to conceal the whipped cream center until it's flush to the top. If it sticks out too much, try removing a little of the whipped cream.
To make the vanilla glaze, mix all ingredients together in a bowl. Hold the ding dongs over the bowl of glaze one at a time and spoon glaze over top until the top and sides are all covered. Let the excess glaze drip back into the bowl.
Transfer the vanilla ding dongs to a tray lined with wax paper to allow the glaze to dry. Be sure to add sprinkles while the glaze is still wet so they adhere to the glaze. Then transfer the tray to the fridge (uncovered) to fully dry.
Variations
Admittedly, the rainbow layering thing is a lot of work (and a lot of dishes). So for an easier version of rainbow ding dongs, you can use a confetti cake mix and skip the food coloring. Or, add rainbow sprinkles to vanilla cake batter.
If you go this route, you can use a shallow rectangular cake pan if you don't have a jumbo muffin pan. And cut out circles from the sheet cake.
If you want to make plain vanilla ding dongs and skip the rainbow stuff, you can do that too! Make plain vanilla cake or cupcakes (using the adjustments outlined above) and proceed with the whipped cream filling and vanilla glaze as written.
Equipment
Here's everything you'll need to make this recipe: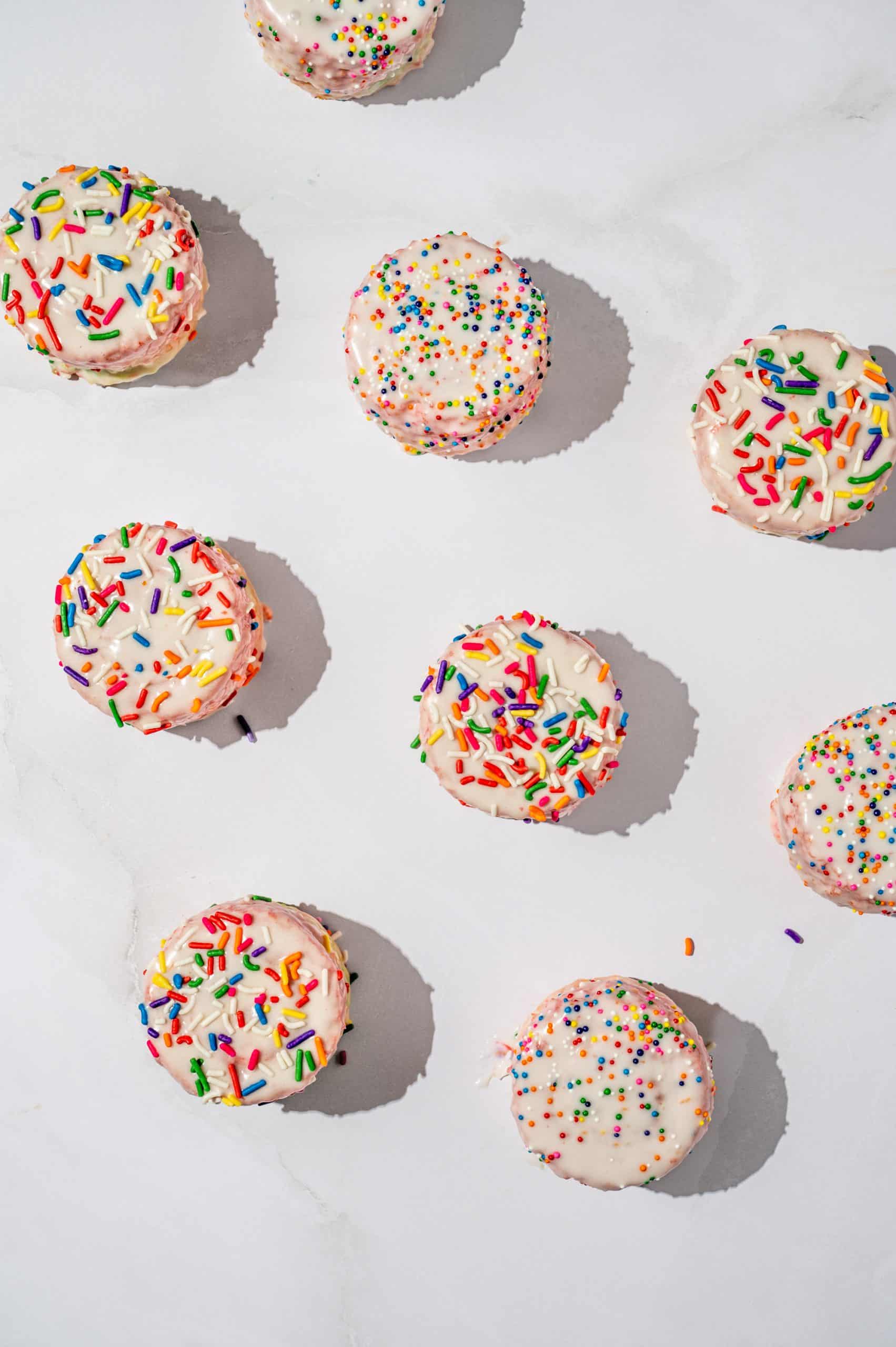 Storage
Although you can keep these out at room temperature for a short amount of time, it's best to store them in the refrigerator.
You can store them uncovered on a lined sheet tray for at least 2 days. After that, they start to dry out a little, but the whipped cream filling was still fluffy and delicious on day 3!
I wouldn't recommend freezing these vanilla ding dongs due to the fresh whipped cream filling. It can change the texture and cause it to "weep" as it defrosts.
FAQ
Is Dream Whip the same as Whip It?
No, although they look very similar. Whip It is a powdered stabilizer mix that you add to whipped cream to make it last longer. Dream Whip is a "whipped topping mix" that you add to milk to make a whipped topping. It tastes more like Cool Whip than fresh whipped cream.
How Can I Use Leftover Cake Scraps?
One potential downside to making homemade ding dongs is the extra cake scraps. But you don't have to let them go to waste! You can use them to 1) make cake pops, 2) make a trifle, or 3) snacking!

Cake scraps are great for taste testing! One of the hard things about making a cake is you cant really test it to make sure it tastes good before serving it. Here, you'll have plenty of scraps to taste. Add a little bit of extra whipped cream topping and you'll have a good preview of what the ring dings will taste like ◡̈
Print
📖 Recipe
Rainbow Vanilla Ding Dongs
These Vanilla Ding Dongs are a twist on the classic cream-filled Hostess snacks, made with vanilla cake mix and coated in vanilla glaze. You can make them plain vanilla or use food coloring for a rainbow effect!
Author: Kelly @ Butter and Thyme
Prep Time:

40 minutes

Cook Time:

20 minutes

Total Time:

1 hour

Yield:

1

2

1

x
Category:

Dessert

Method:

baking

Cuisine:

American
For the Vanilla Cake
1

box white vanilla cake mix

1

cup

milk

3

eggs

½

cup

oil
Gel food coloring in a variety of colors (optional)
For the Whipped Cream Filling
1

cup

heavy cream

3 tablespoons

powdered sugar

1

packet Whip It (or substitute any whipped cream stabilizer)

½ teaspoon

vanilla extract
For the Vanilla Glaze Topping
3 ½

cups

powdered sugar

1 teaspoon

vanilla extract

¼

cup

milk
Rainbow sprinkles (optional)
Instructions
Preheat oven to 300 °F and spray 2 jumbo muffin pans with nonstick spray.*
Make cake batter according to box instructions, substituting milk for water and using whole eggs in place of egg whites. Split the cake batter evenly among 5 bowls (about 6 ounces each) and dye each bowl a different color of the rainbow using food coloring. Starting with red or pink, place 1 large spoonful (about 1 tablespoon) of batter in each cup of the prepared muffin pan. Repeat with each color in rainbow order until you've used all of the batters. Bake the cupcakes for about 20 minutes or until a toothpick comes out clean. Let cool. 
Make stabilized whipped cream: in the bowl of a stand mixer, combine heavy cream, powdered sugar, Whip It, and vanilla extract. Whip on medium speed for about 5 minutes or until stiff peaks form. 
Fill ding dongs with whipped cream: Use a round cookie cutter (about 2 ½ inch diameter or the same size as the bottom of the cupcakes) to cut a straight-sided cylinder out of each cupcake. Trim the top of the cupcakes to make the tops flat if necessary, and flip over so the smooth side is on top. Then, using a smaller round cookie cutter (about 1 ½ inch diameter) make an indent in the top of each cylinder (pressing about ¾ of the way down, not all the way though). Use a spoon or small offset spatula to hollow out the center. Then, cut a thin slice (about ¼ inch thick) off the top of the hollowed-out center, and discard the rest of the inside of the cake, reserving just the top slices. Fill each ding dong with about 1-2 tablespoons of whipped cream and replace the top slice to conceal the filling. Refrigerate until well-chilled. 
Make vanilla glaze: combine all ingredients (except sprinkles) in a bowl and whisk until smooth. Adjust the consistency if necessary by adding more milk to thin or more powdered sugar to thicken.
Coat ding dongs with vanilla glaze: working one at a time, place the ding dongs on a slotted spatula and hold over the bowl of glaze. Spoon the glaze over top until the top and sides are completely coated. Then transfer to a baking sheet lined with wax paper and sprinkle with rainbow sprinkles if using. Place the tray in the refrigerator uncovered. Allow glaze to fully set (at least 1-2 hours) before serving.
Notes
If you don't have a jumbo muffin pan, you can use regular cupcake pans or a large shallow cake pan to make the cake.

To make plain vanilla ding dongs, skip the step with the food coloring, and just make vanilla cupcakes (with the substitutions listed). 
For alternate instructions on how to assemble, see this homemade ring dings recipe.
Keywords: how to make rainbow cupcakes, homemade vanilla ring dings