With so many buttery flaky layers, these flaky honey butter biscuits with thyme are simply the best biscuits! Adding a little bit of savory thyme balances out the sweetness of the honey. And that sweet and savory combo means they're perfect for so many things, like breakfast sandwiches, or served as a side for Thanksgiving dinner.
I've also included an optional (but highly recommended) recipe for a thyme compound butter. It only takes one bowl and about 5 minutes to make. Plus, it uses same ingredients that are already in the biscuits, so you should already have everything to make it.
I adapted this flaky biscuit recipe from America's Test Kitchen. The ATK recipe is AMAZING but very involved, so I simplified the folding process a bit in a way that still creates lots of flaky layers. Freezing a stick of butter and grating it into the biscuit dough also helps create little pockets of butter throughout, which melt and create more layers. Genius!!
If you have extra flaky honey butter biscuits leftover, they make a delicious base for an eggs Benedict recipe like this one!
Jump to:
Ingredients
Here's what you'll need to make honey butter biscuits:
Flour - I use King Arthur all-purpose flour. King Arthur has a higher protein content compared to other brands of all-purpose flour, so it helps to create a structure that supports a flaky textured biscuit.
Fresh thyme - or sub dried thyme. I love the aroma of fresh thyme! You can also make these without any thyme if you prefer plain honey butter biscuits.
Baking soda
Baking powder
Unsalted butter
Buttermilk
Salt - I use regular table salt for the biscuits and flaky sea salt on top, but that's totally optional. I also use flaky sea salt for the compound butter. Maldon sea salt is the best! Use it as a finishing salt, sprinkling a little bit on top (also excellent on chocolate chip cookies and so many other things!)
See recipe card for quantities.
How to Make Flaky Honey Butter Biscuits
Here's how to make the flakiest, most buttery and delicious biscuits:
Whisk together the dry ingredients in a large mixing bowl: flour, baking powder, baking soda, salt, and thyme.
Then, grate a stick of very cold butter into the flour mixture. Save the last tablespoon or so for brushing the tops!
Pour chilled buttermilk mixture into the bowl, and fold until just combined.
The biscuit dough will be quite shaggy - don't over-mix!
To be really well chilled, I recommend throwing the wrapped stick of butter in the freezer for at least 15 minutes up to 1 hour before starting this recipe. Trust me-- it will make your life easier and be way less messy this way. But in a pinch, butter straight out of the fridge will get the job done too.
And don't worry too much about measuring the exact amount of butter in the dough vs. brushing on top. Just grate the butter until you have a little nub left and don't want to cut your fingers on the box grater.
Now that we have the biscuit dough ready, we're going to roll it out and fold it to create lots of flaky layers!
How to Fold Dough & Shape Biscuits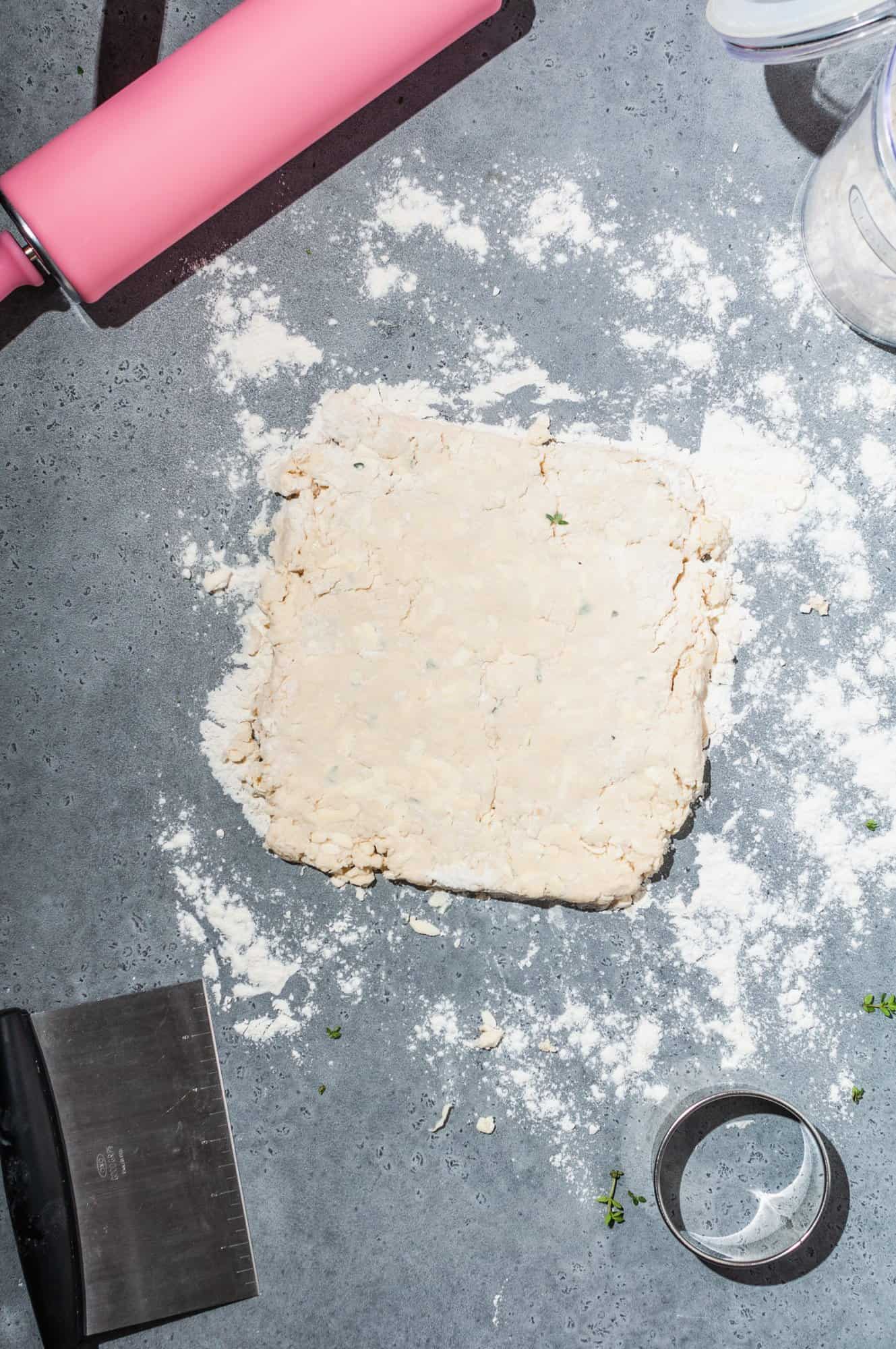 Transfer the dough to a floured countertop and using your hands, gently pat into a rough square that is about ½ to ¾ inches thick.
Roll out the dough into a larger square (about the same size as the first square you made) using a rolling pin.
Using a bench scraper, fold the dough in half and then in half again, creating a smaller square with 4 layers. It doesn't have to be perfect!!
Fold the dough in quarters again, repeating the process one more time, ending with a square that's ~ ¾" thick.
The rolling process is a little confusing, so let me know if you have any questions! It doesn't have to be done exactly like this though. The important thing is that you're folding the dough over itself to incorporate layers and that your final roll before stamping is an even thickness.
After folding, use a biscuit cutter or round cookie cutter to stamp out the individual biscuits and transfer them to a parchment-lined sheet tray.
Melt the remaining 1-2 tablespoons of butter and mix with honey and a little bit of water. Then, use a pastry brush to brush the tops of the biscuits with honey butter.
Top tip
For fluffier and flakier biscuits, try not to turn the cutter while you stamp the biscuits. You want to press straight down and lift straight up for a nice clean cut edge so that the layers are able to rise more easily.
How to Make Thyme Compound Butter for Biscuits
The only thing better than these flaky honey butter biscuits is serving them fresh out of the oven with a homemade thyme compound butter!
Making compound butter is actually really simple. In this recipe for thyme compound butter, I've mixed butter with thyme, honey, and sea salt. Just add everything to a bowl and mix to combine.
Compound butter is just softened butter that's combined with other ingredients to make a flavored butter. It's often rolled into logs and chilled to become sliceable. For more ideas on flavor combinations and how to use compound butter, check out this blog post on compound butter recipes.
With simple, raw recipes like this, the quality of ingredients is extra important. Since you're not really transforming the ingredients in anyway, the honey butter will taste as good as the ingredients you make it out of.
This recipe is still great with supermarket staples, but if you have any fancy salt or artisan honey on hand, now would be the time to use it!
Substitutions & Variations on Honey Butter Biscuits
I added honey and thyme to this flaky biscuit recipe to mix it up a little bit. But if you're looking for something a little more versatile, you can simplify it even more. Here are some easy changes you can make to the recipe:
Thyme - I love the flavor and aroma of fresh thyme, but you can use any sturdy fresh herb in this. Try rosemary, sage or chives. Or, you can leave the herbs out altogether.
Honey - I love the sweetness and flavor that honey adds. If you don't have honey, you can replace the honey in the dough with 1 tablespoon of granulated sugar. Then, brush the tops with plain melted butter.
Equipment
Here's everything you'll need to make this recipe:
Whisk
Large mixing bowl
Bench scraper - this will help a lot with the folding process! If you don't have one, it's a great multi-use tool that's also helpful to move prepped items from a cutting board to a mixing bowl. Mine also has measurements on it, which I find super helpful to eyeball cuts and the thickness of the dough.
Rolling pin - lots of options when it comes to a rolling pin. Wooden, marble, silicone, tapered, straight, or with handles. They all work the same, so it's just personal preference! If you don't bake a lot, you can even use a wine bottle to roll out dough.
Pastry brush - I like using a bristle brush rather than silicone for this, because it spreads a little more evenly. But either works!
Herb zipper (optional) - totally unnecessary, but helps if you use fresh herbs a lot. I got an herb zipper as a gift and I think it's pretty cool! It makes stripping the leaves off of herbs a little bit easier, especially in large quantities. It also works for large greens like collard greens or kale.
Microwave or small saucepan - to melt the butter.
Parchment paper - I love using these precut parchment sheets!
Cooling rack
Round biscuit cutters - I have this set of biscuit cutters, which I love. I also use them for things like cookies and donuts. As another option, you can also use an inverted drinking glass that's about the same diameter to cut out the biscuits.
If you choose to make the thyme compound butter to go with your flaky honey butter biscuits, all you'll need is a mixing bowl and a spoon or something to mix with. If you make a large batch of it (like for Thanksgiving!) it'll help to use a stand mixer with the paddle attachment to mix it all together.
Top tip
When the biscuits are done, immediately transfer them to a wire rack to finish cooling. If you leave them on the hot sheet pan, the bottoms may darken from the residual heat.
How to Store Biscuits & Thyme Compound Butter
These honey butter biscuits with thyme are best eaten the same day as baking, but they will keep for 2 days at room temperature, or longer in the fridge (up to 5 days). I like to quickly reheat them in the toaster oven to refresh them before serving.
The thyme compound butter will keep for 1-2 weeks in the fridge. Or, a few days stored at room temp.
I always store my salted butter at room temperature so it's nice and spreadable. If you choose to store your herb compound butter at room temp, here are a few helpful tips to keep it from spoiling:
Keep it in an airtight container.
Keep away from sunlight (use an opaque container or store in a cabinet).
If it's hot out (above 75 degrees) you might want to move the butter to the fridge. You can take it out an hour before serving to soften it up.
Note: the USDA recommends keeping butter at room temp no longer than 2 days. But they also recommend cooking burgers well done, so I don't always listen to them ◡̈
FAQ
Can you reroll dough for biscuits?

You can... but they won't be as good as the first time around. I don't like to waste food, so I try my best to gently reform the scraps by hand to make additional biscuits. They won't be as pretty, but they still taste great!

The most important thing is to try not to over-handle the dough. That will cause the butter to melt and the biscuits won't be as flaky. You can probably see in the photo below which biscuits were made from the scraps.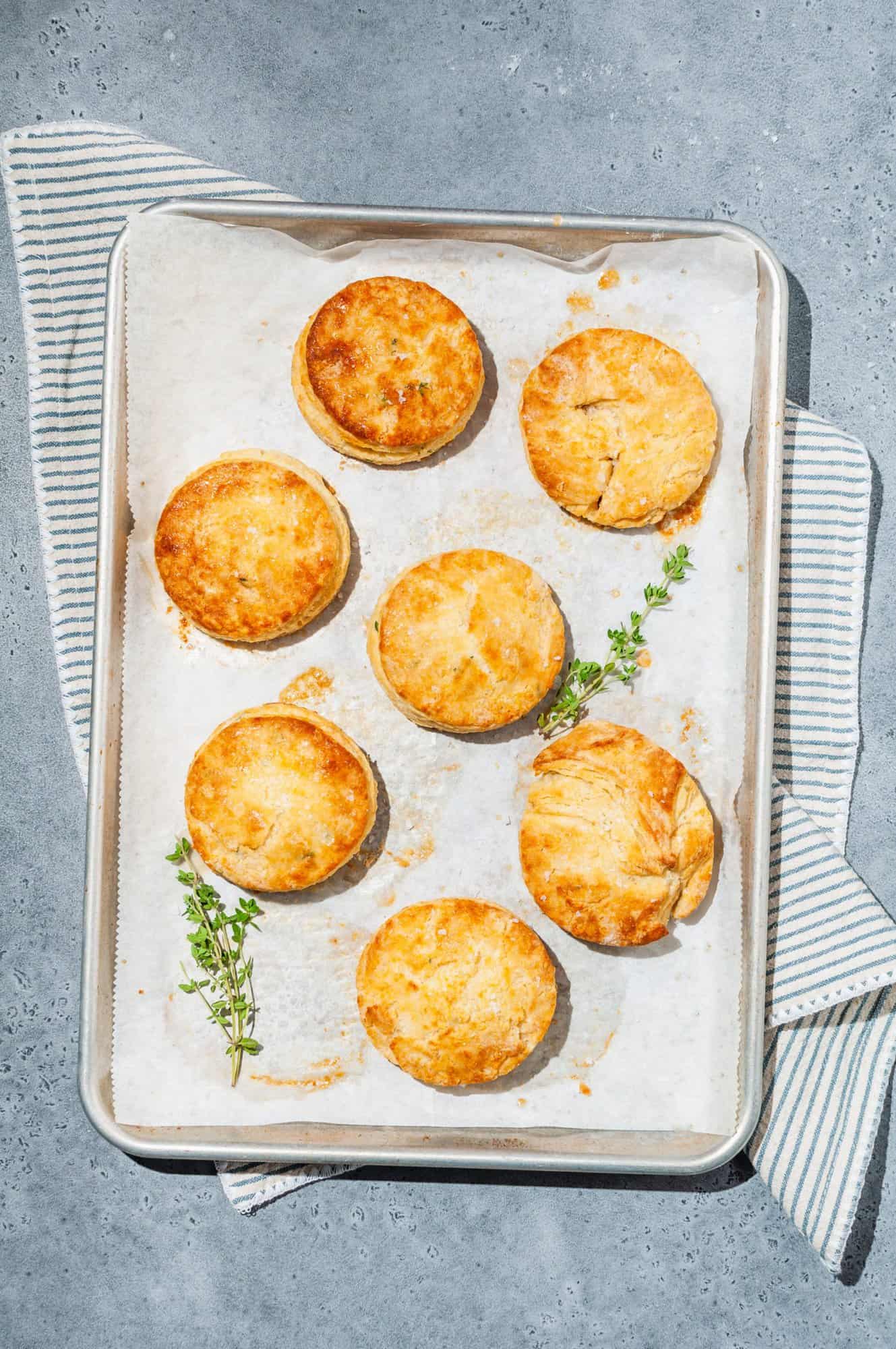 What causes biscuits to have a flaky texture?

Flakiness in biscuits and other baked goods like croissants and pie crusts is achieved by keeping the butter cold and in distinct layers. The heat of the oven causes the butter to melt, which creates steam, which then creates little air pockets. And when you have lots of tiny little air pockets throughout the dough, that creates a flaky texture.
Print
📖 Recipe
Flaky Honey Butter Biscuits with Thyme Compound Butter
With so many buttery flaky layers, these honey butter biscuits are simply the best! Adding a little bit of savory thyme balances out the sweetness of the honey. And brushing the tops with honey-butter helps create a beautiful golden brown color and glossy sheen.
They're delicious on their own, or served with a homemade thyme compound butter that's quick and easy to make (recipe below).
For the Honey Butter Biscuits
2.5

cups

all-purpose flour

4 teaspoons

baking powder

1 tablespoon

fresh thyme (or sub

¾ teaspoon

dried thyme)

1 teaspoon

salt

½ teaspoon

baking soda

8 tablespoons

(

1

stick) unsalted butter, chilled, separated*

1

cup

buttermilk, chilled

2 tablespoon

+

1 teaspoon

honey, separated
For the Thyme Compound Butter
¼

cup

honey

½

cup

unsalted butter, room temperature

½ teaspoon

flaky sea salt (or sub. any salt to taste)

½ teaspoon

fresh thyme
Instructions
Adjust oven rack to upper-middle position and preheat oven to 400 degrees. Line a baking sheet with parchment paper and set aside. 
In a large bowl, whisk together flour, baking powder, thyme, salt, and baking soda. 
Using the large side of a box grater, grate at least ¾ of the stick of butter (6-7 tablespoons) directly into the bowl with the flour mixture (set the remaining 1-2 tablespoons of butter aside– you will be using it later). Gently fold with rubber spatula or toss a couple times with your hands to coat the butter pieces evenly with the flour.
Combine buttermilk + 2 tablespoons of honey in a liquid measuring cup or small bowl and mix with fork to completely combine. Add the buttermilk mixture to the bowl with the flour mixture and fold gently with a rubber spatula until just combined (dough will be very crumbly, that's good! Don't over-mix!) 
Turn dough onto a floured countertop and form a rough square about ½"  thick. Using a bench scraper, carefully fold dough in half and then in half again to create a smaller square. Press out dough using your hands or a rolling pin until dough is about ½" thick again. Repeat the folding process one more time so your dough has been folded twice and is rolled to ½-¾" even thickness.
Using a round 3-inch biscuit cutter or the rim of a glass about the same size, stamp out as many biscuits as you can (should be around 6) and transfer to the prepared baking sheet. Gently reform scraps to the same thickness trying not to overwork the dough and stamp out additional biscuits (should be able to get 2-3 more).
Melt the remaining 1-2 tablespoon of butter in a microwave-safe dish. Add remaining 1 teaspoon honey + 1 teaspoon water and stir to combine. Using a pastry brush, brush the tops of the biscuits evenly with melted honey butter. 
Bake until the tops are a deep golden brown, about 18-20 minutes, rotating sheet halfway through baking. Transfer to a wire rack to cool slightly. Serve warm or at room temperature. 
Make Thyme Compound Butter (optional): Combine all ingredients in the bowl of a stand mixer fitted with the paddle attachment, or combine by hand using a spoon.
Notes
Tips for Grating the Butter:
Freeze the butter for about 15 min before making biscuits.
Coat the stick of butter lightly in the flour mixture before grating. It will create a barrier from the warmth of your hands so it won't melt as easily. Less messy!
Tips for Folding and Rolling Biscuit Dough:
Coat everything in flour to prevent sticking-- your hands, the rolling pin, the bench scraper, and the countertop/ surface.
For more details on the folding process, see photos and explanations above in the "How to Make" section.
Keywords: flaky honey butter biscuits, thyme compound butter