I tend to favor pies with a creamy custard filling over fruit pies, but I think this Lemon Meringue Pie might be my new favorite pie! It's the best of both worlds. You get the vibrant fruit flavor from the fresh lemon juice, but the texture is smooth, rich and creamy.
And then the torched meringue top is just as tasty as it is visually striking. Just like coffee creme brulee, I used a kitchen torch to lightly toast and caramelize the top layer. It beautifully contrasts with the sweet, cool, and creamy filling underneath.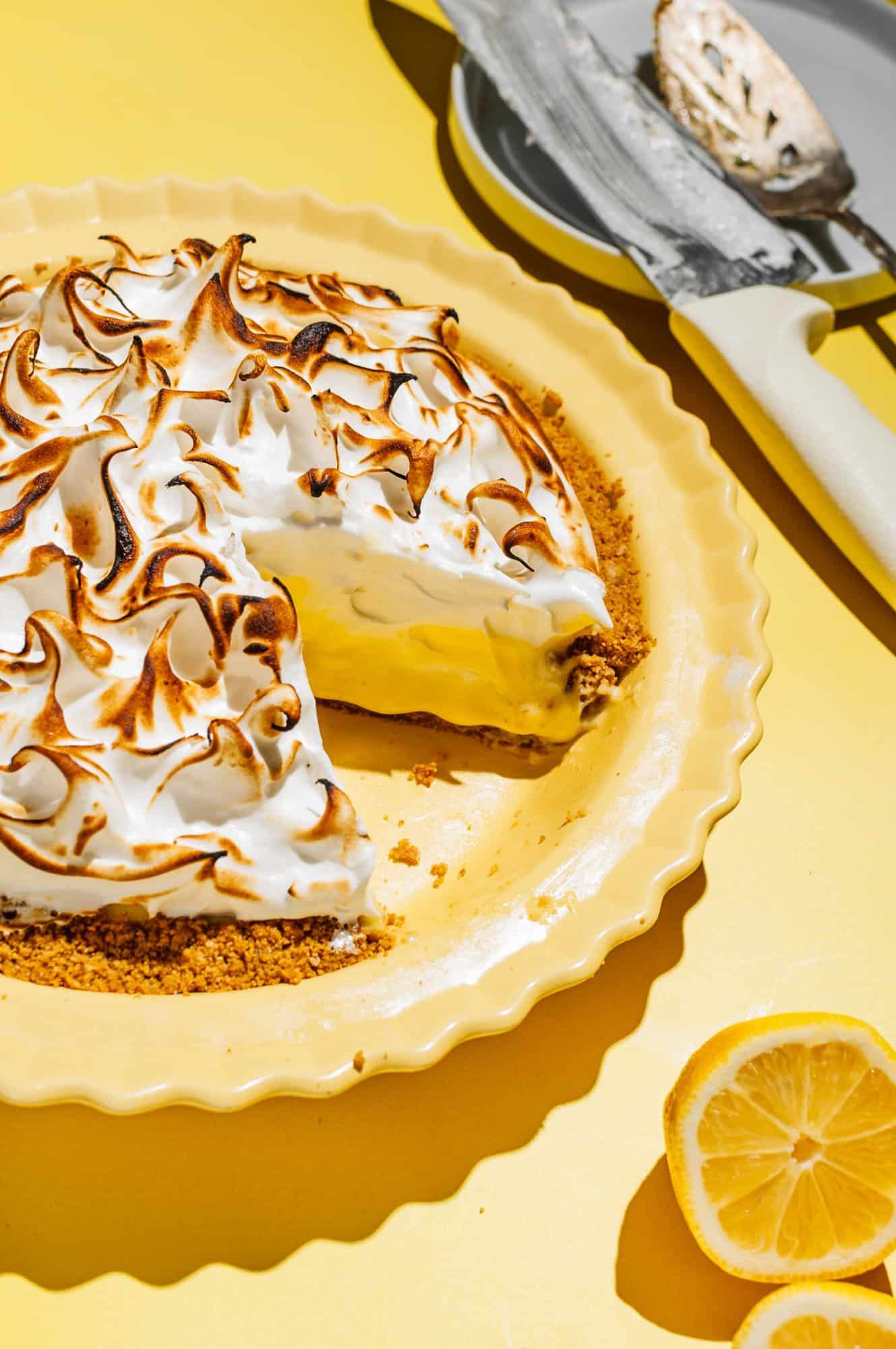 What makes this lemon meringue pie recipe unique is the extra thick graham cracker crust. It adds a little bit of saltiness to contrast the sweet meringue and tart lemon filling. It also provides a crunchy contrast to the creamy pie filling. And everything together is just a delicious combination of flavors and textures!
This lemon pie is the perfect dessert for spring and summer occasions like a bridal shower or baby shower. It's just so vibrant and pretty! In fact, this recipe is so popular that I turned it into lemon meringue pie cookies too, which are equally delicious and impressive ◡̈
If you're searching for springtime desserts, you should also try these whipped strawberry pie bars! Like this lemon meringue pie, these strawberry bars also have naturally colorful creamy fruit filling set over a graham cracker crust.
Jump to:
Ingredients
Here's what you'll need to make lemon meringue pie with graham cracker crust: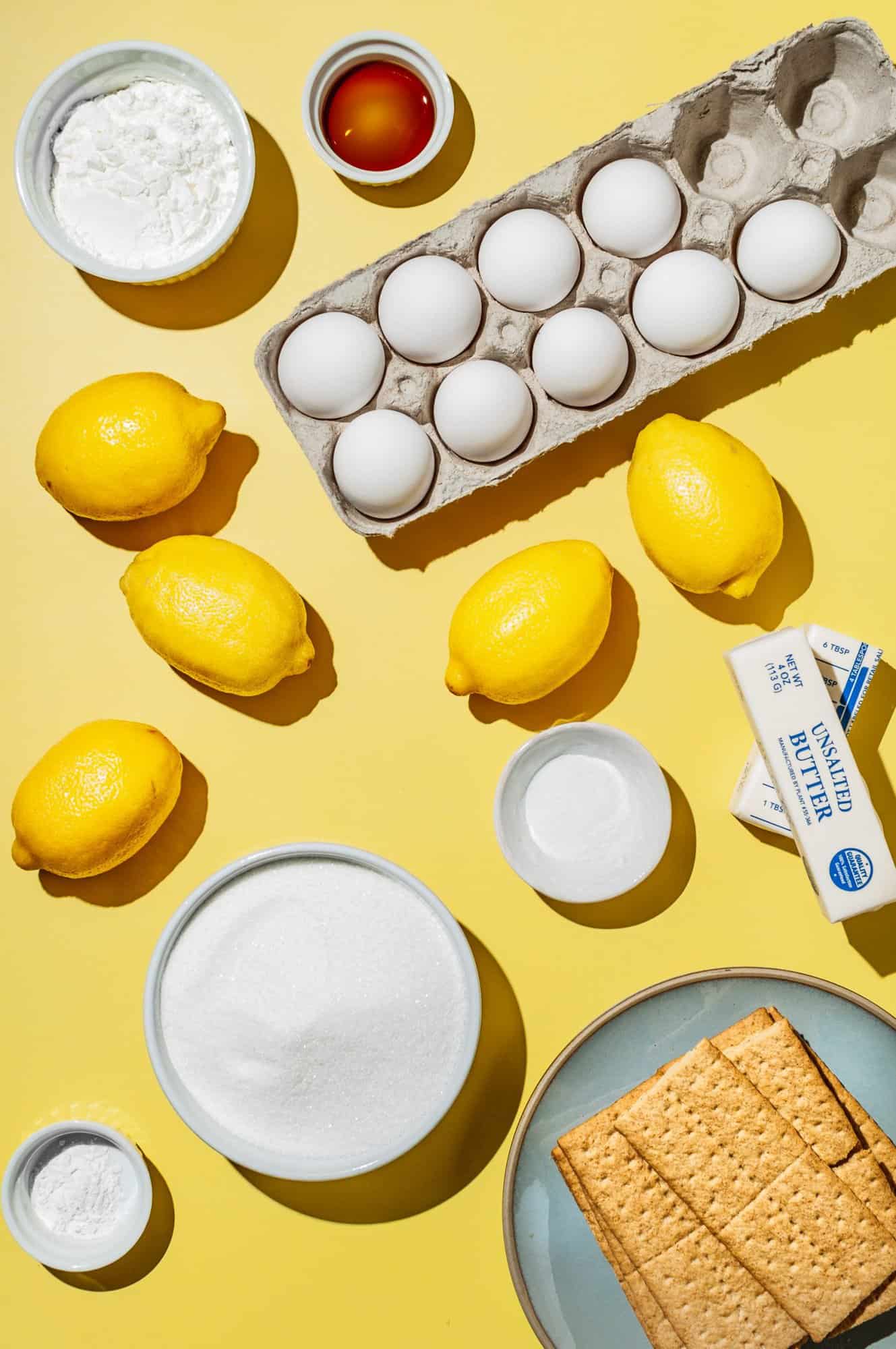 Lemon juice – fresh squeezed is best! To get a cup of lemon juice, you'll need approximately 6 lemons. If you end up a little short, you can add water to reach 1 cup of total liquid.
Eggs – you'll need 9 eggs total for this recipe! The lemon curd filling calls for a combination of 6 yolks + whole eggs, the yolks adding richness and the egg whites providing some extra sturdiness. You'll use the remaining egg whites to make the meringue.
Butter - unsalted is always better for baking, so you can control the salt level.
Graham crackers – you'll need about 12 full rectangular graham crackers (or 7 ounces) to get 1 ¾ cups of crumbs for the graham cracker crust. To save yourself some time and dishes, buy graham cracker crumbs!
Sugar
Corn starch
Cream of tartar
Vanilla
Salt
See recipe card for quantities.
How to Make Lemon Meringue Pie
Here's how to make the best lemon meringue pie with graham cracker crust, step by step: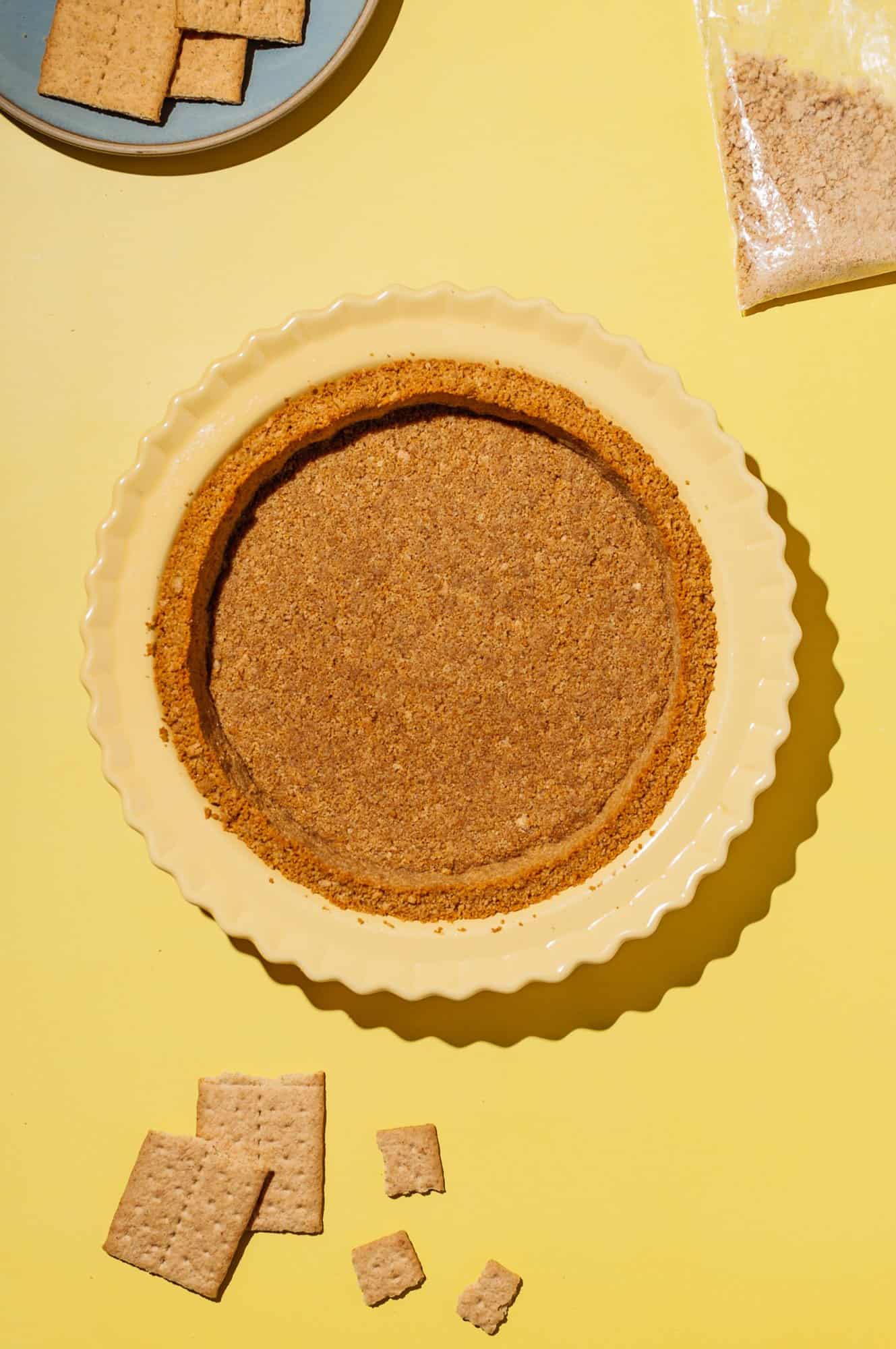 Make the graham cracker crust by combining the ingredients in a large bowl, then pressing into a pie plate. I find it helps to use the back of a measuring cup to firmly pack the crust into place. Then, bake the empty crust until golden brown.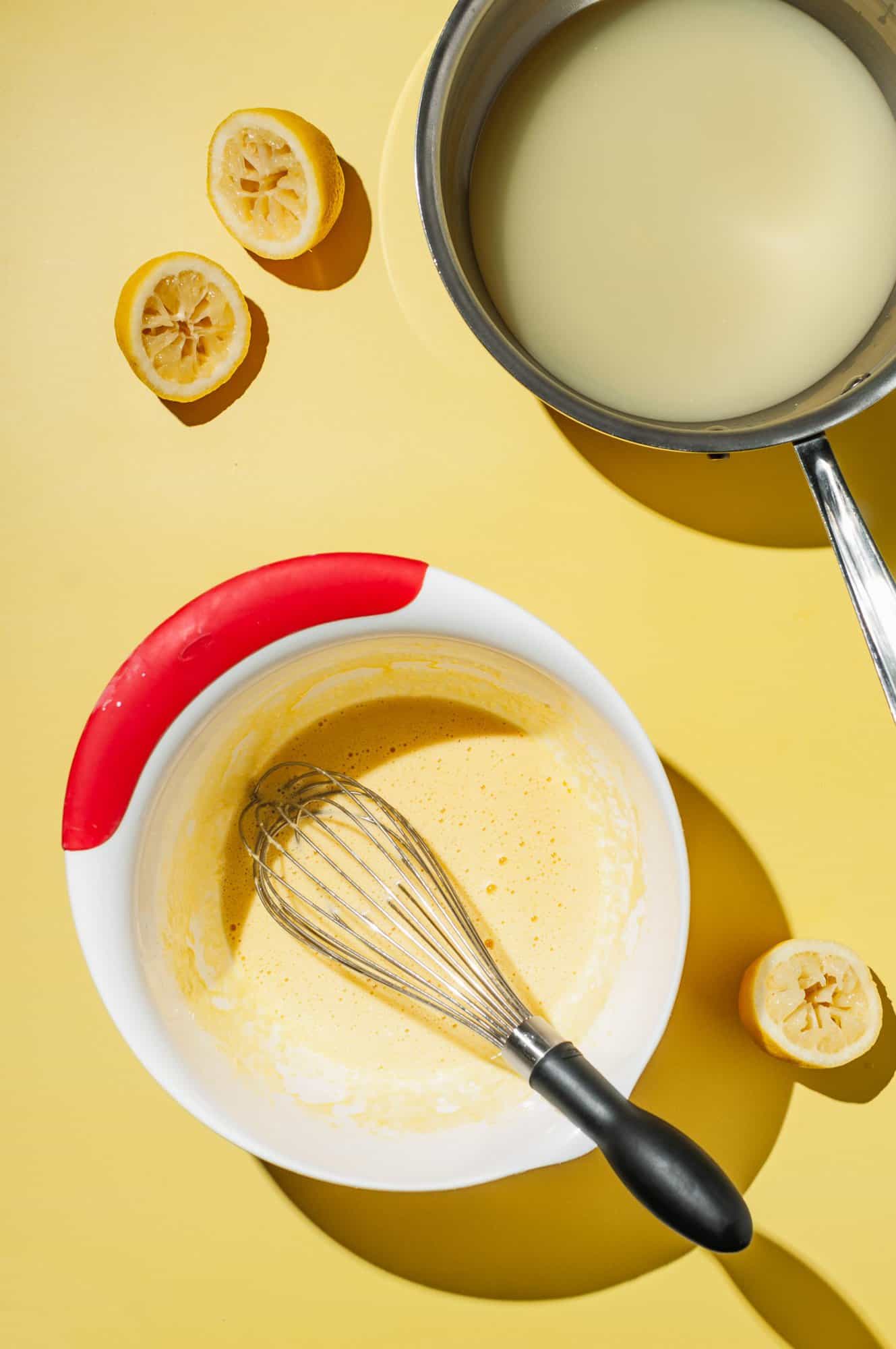 Prepare the lemon curd filling by first whisking together the egg yolks, cornstarch in a large bowl. Then, add the lemon juice and sugar to a pot, bring to a low boil, and slowly add the hot lemon mixture to the egg mixture a little bit at a time, tempering the eggs.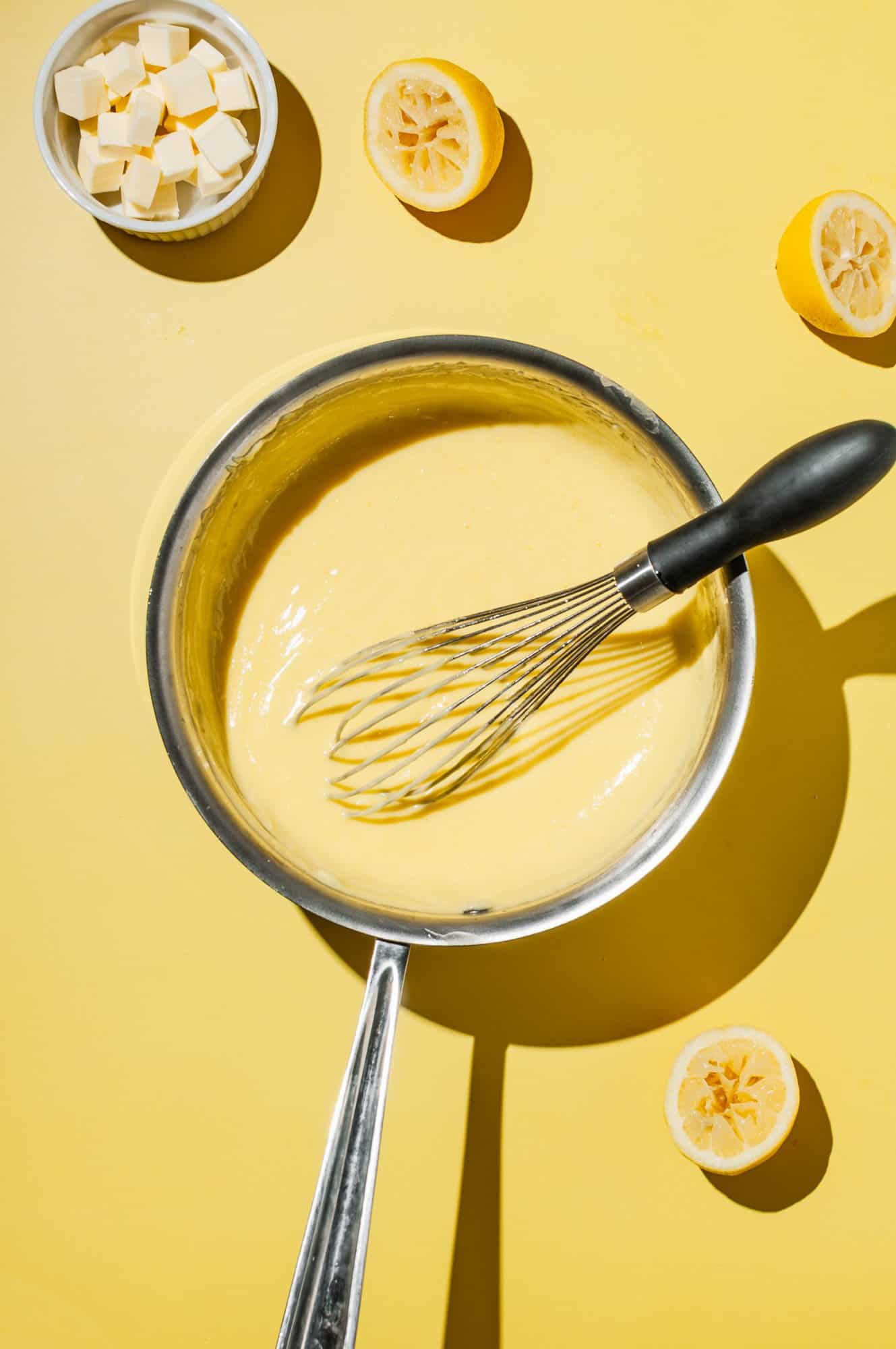 Return the lemon curd mixture to the pot and continue to cook until thickened. To finish, stir in cold cubed butter.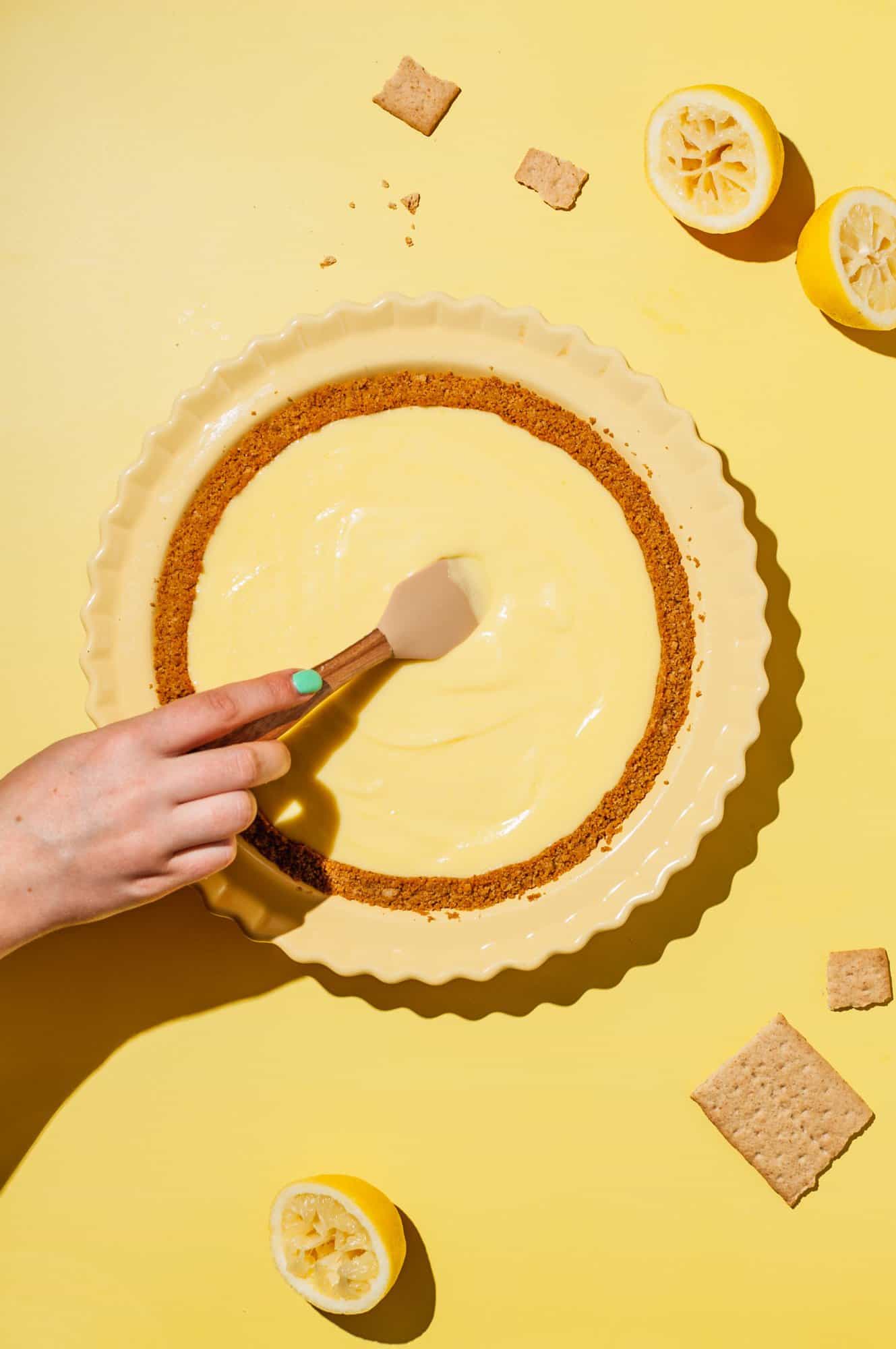 Let the lemon curd cool slightly, then pour it into the pre-baked graham cracker crust.
Cover the pie with plastic wrap and place in the refrigerator for at least 1-2 hours, until the filling is completely cooled. The pie filling will continue to thicken as it sets.
Top Tip
If you're not sure how long to cook the lemon curd, use an instant-read thermometer like this one from Oxo. Cornstarch activates around 180-200 degrees F (meaning that's what you want to cook it to so it thickens).
Once the lemon curd pie filling is set, it's time to make the meringue topping!
How to Make Swiss Meringue for Lemon Meringue Pie with graham cracker crust
To make Swiss meringue, start by placing the ingredients in a heatproof bowl. Then, set the bowl over a pot of simmering water to create a double boiler.
Heat the mixture over a double boiler, mixing constantly with a rubber spatula (this allows you to scrape the sides of the bowl). Continue to cook until the mixture registers 165-170 degrees F with an instant thermometer.
Transfer the mixture to the bowl of a stand mixer with the whisk attachment. Whisk on medium-high speed for about 5 minutes, or until you get medium-stiff peaks that hold their shape well.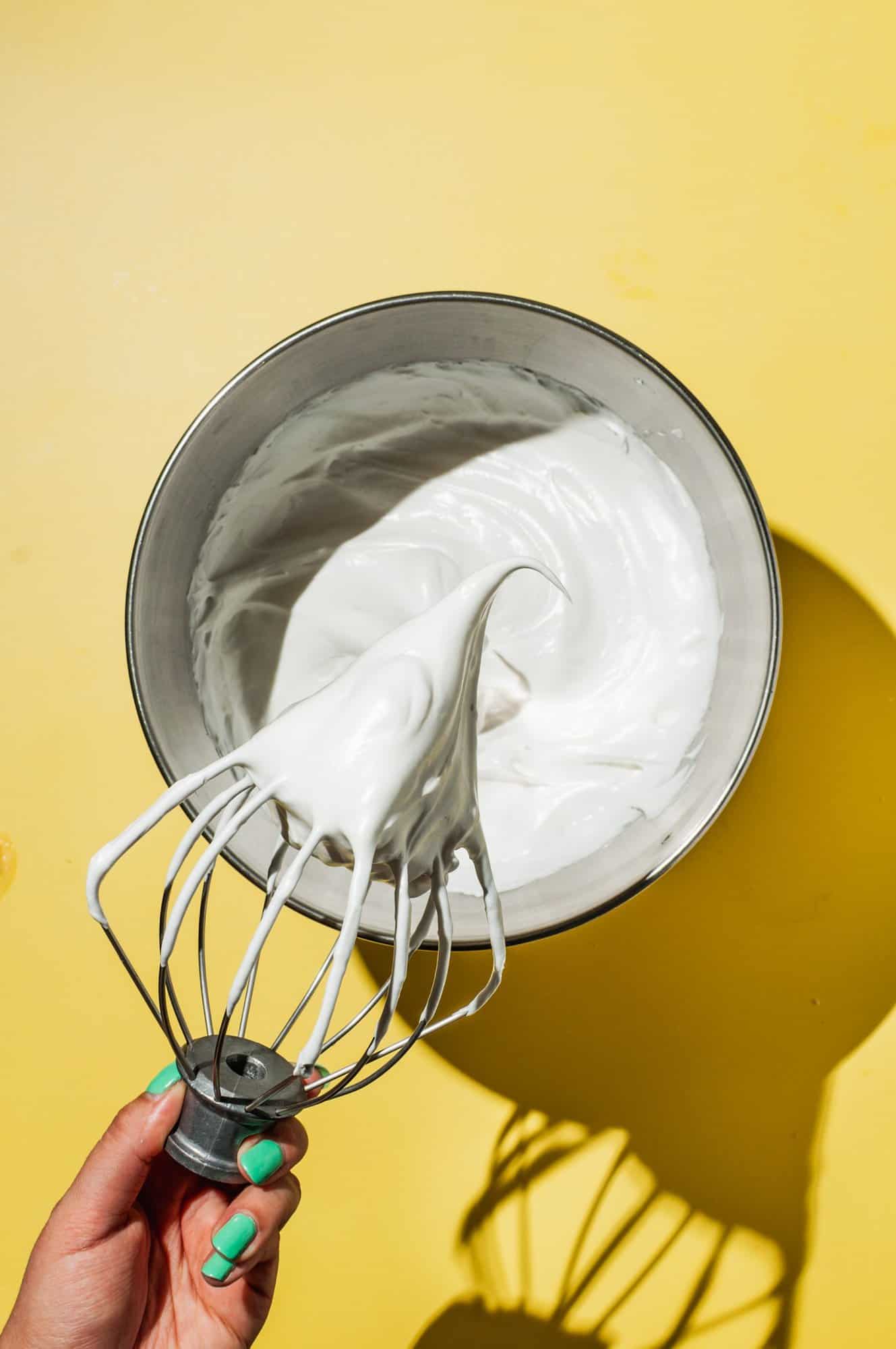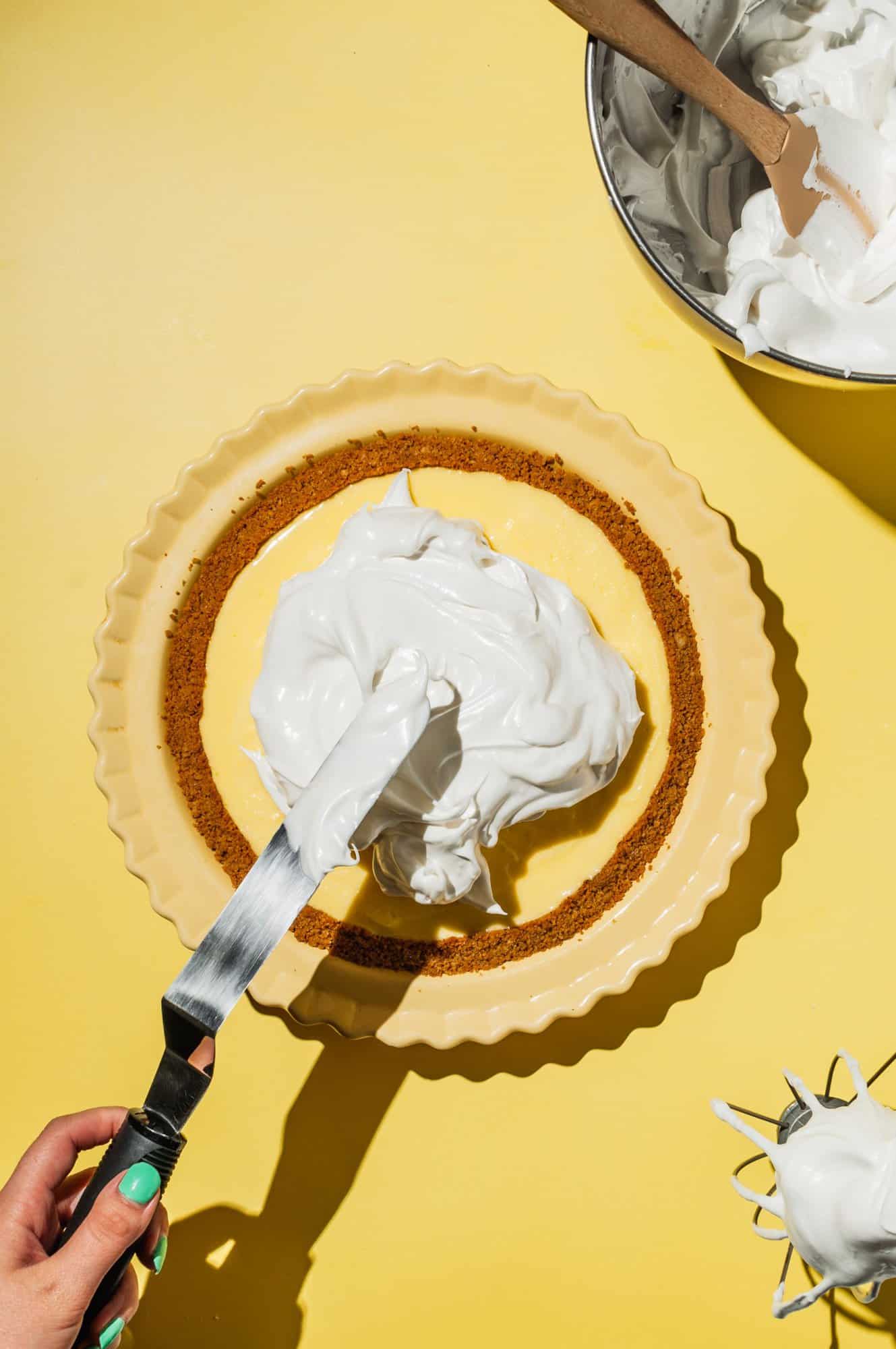 Next, spread the meringue over the cooled lemon pie. You can pipe Swiss meringue into a design or use an offset spatula to create ridges.
How can I tell stiff peaks vs soft peaks?
Soft peaks will hold their shape somewhat, but look kind of like a blob. Once you get to medium peaks, the meringue will hold its shape will except maybe at the top (like the photo above). Stiff peaks will hold together so that when you lift the stand mixer head it will stand straight up.
How to Torch or Broil Meringue Topping
To brown the top of your lemon meringue pie, my favorite method is using a kitchen torch. This method gives you a lot more control over which areas to brown. If you don't have a torch though, you can also use the broiler setting on your oven.
Depending on the method you use to brown the top, that should dictate how you go about spreading the meringue. Let me explain…
I've used a kitchen torch to brown the top of this pie, so I chose to create a design of a lot of tiny Hershey kiss peaks. However, these pointy-tip peaks also have a tendency to burn or even catch on fire with direct heat. So, if you're using a broiler to brown the top, I'd go with a more even, subtle swirl like this, to be on the safe side.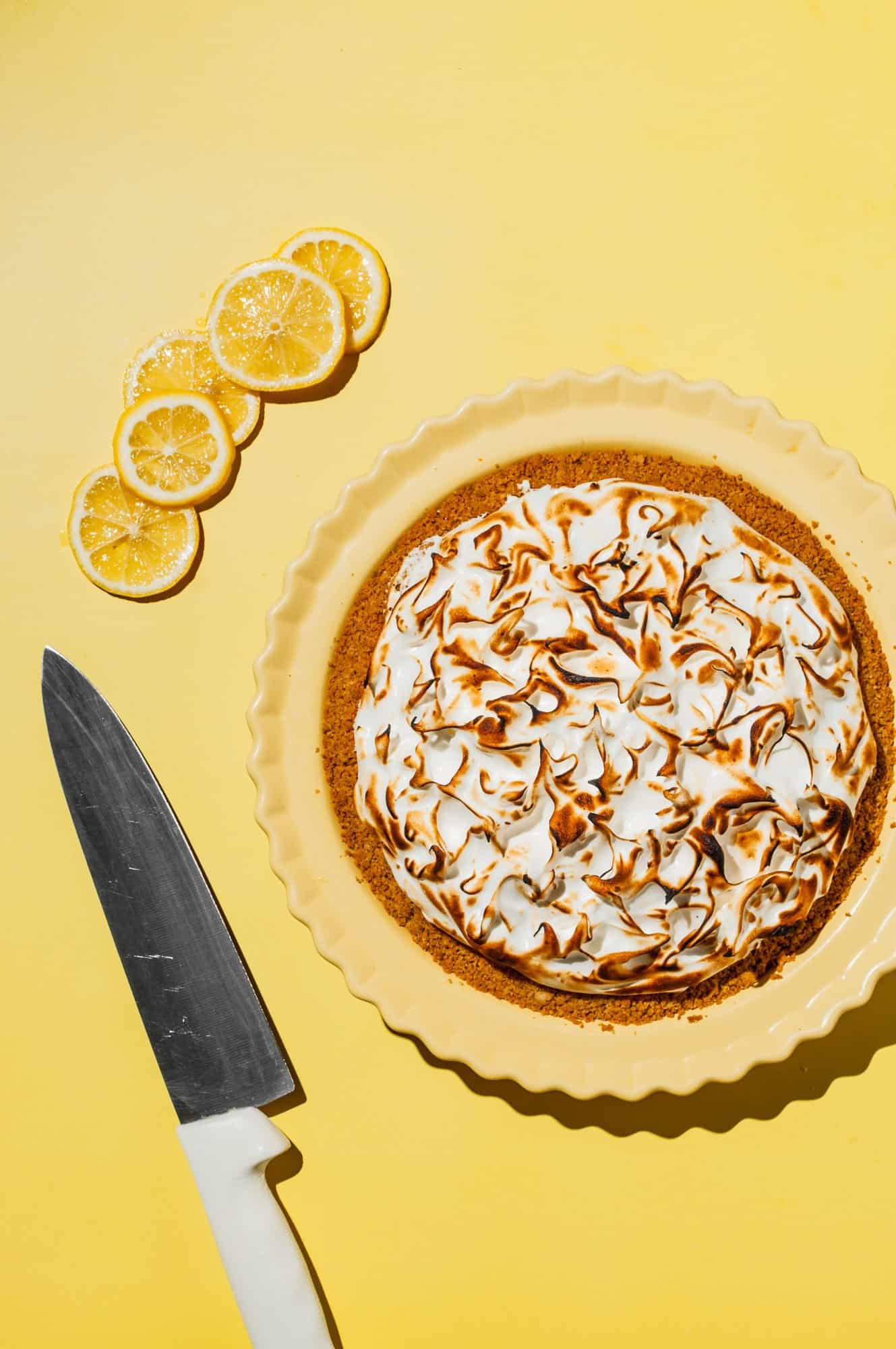 And if I still haven't convinced you to get a kitchen torch, look at this creme brûlée brownies recipe!
Substitutions & Variations
Here are some easy substitutions you can make to this recipe:
Lemon – you can sub part or all of the lemon juice for lime juice. Especially if you like an extra tart pie, try swapping a small portion of the lemon juice with lime. Since lime is more sour than lemon, I would consider replacing a portion of the juice with water. I also recommend doing this if you use store-bought citrus juice, which is more acidic than fresh-squeezed juice.
Graham cracker crust – you can make a traditional pie crust instead if you prefer. Or to save time, you can use a pre-made pie crust. (But… I highly recommend trying my quick and easy graham cracker crust recipe. It's thicker, has a better texture, and more buttery flavor!)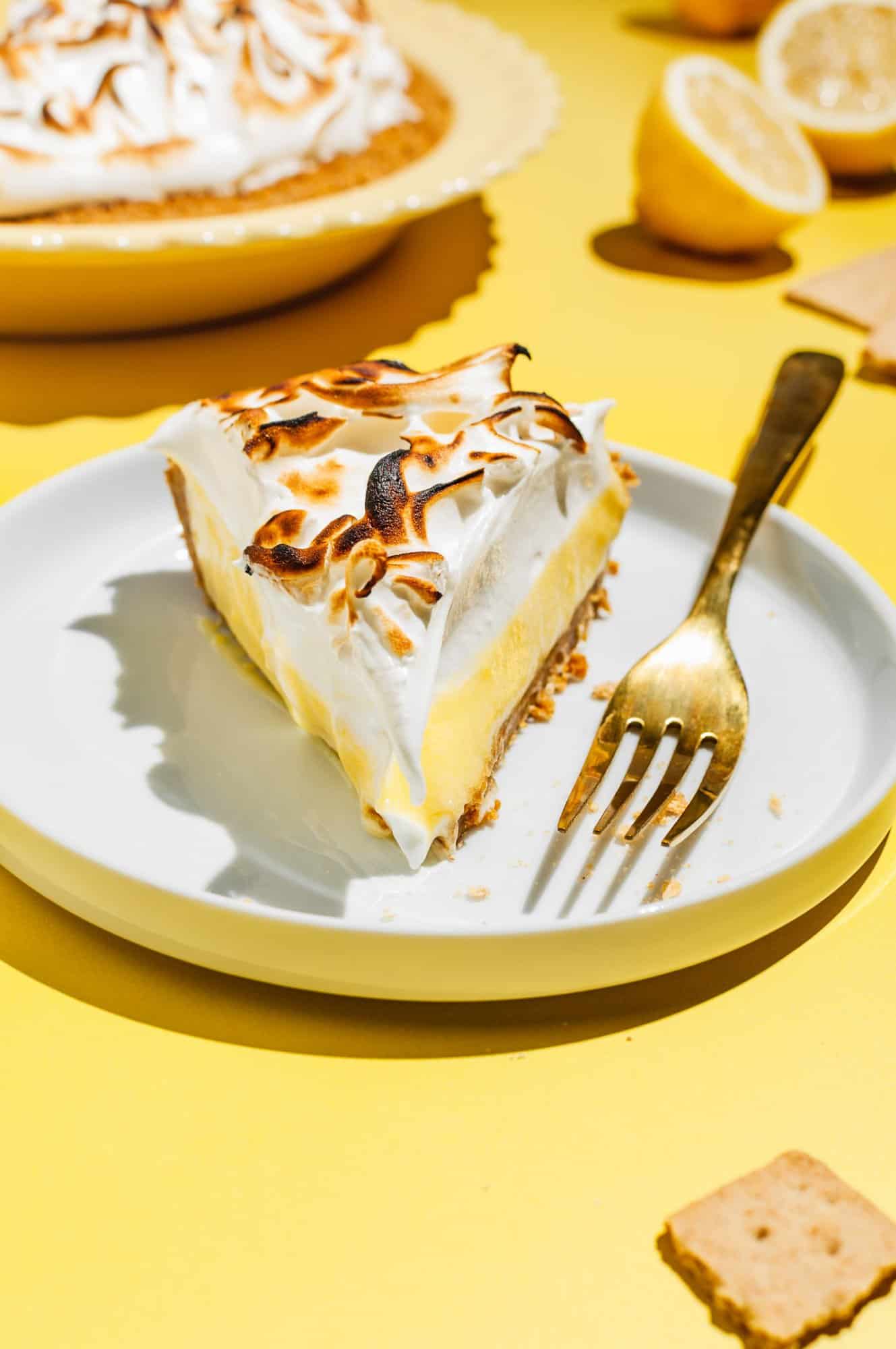 All 3 components of the recipe (the crust, the lemon curd, and the meringue) can also be used in other applications for variations on the original recipe.
For example, you can make the lemon curd and serve it as is or use it as a filling for cakes or thumbprint cookies. You could also make the graham cracker crust, fill it with chocolate pudding, and top with toasted meringue to make a s'mores-inspired pie!
Why to Use Swiss Meringue for Pie
Traditional Lemon Meringue Pie uses a French Meringue, but I've opted for a Swiss meringue. Here are my reasons why I use Swiss Meringue for pie topping:
Avoid graininess. The process of heating the mixture melts the sugar, so your meringue is guaranteed to not be grainy, which sometimes happens with French meringue.
More stability. Heating the mixture also makes it more stable, which means it will hold its shape better, last longer, and it's less likely to "weep."
Food safety. When you make Swiss meringue, you are cooking the egg whites to a temperature that kills off potentially harmful bacteria. And there's no need to cook the meringue further in the oven.
So, Swiss meringue may have a couple more steps and dishes involved, but it's actually more foolproof than a standard French meringue IMO.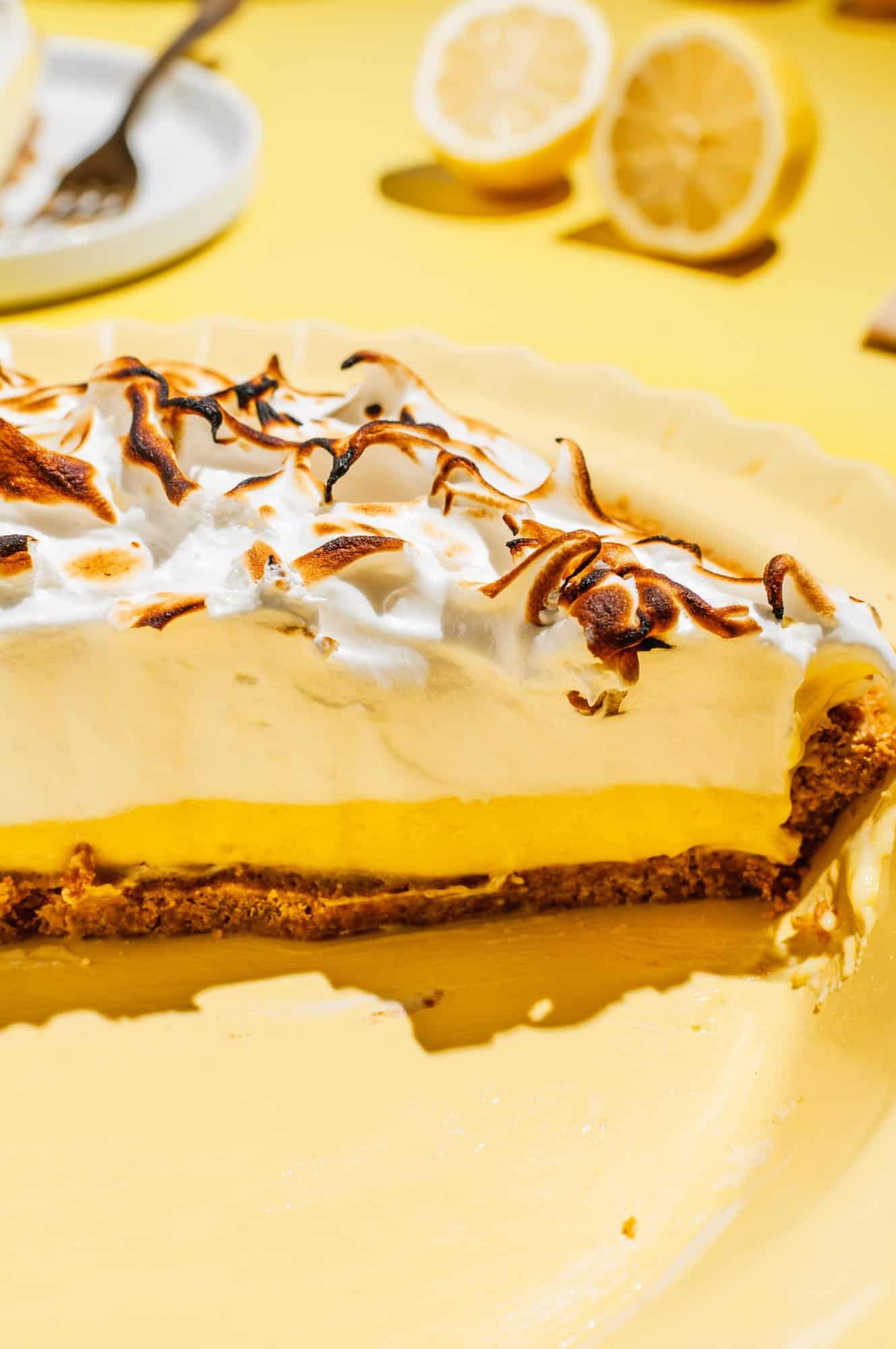 Equipment
Here's what you'll need to make this Lemon Meringue Pie with Swiss meringue:
Pie plate – if using the broiler method to brown the top, make sure your pie plate is broiler safe! Most metal pie plates are broiler safe, including disposable aluminum pie tins. Glass is typically not broiler safe, so be careful! Ceramic or porcelain could go either way, so be sure to check with the manufacturer.
Thermometer
Double boiler – or heatproof a mixing bowl set over a saucepan with a small amount of water.
Whisk
Mixing bowl
Saucepan - a 2 or 3-quart saucepan works well for making the lemon curd.
Plastic wrap
Measuring cups – I use something like this set of measuring cups with a flat bottom to measure ingredients and press in the graham cracker pie crust.
Food processor (optional) - a food processor helps a lot with grinding up the graham crackers to a fine crumb. You could also put them in a large zip-top bag and use a rolling pin or meat mallet to crush them up, as another option.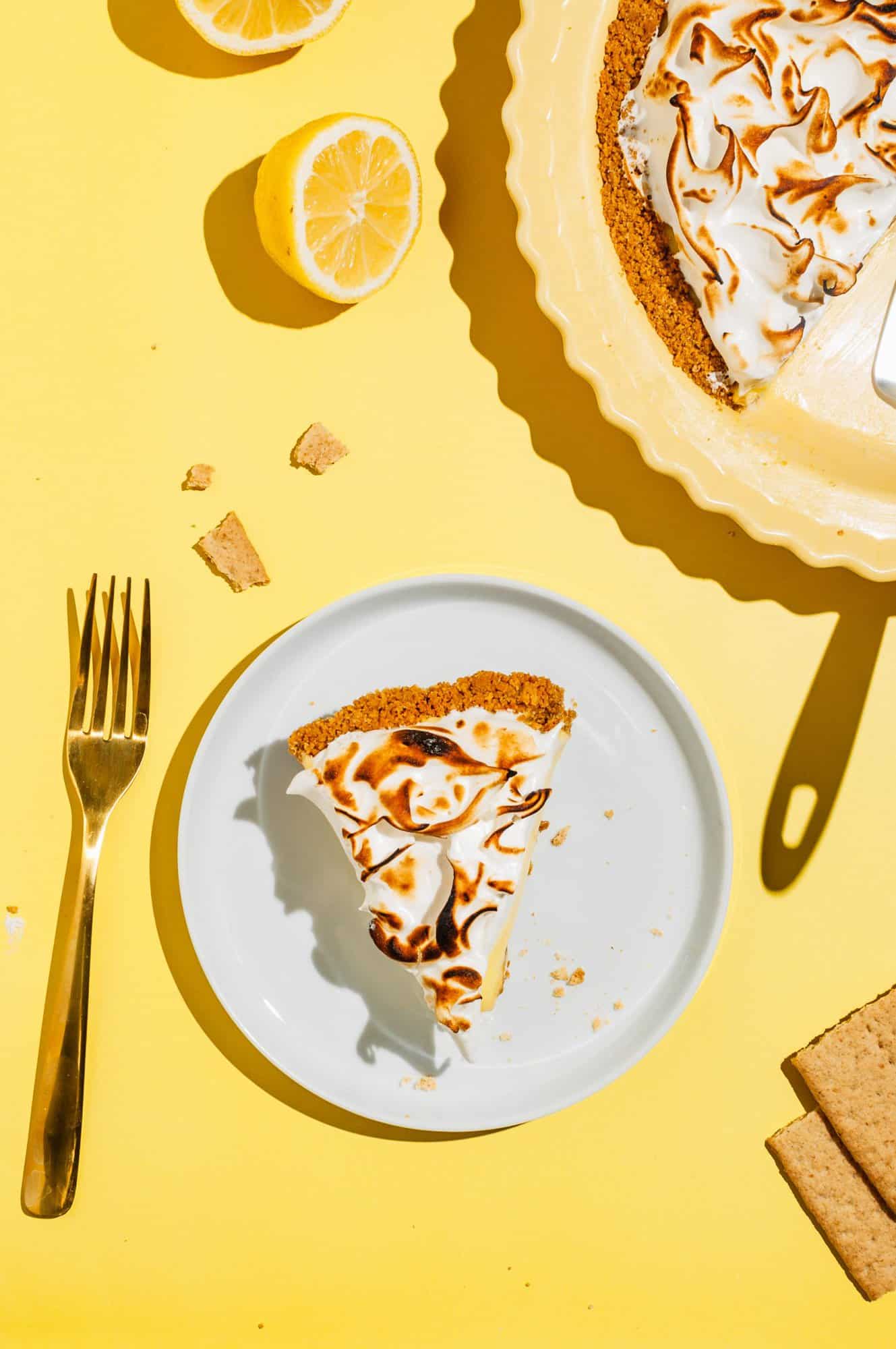 Storage
This lemon meringue pie with Swiss meringue is best eaten the same day as it's made. But, it's actually still great the next day! It makes for a delicious breakfast, trust me on this one ◡̈
The last time I made this pie, it showed no signs of weeping the next day! How many meringue pie recipes can that?? It's due to the increased stability of the Swiss Meringue compared to a standard French meringue.
FAQ
Does meringue have raw eggs in it?
While French meringue does contain raw egg whites, Swiss meringue does not. All of the eggs in this recipe are fully cooked for food safety.

The egg whites in the Swiss meringue are heated past 160, and the eggs in the lemon curd recipe are also heated well past 160 degrees on the stovetop (which is the minimum temperature recommended by the USDA.)
What's the difference between French and Swiss Meringue?
French meringue is made by whipping raw egg whites with sugar. It's super light and airy, but also tends to "weep" or shrink and separate.

Swiss meringue is made by first heating the sugar and egg whites before whipping them. The result is a little denser, more glossy and marshmallow-like than French meringue. It also holds its shape better, and I still find it pretty light and airy!
What does it mean to temper eggs?
In baking, tempering refers to combining ingredients of vastly different temperatures in a way that achieves (or prevents) a certain result.

When it comes to eggs, it means slowly adding a hot ingredient to prevent the egg proteins from coagulating (or clumping together). If you add a hot liquid to eggs too quickly, it will almost instantly cook them, and you'll end up with a mixture that looks like scrambled eggs rather than a smooth custard.
Can you make meringue with a hand mixer?
Yes, you can! You'll want to use a balloon whisk attachment rather than the beaters that it comes with in order to incorporate more air.

You can even make a meringue by whisking by hand, although it would take a long time and your arm would probably get very tired.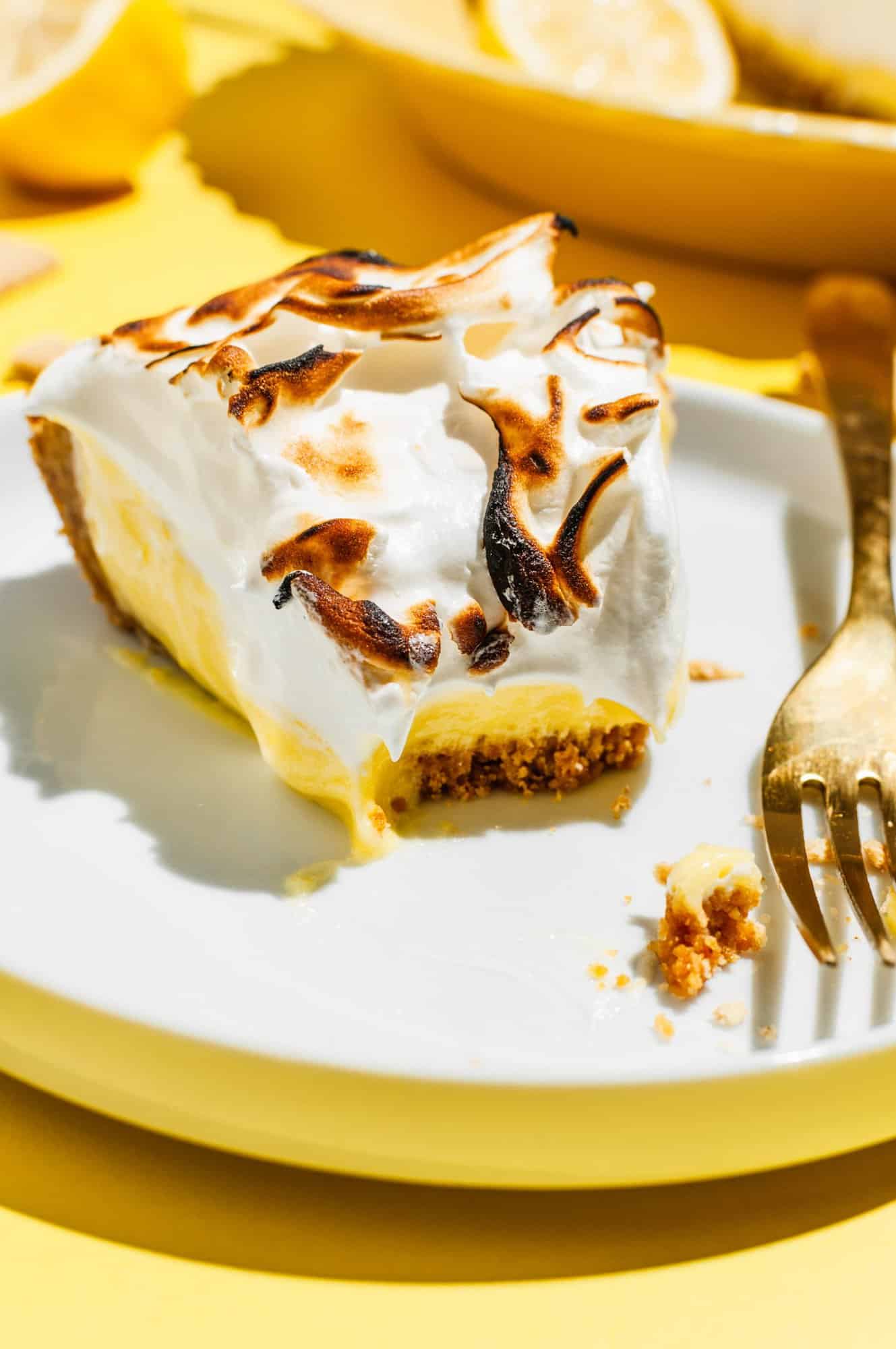 Print
📖 Recipe
Lemon Meringue Pie with Graham Cracker Crust
This Lemon Meringue Pie with a graham cracker crust is simply the BEST. It's both creamy and crunchy, tart and sweet, and totally delicious! Plus, it looks pretty impressive with its vibrant yellow lemon curd filling and toasted Swiss meringue top. It's the perfect dessert for spring and summer!
Author: Kelly @ Butter and Thyme
Prep Time:

30 minutes

Chill Time:

2 hours

Cook Time:

15 min.

Total Time:

2 hours 45 minutes

Yield:

8

slices

1

x
Category:

dessert

Method:

stovetop, no bake

Cuisine:

American
For the crust:
1 ¾

cups

crushed graham crackers (~ 12 full graham crackers)

8 tablespoons

melted butter

2 tablespoons

sugar

¼ teaspoon

salt
For the lemon filling:
6

egg yolks +

3

whole eggs

½ teaspoon

salt

⅓

cup

cornstarch

1

cup

lemon juice (from about 6 lemons)

1 ¼

cup

sugar

6 tablespoons

butter (cold, diced)
For the meringue:
6

egg whites

½ teaspoon

cream of tartar

1

cup

sugar

½ teaspoon

vanilla
Pinch of salt
Instructions
Preheat oven to 350 degrees.
Make the graham cracker crust: Combine all ingredients in a bowl and mix to combine. Press evenly into an ungreased 9-inch pie plate, going up the sides of the pan to create an empty pie shell. Bake crust for 10-12 minutes until golden brown, and let cool completely. 
Make lemon curd filling: In a large mixing bowl, combine the eggs, egg yolks, salt and cornstarch. In a 3-quart saucepan, combine the lemon juice and sugar, and heat to a soft boil. Slowly add the hot lemon mixture to the egg mixture while whisking constantly. Then, transfer the mixture back to the saucepan and set over medium heat, whisking constantly until thickened (180-200 degrees). Once thickened, remove from heat and stir in the cold diced butter. Let lemon curd cool slightly, stirring occasionally to prevent a crust from forming. Then pour the warm lemon curd into the pre-baked crust, cover with plastic wrap, and refrigerate 1- 2 hours until well-chilled (the filling will continue to thicken).
Make Swiss meringue: Combine egg whites, cream of tartar, sugar, vanilla, and salt in a heatproof bowl. Set the bowl over a pot of simmering water (or a double boiler), stirring and scraping the bowl constantly with a flexible rubber spatula, until it registers 165-170°F with a thermometer. Transfer the mixture to a stand mixer bowl with the whisk attachment, and whip for 5 minutes on medium-high until it's thick and glossy. Spread over pie.
Use a kitchen torch to lightly toast the meringue until golden brown. Alternatively, place the pie in the oven using the broiler setting for about 3-5 minutes, or until golden brown. Let the pie cool completely before slicing and serving. 
Notes
The juiciness of lemons depending on a lot of factors like age, variety, size, etc. You'll likely need 5-8 lemons to get 1 cup of juice. You can also use bottled lemon juice, but it's more acidic and not as vibrant as freshly squeezed juice.
To separate the egg whites from the yolks, crack the eggs one at a time over a small ramekin or bowl, carefully cradle the egg yolk back and forth between the two shell halves, and place the yolk into a separate small bowl. After each egg, transfer the whites from the ramekin into a slightly larger bowl. This helps in case you accidentally break a yolk while separating the eggs, you won't contaminate your whole batch of egg whites. You need the egg whites to be completely free of yolk for the meringue.
Keywords: lemon meringue pie with graham cracker crust, Swiss meringue, lemon meringue pie with Swiss meringue