If you're a brunch fanatic, this Southwestern Eggs Benedict recipe is for you! English muffins are topped with sausage patties, salsa verde, peppers and onions, fried or poached eggs, and finished with an addicting spicy chipotle lime hollandaise sauce. It is sooo good *chef's kiss*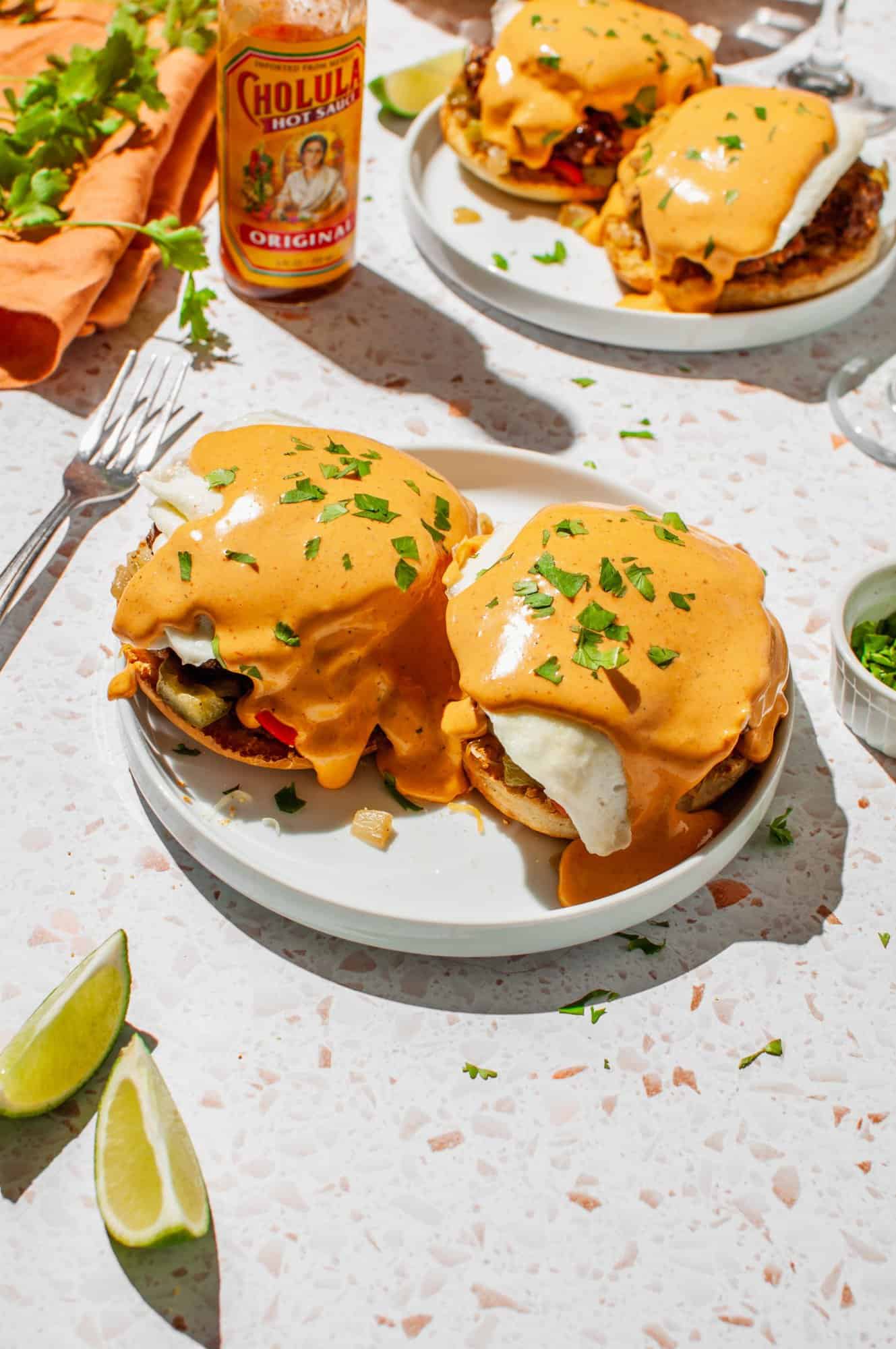 The chipotle hollandaise sauce is the real star of this dish. If you've never made hollandaise before, I'll break down the steps below. Using a high-speed blender ensures the sauce will emulsify properly, resulting in that ultra-creamy texture.
And if you love spicy food and chipotle flavor, don't miss these other amazing recipes on the blog-- creamy chipotle sauce and potato tacos with chorizo.
Jump to:
Ingredients
Here's everything you'll need to make Southwestern Eggs Benedict with Chipotle Hollandaise: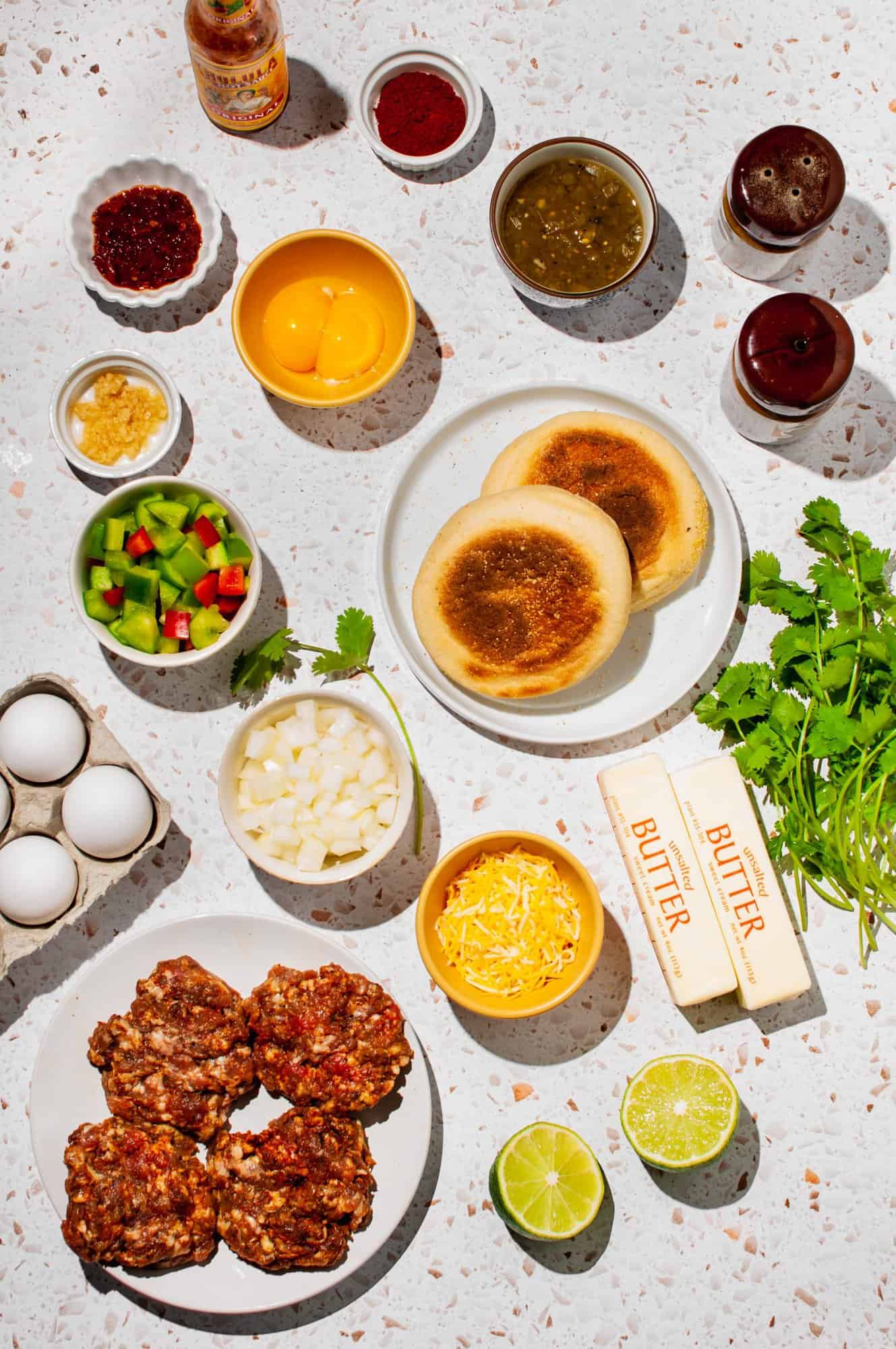 Eggs + additional egg yolks to make the blender hollandaise sauce.
English muffins
Butter - lots of it! I use 1 and a half sticks in the hollandaise, which is primarily a butter sauce, which is why it's so delicious ◡̈
Diced bell pepper and onion - any color bell pepper (I used a combination of red and green), and you can use yellow or red onion.
Mexican cheese
Breakfast sausage or chorizo patties - I like using Mexican chorizo when I can find it. I usually buy loose or bulk chorizo and form my own patties. If you have leftover chorizo, try these spicy potato soft tacos next!
Salsa verde - or red salsa if you prefer.
Cilantro - as an optional garnish.
Fresh limes
Chipotle in adobo sauce - try making this chipotle lime sauce recipe with the leftover chipotles.
Hot sauce - Cholula is my favorite brand, especially for Mexican-inspired dishes.
Paprika
Minced garlic
Salt and pepper
See recipe card for quantities.
How to Make Southwestern Eggs Benedict
Follow these steps to make Southwestern Eggs Benedict and homemade chipotle hollandaise sauce for your next Sunday brunch:
First, sauté the peppers and onions until softened and a little charred.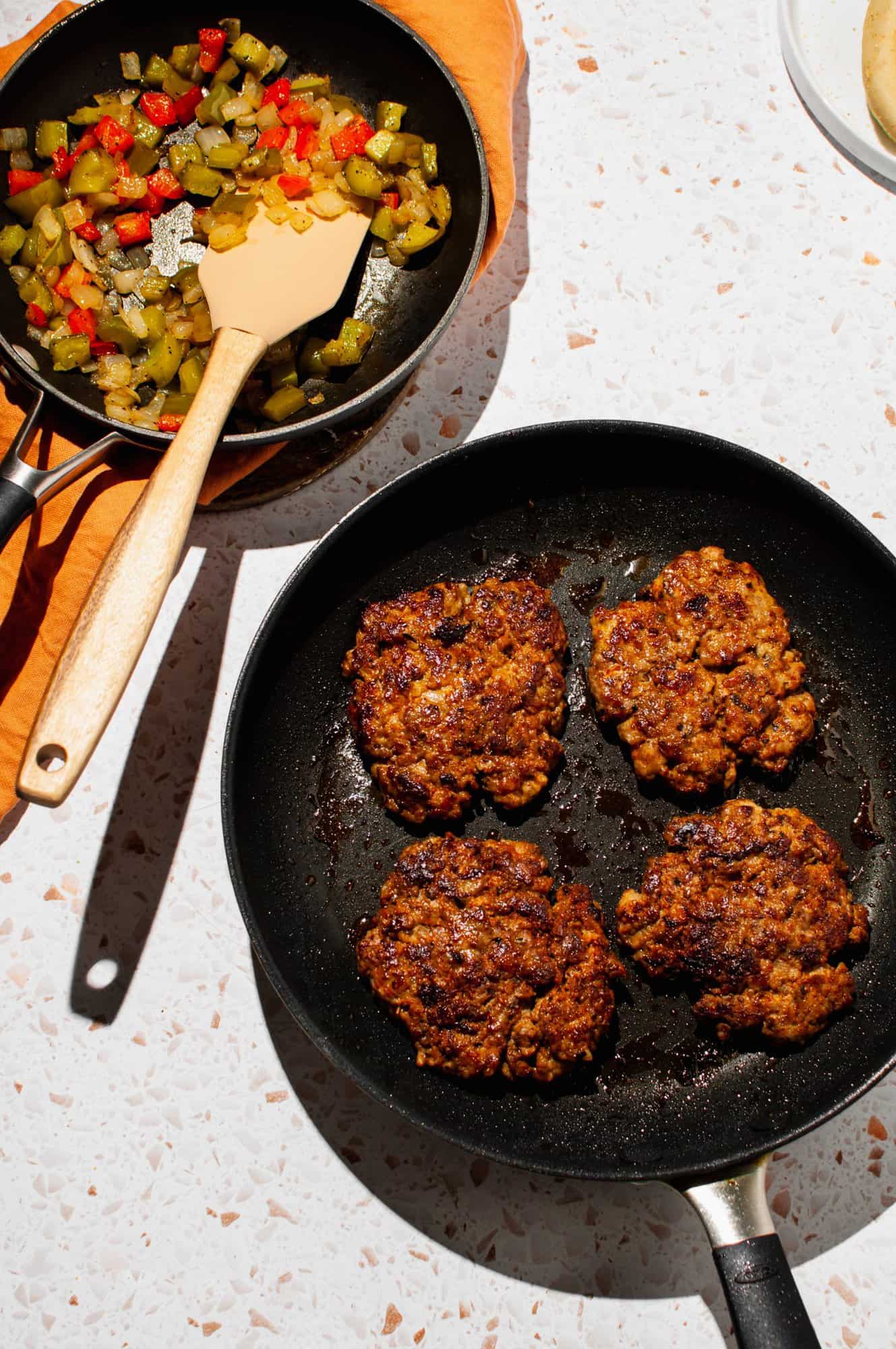 At the same time, brown the sausage or chorizo patties until cooked through.
The peppers, onions, and sausage, should take about 10-20 minutes to cook. Once that's done, set the skillets over low heat to keep warm until everything else is ready. Next, it's time to make the Chipotle Hollandaise Sauce!
How to Make Chipotle Hollandaise for Southwestern Eggs Benedict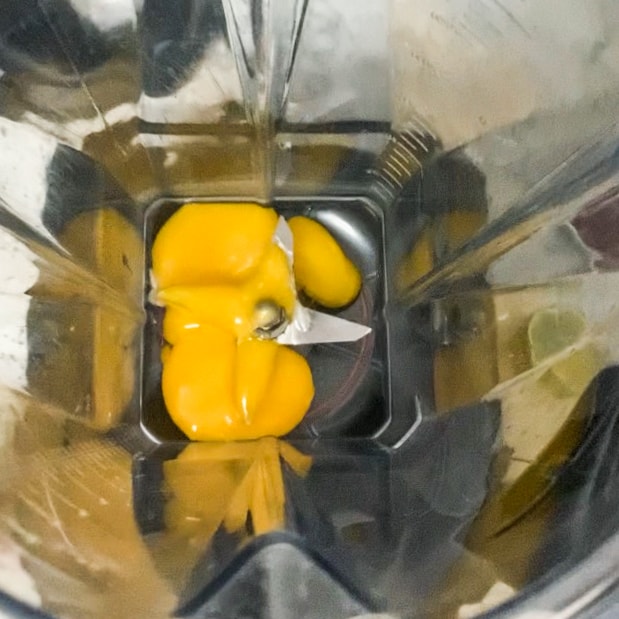 In a blender bowl, place the eggs yolks and lime juice.
If it's properly emulsified, it will thicken to this consistency. It's important that the butter is hot enough and that you incorporate it very slowly.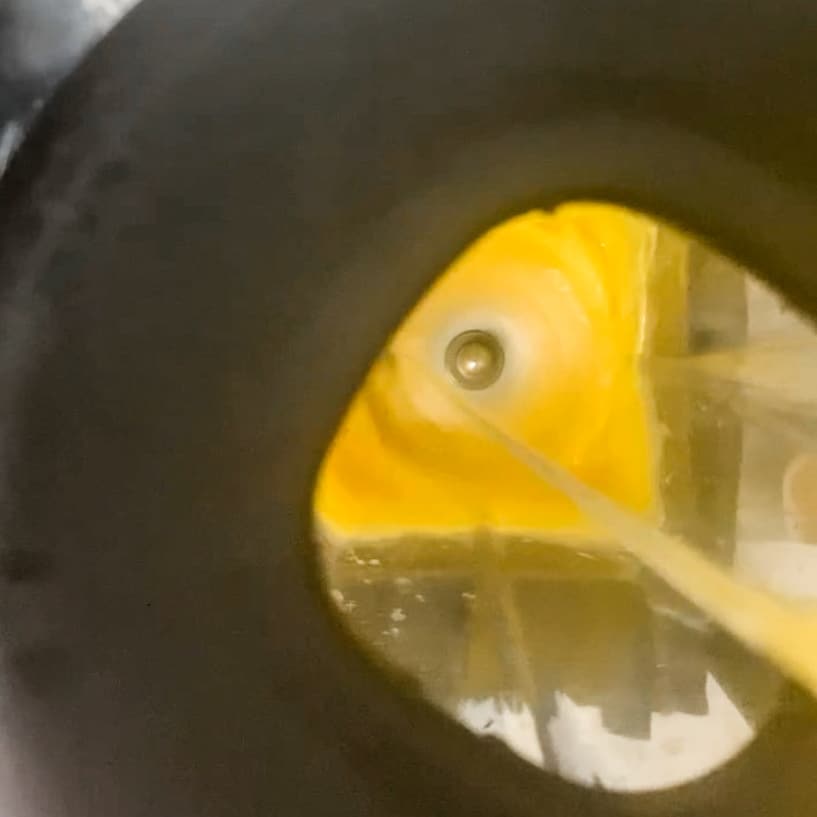 With the blender running, SLOWLY drizzle in the hot melted butter.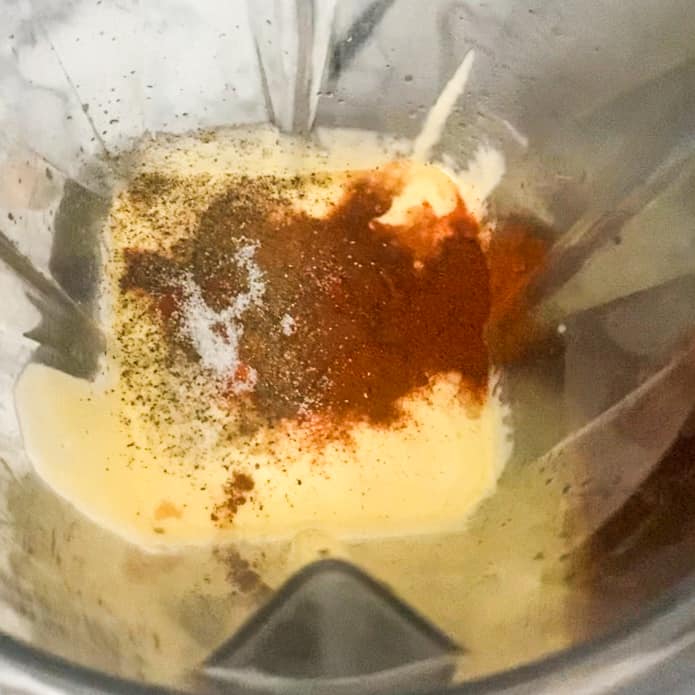 Once you have the basic hollandaise sauce recipe to the proper consistency, add the remaining ingredients and blend until fully incorporated.
If your hollandaise turns out runny, don't worry! Hollandaise relies on an emulsion to thicken, and it can be tricky to get just right.
I'll go further in depth about hollandaise sauce below. So if you've never made it before, be sure to read through that section before making this recipe.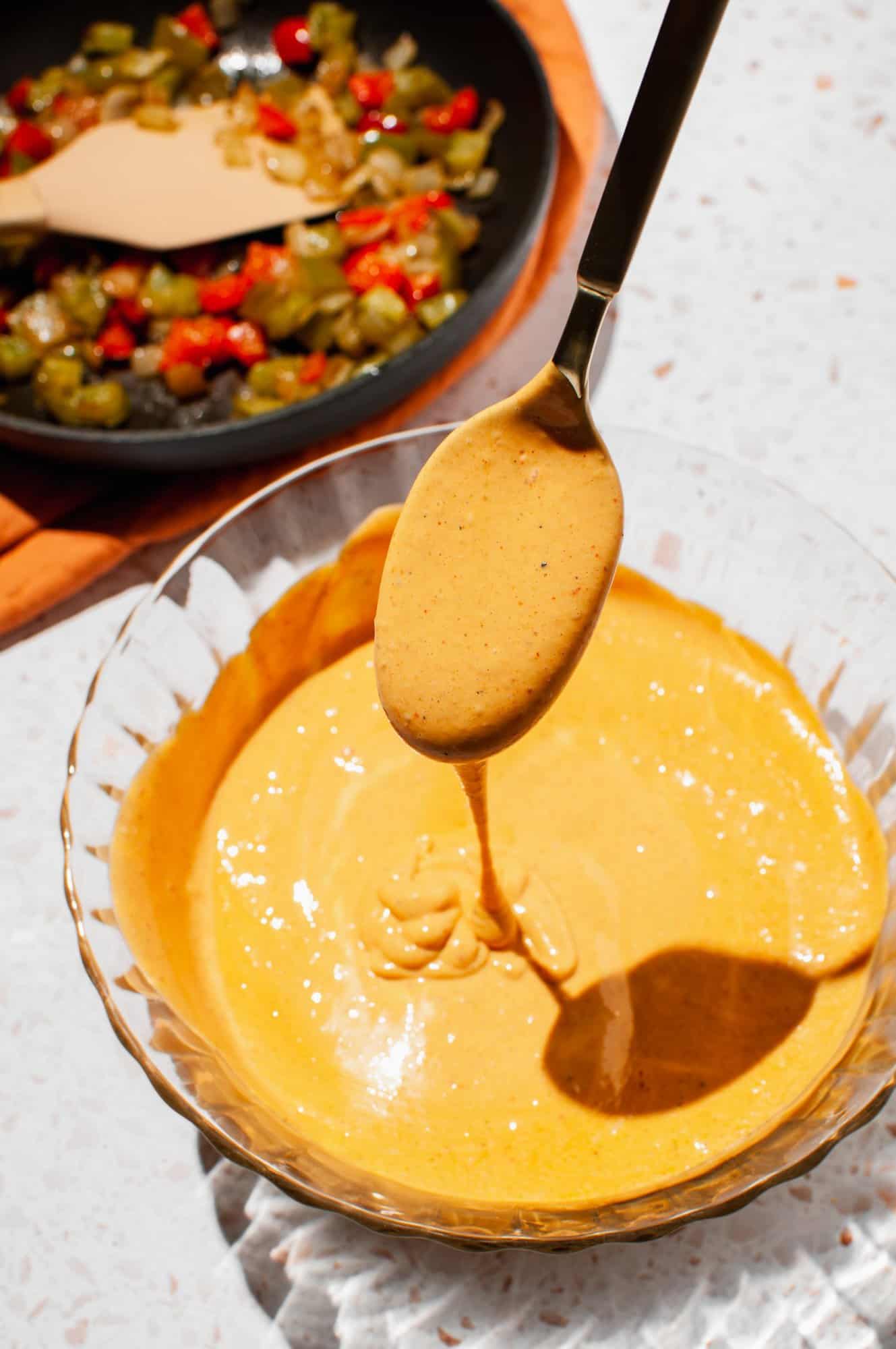 Now, for the eggs- you have a couple options. Traditionally eggs Benedict is made with poached eggs. However, I actually prefer fried eggs, so that's what I do!
With fried over-easy eggs, you still get that gooey yolk center which is the best part IMO, but the whites taste better because they're fried in butter instead of poached in simmering water.
But if you're more of a traditionalist, you could make definitely make this with poached eggs instead. It's actually pretty easy to poach eggs! If you haven't before, I'll give you a quick breakdown.
How to Poach Eggs for Eggs Benedict
Fill a medium pot of water and bring it to a gentle simmer. You're looking for bubbles, but it's more like soda water than a roaring boil. The ideal poaching temperature is around 160 degrees F.
Add a little bit of vinegar or lemon juice - the acid helps the eggs set faster.
Carefully crack the eggs into the simmering water. It helps to crack the eggs individually in small bowls or ramekins first and then gently slide them into the water. Some people swirl the water to keep the egg whites from spreading too much, but you don't have to do this.
Cook for 3-4 minutes, maintaining the temperature of the water.
Carefully remove eggs from the water using a slotted spoon or spider. Set on a plate to dry before transferring to serve.
Substitutions & Variations on Southwest Eggs Benedict
This Southwestern Eggs Benedict recipe is just a variation on a traditional eggs benny! The main components of eggs Benedict are eggs, hollandaise sauce, meat, and english muffins or bread. All of these can be easily swapped. Here are some ideas if you feel like switching it up:
Eggs - poached eggs are traditional (see how to poach eggs above). But you can use over-easy or sunny-side up eggs if you prefer, like me!
Hollandaise - traditional hollandaise is made of egg yolks + butter + lemon juice. In this recipe, I've replaced the lemon juice with lime juice and added extra ingredients like chipotle and spices. You can follow this same recipe to make regular hollandaise too. Simply replace the lime juice with lemon, and don't add any of the other ingredients at the end.
Bread - english muffins are the norm, but you can get creative here. Try waffles or slicing a donut in half! This recipe would be great with Portuguese muffins, which are similar to english muffins but larger and sweeter.
Meat- traditionally eggs Benedict calls for Canadian bacon. Here, I've opted for chorizo, but you can also use breakfast sausage or bacon. If you follow a vegetarian diet, leave out the meat, or replace it with a meat alternative.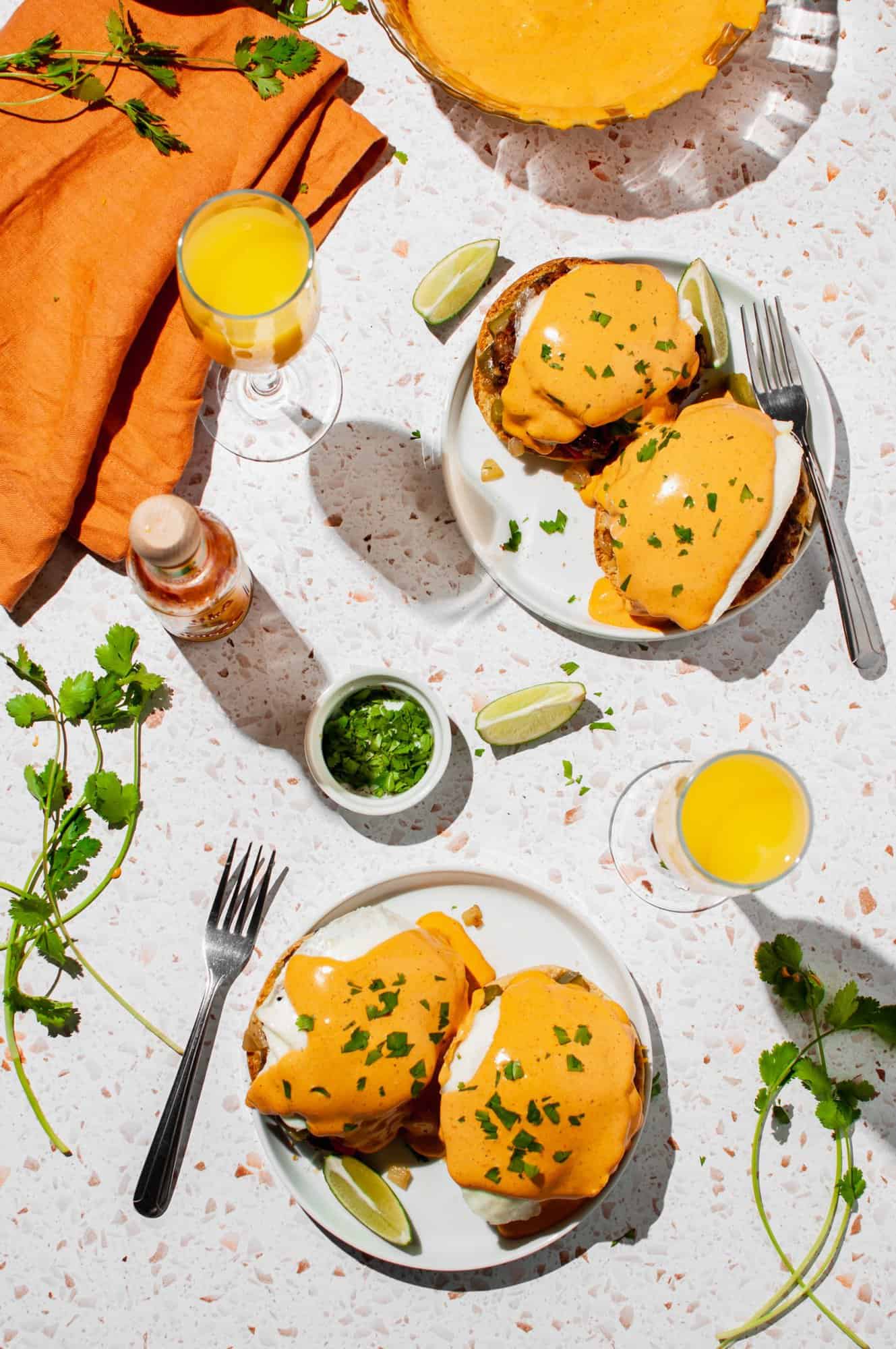 Other add-on ingredients like the peppers and onions, salsa, cheese, are all totally optional. The type of cheese and salsa can be substituted for what you like or what you happen to have in the fridge.
All About Hollandaise Sauce (& Troubleshooting)
What is Hollandaise Sauce?

Hollandaise is one of the five "mother sauces" of classic French cuisine. Béarnaise sauce is an example of a hollandaise variation. If you take hollandaise and add shallots and tarragon, it becomes béarnaise.

Hollandaise sauce is made by combining egg yolks with a little acid and a lot of butter to form an emulsion. The acid is usually lemon juice, but to make béarnaise, it's usually white wine vinegar.
Tips & Tricks
Emulsion sauces can be fickle. If the emulsion doesn't work, you'll end up with a soupy or grainy sauce that doesn't become thick and creamy like it's supposed to. Here are my top tips to ensure your hollandaise comes out perfectly:
Use a blender. You don't need a blender to make hollandaise. You can whisk by hand, but a blender definitely helps! Emulsions require that physical agitation to do what they do, so if you don't want to whisk really quickly and constantly while steadily adding the butter, a blender is very helpful.
Make a double batch. This is a big one! When I make blender hollandaise using two egg yolks, it's too shallow to reach the blades of my blender. So then I end up adding too much butter before it starts to really blend together, so it gets incorporated too quickly and it doesn't work. If you double all of the quantities and use 4 egg yolks instead, this should solve the problem. You might not need to do this if you have a smaller blender than I do.
Add the butter VERY SLOWLY. This is probably the most important part. If you add the butter too fast, it likely won't work. Ideally, you want to add the melted butter in a slow, steady stream from the top of the blender while it's running. Or, into a bowl with the egg yolks while whisking constantly.
Don't forget the acid. Acid aids the emulsification process, so don't skip the lime juice. Or if you do, replace it with lemon juice or another acid like vinegar.
Keep warm, but not too hot. Like I said, hollandaise is fickle. If it's too hot, it will begin to separate. If it's too cold, it will begin to solidify. The best place to store hollandaise sauce is near a hot stove, to keep it around 110-140 degrees until you're ready to serve.
How to Fix a Broken Hollandaise
If you've tried to make this recipe but the hollandaise doesn't turn out, you might be able to save it! Try these steps to fix a broken hollandaise:
Add hot water. Add a spoonful (~ 2 teaspoons) at a time, whisking vigorously after each addition. The water should be very hot- almost boiling.
Get a clean bowl. Add 1 egg yolk + 1 teaspoon acid (lime or lemon juice) to a new, clean bowl. Then, slowly add the broken sauce to the new bowl, a little bit at a time, while whisking constantly.
If it's still not working after that, you might have to start over from scratch unfortunately. I've had to do this quite a few times and I know it's not fun. But at least it's a learning experience... And the more you make it, the easier it'll become!
Equipment
Here's what you'll need to make this Southwest Eggs Benedict recipe: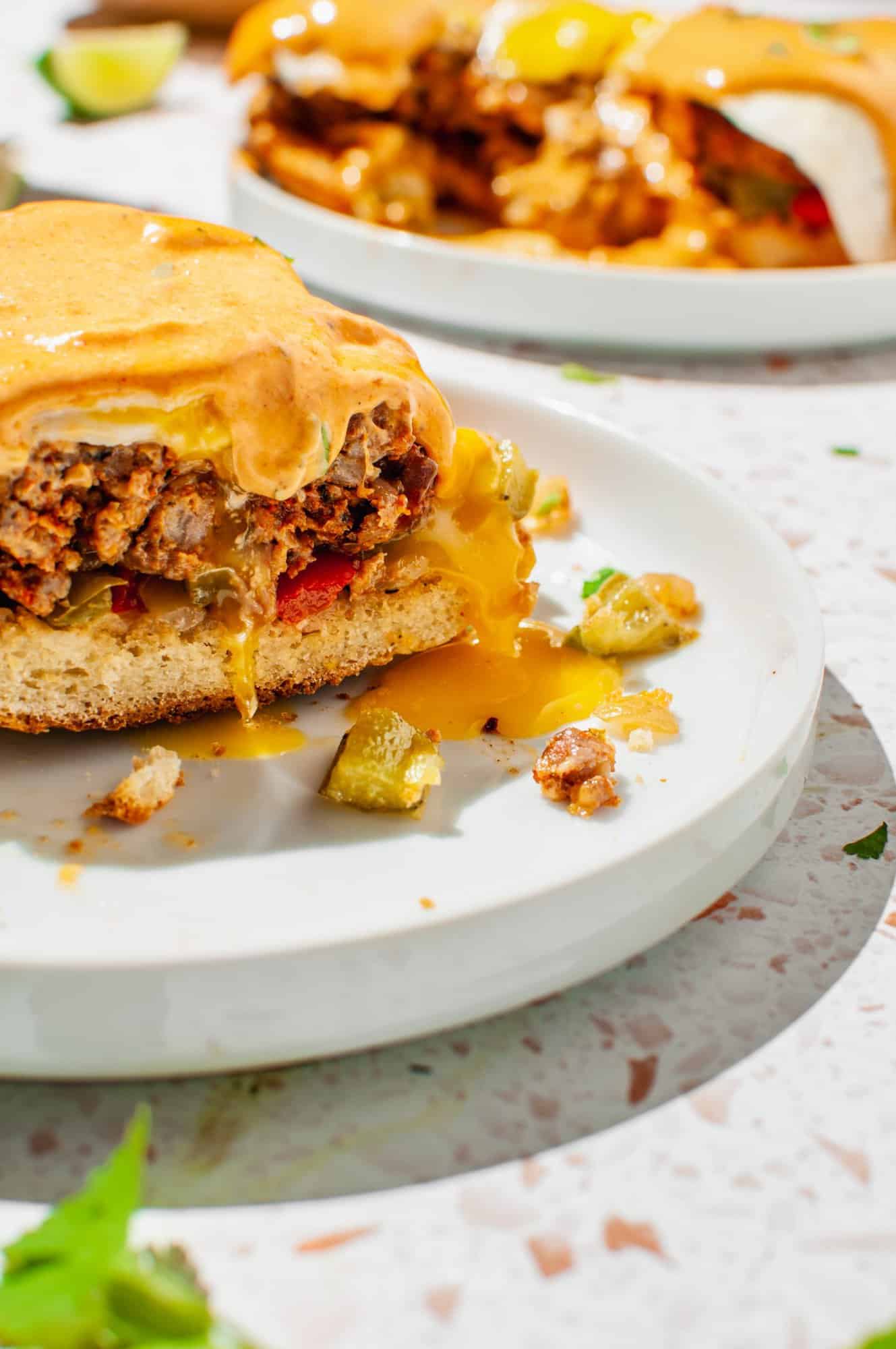 FAQ
What is the difference between sausage and chorizo?
Chorizo is a type of pork sausage that's highly seasoned and usually pretty spicy. For more info on chorizo, check out this post: Spicy Potato Soft Tacos with beef or chorizo.
Print
📖 Recipe
Southwestern Eggs Benedict with Chipotle Hollandaise
This recipe is a delicious twist on traditional eggs Benedict. English muffins are topped with chorizo, sautéed peppers and onions, over-easy eggs, and an addicting creamy chipotle lime hollandaise sauce. I've opted for fried eggs over poached because I think they have more flavor, but you can poach eggs if you prefer!
Author: Kelly @ Butter and Thyme
Prep Time:

10 minutes

Cook Time:

30 minutes

Total Time:

40 minutes

Yield:

2

servings

1

x
Category:

breakfast

Method:

stovetop, blender

Cuisine:

Mexican, American, French
2 tablespoons

butter, divided

1

bell pepper, diced

1

onion, diced

4

breakfast sausage or chorizo patties

2

english muffins

4

eggs

¼

cup

Mexican cheese, shredded

¼

cup

salsa verde
Cilantro for garnish (optional)
Chipotle hollandaise (see recipe below)
For the Chipotle Hollandaise
2

egg yolks
Juice of

1

lime

¾

cup

(1.5 sticks) unsalted butter

1 tablespoon

chipotle in adobo sauce, minced

2 teaspoons

hot sauce (Cholula is my favorite)

½ teaspoon

paprika

1 teaspoon

minced garlic
Salt and pepper to taste
Instructions
Preheat a medium skillet over medium heat and add 1 tablespoon of butter. Saute peppers and onions until softened, about 20 minutes. Reduce heat to low and keep warm.
In another small skillet, cook the sausage over medium heat until well browned on both sides and cooked through. Reduce heat to low and keep warm.
Make Chipotle Hollandaise: put egg yolks and lime juice in a blender bowl. Melt butter in a liquid measuring cup in the microwave until completely melted and very warm. With the blender running, slowly and steadily pour in the melted butter. Add the remaining ingredients and continue to blend until well combined.
Toast and butter english muffins, and make eggs: in a nonstick skillet over medium-low heat, melt 1 tablespoon of butter. Fry eggs until the whites are opaque-- about 3-4 minutes. Flip eggs and turn off heat.
Assemble eggs Benedict: place English muffins open faced on two plates. On each English muffin half, top evenly with Mexican cheese, peppers and onions, sausage, salsa verde and eggs. Top with Chipotle Hollandaise sauce. Garnish with cilantro and serve warm.
Notes
If you want to poach your eggs instead of frying them, I've included some helpful tips in the blog post.
If your hollandaise saue breaks or if you want more info on making hollandaise, check out the All About Hollandaise & Troubleshooting section above.
Keywords: breakfast, brunch, eggs benedict, hollandaise, eggs benedict with chipotle hollandaise