If you love a sweet and savory flavor combo like I do, this sweet honey pasta salad recipe is for you! The sweet and tangy honey vinaigrette is perfectly paired with mandarin oranges, crunchy chopped veggies, and bowtie pasta.
This pasta salad side dish is one of my favorites in the summer months. It's so light and refreshing paired with grilled meat, like these Asian grilled chicken wings. I love to serve it at summer barbecues and always get rave reviews!
If you're looking for a heartier pasta side dish for colder weather, I highly recommend my pumpkin sage mac and cheese recipe. Just like this honey lemon pasta salad recipe uses sunflower seeds for crunch, it's topped with crunchy breadcrumbs for a good balance of textures.
Jump to:
Why You'll Love This Recipe
It's a delicious twist on your classic pasta salad. Instead of your usual Italian dressing, the simple and super flavorful homemade honey vinaigrette offers a nice balance of sweetness and acidity.
It's perfect for meal prep because it tastes better as it sits. Make this recipe up to 3-4 days ahead of time and it will only get more flavorful with time!
Ingredients
Here's everything you need to make this recipe:
Pasta - while you can use any short pasta, bow-tie pasta (aka farfalle) is my favorite. Rotini or fusilli are other common choices for pasta salad.
Honey - this is a good recipe to use your best honey because the flavor really shines. Orange blossom honey pairs well with mandarin oranges, as an option.
Mandarin oranges - these come in a can or jar in light syrup. I like to use a little of the syrup/ orange juice in the vinaigrette to bring it all together ◡̈
Oil - use a neutral oil that doesn't overpower the other flavors, like vegetable, safflower or grapeseed oil.
Dijon mustard - adds a zingy flavor and creaminess to the honey vinaigrette. It also acts as an emulsifier, which prevents the oil and vinegar from separating and contributes to a perfect creamy texture.
Garlic - you can use pre-minced jarred garlic or mince fresh garlic.
Lemon juice - freshly squeezed lemon juice is preferred for its bright flavor.
Vinegar - I used white wine vinegar, but you can substitute rice vinegar, sherry vinegar, or white wine.
Roasted red peppers - you can buy chopped roasted red peppers in jars to save you time. Or make your own roasted red peppers.
Bell pepper - I recommend green peppers for their earthy flavor since we already have the sweet roasted red peppers. But you can substitute orange or yellow peppers if you prefer.
Red onion - or sub. white onion or sweet Vidalia. These varieties are milder when raw (I wouldn't recommend raw yellow Spanish onion because it's too harsh).
Sunflower seed kernels - with the hard outer shell or hull removed so they're ready to eat. I prefer them raw (they're also more nutritious this way!) but roasted sunflower seeds add a nice nutty flavor if you want to try.
Fresh parsley - I love adding a handful of herbs for freshness. You could also substitute basil or cilantro if you prefer.
Salt and pepper
See recipe card for quantities.
How to Make Honey Pasta Salad
First, cook the pasta al dente. Choose the minimum amount of time recommended on the back of the package, since overcooking can lead to mushy pasta salad. Then, drain and rinse the pasta under cold water.
While the pasta is cooking, make the vinaigrette. Start by mixing together all ingredients except the oil. Then slowly drizzle in the oil while whisking. This is the key to properly emulsify the dressing - since oil and vinegar don't usually like to mix.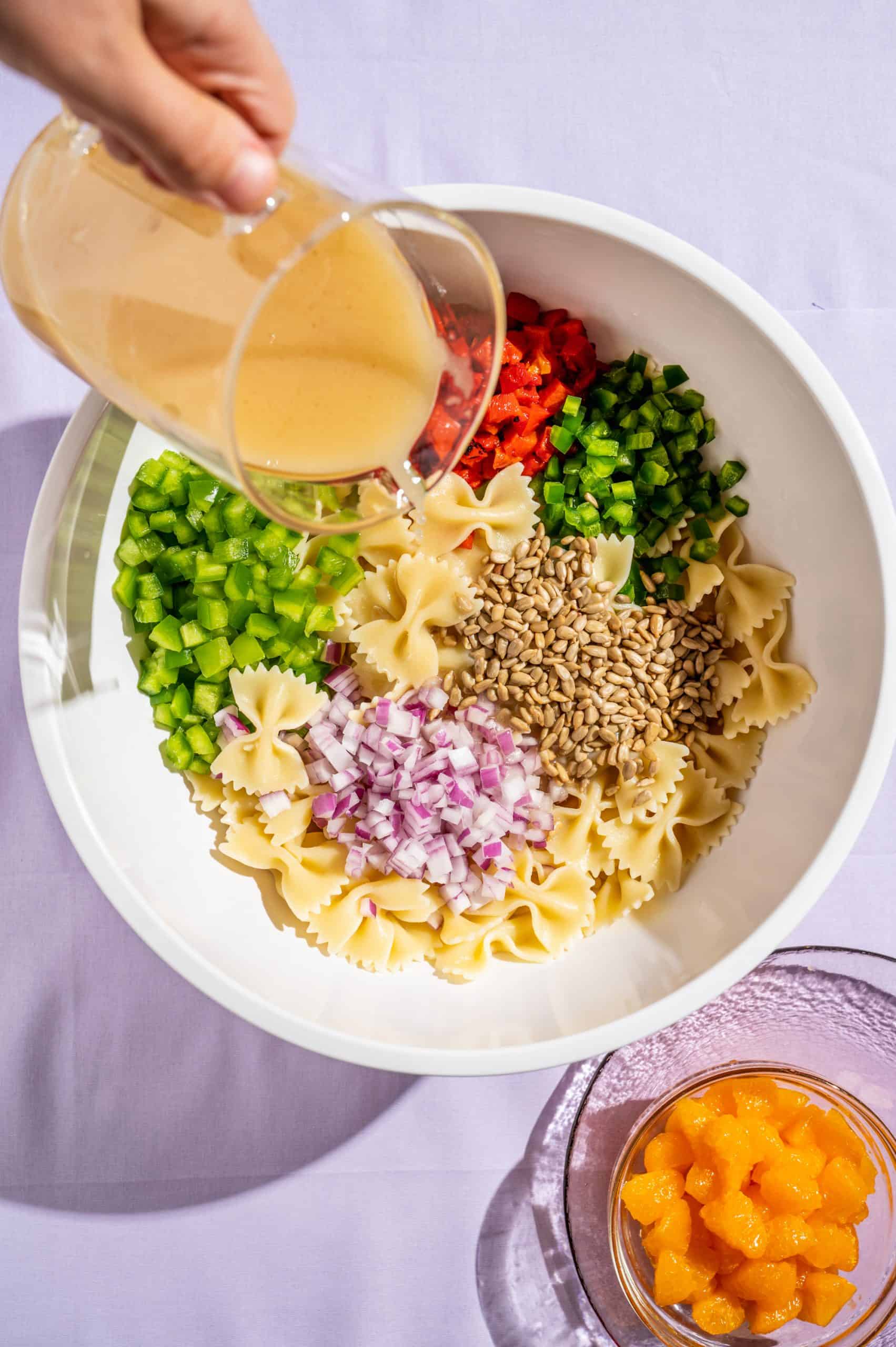 In a large bowl, combine the cooked, cooled pasta with the chopped garnishes. I recommend leaving out the oranges at first, since they break apart easily. Add the vinaigrette and toss until everything is evenly coated.
Now, gently stir in the oranges and garnish with fresh parsley. Cover the bowl with a lid and let the pasta salad chill for at least 2 hours before serving. (Or longer if you can... it tastes significantly better the longer it sits!)
Top tip - Rinse Your Pasta
You might have been told rinsing your pasta is bad, which is true most of the time... But cold pasta dishes are the exception.
For pasta dishes served chilled (like most pasta salads), you should rinse the pasta under cold water to remove excess starch, which can cause a gummy texture. The cold water rinse also stops the cooking process so the pasta remains perfectly al dente.
Substitutions & Variations
This recipe is super flexible! If you don't like a certain ingredient, you can easily omit it or swap it out. Here are a few examples of possible substitutions:
Mandarin oranges - fresh clementines, tangerines, peaches
Sunflower seeds - slivered or sliced almonds, sesame seeds, crunchy dried chow mein noodles
Red onion - white onion, chives, scallions, shallots
Green bell pepper - celery, jalapeños
You can make an Asian pasta salad variation of this recipe with the following substitutions and additions:
Scallions or green onion instead of red onion
Dried chow mein noodles in place of sunflower seeds
Cilantro or Thai basil instead of parsley
For the vinaigrette, add 1 teaspoon chopped ginger + 1 tablespoon soy sauce, use rice vinegar or mirin instead of white wine vinegar, and omit the mustard.
It doesn't have to be exactly this, but you get the idea! Mix and match, and have fun cooking and experimenting with new flavors ◡̈
To make a spicier version, replace a portion of the green bell pepper with jalapeño peppers (I used 6 oz. green bell pepper and 2 oz. jalapeño to keep it pretty mild).
Equipment
Here are my kitchen tool recommendations that might be helpful for this recipe:
Storage & Make-Ahead
Honey pasta salad is a perfect make-ahead dish! I actually recommend that you wait at least 24 hours before serving ideally, since it gets more flavorful the longer you let it sit. You can eat it right away and it's still pretty good, but it's DELICIOUS if you wait until the next day.
Store the mandarin orange pasta salad in a large bowl with a lid. If you don't have a bowl with a lid, tightly cover the bowl with plastic wrap to prevent the pasta from drying out.
Make sure you toss again right before serving since some of the dressing will fall to the bottom of the bowl.
FAQ
What are clementines vs. mandarin oranges?
For the purposes of this recipe, there is no difference between mandarin oranges and clementines, they can be used interchangeably. Technically, mandarin oranges refer to a whole group of small seedless oranges that are easy to peel and snack on. Clementines are just one type of mandarin orange, along with tangerines and other varieties.
Print
📖 Recipe
Honey Pasta Salad
Bursting with mandarin orange flavor and full of colorful veggies, this honey pasta salad is the ultimate sweet and savory summer side dish. 
Author: Kelly @ Butter and Thyme
Prep Time:

20 minutes

Chill Time:

2 hours

Cook Time:

10 minutes

Total Time:

30 minutes

Yield:

8

servings

1

x
Category:

Vegetarian side dish

Method:

Stovetop (pasta)

Cuisine:

American
For the Pasta Salad
1

lb

. bow-tie pasta (Farfalle)

1

can (15 oz.) mandarin oranges in light syrup, drained, and juices reserved*

6

oz

. roasted red peppers drained and finely chopped

8

oz

. green bell pepper, diced small

4

oz

. red onion, diced small

2

oz

. sunflower seed kernels, raw, unsalted

2 tbsp

. parsley, chopped
Salt and pepper to taste
For the Honey Lemon Vinaigrette
½

cup

honey

6 tbsp

. lemon juice

3 tbsp

. white wine vinegar

3 tbsp

. mandarin orange syrup (from drained mandarin oranges)*

2 tbsp

. garlic, minced

2.5 tsp

. Dijon mustard

¾

cup

neutral oil, i.e. grapeseed oil
Salt and pepper to taste
Instructions
Cook the pasta al dente according to package instructions. Make sure to salt the pasta water (approximately 1 teaspoon salt per quart of water)! Drain the pasta in a colander and rinse well under cold water.
While the pasta is cooking, make the honey lemon vinaigrette: combine all ingredients except oil in a mixing bowl. Slowly drizzle in the oil while whisking and continue to whisk until well combined. 
Assemble pasta salad: add the cooked and cooled pasta to a large mixing bowl. Then add all the remaining pasta salad ingredients (except the mandarin oranges) and pour the prepared vinaigrette over the top. Gently toss to combine until everything is evenly coated, then gently stir in the oranges. 
Cover the bowl with a lid and refrigerate until ready to serve. Wait at least 2 hours, ideally 24 hours for best results. Serve chilled or at room temperature. 
Notes
You can use 8 oz. of fresh clementines or tangerines instead of canned or jarred mandarin oranges. If you don't have syrup from the canned mandarin oranges, substitute simple syrup or add extra honey to taste.
Keywords: honey lemon pasta salad, mandarin orange pasta salad