This Pumpkin Sage Mac and Cheese is one of my favorite fall recipes! For the pumpkin haters out there, the pumpkin flavor is subtle, I swear. It tastes more like a warm fall slightly spiced version of really creamy and delicious mac and cheese.
I used three different types of cheese in this recipe, so you know it's super cheesy! AND. SO. GOOD!!
And it's topped with a delicious aromatic browned-butter sage breadcrumb topping. The nutty flavor of the brown butter goes so well with the fresh sage, and the topping uses a combination of panko and regular breadcrumbs for the optimal texture.
Fun fact - this recipe is based on a recipe I helped develop while in a restaurant management class in college. Since it was October, we decided to have a pumpkin spice theme for the weekly specials. I know, very basic of us ◡̈ but we got rave reviews!
This pumpkin sage mac and cheese would be a perfect Thanksgiving side dish, alongside honey butter biscuits and bacon-wrapped asparagus ◡̈
If you love pumpkin recipes, check out my pumpkin spice latte bread recipe too! And if you want another comfort food dish filled with warm fall spices, you have to try this Moroccan Chicken Pie. To. Die. For.
Jump to:
Ingredients
Here's everything you'll need to make this pumpkin sage mac and cheese recipe:
Pasta - I love conchiglie - small shells with ridges. You can use any type of short pasta! I especially love pasta that has ridges or holes to hold in all that creamy cheese sauce. Elbows, shells, and cavatappi are all great options too.
Butter
Flour
Milk - use whole milk for the creamiest sauce. If you want it even creamier, you could use half and half.
Spicy brown mustard - just a little bit adds complexity and a little zing!
Salt and pepper
Dried thyme
Nutmeg
Garlic powder
Paprika
Crushed red pepper flakes
Pumpkin puree - you can use canned or fresh (I always use canned because it's way easier!)
Cheese - the majority is sharp white cheddar, the best for mac and cheese IMO! I also added some Parmesan and Monterey jack for a little bit of nuttiness that pairs well with the warm spices.
Fresh sage - chopped for the breadcrumbs + whole leaves for the optional garnish. You could also substitute fresh thyme, another fall herb with a similar flavor profile.
Breadcrumbs - I use half panko and half plain unseasoned, but you can use whatever you prefer or have already.
See the recipe below for quantities.
How to Make Pumpkin Sage Mac and Cheese
The first step is cooking the pasta according to package instructions. When the pasta is done, drain it, but don't rinse it. The extra layer of starch helps the cheese sauce cling to the pasta.
Next, I'll show you how to make the pumpkin cheese sauce:
In a large pot, melt the butter and add flour to create a roux. Then, slowly add the milk, whisking frequently to avoid lumps, and simmer until slightly thickened. You can tell it's the right consistency when it coats the back of a spoon (this is called nappe, FYI).
Add the spices and seasonings to the pot - mustard, thyme, salt, pepper, nutmeg, garlic, paprika, and red pepper flakes. Then, add the pumpkin puree, and whisk until smooth. Let it simmer for a couple of minutes, then remove the pot from the heat.
Add the cheese one handful at a time, whisking after each addition, until all the cheese is incorporated.
Finally, add the cooked pasta to the pumpkin cheese sauce, and stir to combine.
Did you know?
In the first step, you are creating a bechamel sauce, one of the 5 mother sauces of French cuisine. Bechamel is made with milk thickened by a roux (butter + flour), and a pinch of nutmeg is traditionally added too. This recipe plays off that, adding more warm spices to the mix!
Troubleshooting: How to Avoid Grainy or Lumpy Cheese Sauce
It can be difficult to get perfectly creamy cheese sauce (trust me, I've had plenty of bad batches over the years!) But I've learned it really comes down to patience. Follow these tips, and your pumpkin cheese sauce should come out smooth and creamy:
Add the milk slowly - if you add the milk too quickly, it might get lumpy. I add about ¼ cup at a time, whisking until smooth each time.
Whisk frequently - this goes along with step 1, but you want to whisk almost constantly to avoid lumps.
Add the cheese slowly - and off the heat. When you add the cheese all at once, or if it gets too hot, the sauce can curdle and that's when you end up with grainy cheese sauce.
Use high-quality cheese and shred it yourself. I know it can be annoying to grate the cheese, but it's worth it. Pre-grated cheese has stuff added to it that prevents clumping, but those same additives also affect the way cheese melts.
How to Make Brown Butter & Sage Breadcrumbs
For this recipe, I chose to make the sage breadcrumb topping separately, rather than baking it on top of the pumpkin mac and cheese. Why, you ask? Too many times I've overcooked the mac and cheese and ended up with dry mac and cheese in pursuit of golden brown breadcrumbs. So, I decided to cook them separately instead so they are both cooked perfectly!
To make the sage breadcrumb topping for pumpkin mac and cheese, start by browning the butter. If you've never browned butter before, check out this super helpful tutorial!
Then, you add the breadcrumbs and chopped sage to the pan and toast over medium-low heat until golden brown.
To finish, top the mac and cheese dish with the freshly toasted breadcrumbs. Or you can serve the stovetop pumpkin mac and cheese with sage breadcrumbs on the side. This is a great option to keep the topping crispy if you think you'll have leftovers!
Top tip
Always make brown butter in a light-colored pan. It quickly goes from perfectly golden to burnt, so cooking the butter over a light-colored background helps you see the color change more easily.
Substitutions & Variations
If you'd rather make a baked pumpkin mac and cheese, you don't HAVE to cook the breadcrumb topping separately. It's just my suggestion. Especially since you have to brown the butter in a separate pan anyway.
To save dishes, you could instead toss the breadcrumbs with melted butter, and throw that on top of the mac and cheese. Then bake until crispy on top.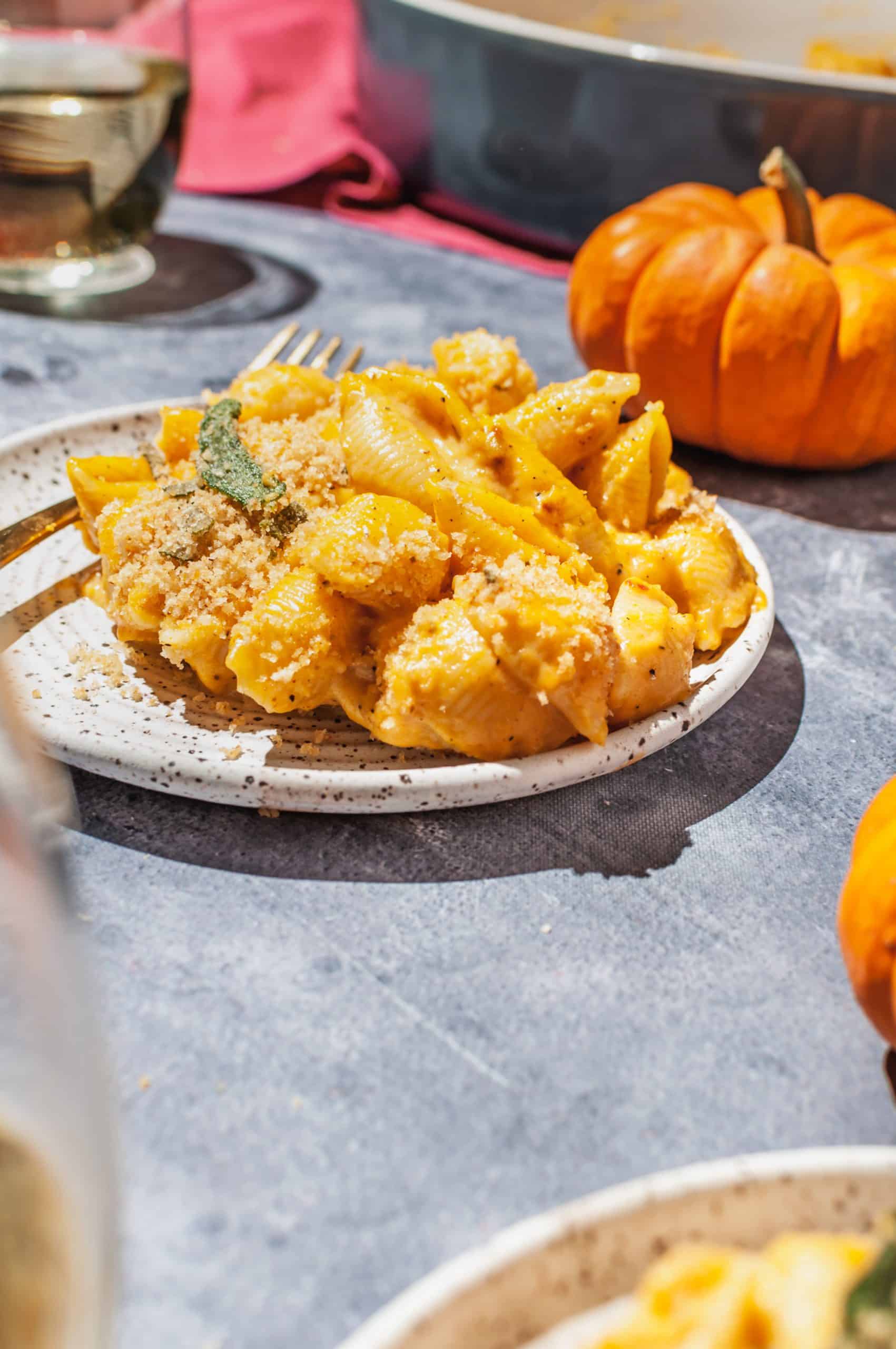 If you really don't want to add pumpkin, leave it out! You can add the fall spices to the creamy cheese sauce for a fall-inspired mac and cheese without pumpkin. If you leave out the pumpkin, I'd add a little extra milk to make up for the lost moisture.
The spices and the types of cheese are flexible, too. If there's any spice or cheese you don't like, feel free to omit or swap it based on your own preferences.
Another idea - try adding protein to it! This pumpkin sage mac and cheese would be delicious with shredded rotisserie chicken or bacon bits on top ◡̈
This recipe calls for 1 pound of pasta because I feel like most people want to use the whole box, and mac and cheese makes great leftovers! However, you can easily cut this recipe in half. That's what I did when I made it last since there are only 2 people in my house. The instructions remain the same - just halve all of the ingredient amounts.
Equipment
Here's what you'll need to make this pumpkin sage mac and cheese recipe:
Food processor (or a box grater, but hear me out...) - you could use a box grater, but to grate large amounts of cheese, I HIGHLY recommend using a food processor with a grater attachment. This thing is honestly a lifesaver and my favorite kitchen tool!
Large pots (2) - for boiling pasta and making cheese sauce.
Large colander - to drain the pasta.
Whisk - very important for a smooth cheese sauce! If your pots are nonstick, use a nonstick whisk so it doesn't scratch the coating.
Wooden spoon or rubber spatula
Large casserole or serving dish - a 13x9 dish works perfectly for a pound of pasta. If you're baking the pasta at all, be sure to use an oven-safe serving dish.
Medium skillet or any pot or pan with a light-colored bottom to make the brown butter breadcrumb topping. You can fry the sage leaf garnish in the same pot too.
Serving spoon - a large serving spoon like this one is super helpful for serving saucy pasta dishes like this!
Serving, Storing, & Reheating
To serve, I like to use fried sage leaves as a garnish. They're super easy, and they look and smell incredible! Here's how to do it:
Time needed: 5 minutes

How to Fry Sage Leaves
Heat the oil.

Heat a small amount of oil (vegetable, canola, or olive) in a small pan over medium heat-- use enough so that it completely covers the bottom in a thin layer.

Add sage leaves and fry until crisp.

Be careful, they will spatter a bit. You'll know they're done when the oil stops bubbling, it only takes about one minute!

Remove sage leaves from the oil.

Again carefully, since the oil is hot. I usually use a fork to do this. Place the fried sage on a paper-towel-lined plate to cool slightly and drain the excess oil.
To store leftover pumpkin sage mac and cheese, place it in an airtight Tupperware for best results. Leftovers can be stored in the refrigerator for up to 4 days. I recommend storing extra breadcrumbs separately if possible to keep them crisp - those can stay out at room temp.
Mac and cheese tends to dry out over time. So, to reheat it, I recommend adding a splash of milk (about 1 tablespoon per cup) and stirring it into the pumpkin mac and cheese before reheating. Then reheat it as you normally would in the microwave, stovetop, or oven.
FAQ
What are the best cheeses for mac and cheese?
To me, sharp cheddar is king. I always use primarily cheddar with some other complimentary cheeses for a more well-rounded flavor. Some of my favorites are Parmesan, fontina, gruyere (which has a nutty flavor like Parm but is a great melting cheese!), or any jack cheeses (like Monterey jack, Colby jack, or pepper jack).
What cheese goes best with pumpkin?
Pumpkin pairs well with tangy cheeses like bleu cheese and goat cheese, so feel free to add a bit of either to the mix! (I personally don't love either, that's why I didn't). But Parmesan or pecorino also go well with pumpkin. Gouda would also be a great swap or addition for this pumpkin sage mac and cheese recipe!
Print
📖 Recipe
Pumpkin Sage Mac and Cheese with Crunchy Breadcrumb Topping
This pumpkin sage mac and cheese is one of my favorite fall comfort food recipes! The creamy pumpkin cheese sauce is gently flavored with warm fall spices like nutmeg and thyme. Then it's topped with crunchy brown butter sage breadcrumbs and garnished with fried sage leaves.
Author: Kelly @ Butter and Thyme
Prep Time:

10 minutes

Cook Time:

25 minutes

Total Time:

35 minutes

Yield:

8

servings

1

x
Category:

comfort food

Method:

stovetop

Cuisine:

American (Southern)

Diet:

Vegetarian
1

lb

. short pasta, i.e. medium shells

6 tablespoons

butter, divided

3 tablespoons

flour

4

cups

whole milk

1 tablespoon

spicy brown mustard

1 teaspoon

salt

1 teaspoon

pepper

½

teaspoon dried thyme

¼ teaspoon

nutmeg

1 teaspoon

garlic powder

½

teaspoon paprika

¼ teaspoon

crushed red pepper flakes

¾

cup pumpkin puree

2

cups

sharp white cheddar, shredded

½

cup

Parmesan, grated

1

cup

Monterey jack, shredded

2 tablespoons

chopped sage + whole leaves for garnish

½

cup

panko breadcrumbs

½

cup

plain breadcrumbs
Instructions
Cook pasta as directed on the package to al dente, then drain (but do not rinse) and set aside.
Make Pumpkin Cheese Sauce:
In a large pot, melt half of the butter (3 tablespoons) over medium heat. Once the butter is melted, add the flour and whisk until it smells lightly nutty (about 1 minute). Slowly pour in the milk while constantly whisking. Then, let the mixture come to a simmer so it can thicken a bit (about 5 minutes). You can tell it's the right consistency when it can coat the back of a wooden spoon without running down the spoon.
Add the mustard, salt, pepper, thyme, nutmeg, garlic powder, paprika, and crushed red pepper. Stir in the pumpkin until it is fully incorporated. Then, remove the pot from the heat and add the cheese a handful at a time, mixing after each addition, until the cheese is melted.
Add the cooked pasta to the sauce and mix to combine. Keep warm over low heat, or transfer to a 13x9 dish, cover with foil, and place in the oven at 300 degrees. 
Make Brown Butter Sage Breadcrumb Topping:
Heat a medium skillet over medium-high heat and melt the remaining 3 tablespoons of butter. Continue to cook for about 2-3 minutes, stirring constantly, until the butter is lightly browned and develops a nutty aroma. Remove from heat.
Add the chopped sage and breadcrumbs to the pan, and stir to combine. Set the pan over low heat and lightly toast, stirring constantly, until golden brown.
Top the pumpkin mac and cheese with the toasted sage breadcrumbs and serve immediately. 
Notes
Wipe out the pan with the breadcrumbs and reuse to fry sage leaves for garnish. (For easy instructions on how to fry sage leaves, see the blog post above)

For a baked pumpkin mac and cheese, cook the pasta a little shy of al dente. Then bake at 350 covered with aluminum foil for 20-30 minutes.

It will be a little drier and not as creamy as the stovetop directions since the pasta will absorb some of the sauce.

To make a half batch, simply halve all of the ingredient amounts. The directions will remain the same. 
Keywords: pumpkin sage mac and cheese, pumpkin mac and cheese with crunchy breadcrumb topping, pumpkin mac and cheese with fried sage