If you love apples, this is the recipe for you!! This easy apple snack cake is more apples than it is cake. It's like baked apples held together by a thin coating of cake batter. The result is a super moist cake that's full of fresh baked apple flavor!
This is actually an old family recipe that comes from my mother's grandmother - so shout out to Grandma Gessner for this one! My family's been making it for years every fall, so it's a nostalgic recipe for me ◡̈
This one-bowl apple cake recipe could not be easier to make. It's made from a handful of pantry ingredients that you probably already have, plus fresh apples. It's the perfect fall comfort food to use up all those extra apples you have from apple picking!
Aside from being ridiculously easy to make, it's also great because:
It stays fresh and moist tasting for DAYS
It's healthy-ish (compared to cakes and other sweet treats)
It's easy to eat on the go, so it's great for breakfast or any time of the day!
This recipe is also perfect to make around Thanksgiving to snack on before or in between cooking (much like my Pumpkin Spice Latte Bread!)
Jump to:
Ingredients
Here's everything you'll need to make this easy one-bowl apple cake:
Flour - although I haven't tried it yet, I'm sure you could substitute a gluten-free all-purpose flour blend.
Sugar
Baking powder
Vanilla
Cinnamon - this is only for dusting on top, but you could add a pinch to the batter too if you want extra cinnamon flavor.
Eggs
Vegetable oil - or substitute canola oil.
Apples - the key ingredient! I used 100% Macintosh, since my family swears by this. Macintosh apples are great for baking because they're a great balance of sweet and tart and they turn really soft when baked. And that's great for this recipe because it gives it a super moist, almost bread pudding-like texture! But you can use whatever variety of apples you have on hand. I always like to combine varieties to get a good balance of flavors and textures.
Powdered sugar (optional) - this is the only slight variation from my family's recipe. We usually just dust the top with cinnamon before baking, but I also chose to add a bit of powdered sugar after baking. Totally optional - it's great with or without it!
See recipe card for quantities.
How to Prep Apples for Apple Snack Cake
The first step in this recipe is peeling the apples and cutting them into slices. If you've never sliced an apple or you want a little review, I'll walk you through it. This apple snack cake recipe is better with peeled apples, but you can follow these steps for how to cut an apple whether or not they are peeled first.
Time needed: 5 minutes
How to Cut an Apple Into Slices
Place the apple on a cutting board and slice straight down on the right side.

Use a large chef's knife and make the cut as close to the core as possible.

Turn the apple 90 degrees counterclockwise, and make another cut straight down on the right side at a 90-degree angle.

Alternatively, you can place the apple with the cut side down so it's on a flat surface.

Repeat this process twice more, removing all 4 sides of the apple.

You should be left with 4 apple sections + the squared-off center (the apple core). The core can be discarded.

With the cut-side down, slice each apple section into thin slices about ¼ inch.

Repeat with all 4 sections. If the end slices are too small, you can try to angle the knife towards the center to make them a bit larger. Or they make great pieces to snack on while you're prepping!
How to Make Grandma's Apple Snack Cake
Now that you've got your apples prepped, here's how to make the apple cake:
First, combine all ingredients (except the apples) in a large bowl until just combined. It's ok if it's a little lumpy.
Next, add approximately ⅔ of the apples to the batter and stir to coat. It doesn't need to be exact!
Lightly grease a rectangular cake pan with nonstick spray. Then, pour the apple cake batter into the prepared cake pan.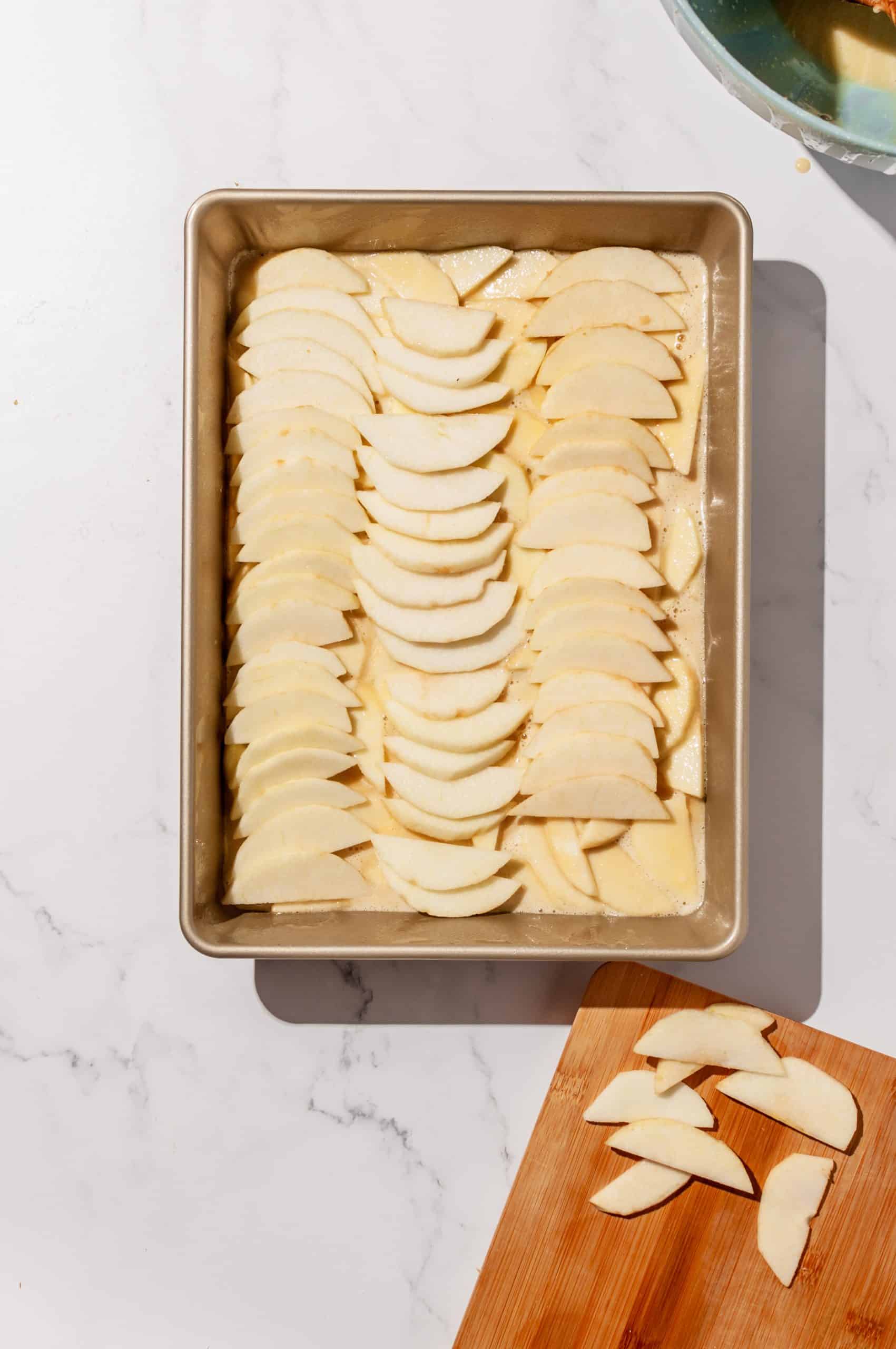 Arrange the remaining apple slices on top. I shingled them neatly here for the photos. Usually, my family just spreads them over top in a thin messy layer.
Finally, sprinkle the top with a little bit of cinnamon (about 2 teaspoons)—Bake at 350 degrees F for about 1 hour.
Top Tip: Avoid Overmixing
To achieve a cake texture that is soft and moist rather than tough and gummy, mix ingredients only until just combined. Overmixing cake batter leads to the development of gluten which can result in a weird gummy texture.
Substitutions & Variations
Here are a few easy swaps you could make to change up the original recipe:
Apples - experiment with different varieties and see how it affects the taste and texture of the apple cake. Use whatever apples you picked at the orchard, or whatever's on sale - there are no bad options! You could even try this recipe with another fruit like pear or pineapple.
Baking pan - instead of baking the apple snack cake in a cake pan, try making it in a muffin tin! Muffins are a great option for pre-portioned breakfast on the go. The recipe will be pretty much the same, it'll just cook faster. Check to see if they're done after 25-30 minutes.
Personally, I love the simplicity of this one bowl apple cake. But if you want to switch it up occasionally, here are some ideas for easy additions:
Add a streusel or glaze - make a simple streusel or glaze to go on top. You could use the maple glaze recipe that I use for my PSL bread, just leave out the coffee!
Garnish with pecans - or any other nuts that pair well with apple flavors, like walnuts. You could also fold nuts into the batter if you'd like.
Add more spices. We dust the apple cake with a little cinnamon on top, but you could always choose to add cinnamon or pumpkin spice to the batter itself, too.
Equipment
The equipment list for this easy apple snack cake recipe is pretty small. Here's everything you'll need:
Peeler - I LOVE these little Y-shaped peelers for everything (apples, potatoes, carrots, etc.) they're so small and simple but very effective. But I also kind of wish I still had one of these retro apple peelers that my mom used to use *cue the nostalgia*
Cutting board and chef's knife
Large mixing bowl - it might be useful to have a second mixing bowl to put the apples in after you slice them, but not totally necessary.
Wooden spoon or rubber spatula
Cake pan - I used a nonstick rectangular cake pan, but you could also use a 13x9 glass pyrex, which is what my family usually uses. Glass pans usually take a little longer to heat up, so it'll take a little longer to cook. I'd estimate around 50-55 minutes for a metal pan or 60-65 minutes for a glass pan, but it can vary.
Small sifter (optional) - I used one of these small sifters to evenly sprinkle cinnamon and sugar on top, but you can sprinkle cinnamon straight out of the spice jar too.
Storage & Serving
One of my favorite things about this easy apple snack cake is that it stays moist for days! Like, at least 4 days out, still tastes super fresh. Keep it in the cake pan, cover it with aluminum foil or plastic wrap, and leave it out at room temperature. If it's particularly hot out for some reason, you can put it in the fridge to keep it even longer.
Another amazing thing about this cake - it works any time of day. Serve it for breakfast or brunch, snack on it in the middle of the day, or call it a dessert. It all works!
I think it's delicious served at room temp, so I don't ever heat it up honestly. But if you want to warm it up, about 30 seconds in the microwave should do the trick.
FAQ
What apples are best for apple cake?
MacIntosh apples are the best, IMO. MacIntosh apples become soft when baked, so they make the texture of the cake super moist. Other good apple varieties for baking include Cortland, Gala, Granny Smith, Fuji, Braeburn, and Honey Gold.

Each apple variety is unique and will give you a little bit different texture and taste. For example, Granny Smith apples hold their shape when baked and are a little more on the tart side. Use a combination of varieties to get a good balance of flavors and textures.
What makes a cake moist?
Relatively high amounts of sugar, oil, and eggs compared to flour help to make a cake with a nice moist texture. The high moisture content in the apples also makes this apple snack cake a very moist texture.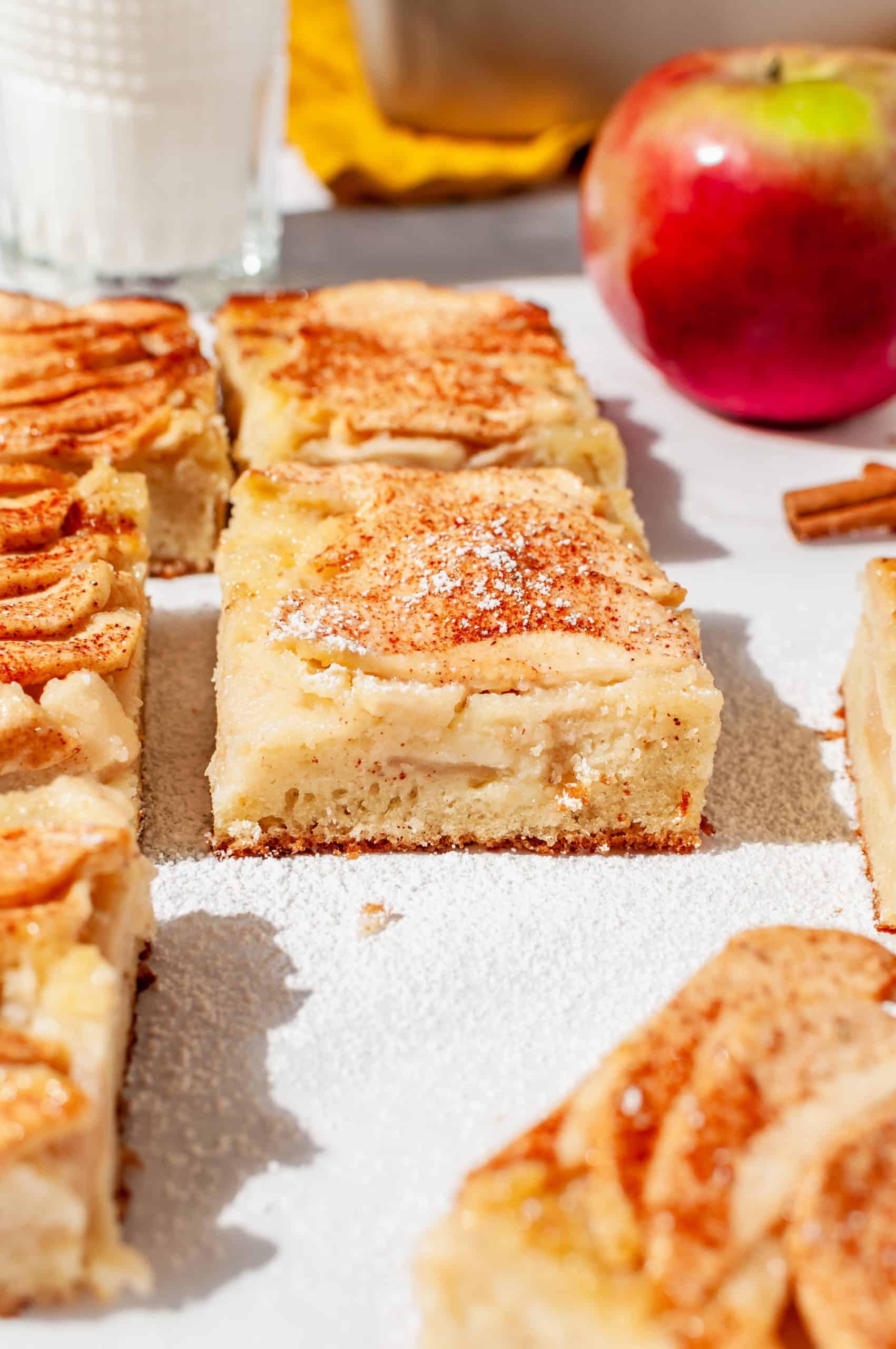 Print
📖 Recipe
Grandma's Apple Snack Cake (Easy and Ultra Moist!)
My grandma's recipe for apple snack cake is so simple and easy to make, you'll be surprised how super moist and delicious it is! It requires only a handful of pantry ingredients, some fresh apples, and ONE BOWL to make.
Author: Kelly @ Butter and Thyme
Prep Time:

10 minutes

Cook Time:

55 minutes

Total Time:

1 hour 5 minutes

Yield:

12

servings

1

x
Category:

dessert, breakfast, quick and easy

Method:

baking, one bowl

Cuisine:

American
4

eggs

2 teaspoons

vanilla

2 teaspoons

baking powder

1

cup

sugar

1

cup

flour

½

cup

vegetable oil

2 ½

lbs

. apples (approx) peeled and thinly sliced, i.e. MacIntosh*
Cinnamon for dusting
Powdered sugar for dusting (optional)
Instructions
Preheat oven to 350 degrees F.
Combine the following ingredients in a large mixing bowl: eggs, vanilla, baking powder, sugar, flour, and vegetable oil. Mix in approximately ⅔ of the sliced apples.
Pour the batter into a 13 x 9 rectangular cake pan. Lay the remaining apple slices on top and sprinkle with a little bit of cinnamon (about 1 teaspoon). Bake for about 1 hour* until a toothpick comes out clean. Let cool slightly.
Before serving, dust with powdered sugar (optional). Slice and serve warm or at room temperature.
Notes
I'd recommend MacIntosh apples for this recipe, but any apple variety works. For instructions on how to peel and slice the apples, read the information in the blog post above.
Baking times can vary depending on the type of pan. For metal pans, check doneness after 50-55 minutes. For glass baking pans, check after 60-65 minutes.  
Keywords: easy apple snack cake, one bowl apple cake