I know it's basic, but I LOVE a good pumpkin spice coffee drink in the fall. This Pumpkin Spice Latte Bread has all the fall flavors of a PSL in the form of a moist loaf cake!
If you've never had pumpkin bread, it's super moist like banana bread, and full of warm fall spices like cinnamon, nutmeg, etc. This is all that PLUS real bold coffee flavor!
Adding coffee adds a hint of bitterness, so the loaf isn't overly sweet. It's perfectly balanced out by the sweetness of the maple-coffee glaze and streusel that go on top. The streusel topping also makes it more like a pumpkin coffee cake, adding to the coffeehouse vibes.
This Pumpkin Spice Latte Bread is equally great for dessert and/or breakfast on holidays. If you're looking for more fall-inspired sweets, try these sticky toffee buns too! Another sugary dessert that disguises itself as a breakfast food. You love to see it ◡̈
Jump to:
Ingredients
Here's everything you'll need to make Pumpkin Spice Latte Bread (and the optional but HIGHLY recommended maple-coffee glaze):
Flour
Sugar - this recipe calls for both granulated and light brown sugar.
Canned pumpkin puree - Libby's is the best ◡̈
Vanilla
Butter - melted butter for the batter + cold butter for the streusel
Vegetable oil
Instant coffee - or instant espresso. You can use freshly brewed coffee instead, but it might not be quite as strong of a coffee flavor.
Buttermilk - or you can substitute sour cream.
Eggs
Baking soda
Salt - important! Salt actually masks bitterness better than sugar does. So it's important to balance out the bitterness of the coffee. (For more on this, and a bunch of other invaluable cooking tips, read Salt, Fat, Acid, Heat!)
Pumpkin pie spice - I usually have all of the components of a pumpkin spice blend on hand, so that's what I call for in the recipe: cinnamon, nutmeg, ginger, and allspice. But if you don't have all of those, you can also use "pumpkin spice" which can vary a little depending on the brand but is a similar blend of spices.
Powdered sugar
Milk - I use whole milk for the glaze, but you only need a tiny bit, so whatever milk you have will work (including non-dairy milk)
Maple syrup (optional) - I use a small amount of pure maple syrup in the icing, it adds such a nice fall flavor. But you can leave it out if you want for a plain coffee glaze.
See recipe card for quantities.
How to Make Pumpkin Spice Latte Bread
This Pumpkin Spice Latte Bread recipe starts with a basic pumpkin bread mix. Then coffee is added to half the batter and swirled with the remaining batter for a marble effect. Here's how to make it:
First, combine the wet ingredients, including the pumpkin puree, in a large bowl.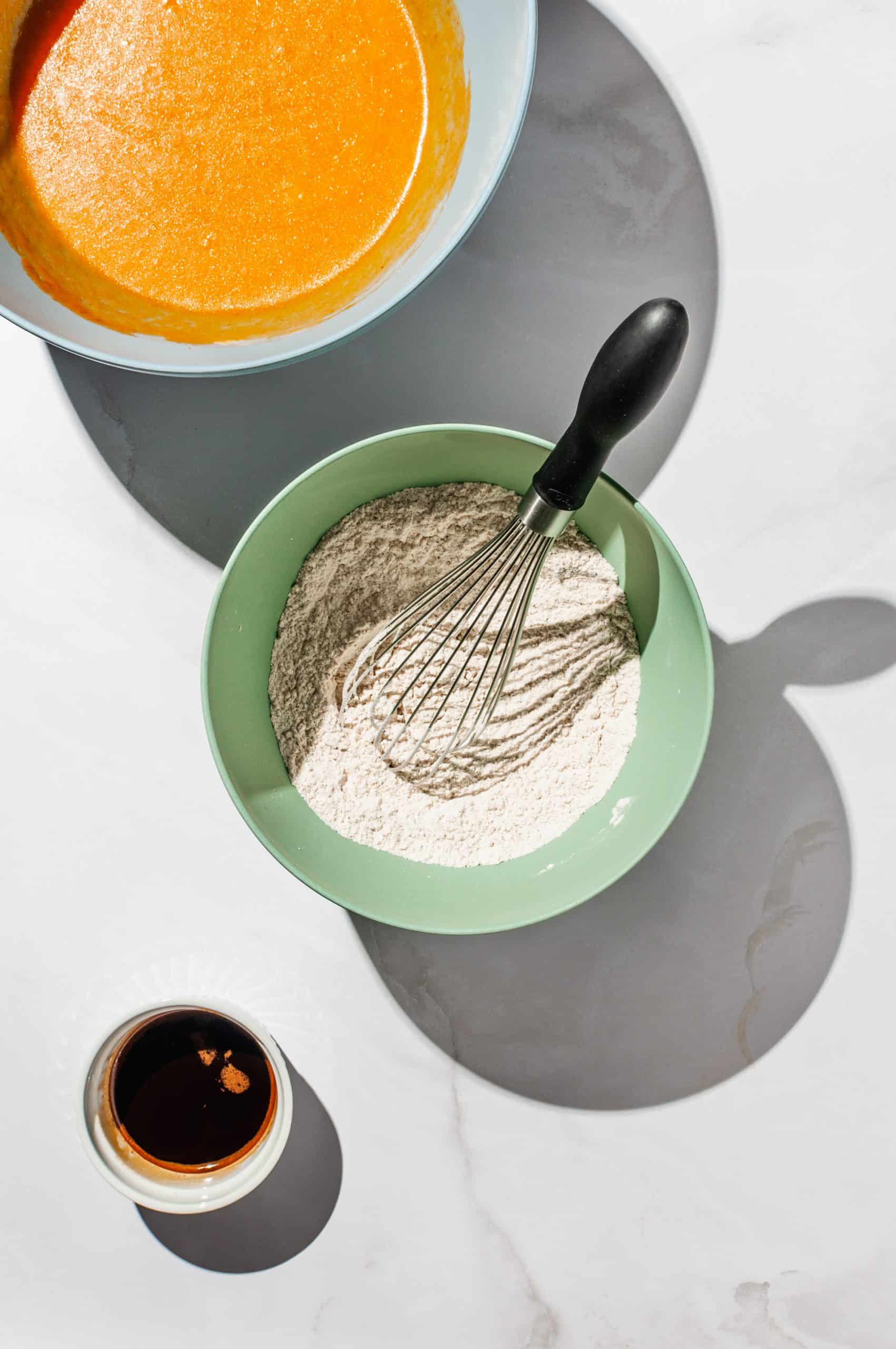 Add the dry ingredients (flour, baking soda, spices, etc.) to another mixing bowl and whisk to combine.
Add the flour mixture to the large bowl with the wet ingredients and fold to combine with a spatula. Try not to over-mix, or the pumpkin bread won't be as tender.
Divide the batter roughly in half (you can reuse the same bowl that just had the flour mix in it). Then, add the coffee to half of the batter and mix until just combined.
How to Marble a Loaf Cake
Now that we have the two batters, we'll try to create a marbling effect with them. It's easier than it looks!
The first step is making a layered checkered pattern with the two batters. I followed Tori Avey's tutorial on how to marble a cake - it's super helpful with step-by-step photos and instructions!
Next, take a butter knife and swirl it through the batter in a zig-zag from end to end. Do this only once horizontally and once vertically, wiping the excess batter from the knife in between.
That's it for marbling! It should look something like this on the top, and we'll see what the inside looks like after we bake it and slice into it ◡̈
The vivid orange and espresso brown swirl inside creates such a fun look, perfect for a Halloween treat! The key to getting a clean swirl is to not mix it too much with the knife or the colors will start to blend together.
But also, don't worry about it too much! It might not come out with a perfect swirl, but really, who cares as long as it tastes great (and trust me, it will!!)
Top tip
To save some dishes, reuse the bowl with the dry ingredient mixture to help split the batter in half. No need to wash or even rinse it in between!
How to Make Streusel
I made a simple butter and brown sugar streusel to go on top of the pumpkin bread before baking:
In a small mixing bowl, combine the brown sugar, cinnamon (or pumpkin spice), flour, and salt. Then add cold cubed butter and mix it with your hands until it's crumbly.
Place the streusel mixture evenly on top of the marbled loaf cake batter. Then, it's time to bake!
Troubleshooting Streusel: sometimes the crumble will "sink" into the batter, or the thinner coffee batter rises over top. It's not really a problem because the glaze totally covers it up! But to prevent this from happening, you can add the streusel after 25-30 minutes of baking.
How to Make Maple-Coffee Glaze
Wait until the pumpkin spice latte loaf is done baking before making the glaze. The loaf should be cool before topping it with glaze for best results. If it's added when the loaf is still warm, the glaze will thin out and have a melted appearance.
Making the glaze is very quick and easy - simply combine all ingredients in a mixing bowl. To ensure a super smooth appearance, you can sift the powdered sugar.
For the final touch, drizzle the maple-coffee glaze on top of the PSL pumpkin loaf. Then, wait about 30 minutes before slicing for the glaze to set.
Variations
Here are a few easy ways you can change up this recipe:
Skip the marbling - you can add the coffee to all of the batter instead of half. It will probably taste exactly the same TBH, it will just be a brown color throughout, so not quite as pretty to look at. You can also skip the coffee for a delicious plain pumpkin loaf with an amazing moist texture!
Skip the streusel - and still drizzle with the coffee glaze. Or don't, which brings me to my next point...
Skip the glaze (or switch it up). The maple-coffee glaze recipe calls for only a tiny bit of maple syrup, so if you don't want to buy a whole bottle just for that, you can leave it out. You could also swap the maple flavor for a vanilla extract or caramel. Or, you can use a different glaze altogether, like this vanilla glaze.
If you want, you can serve the glaze on the side. This way people can choose whether to add it or not. This is also a great option if you want to serve the pumpkin coffee bread warm. You don't have to wait as long for it to cool before slicing if you're not glazing the whole thing!
Equipment
Nothing fancy is needed for this PSL pumpkin loaf recipe! Here's a complete list of the equipment you'll need:
Loaf pan - approximately 9x5 inches. I think this is the loaf pan I have (or something very similar). But I've heard great things about this USA pan, and I love the sleek look of it too! Either way, I'd recommend nonstick. You can also use a glass loaf pan, but it might take about 10 minutes longer to cook through since glass takes longer to heat up.
Parchment paper - to line the pan. Not 100% necessary, but makes it easier to remove the pumpkin bread from the pan. I like to do this before glazing it so the glaze drips down the sides of the loaf too ◡̈
Mixing bowls - between the batter, streusel, and glaze, you'll need at least 3 bowls for this recipe. A set of various sizes like this one would be great!
Measuring cups and spoons
Rubber spatula
Whisk
Knives - a butter knife to marble the batter and a sharp slicing knife to cut the loaf into clean slices.
Toothpick or a cake tester - to see when the pumpkin bread is ready to come out of the oven.
Pastry cutter (optional) - for the streusel. I just used my hands, but a pastry cutter or dough blender works well too.
Serving & Storing
Serving this pumpkin spice latte bread is easy. I recommend cutting it into slices about an inch thick, which should get you 9 or 10 slices. Because of the streusel, it's hard to slice much thinner than that. But if you want smaller portions, you can cut each slice in half.
This PSL pumpkin loaf cake can be stored at room temperature for up to 4 days. I like to keep it in the loaf pan covered with plastic wrap and/or foil. Even though the glaze has a bit of milk in it, it has enough sugar in it that it won't spoil.
You can serve the bread warm or at room temperature. I don't recommend reheating it if you've already glazed it though. It tastes great at room temp!!
FAQ
Does pumpkin spice have pumpkin in it?
Usually, no. Pumpkin spice (sometimes called pumpkin pie spice) is just a blend of warm fall spices that happen to pair well with pumpkin. It's primarily cinnamon with a bit of nutmeg, cloves, allspice, and ginger. The exact spices and ratios used vary depending on the brand.

This pumpkin loaf has pumpkin puree in it, so it has some pumpkin flavor, but it's not overly pumpkin-y if that makes sense. The primary flavors of the loaf are warm spices and coffee. The pumpkin puree is there to help keep it moist. This loaf really has the best texture, and that's in part due to the pumpkin puree!
How is instant coffee different from regular coffee?
Instant coffee is made by freeze-drying coffee beans that have been roasted and brewed. To make coffee from instant coffee, simply mix the granules with hot water or milk, and they will fully dissolve.

The recommended ratio for instant coffee is one rounded teaspoon per 6 oz. cup. I wanted to add more coffee flavor without adding too much liquid that would affect the texture of the loaf, so this recipe calls for very concentrated coffee. You could use regular brewed coffee or espresso instead, but the important thing is that it's very strong for more coffee flavor.
What is coffee vs. espresso?
Espresso is a type of coffee. There are many nuances to coffee based on the type of bean, the type of grind, and the roasting and brewing processes. Espresso is a dark roast, finely ground, and brewed in a specific way that's different than drip coffee.

You can use coffee or espresso for this recipe. Espresso or another dark roast such as French roast with a bold coffee flavor would be a great choice.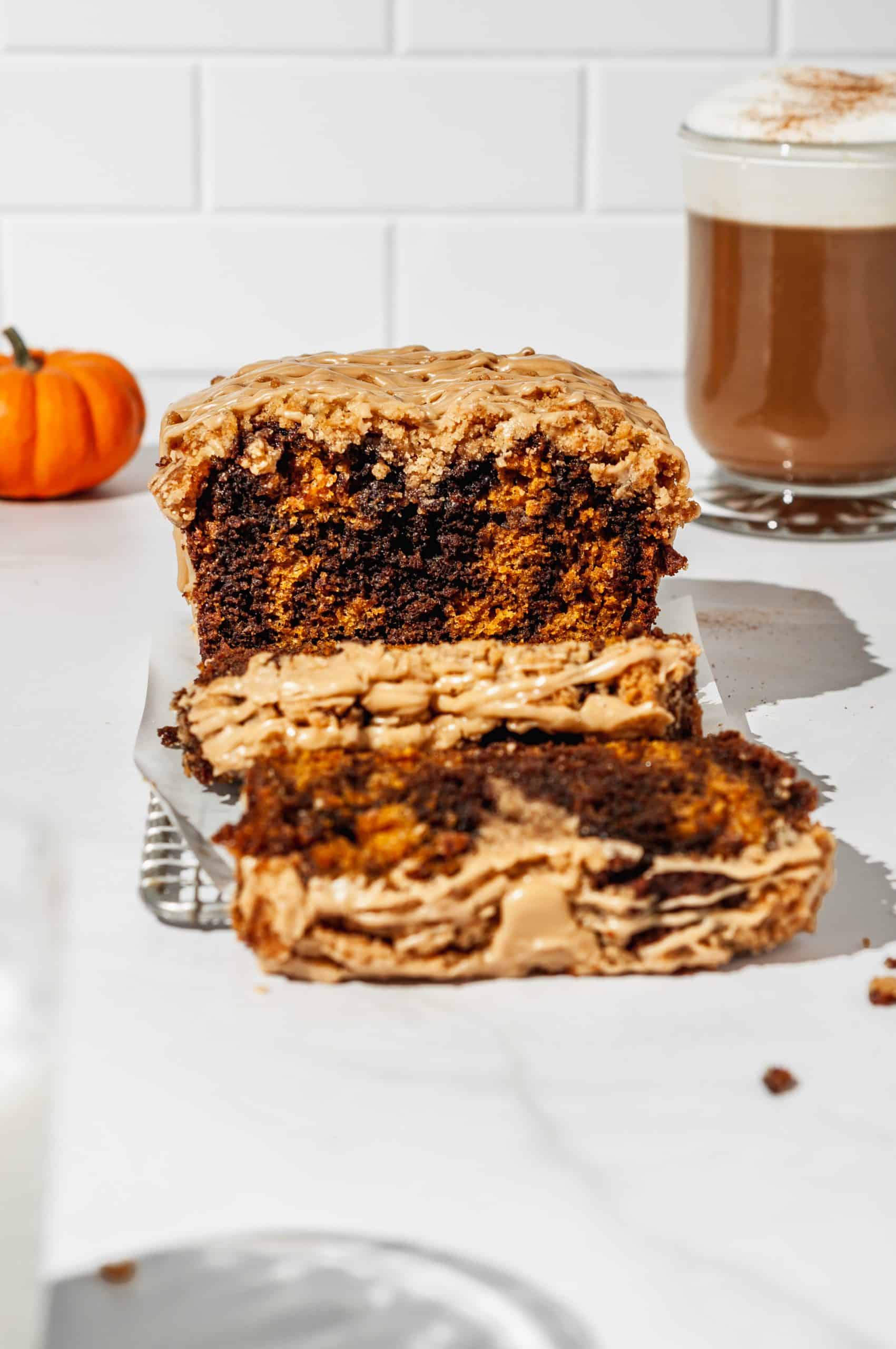 Print
📖 Recipe
Pumpkin Spice Latte Bread (Marbled Pumpkin Coffee Loaf Cake)
This marbled pumpkin bread is a spin on Pumpkin Spice Lattes! Coffee is added to half the batter and swirled to create an eye-catching marbled look. Then it's topped with streusel and a delicious maple-coffee glaze. The result is a super-moist loaf cake that's full of fall spices and coffee flavor. A must-try for PSL lovers! 
Author: Kelly @ Butter and Thyme
Prep Time:

15 minutes

Cooling Time:

1 hour

Cook Time:

1 hour

Total Time:

2 hours 15 minutes

Yield:

10

servings

1

x
Category:

dessert

Method:

baking, marbling

Cuisine:

American
Marbled Pumpkin Loaf
2

eggs

½

cup

brown sugar

¾

cup

sugar

1

cup

pumpkin puree

1 teaspoon

vanilla

¼

cup

unsalted butter, melted

¼

cup

vegetable oil

½

cup

buttermilk

2

cups

flour

1 ¼ teaspoon

baking soda

1 teaspoon

salt

1 ½ teaspoon

cinnamon

½ teaspoon

nutmeg

½ teaspoon

ginger
pinch allspice

3 tablespoons

instant coffee dissolved in 1 tablespoon hot water*
Streusel Topping
½

cup

flour

5 tablespoons

unsalted butter, cut into small pieces about

¼

inch

½

cup

brown sugar

¼ teaspoon

salt

½ teaspoon

cinnamon (or pumpkin pie spice)
Maple-Coffee Glaze
1

cup

powdered sugar

½ teaspoon

pure maple syrup (optional)

½ teaspoon

instant coffee dissolved in 1 teaspoon hot water

2 teaspoons

whole milk
Instructions
Preheat oven to 350 degrees F and lightly grease a 9x5 loaf pan with vegetable oil spray (or line it with parchment paper.)
Make the batter: Combine all wet ingredients (excluding the coffee) in a large bowl: eggs, brown sugar, sugar, pumpkin, vanilla, melted butter, oil, and buttermilk. Whisk well to combine. In another mixing bowl, add all dry ingredients: flour, baking soda, salt, cinnamon, nutmeg, ginger, and allspice* and whisk well to combine. Then, add the dry ingredients to the wet ingredients and fold until just combined. 
Marble the batter: Divide the batter evenly between 2 bowls. Add the coffee to one of the bowls and mix to combine. Place 3 large spoonfuls of the orange pumpkin batter into the loaf pan in a zig-zag. Then place 3 large spoonfuls of the brown coffee batter in an alternating zig-zag, creating a checkered pattern. Repeat in alternating layers until all of the batters are used. Then, use a butter knife to create long swirls in the batter.* 
Make streusel topping: Combine all ingredients in a small bowl using your hands or a pastry cutter until butter is incorporated (the mixture should be clumpy and have a wet sandy texture). Place the streusel on top of the loaf* and bake for 60-65 minutes or until a toothpick comes out clean.
Make the maple-coffee glaze: in a small bowl, whisk together all ingredients until smooth. You can add more milk ½ teaspoon at a time to thin it out if needed. Wait until the pumpkin bread is fully cooled (at least one hour) - then drizzle the glaze on top. Then slice and serve!
Notes
As an option, you can use brewed espresso or dark roast coffee instead of prepared instant coffee.
You can substitute approximately 2 teaspoons of pumpkin pie spice instead of using cinnamon, nutmeg, allspice, and ginger in the cake batter.
See the blog post above for more details on swirling the batter to create a marbled appearance.
To prevent the streusel from sinking, bake the loaf cake without streusel for the first 30 minutes of baking. Then add the streusel and bake for another 30-35 minutes. 
Keywords: pumpkin spice latte bread, PSL pumpkin loaf, Marbled Pumpkin Coffee Loaf Cake, pumpkin coffee bread