White chocolate + cranberry is one of my favorite flavor combos for holiday cookies (right up there with chocolate-peppermint cookies)! And I promise you, these white chocolate cranberry shortbread cookies will not disappoint. They're as tasty as they are beautiful!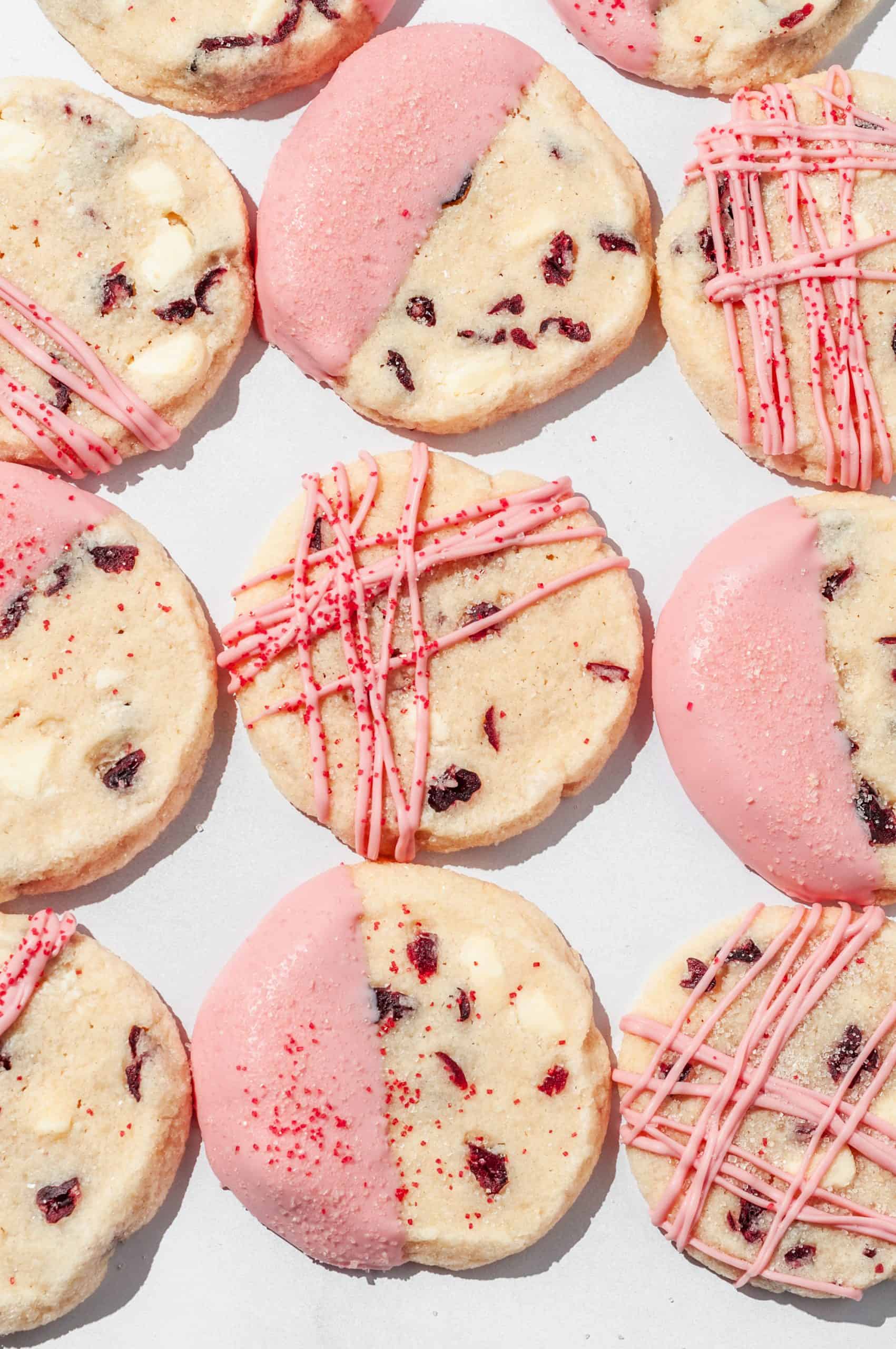 The basic shortbread icebox cookie dough recipe can be easily modified with whatever mix-ins you like. Here, I used dried cranberries and chopped white chocolate to speckle the slice-and-bake shortbread cookies.
These cranberry Christmas cookies are great as is, but you can make them even more enticing by drizzling or dipping them in pink white chocolate and topping them with some sanding sugar for that extra *sparkle*. I love the red and pink color combo for Christmas, but it's also perfect for Valentine's Day!
If you're looking for more easy-yet-impressive cookie recipes, try my S'mores Chocolate Chip Cookies next!
Jump to:
Ingredients
Here's everything you'll need to make white chocolate cranberry shortbread cookies:
Butter - unsalted, and at room temperature.
Sugar
Egg
Vanilla - or substitute almond or orange extract for a different flavor.
Flour - all-purpose.
Salt
Dried cranberries - I used the low-sugar variety because that's what I had, but you can also use regular dried cranberries (usually sweetened with added sugar) or unsweetened if you like extra tartness.
White chocolate - you're definitely going to want to use bars of white chocolate and chop it yourself, rather than white chocolate chips. Unless you have a really sharp knife, chips won't cut as easily as white chocolate bars, so it might make your cookies a little warped-shaped. (Which isn't the worst thing in the world, they just might not be quite as pretty and uniform.)
Coarse sanding sugar or turbinado sugar - totally optional, but it adds a nice sparkle and pleasant subtle crunch if you roll the edges in sugar and/or sprinkle some sugar on top. I used red sanding sugar to decorate these too, to make them a little more Christmassy.
Pink white chocolate melting wafers - also optional, but this is what I used to dip the cookies in. I love a good pink and red color combo, especially around the holidays!
See the recipe card for quantities.
How to Make White Chocolate Cranberry Shortbread
Making this slice-and-bake shortbread cookie dough is super straightforward! Here's how to do it, step by step:
In the bowl of a stand mixer, beat the butter and sugar together for about 3 minutes. Use the paddle attachment.
Next, add the egg, vanilla, and salt, and beat until well incorporated (about 45 seconds or so).
To finish the slice-and-bake shortbread dough, slowly add the flour, and mix on low until just combined.
Finally, add your mix-ins! In this case, chopped white chocolate and dried cranberries. Stir to evenly disperse.
Now that you have your dough, form it into a log, about 2-2.5 inches in diameter. The thickness of the log will determine the size of these cranberry Christmas cookies. They will spread only a tiny bit when cooked.
Now, you have to chill the log very well before slicing and baking the cookies. Chilling will make it easier to slice the dough log cleanly and evenly.
After slicing, transfer the rounds of dough to a parchment-lined baking sheet and bake. These cookies only take about 10 minutes to bake at 350! They're done when they don't look raw in the center and are just starting to turn golden brown at the edges. They should still be quite light in color to remain soft and chewy.
Top tip: Softened Butter
Especially if you're making these in colder weather, room temperature might not be warm enough to really soften butter. The ideal temperature for softened butter is around 67 degrees, but it can take a while to get there after chilling in the fridge. To speed up the process, place the butter in the warmest part of the kitchen - usually near the stovetop.
Variations
The variations you could make with this white chocolate cranberry shortbread recipe are endless! The slice-and-bake shortbread base works well with any mix-ins of your choosing. So if you're not the biggest cranberry fan, try some of these mix-in ideas instead:
Chocolate (white, milk, or dark) - use chopped chocolate bars, not chips!
Crushed Oreos
Citrus zest - orange, lemon, or lime
Sprinkles
Dried fruit - raisins, blueberries, cherries, etc.
Crystallized ginger
Chopped nuts - almonds, walnuts, pistachios, or pecans
Personally, I think this recipe would be delicious with dark chocolate + cranberry instead of white chocolate! Pistachios or orange zest would also be a welcome addition to this easy shortbread recipe - both pair well with cranberry flavor.
For more ideas, Ansley of The Fit Peach has a great blog post on slice-and-bake cookies made 6 ways! Her flavors are really unique and creative (i.e. dark chocolate dipped orange zest) and they're all made using the same basic sugar cookie dough!
And if you simply cannot choose a single flavor, you can even make multiple flavors using one batch of dough. Simply split the dough evenly between two or more bowls before adding mix-ins. The logs of dough will be shorter but try to aim for the same width.
Holiday Cookie Decorating Tips
Another option you have with this recipe is how to decorate (or not decorate). I think the plain baked white chocolate cranberry shortbread cookies are beautiful just as is! (Shown in the photo above).
If you're making these for a cookie swap or as part of a holiday gift box and want to take it up a notch, these are really fun to decorate! You can see in the photo below, I used pink melting wafers and a combination of red and white sanding sugar. Some were dipped about ⅓ of the way in the melted chocolate, and some were drizzled.
Feel free to use melted white chocolate to decorate the tops of these cookies instead of melting wafers. One thing to note is that food coloring and melted white chocolate don't mix well. Chocolate seizes up when water-based food coloring is added to it and ruins the texture. For that reason, I recommend commercially dyed melting wafers if you want to add more color to your cookies ◡̈
Equipment
Here's what you'll need to make this white chocolate cranberry shortbread cookies recipe:
Electric mixer - for creaming the butter and sugar. I used my stand mixer with the paddle attachment, but a handheld electric beater works too.
Cutting board and a sharp knife - to chop the white chocolate into bite-sized chunks, and slice the cookies. A thin slicing knife works best for slicing the dough, IMO.
Plastic wrap - wrapping the log of dough in plastic before chilling helps keep its shape and prevents it from drying out.
Baking sheets - this recipe makes a lot of cookies, so it'll be easier if you have at least a couple of baking sheets on hand. Something like this two-piece sheet pan set would be perfect!
Parchment paper - if you bake a lot, I recommend buying precut parchment sheets that perfectly fit standard baking sheets. Makes it so much easier!
Make Ahead Slice-and-Bake Shortbread Cookies
Slice-and-bake cookie recipes like this one are excellent contenders for make-ahead desserts! You can make the dough ahead of time and keep it in the refrigerator until you're ready to slice and bake the cookies. It will keep for at least 3-4 days.
Need more time? You can even freeze the logs of cookie dough if you want! If you end up freezing the dough, I'd double up on the plastic wrap to prevent freezer burn. Stored properly, it will last several months in the freezer. And when you're ready to bake, thaw the dough in the fridge for a bit so it's easier to slice.
FAQ
What is shortbread?
Shortbread is a type of cookie defined by its simple list of ingredients and buttery crisp-crumbly texture. Traditional shortbread recipes contain only 4 ingredients: butter, flour, sugar, and salt.

I chose to add an egg to my recipe, which makes these shortbread cookies a bit more tender and flavorful. It also makes the dough less crumbly and easier to work with.
What are icebox cookies?
Icebox cookies are essentially the same thing as slice-and-bake cookies. The dough is formed into a log and chilled in the refrigerator or freezer (or icebox) before getting sliced into individual cookies and baked.

You can get differently shaped cookies depending on how you shape the log. For example, checkerboard cookies are a type of square icebox cookie. I've also seen rectangles and triangles!
Print
📖 Recipe
White Chocolate Cranberry Shortbread Cookies
White chocolate and cranberry are a classic flavor combination for holiday cookies! These slice-and-bake shortbread cookies are beautifully studded with dried cranberries and white chocolate chunks. They're great as is or decorated with melted white chocolate and sanding sugar for extra sparkle. 
Author: Kelly @ Butter and Thyme
Prep Time:

13 minutes

Chill Time:

3 hours

Cook Time:

12 minutes

Total Time:

3 hours 25 minutes

Yield:

24

-

30

cookies

1

x
Category:

dessert

Method:

baking, slice-and-bake

Cuisine:

Scottish, American
1

cup

unsalted butter, room temperature

1 ½

cups

granulated sugar

1

egg

1 ½ teaspoons

vanilla extract

½ teaspoon

salt

2 ⅓

cups

all-purpose flour

⅔

cup

dried cranberries

⅓

cup

chopped white chocolate*
Turbinado/ coarse sanding sugar (optional)
Pink white chocolate melting wafers* (optional)
Instructions
Beat butter and sugar together in the bowl of a stand mixer with the paddle attachment for 2-3 minutes, until light and fluffy.
Add the egg, vanilla, and salt, and mix to combine. 
Add the flour and mix until smooth.* Then stir in the dried cranberries and white chocolate. 
Roll the dough into a log about 2-2.5 inches in diameter. Roll the log in turbinado sugar, if desired. Wrap the log tightly in plastic wrap then place it in the fridge to chill for at least 3 hours or overnight.
Preheat oven to 350 degrees F and line a baking sheet with parchment paper. Unwrap the log of cookie dough, slice it into ¼-inch slices, and place the slices on the prepared baking sheet.
Bake for 10-12 minutes, until the edges are just starting to turn a light golden brown. Let cool for a couple of minutes on the tray, then transfer to a cooling rack to finish cooling. Let the cookies cool completely before decorating with melted white chocolate and additional sanding sugar if using. 
Notes
I recommend chopping bars of white chocolate into chunks, rather than using white chocolate chips. The chocolate bars will be easier to cut through and result in more evenly shaped cookies. 
Don't attempt to use food coloring to dye white chocolate - the water content will cause the chocolate to seize. Instead, you'll want to buy commercially dyed melting wafers or use white chocolate for a white drizzle. 
If the dough is too crumbly after adding the flour and won't hold together, add a small splash of water (up to 1 tablespoon) until it's easy to work with. The dough should hold together when pressed, but it shouldn't be very sticky.

Keywords: White Chocolate Cranberry Shortbread Cookies, cranberry Christmas cookies, slice and bake shortbread cookies