This sweet and savory pie, also known as bastilla or pastilla, is so unique and delicious! I first tried Bastiya when I visited Morocco in 2014, and I haven't been able to stop thinking about it. I had to try and make a version of this Moroccan Chicken Pie at home!
The pie's filling is made from chicken and onions that are slowly braised in a heavily spiced broth. The broth's vibrant flavor comes from warm spices like cinnamon, nutmeg, cloves, coriander, and often saffron, which adds a ton of flavor to the chicken. Then, to assemble the pie, you sandwich the filling between alternating layers of thin, flaky phyllo dough and crushed sweetened nuts. Bastiya is unlike anything I'd ever tasted, in the best way!
This dish takes a while to put together, but it's so worth it! Traditional Moroccan Chicken Pie (Bastiya) is made with almonds, but this recipe calls for pistachios-- feel free to use either or a combination, they are both delicious!
If you're a pie lover like me, try some of my sweet pie recipes too! I love this lemon meringue pie and this chocolate satin pie. Or if you're looking for more chicken recipes, try this quick & easy chicken bacon ranch salad next!
Jump to:
Origins of Bastiya (Moroccan Chicken Pie)
Bastiya is a Moroccan delicacy, usually reserved for special occasions like weddings and holidays. I can definitely see why with its time-consuming preparation. Plus, it's so pretty too! Beautiful patterns made with powdered sugar and cinnamon often adorn the top crust.
Bastiya is traditionally made using squab (aka pigeon). I'm pretty sure the one I tried in Morocco was chicken... but now I'm wondering if it was actually pigeon and lost in translation, ha! I think nowadays chicken is more common. But either way, it was delicious.
It's traditionally made using warqa, which is a type of flaky pastry similar to phyllo dough. I also found that there are several popular versions of Moroccan bastiya besides the one I was familiar with-- like seafood bastilla, or using ground lamb instead of chicken.
While I followed the basic method and flavor profile of Moroccan bastiya, I took quite a few shortcuts in my recipe and changed some key ingredients/ quantities based on what I had in my kitchen (i.e. pistachios in place of almonds, phyllo dough in place of warqa, using less eggs, etc.) For a delicious authentic Moroccan bastiya recipe, I highly recommend checking out this recipe from Ahlan Wa Sahlan food blog or this recipe from My Moroccan Food. Both recipes look amazing! And both are written by Moroccan women.
Key Ingredients
Chicken - I use boneless skinless chicken thighs. I highly recommend using dark meat-- a combination of chicken thighs and/or chicken legs, since dark meat has way more flavor and will actually get more tender and shreddable the longer it cooks. As opposed to chicken breast, which gets overcooked and tough when simmered for too long.
Spices - this recipe uses a ton of different spices that are commonly found in Moroccan cooking. Cinnamon, ginger, coriander, turmeric, nutmeg, cloves, and saffron. Saffron is totally optional since it's really expensive. If you feel like splurging, saffron adds a unique aroma that brings me back to my time living in Spain. But cheap versions of saffron often taste bitter and unpleasant, so it's probably better just to leave it out.
Orange juice - fresh squeezed! You'll use the zest and juice to get the most flavor.
Pistachios - or sub. almonds for a more traditional Moroccan Chicken Pie
How to Make Moroccan Chicken Pie
As I mentioned, this is a somewhat simplified process compared to traditional recipes. I also recommend splitting it up into 2 days to make it easier on yourself. You can make the filling on day 1, chill it overnight, and assemble and bake the pie the next day. And it will taste just as great!
To make Moroccan Chicken Pie, first make the chicken filling. Start by browning the chicken and then remove it from the pan. This creates a flavorful fond on the bottom of the pan and adds more flavor to the chicken, too. Then, using the same pan, you'll cook the onions, add in the spices and chicken stock, and simmer the chicken until it's nice and tender. Finish the chicken filling with eggs to give it some body, and add fresh herbs and citrus juice for brightness and balance. If you're making the filling in advance, let it cool and keep it in the refrigerator overnight. Don't forget to defrost your phyllo dough in the refrigerator overnight too!
After you've made the chicken filling, it's time to assemble the pie. I go into more detail in the recipe below, but basically you start with a base layer of phyllo dough, top with crushed nuts, and then another layer of phyllo dough. These first steps form the bottom crust of the pie. Then you add your chicken filling, followed by the top crust which is created the same way-- a layer of crushed nuts in between layers of flaky phyllo dough.
To finish the pie, garnish it with a dusting of powdered sugar and cinnamon! I just went with a simple dusting, but you can also try a fancy checkered pattern. Especially if it's for a special occasion!
Technique: Working with Phyllo Dough
My first time making this recipe was actually my first time ever working with phyllo dough. I was a little bit intimidated since it's known to be extremely fragile and prone to drying out, but here are a few helpful tips when working with phyllo dough:
Defrost - you'll want to defrost frozen phyllo dough in the refrigerator overnight before use. This recipe only uses about half of one roll, but unused defrosted phyllo dough will stay good in the refrigerator for up to one month.
Prep beforehand - don't unwrap the phyllo dough until everything else is prepped, easy to access, and you're ready to begin assembling the pie.
Keep covered - once the phyllo dough is unwrapped, immediately cover it with a sheet of plastic wrap, and then a damp paper towel. The plastic wrap is a necessary barrier because you don't want the dough to get too moist or it will stick to itself.
Work with one sheet at a time - keeping the rest covered. And be sure to handle gently, as it's very fragile and easy to tear!
Lay on the butter - make sure you use enough butter when brushing the layers. Phyllo dough has almost no fat in it, so you'll want to really lay on the butter to create the most flavorful, flaky layers in your pie.
Key Equipment
Here's the equipment you'll need to make Moroccan Chicken Pie:
Large skillet - a stainless steel skillet works better than nonstick for this recipe, to create a nice fond from the chicken.
Mixing bowls - small and large.
9" Pie pan - at least 2" deep to make sure you can fit all of the filling.
Pastry brush - for painting the sheets of phyllo dough with melted butter. You can use a bristle pastry brush or a silicone basting brush. I think the bristles work a little better at getting an even layer, but the silicone brushes are so much easier to clean!
Pie server (optional) - not 100% necessary, but makes slicing and serving a lot easier.
Zester or rasp grater - for zesting the orange.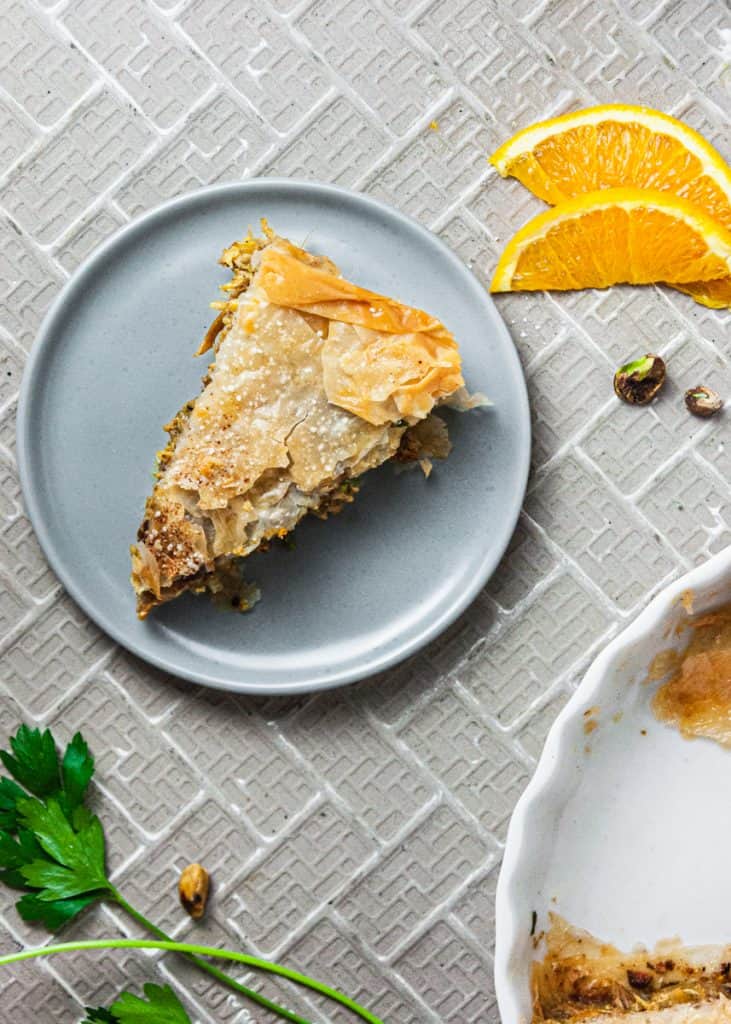 Print
📖 Recipe
Moroccan Chicken Pie (Bastiya)
This sweet and savory pie is unlike anything you've tasted! The filling is made from chicken braised in a flavorful broth with warm spices like cinnamon and nutmeg. It's then wrapped in a layer of flaky-crisp phyllo dough and topped with a dusting of powdered sugar. 
Author: Kelly @ Butter and Thyme
Prep Time:

30 min.

Cook Time:

1 hr.

Total Time:

1 hr. 30 min.

Yield:

1

pie (8 slices)

1

x
Category:

dinner

Cuisine:

Moroccan
FILLING
1 tablespoon

olive oil

1.5

lb

boneless skinless chicken thighs

2

medium yellow onions, diced small

1.5 teaspoons

cinnamon

1.5 teaspoons

ground ginger

1 teaspoon

coriander

1 teaspoon

cardamom

½ teaspoon

turmeric

½ teaspoon

saffron threads, crumbled (optional)

¼ teaspoon

nutmeg
pinch cloves

1

cup

chicken stock

3

eggs, beaten

½

cup

powdered sugar

¼

cup

fresh parsley, chopped
juice of

½

orange
ASSEMBLY
½

cup

pistachios, coarsely ground

2 teaspoons

powdered sugar

1 teaspoon

cinnamon
zest of

1

orange

8 tablespoons

butter, melted

½

package (1 roll) frozen phyllo pastry dough, defrosted overnight
Instructions
PREPARE FILLING:
In a large skillet, heat olive oil over medium-high heat. Add chicken and cook until browned on each side (will not be cooked through). Remove chicken from pan-- set aside.
Add onion to the same skillet and cook until translucent and starting to brown-- about 5-7 minutes. Add spices and cook for about a minute more, stirring constantly.
Slowly add chicken stock, scraping up any browned bits on the bottom of the pan, and return chicken to pan. Bring to a boil, then lower heat and simmer, covered, for about 25-30 minutes, until chicken is very tender.
Once chicken is tender, remove it from pan, let cool slightly and then chop/shred it. With the onion and spice mixture still simmering, slowly add the beaten eggs and sugar, stirring until it resembles loose scrambled eggs. Add the shredded chicken back to the pan along with the chopped parsley and juice of ½ orange. Stir to combine.
ASSEMBLE PIE:
Preheat oven to 375. In a small bowl, mix the ground pistachios with cinnamon, sugar, and orange zest. Set aside.
Grease a pie pan with butter on the bottom and sides. Gently place the first layer of phyllo dough on the bottom of the pan allowing the excess to hang over the edges of the pan and brush liberally with melted butter. Repeat with another 2 layers of phyllo, coating each layer with butter, for a total of 3 layers.
Top evenly with about half of the pistachio mixture. Then layer 3 more sheets of phyllo on top, again brushing each layer with melted butter.
Pour the chicken filling on top and spread evenly. Layer 3 more sheets of phyllo dough on top, brushing each layer with butter, and top with the remainder of the nut mixture. Top with 3 more layers of buttered phyllo dough.
Bake at 375 degrees for about 25-30 minutes, until golden brown. Slice and serve warm, dusting with extra powdered sugar and cinnamon.
Notes
Make-ahead instructions: make the filling the day before, cool to room temp, then refrigerate. Remove the filling from the fridge about an hour before assembling the pie to bring back to room temp. Bake until filling is fully heated (may need to add 10-15 minutes to cook time). 
Keywords: Moroccan Chicken Pie, bastiya, basteeya, pastilla