This chicken bacon ranch salad is a super quick & easy recipe I love to keep in the lunch and/or dinner rotation. It's healthy-ish, but it's also filling and delicious. It's also great for meal prep and using up leftover chicken!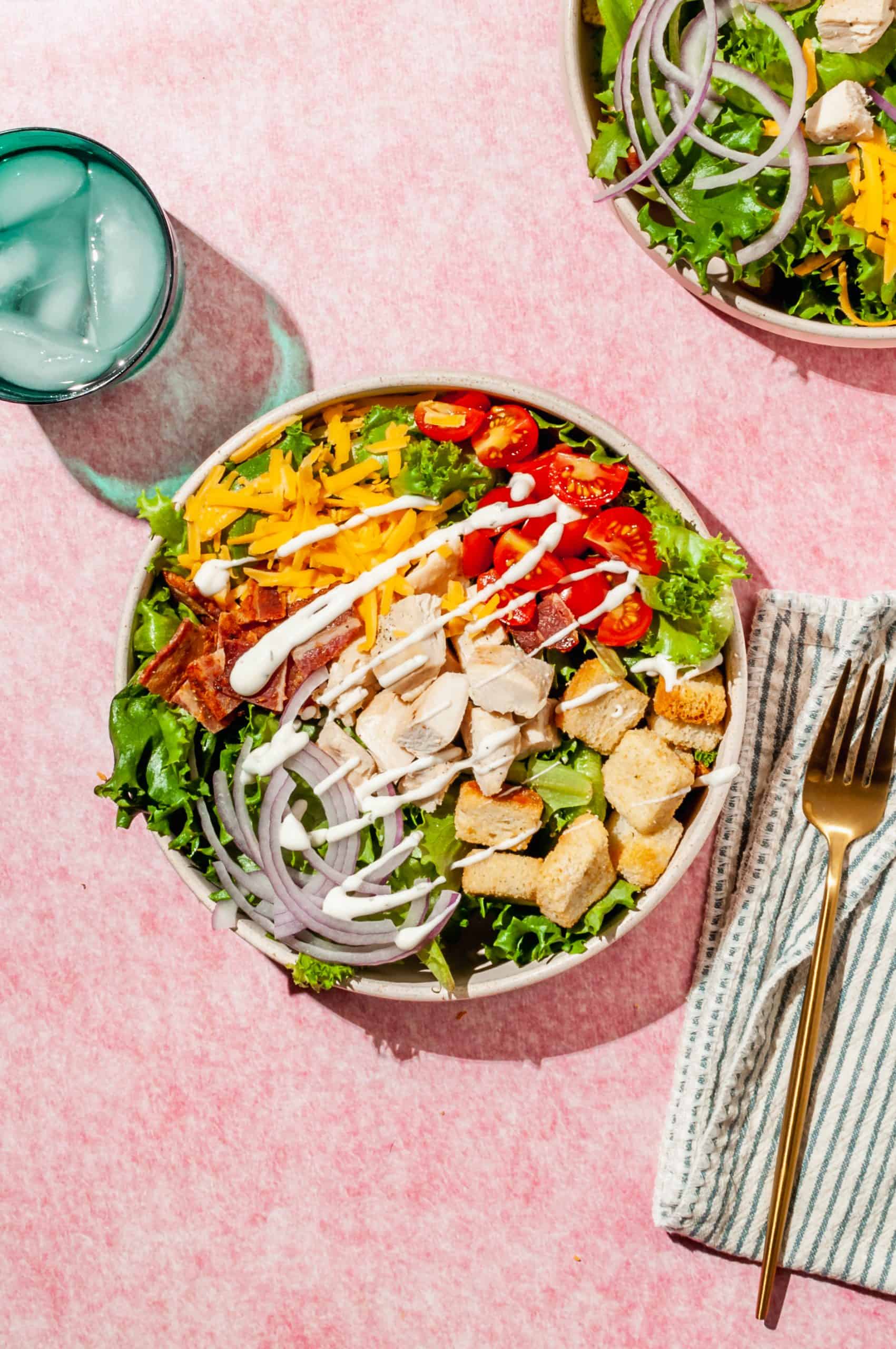 So, I know that salad doesn't necessarily mean healthy. And I'm not claiming that this salad is super healthy– I am definitely NOT a health food blogger. That being said, I stand by its healthy-ish descriptor because it's a lighter meal, which is what I think a lot of people are looking for after the holidays. It's great for those times when you're trying to eat light and get your greens in but still want something that's tasty and satisfying.
Also, I know no one needs a salad recipe. Even people who don't cook at all can throw together a salad. But I'd consider this "recipe" more like a guideline– a combination of flavors to inspire you ◡̈
For my chicken-bacon-ranch lovers– if you love bacon as much as I do, try my other bacon recipes! This bacon-wrapped asparagus is another great recipe to get those healthy nutrients in without sacrificing flavor. And if you feel like indulging a bit more, try this onion dip with bacon, my favorite appetizer ever!
Jump to:
Ingredients
Keep in mind, there aren't many instances when the quality of the ingredients matters more than when making a simple salad! Here's what you'll need:
Chicken - I used thin sliced chicken breasts because they cook fast. But this recipe is made for leftover chicken! Breast or thighs, diced or shredded, crispy or grilled. It's great with buffalo or BBQ chicken too. You could even use sliced chicken from the deli.
Bacon - I prefer thick-sliced. That said, I always keep ready-cook bacon in the fridge. Or use bacon bits!
Tomatoes - I usually use cherry or grape tomatoes for salads. But you can use whatever type of tomato, diced or sliced if they're larger.
Lettuce - I prefer romaine or a green leaf mix, but you can use whatever! Spinach and arugula also taste great with a chicken-bacon ranch flavor combo.
Red onion - or substitute shallot, green onion, white onion, or chives. You could use yellow Spanish onions too, but those are a bit pungent when raw. So I'd slice them extra thin and soak them in water and/or vinegar before adding to the salad.
Ranch dressing - my favorite is Hidden Valley or you could make your own ranch dressing. The ranch is probably the most unhealthy part of this recipe, so if you're trying to be healthier, switch it out for oil & vinegar or use a healthy ranch that's Whole-30 compliant.
Avocado (optional) - if you happen to have a ripe avocado on hand, perfect!
Croutons (optional) - leave them out if you're making a sandwich, but a little crunch is a welcome addition to this salad recipe.
Wrap or bread (optional) - for those times you want a bit more substance, this recipe is perfect for making a salad wrap or chicken sandwich!
See recipe card for quantities.
How to Make Chicken Bacon Ranch Salad
First, prep your ingredients. Start with the chicken and bacon, especially if it's not cooked yet. I like the cook the bacon first, and then pan-fry the chicken in the same pan with the rendered bacon fat to make it extra flavorful ◡̈
Obviously, feel free to cut/slice/chop the ingredients however you prefer. But here are my suggestions:
Chicken - diced into bite-sized pieces, or shredded
Bacon - coarsely chopped
Tomatoes - cut in half or quarters
Red onion - very thinly sliced in half moons
Avocado - thinly sliced or diced
Lettuce - coarsely chopped, then washed and dried in a salad spinner.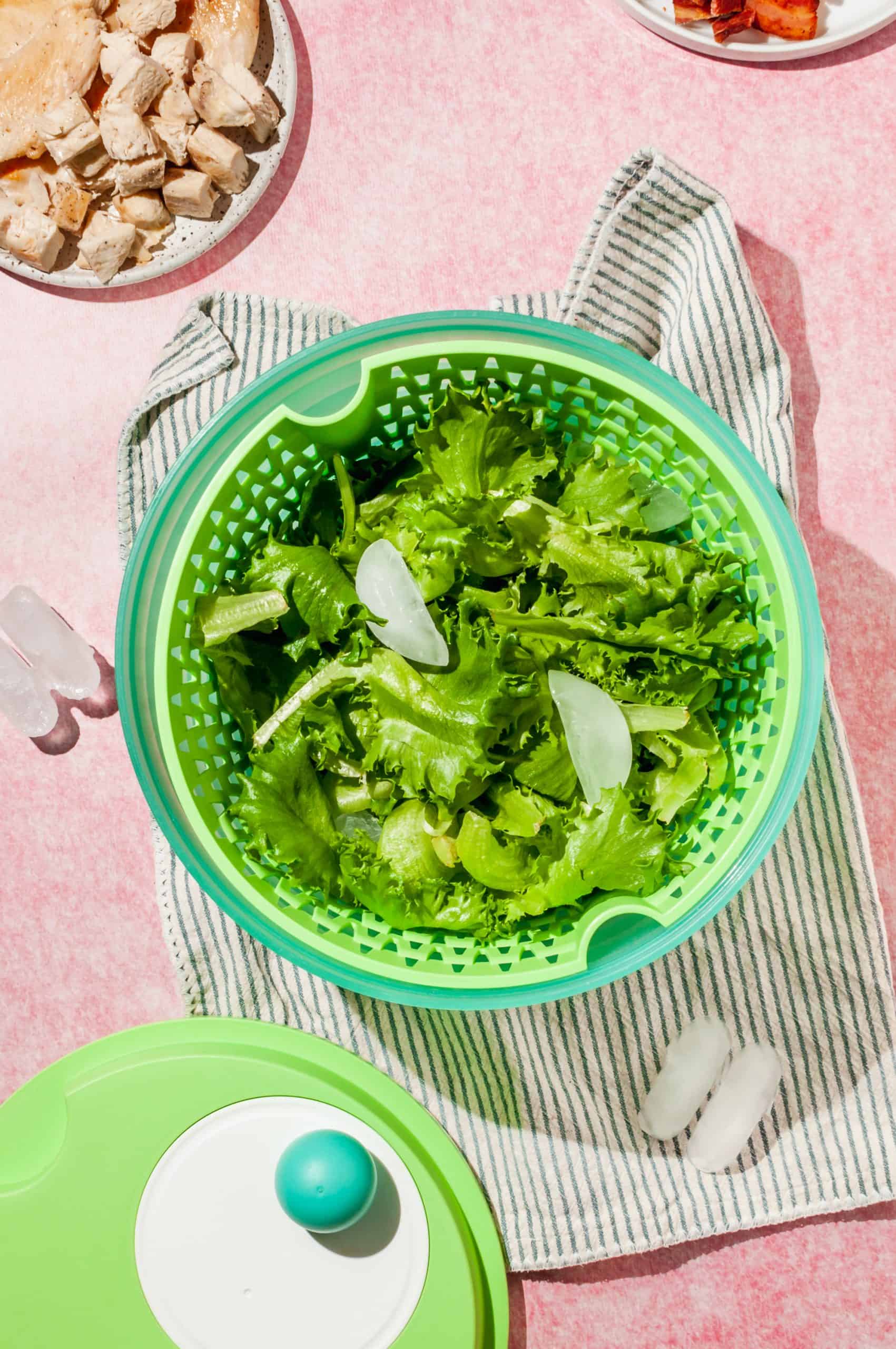 Notice, I said wash your lettuce!! While washing lettuce doesn't completely prevent foodborne illness, it lowers the risk of certain bacteria that may be in the soil. If you buy pre-washed lettuce, you can skip the wash, although it doesn't hurt to wash it again.
If you don't have a salad spinner, place the lettuce in a large colander and run it under very cold water. Then, gently dab the lettuce with paper towels to dry it before tossing and dressing.
Variations
You obviously could add/ remove whatever you want. Few recipes are as infinitely flexible as salads! Here are a few additional things that would go great with this chicken BLT salad:
Cucumber
Radishes
Shredded carrots
I especially love making this salad in the summertime (along with honey pasta salad) when you don't want to turn on the oven. Plus, it just tastes that much better with those ripe summer tomatoes! In August, when tomatoes are in peak season, I add extra tomatoes and let them be the star of the dish.
For a lighter summer salad, you could leave out the chicken altogether. Then it's essentially a BLT salad, which is also an excellent idea.
How to Make a Chicken Bacon Ranch Sandwich or Wrap
This base recipe is also great for making sandwiches or salad wraps. The chicken-bacon-ranch flavor combo also happens to be one of my favorites for homemade pizza!
For sandwiches, I prefer thick-sliced hearty bread to hold up to the heavy ingredients. Wheat, multigrain, white, ciabatta, and sub rolls are all great. It's typically easier to use larger pieces like whole unsliced chicken, full strips of bacon, large lettuce leaves, and sliced beefsteak tomatoes.
For a chicken bacon ranch wrap, my personal favorite is a spinach wrap. But you could use a regular flour tortilla, wheat or low-carb wraps, or even pita bread or naan to hold it together.
If you find it difficult to wrap wraps, here's a tip: warm tortillas in the microwave first. This makes them more pliable, which makes them easier to fold and wrap without ripping. To heat flour tortillas in the microwave, placed a dampened paper towel on a microwave-safe plate. Then, place the tortilla on the paper towel, place another layer of damp paper towel on top, and microwave for 20-30 seconds to steam it.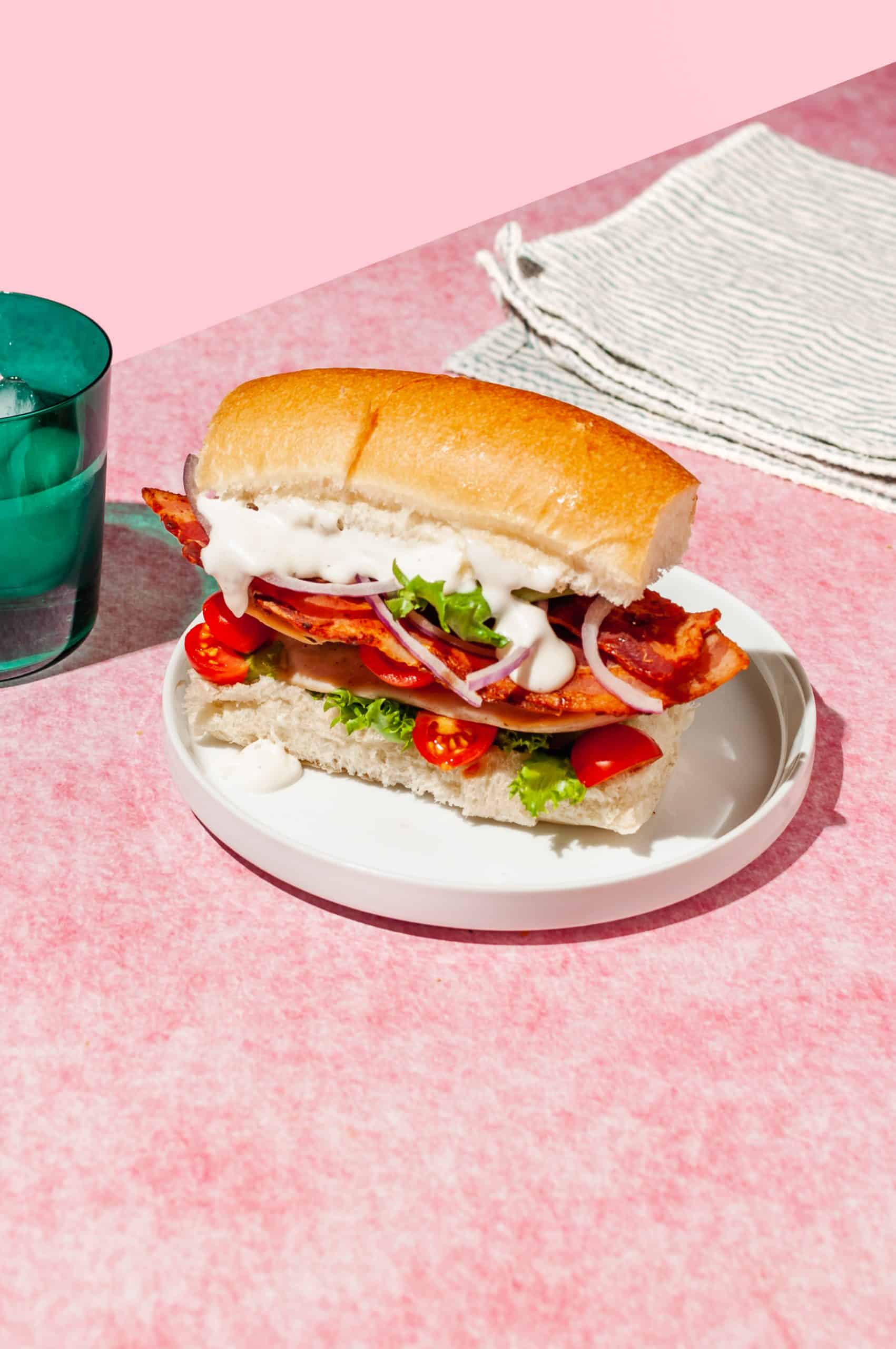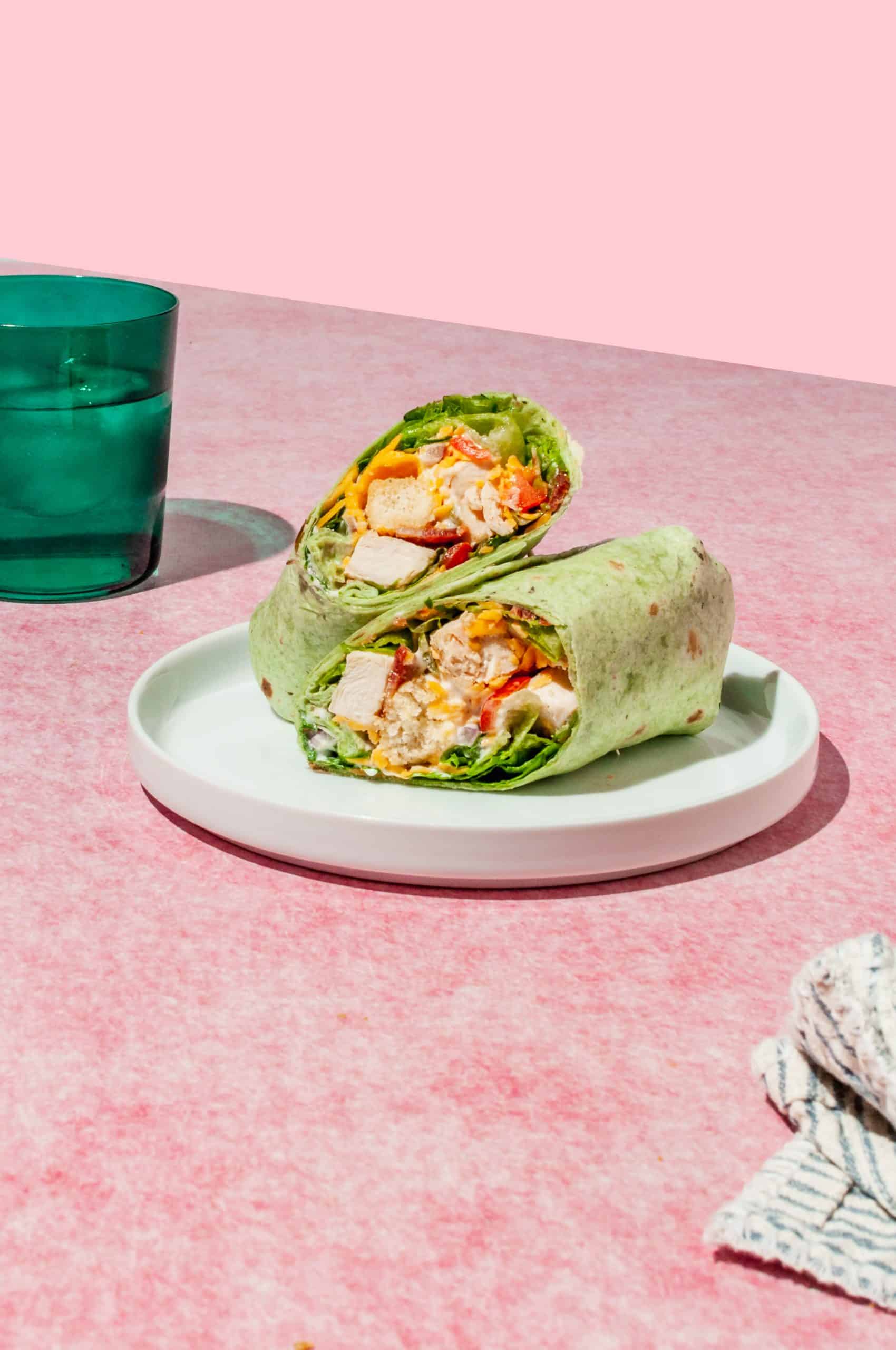 Here's another helpful hint-- when cutting a wrap or sandwich in half, stick toothpicks into each side first. It helps hold it together when you slice it in half. Might be useful if you tend to over-stuff sandwiches like me!
Equipment
I'm sure you can make this recipe in any bare-bones kitchen, especially with substitutes if needed. But here's some equipment you might find helpful: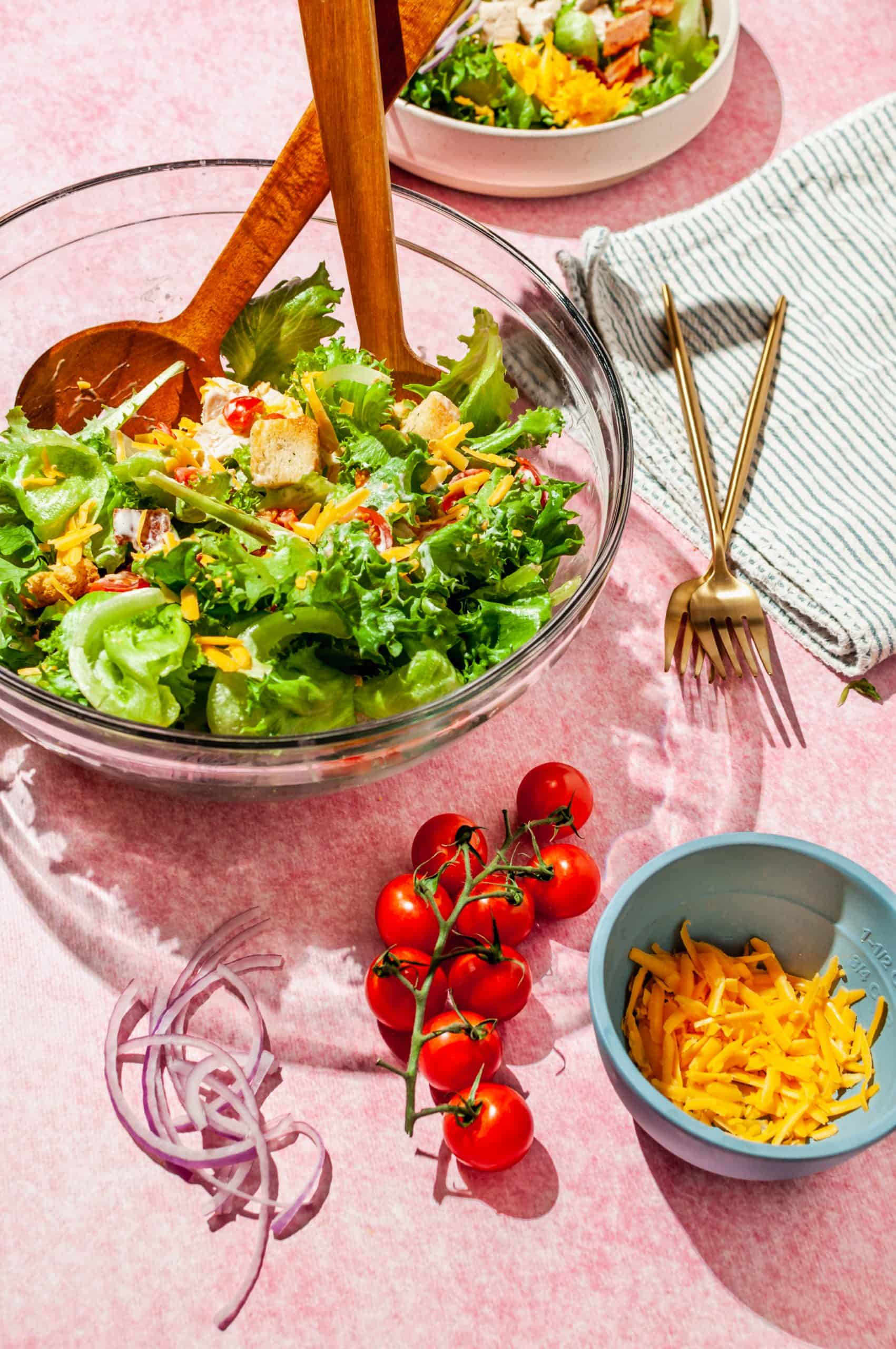 Top tip
When mixing up a large salad to serve at a BBQ or dinner event, save some extra garnish on the side. That way, you have all the components mixed in every bite, but you can place extra garnish on top to make it look pretty. This also works as a visual cue to let everyone know what's in the salad. (Which is especially important when identifying common allergens like nuts).
Storing Fresh Produce
As for storing leftover salad, personally, I wouldn't. Salad gets soggy real quick, so try to only dress as much as you're going to eat. I don't like to waste food, but soggy salad is the WORST.
You can, however, prep ingredients ahead of time for meal prep. Here's how to best store individual salad components:
Tomatoes:
When whole, store at room temp. Unless they're getting too ripe, then move them to the fridge. Try to avoid this though, since tomatoes get a mealy texture when refrigerated.
Diced and sliced tomatoes on the other hand need to be refrigerated for food safety. They will last about 3 days in an airtight container when chilled.
Lettuce:
Whole heads of lettuce stay fresh much longer than cut lettuce. That's why I prefer to buy hearts of romaine and cut off only what I need that day. Pre-cut bags of lettuce get soggy so fast after opening!
The good news is you can store lettuce more effectively to keep it crisper longer. Place the cut lettuce in a zip-top bag with a damp paper towel, and keep it in the crisper drawer. This also works well for washed whole lettuce leaves and fresh herbs.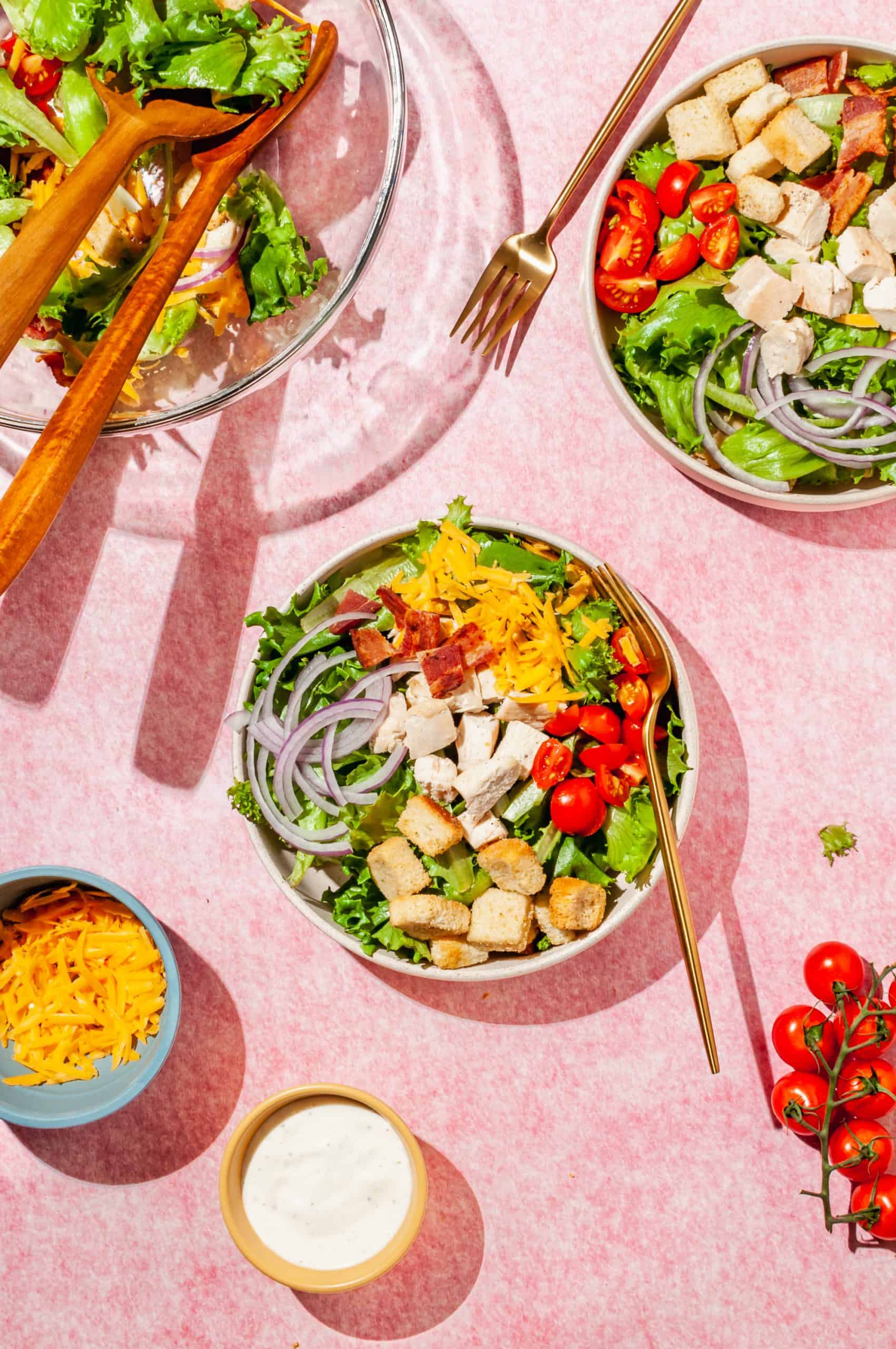 FAQ
How does a salad spinner work?
Salad spinners are designed to both wash and dry lettuce. Its primary job is drying-- moving excess liquid from the lettuce after washing by spinning it in a slotted basket.

Place the lettuce in the inner bowl, fill the entire bowl with cold ice water and slosh it around gently with your hands. Then let it sit for a few minutes before draining. Any dirt or debris will fall to the bottom to be discarded with the water.
How to dry lettuce without a salad spinner?
If you don't have a salad spinner, no worries! Place the lettuce in a wide bowl or plate lined with paper towels. Then gently pat the top with more paper towels to remove excess liquid.
What's the difference between cherry and grape tomatoes?
While they're similar in size, they differ a bit in shape, taste, and texture. Grape tomatoes are more oblong (like grapes) and have thicker skin. Cherry tomatoes are round (like cherries) with thinner skin. Cherry tomatoes are also sweeter.

You can use them interchangeably-- I usually buy whatever is on sale and/or looks better. But I do personally prefer cherry tomatoes!
Print
📖 Recipe
Chicken Bacon Ranch Salad
The BEST flavor combo-- chicken bacon ranch-- in the form of a salad (or sandwich! or wrap!) Your new go-to lunch or dinner recipe that's quick & easy to make, healthy-ish, great for meal prep, and infinitely flexible. 
Author: Kelly @ Butter and Thyme
Prep Time:

10 minutes

Cook Time:

0 minutes

Total Time:

10 minutes

Category:

Quick & Easy Meals, salad

Method:

meal prep

Cuisine:

American
¾

lb

. cooked chicken breast (or thighs, diced or shredded, crispy or grilled)

4

strips (~ 3 oz.) of cooked bacon, roughly chopped

4

cups

lettuce, i.e. romaine, green leaf, or a spring mix

½

cup

cherry tomatoes (or diced tomatoes)

½

red onion, thinly sliced

1

avocado (optional)

½

cup

cheddar (optional)

½

cup

croutons (optional)

3

-

4

tablespoons ranch dressing (or more)
Instructions
Prep salad ingredients: cut lettuce into bite-sized pieces and wash and dry in a salad spinner. Cut cherry tomatoes in half or quarters, if desired. Thinly slice red onions, grate the cheddar, and slice or dice avocado if using. 
Mix salad: in a large mixing bowl, combine all ingredients except avocado and ranch dressing, reserving a small amount of each garnish on the side. Drizzle about 3 tablespoons of ranch dressing over the top of the salad and toss to combine until evenly coated. Add more ranch dressing, 1 tablespoon at a time, to your liking. 
Top salad with avocado and reserved garnishes, and serve immediately. 
Notes
If starting with raw chicken and/or bacon, start by cooking the bacon in a pan until crisp, and draining excess grease on paper towels. You can cook chicken in the same pan after cooking the bacon-- cook to an internal temperature of 165 

°F.
Keywords: chicken bacon ranch salad, chicken bacon ranch sandwich, chicken bacon ranch wrap, chicken BLT salad
Food safety
Did you know lettuce and raw ready-to-eat foods are actually some of the more common sources of foodborne illness? Here are some tips to reduce your risk:
Thoroughly wash all fresh produce with cold water.
Wash your hands with soap and warm water before washing lettuce and prepping ready-to-eat ingredients. Also, wash your hands after handling raw meat.
Avoid cross-contamination: wash or switch out utensils used on raw meat before handling cooked meat. Use different cutting boards for raw meat and cooked meat or ready-to-eat ingredients (or wash thoroughly in between).
Stay informed. Pay attention to the news for potential outbreaks related to certain ingredients. There is no evidence that organic greens are safer when it comes to the potential for foodborne illness.