This Chocolate Satin Pie recipe is one of my favorite pie recipes to make for the holidays (along with cherry crumble pie)! Growing up, I always loved chocolate pudding pie, and this is the same idea-- a simple cookie crust filled with a smooth and creamy chocolatey filling, topped with fresh whipped cream.
What makes this Chocolate Satin Pie different than chocolate pudding pie is the texture of the filling. The chocolate satin filling is like a cross between a mousse and a custard. While pudding relies on starch to thicken it, custard filling uses eggs or yolks as a thickener which makes it richer and more decadent.
This recipe is a copycat recipe of Marie Callender's Chocolate Satin Pie you may have been in the freezer aisle. If the chocolate oreo crust is a little too much chocolate for you (is there any such thing as too much chocolate!?) you can use the same filling for any pre-baked pie crust. A graham cracker crust is a great option, makes it taste more like the chocolate pudding pie I remember from my childhood!
If you're a fan of creamy and smooth custard pies, try this lemon meringue pie recipe, filled with a creamy cool lemon curd filling. If you're more into decadent chocolate desserts, try my recipe for creme brulee brownies - chocolate fudge brownies topped with vanilla bean custard and caramelized topping, YUM!
Jump to:
Ingredients
This is actually a pretty simple recipe in terms of ingredients - you might already have everything you need! Here's the full list:
Chocolate cookie pie crust - or any pre-baked pie crust. I went with an oreo crust to match Marie Callender's chocolate pie, which you can easily make from scratch (here's the oreo pie crust recipe I used) or they usually have storebought options available in the baking aisle. This filling is also great with a slightly salty graham cracker crust like the chocolate pudding pies I remember eating as a kid. If you use traditional pie dough, it should be fully baked before filling (see this article on how to fully blind-bake a pie crust if you're not sure.)
Heavy cream - aka heavy whipping cream, which is used for making whipped cream that is then folded into the chocolate mousse filling. Whipped cream is also used as an optional topping for this pie. If you want to skip the step of making whipped cream, you can substitute a can of whipped cream instead.
Eggs - many custards use only the yolks, but we use 3 whole eggs for this recipe. And don't worry about raw eggs, they are fully cooked on the stovetop in this recipe!
Sugar
Semisweet chocolate - or use bittersweet chocolate for a slightly less sweet, dark chocolate flavor. It's better to use finely chopped chocolate bars as opposed to chocolate chips since they will melt more easily.
Vanilla extract
Salt
Butter - unsalted (or you can use salted butter, but leave out the additional salt).
See recipe card for quantities.
How to Make Chocolate Satin Pie
Since you can use any pre-baked pie crust of your choosing, I'll start with the chocolate satin filling instructions. Here's how to make it, step-by-step: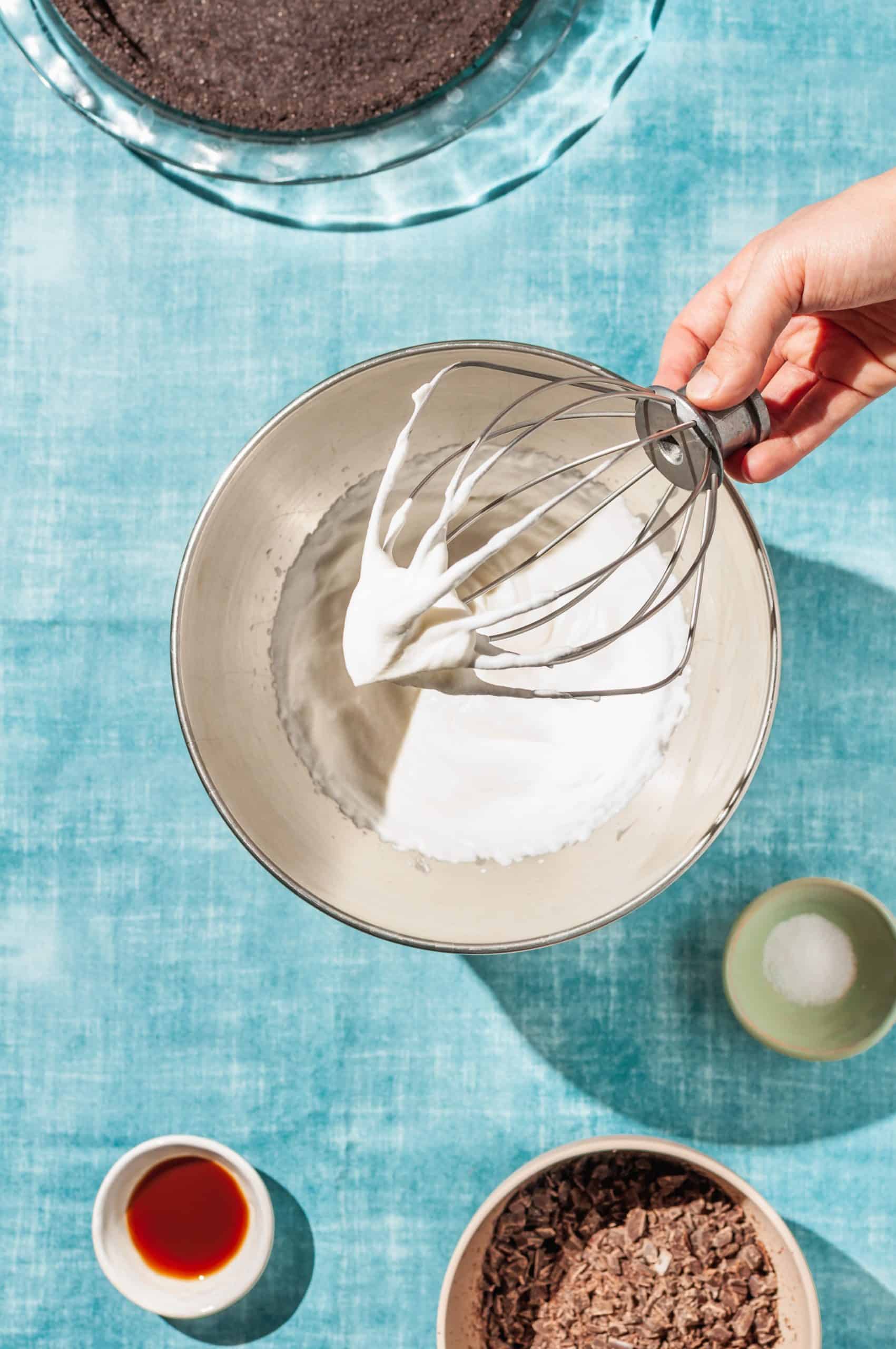 Start by whipping the heavy cream (or, if you bought whipped cream, skip this skep ◡̈ ) Cover the bowl and refrigerate until needed.
Note: if you plan on topping the pie with whipped cream, make a little extra so you have enough whipped cream for the filling and topping.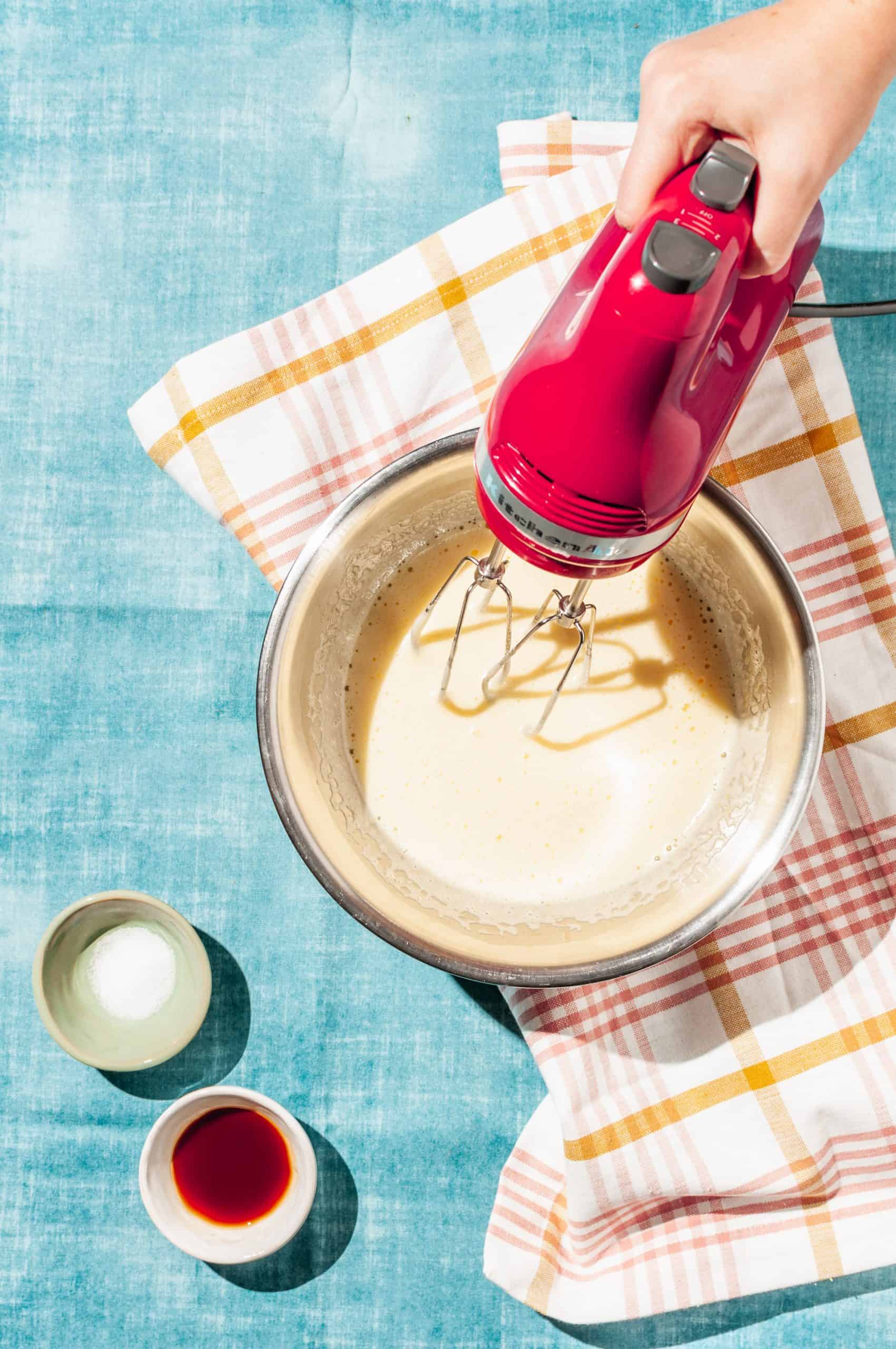 Using a handheld electric mixer, beat the eggs and sugar in a heatproof bowl set over a pot of simmering water.
This ensures the eggs cook slowly so they don't clump up, and your filling is smooth and creamy rather than lumpy and eggy. (No one wants that!)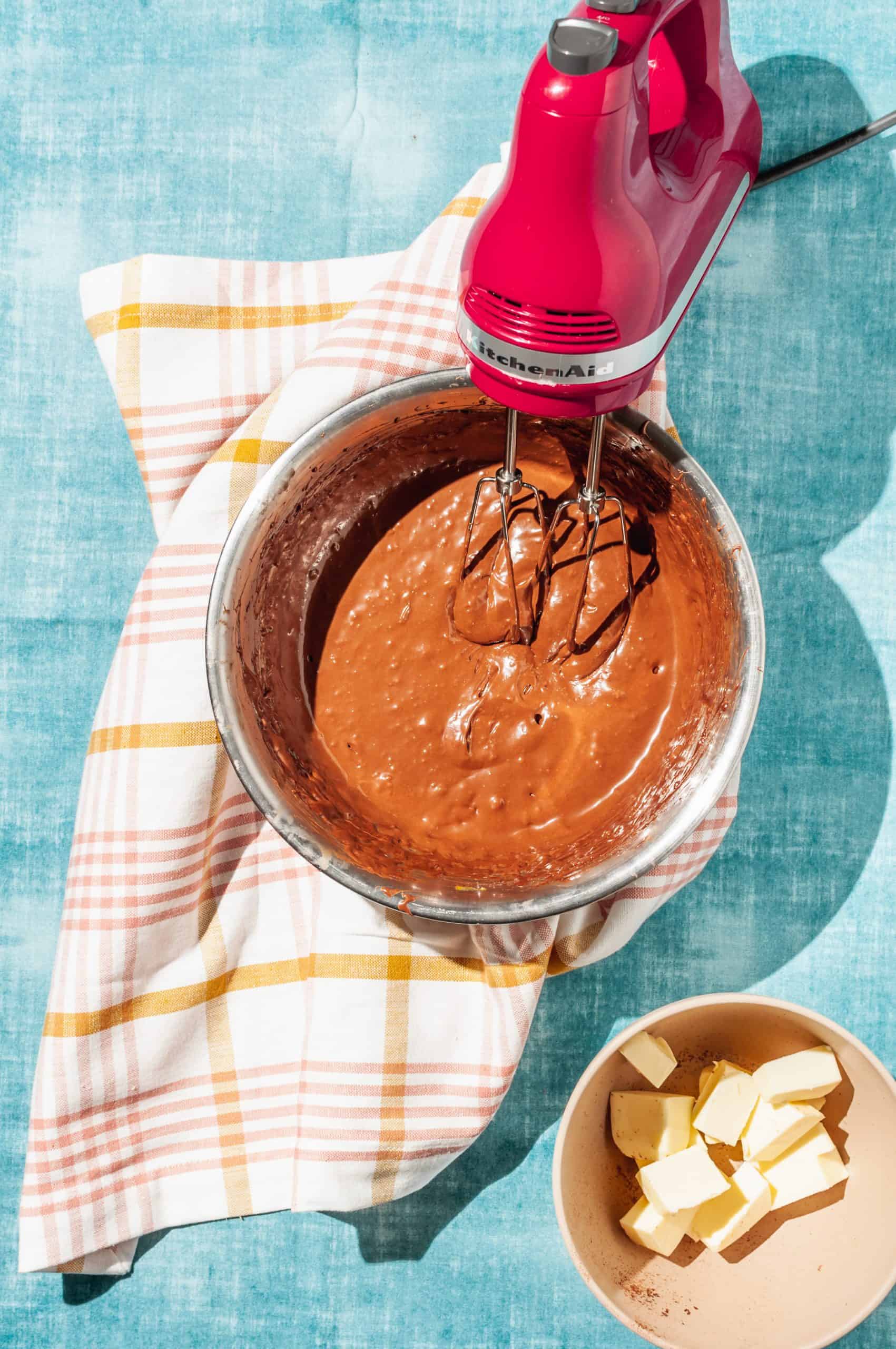 Once the egg mixture reaches 160 °F, remove the bowl from the heat. Continue to beat the mixture for a couple more minutes. Then, add the chopped chocolate, salt, and butter, and beat until the mixture is smooth.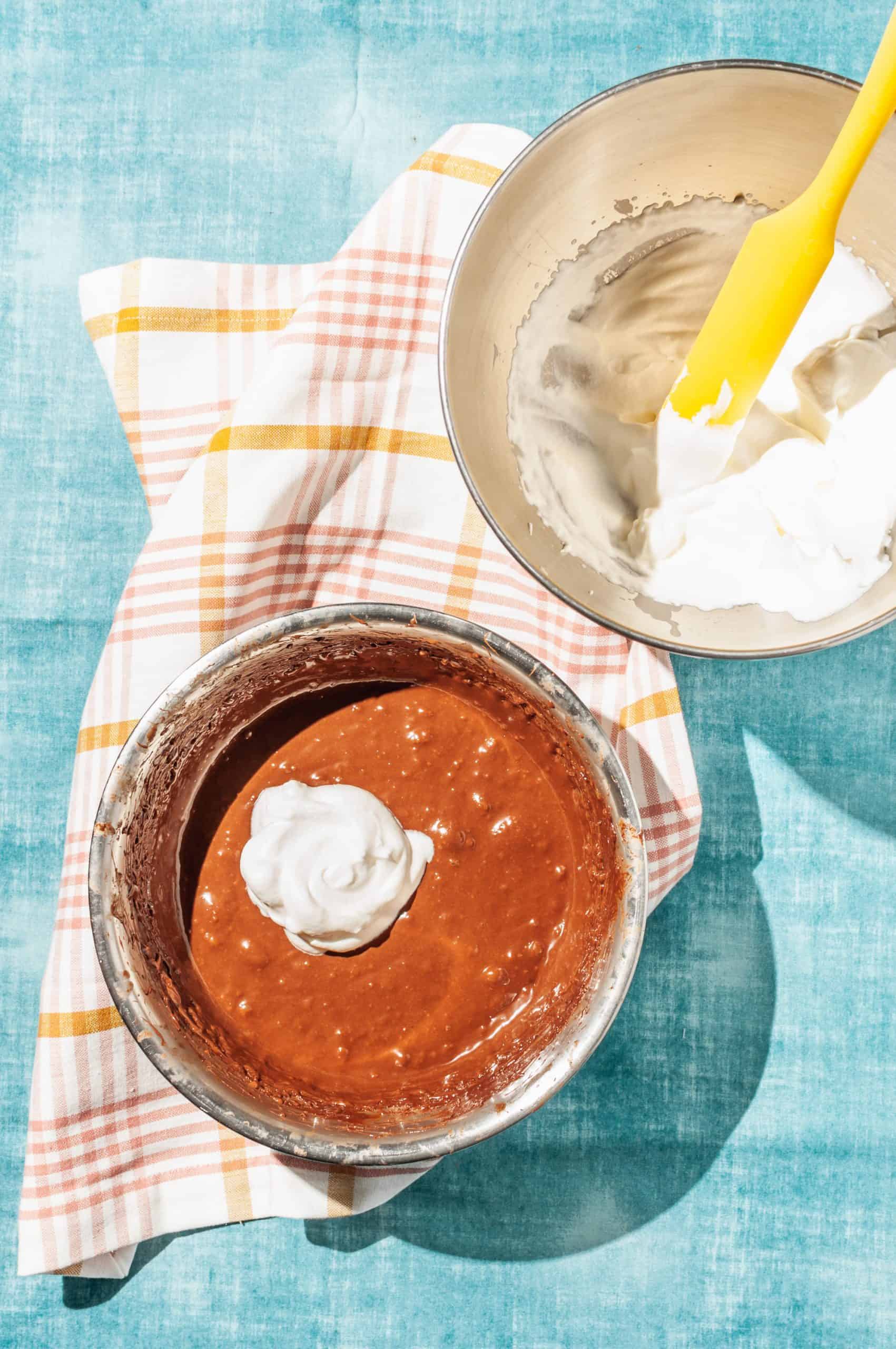 Using a large rubber spatula, fold in the whipped cream until incorporated (so no more streaks of white left). Pour the chocolate filling into the prepared pie shell and refrigerate until set (at least 3 hours, up to 24 hours).
Top tip
Make sure the pie crust is fully cooked and fully cooled before adding filling! Store-bought cookie crusts do not need to be cooked at all but can be lightly toasted if you prefer. Just 5 minutes in the oven at 350-375 °F give store-bought crusts a nice freshly-baked quality.
How to Make Gluten-Free Chocolate Satin Pie
One great thing about this chocolate satin pie is that the filling is naturally gluten-free! It's a great GF alternative to chocolate pudding pie which usually contains flour or another starch as a thickener.
The only thing you need to do differently to make this chocolate satin pie 100% gluten-free is to use a gluten-free pie crust. Luckily, Oreo now makes gluten-free Oreos you can use for a homemade gluten-free chocolate cookie crust!
As another gluten-free lower carb option, serve this chocolate satin pie filling on its own, like a mousse, rather than using it as a pie filling.
Pie Crust Substitutions
I love that you can use any type of single pie crust for this recipe and it totally changes the flavor. Did you know you can use pretty much any dry crumbly cookie to make a pie crust!? Here are some different pie crust ideas to switch up the original recipe:
Oreo crust - store-bought or homemade
Graham cracker - also try it with chocolate or cinnamon graham crackers! This is my favorite graham cracker crust recipe.
Biscoff cookie crust
Traditional butter + flour pie crust - you should be able to find refrigerated pie dough or baking mix at the grocery store, or you can make it from scratch. This is my favorite pie crust recipe!
Shortbread cookie crust
Cereal pie crust - method is the same as with cookies, but use your favorite type of cereal instead (i.e. cocoa puffs, cinnamon toast crunch, captain crunch, cheerios...)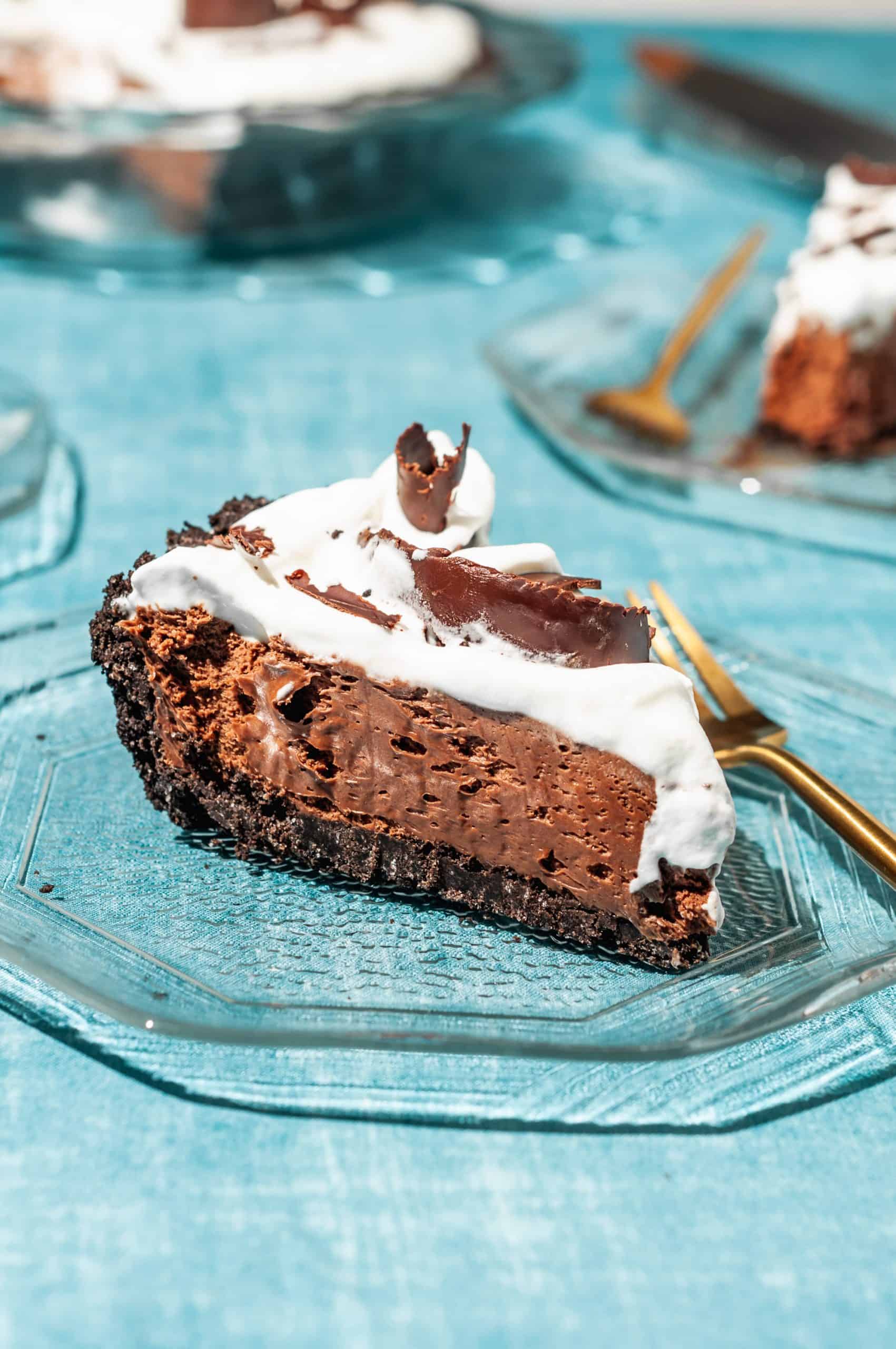 Variations
Another thing I love about this chocolate satin pie recipe is that you can easily adjust the filling to be more light and airy or denser and richer, based on your preferences. The way you do that is simply by using more or less whipped cream in the filling.
I chose to add a moderate amount of whipped cream which makes the chocolate filling somewhere in between a mousse and a custard. If you want the filling to be lighter and more mousse-like, add more whipped cream to the filling.
Alternatively, you can reduce the amount of whipped cream or leave it out altogether. This makes the filling richer and denser, more like a rich dark chocolate tart.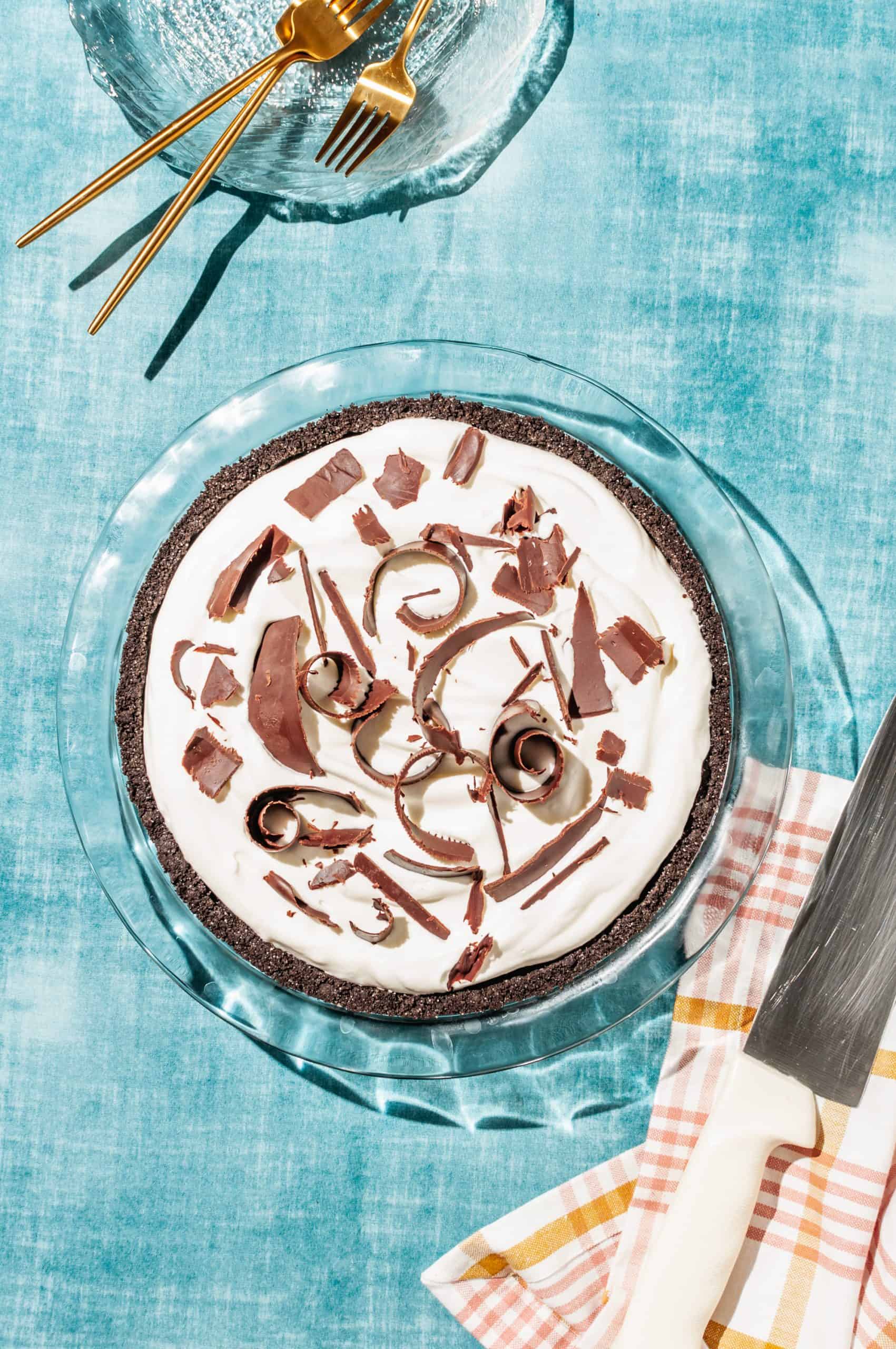 You could also take any of the pie crust options and make mini tartlets instead. This recipe makes enough filling for about 16 3-inch tartlets or 8 4-inch individual tarts.
Or for a no-fuss variation - make little jars with crushed cookies on the bottom as the "crust" and top with the chocolate filling. So easy!
Equipment
Here's everything you'll need to make Marie Callender's chocolate satin pie from scratch:
Handheld electric mixer - I almost always use my stand mixer over my handheld mixer when given the option, but this is one of the rare recipes in that you really need a handheld mixer. The reason for this is you need to beat the egg + sugar mixture constantly while the bowl is set over simmering water. I linked the model I have, it's relatively inexpensive and comes in a lot of pretty colors!!
Heatproof bowl - a stainless steel bowl is best, but a tempered glass bowl also works. It's important that the bowl fits nicely nestled on top of a medium saucepan without touching the bottom. Or, you can use a double boiler setup.
Rubber spatula - a large flat rubber spatula works best for folding in whipped cream without deflating it.
Instant read thermometer - to ensure the egg mixture reaches the proper temperature for the optimal custard texture and food safety. You could also use a clip-on candy or deep-frying thermometer to do this.
Pie plate
Sharp knife - a thin slicing knife works great for slicing pie and other desserts.
Pie server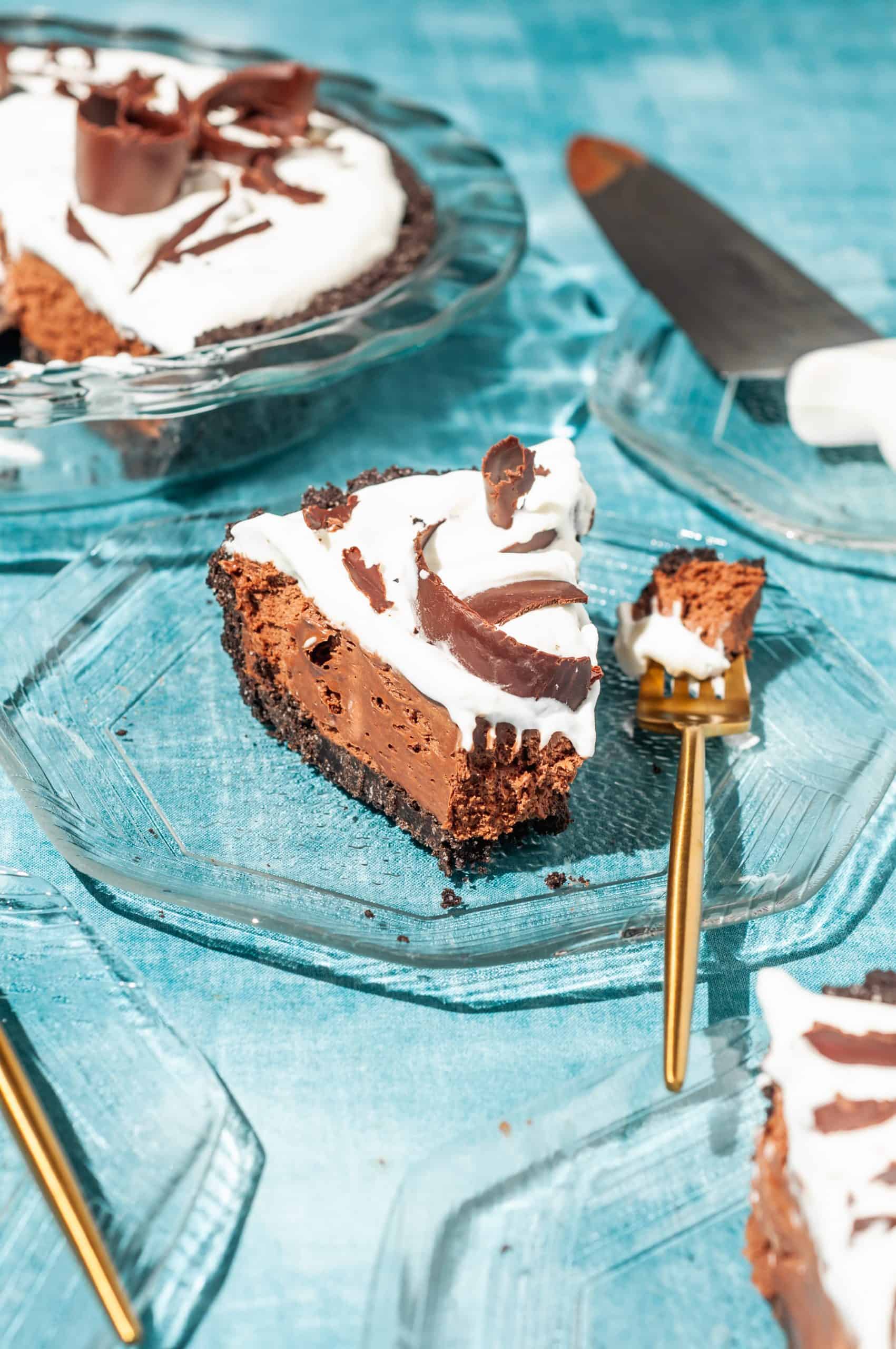 Serving & Storage
You can serve this Chocolate Satin Pie as is, or top it with additional whipped cream. It's also great served a la mode, topped with a big scoop of vanilla ice cream. Either way, this chocolate pie is best served chilled.
For a similar look to the famous Marie Callender chocolate pie, top the pie with whipped cream and chocolate chips. I chose to garnish with chocolate shavings rather than chocolate chips. If you're interested, this is a great reference on how to make chocolate curls.
Another tip for serving-- make sure the pie is well chilled to get clean slices. See pie expert Erin McDowell's article for more tips on getting picture-perfect even slices of pie every time!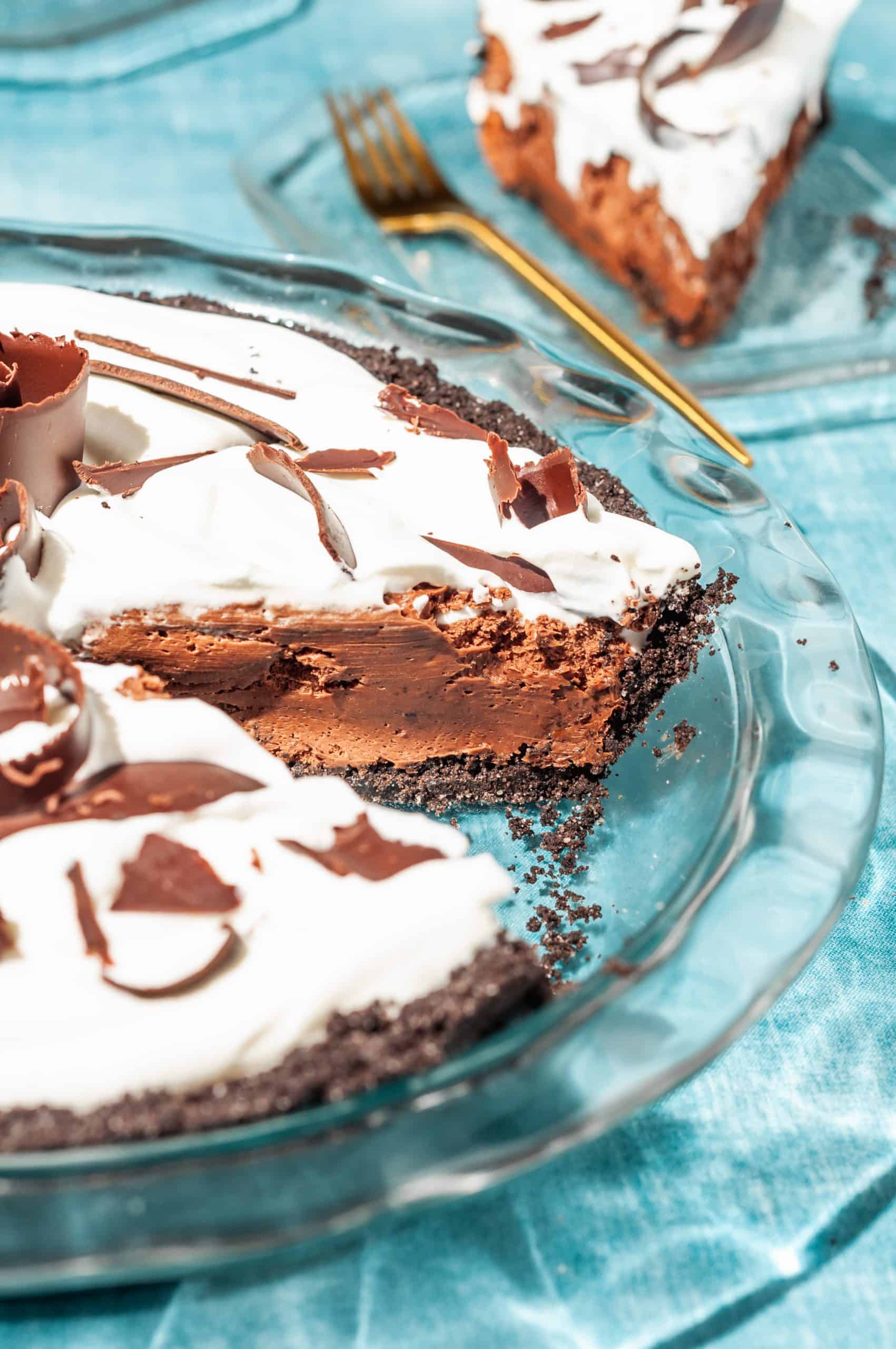 It's important to keep this pie stored in the refrigerator. When chilled and covered with plastic wrap, it should keep for at least 3-4 days. The whipped cream may start to weep after a little bit, so if you're not planning on eating it all in one sitting, it's best to serve the whipped cream on the side.
FAQ
What's the difference between Chocolate Satin Pie and French Silk Pie?
French Silk Pie and Chocolate Satin Pie are essentially two names for the same thing. They're both named for the creamy, silky, satiny smooth chocolate filling. It seems like French Silk Pie is more commonly paired with a traditional flour + butter pie crust, and Chocolate Satin Pie with a chocolate cookie crust, but this isn't always the case.
What's the difference between mousse, pudding, and custard?
Pudding relies on starch, usually flour or cornstarch, to thicken milk to a creamy consistency. Custard has a similar creamy consistency but relies on eggs or egg yolks rather than starch to thicken it.

Mousse has a lighter and airier texture than pudding and custard. Basically, if you add whipped cream to a custard base to lighten it up, it becomes a mousse. For this reason, this chocolate satin pie filling is considered a chocolate mousse.
Does Chocolate Satin Pie have raw eggs?
This chocolate satin pie recipe does NOT contain raw egg. Many old-fashioned recipes for Chocolate Satin Pie and French Silk Pie recipes do call for raw eggs. However, many recipes (like this one) opt to gently cook the eggs to eliminate food safety concerns.
Print
📖 Recipe
Best Chocolate Satin Pie
This Chocolate Satin Pie is a chocolate lover's dream! It's rich and decadent, but with all the nostalgia of the chocolate pudding pies you had as a kid. It has an oreo crust and a whipped cream topping, just like Marie Callender's version. 
Author: Kelly @ Butter and Thyme
Prep Time:

15 minutes

Chill Time:

3 hours

Cook Time:

10 minutes

Total Time:

3 hours 25 minutes

Yield:

8

servings

1

x
Category:

dessert, pie

Method:

stovetop, double boiler

Cuisine:

American
⅔

cup heavy cream (or sub. 1

½

cups

whipped cream) + extra for topping (optional)

3

eggs

⅔

cup

sugar

8

oz

. semisweet (or bittersweet) chocolate, very finely chopped

2 teaspoons

vanilla extract

¼ teaspoon

salt

8 tablespoons

unsalted butter, cut into medium-sized cubes
Oreo pie crust (or any pre-baked single pie crust)
Chocolate chips or chocolate shavings (for garnish, optional)
Instructions
In the bowl of a stand mixer fitted with the whisk attachment, whip the heavy cream on medium-high for about 5 minutes or until stiff peaks form. Transfer the whipped cream to a small bowl, cover it with plastic wrap, and refrigerate for later use.*
Combine eggs, sugar, and a small splash of water (about 1 tablespoon) in a medium heatproof bowl and mix to combine. Place about ½ inch to 1 inch of water in the bottom of a medium saucepan and set over medium heat until it's lightly simmering (the water should be about 150-160 degrees.) Then, place the bowl with the egg mixture on top of the simmering water* and using an electric mixer on medium speed, beat the egg mixture continuously until it reaches 160 °F (about 6-8 minutes).
Once the mixture reaches 160 °F, carefully remove the bowl from the heat and continue to beat on medium speed for another 1-2 minutes, until slightly cooled but still very warm. Then, add the chopped chocolate, vanilla, and salt and beat until fully incorporated and smooth. Add the butter a few pieces at a time and beat until completely smooth again. 
Add the whipped cream and fold it into the chocolate mixture using a large rubber spatula. Pour the chocolate satin filling into the pre-baked pie shell and refrigerate until set (at least 3 hours, up to 24 hours). Top with whipped cream and chocolate shavings, if desired. Serve chilled. 
Notes
If using whipped cream as topping too, make extra in the first step. Whip 1 ½ cups of heavy cream (makes approx. 3 cups of whipped cream). Use half of the whipped cream in the filling and the remainder for the topping. If you don't have a stand mixer, you can use a handheld mixer with a balloon whisk attachment or substitute canned whipped cream. 

The bowl should not be touching the water in the pot below. It should dip into the pot a little bit, but it should be heated from the steam and not the water itself. If the bowl touches the water, pour some of the water out or switch the bowl/ pot setup if necessary. 
Keywords: chocolate satin pie, marie callender's chocolate satin pie, chocolate cream pie with oreo crust, chocolate satin pie with gluten free option
Food Safety
Just because this chocolate pie isn't baked in the oven, doesn't mean it's not fully cooked! This recipe adheres to USDA and FDA guidelines for cooking egg-containing dishes to a minimum of 160 °F.