This delicious homemade beefaroni is my go-to hearty comfort food recipe. The best part is, it's ready to eat in about 30 minutes and made in only one pot, even the pasta! Yep, that's right-- the pasta is cooked right in the tomato-and-meat sauce.
To give this beefaroni dish its signature nostalgic taste, the base of the sauce is made with tomato soup, and it's loaded with real ground beef. It tastes just like the canned Beefaroni you remember from childhood, only less processed! You have full control over the quality of the ingredients you put in.
For an extra dose of nostalgia, try my recipe for homemade oreo cookies or my grandma's easy apple snack cake next!
Jump to:
Why You'll Love This Recipe
The pasta cooks right in the sauce, making it a true one-pot meal! It's just as easy to clean up as it is to make it.
It's hearty and nostalgic, perfect to warm you up in cold winter months. One of my go-to comfort foods!
Kids love it, and it's nostalgic for adults! The best part is you get all the nostalgia without the preservatives and using high-quality ingredients.
It's super flexible - you can easily switch out the tomato product and pasta, or add extra vegetables and make it your own (more details below!)
Ingredients
Here's what you need to make this Chef Boyardee beefaroni copycat recipe:
Ground beef - I recommend using relatively lean ground beef (at least 90% lean) for the best results.
Pasta - I went with ziti to closely match the original look (mini ziti would be perfect if you can find it!) Elbow macaroni is another great option. Really, you can substitute any type of short-tube pasta.
Olive oil - or a neutral cooking oil like vegetable oil.
Onion - minced small, so it almost blends into the sauce but adds a ton of flavor.
Garlic powder - aka granulated garlic.
Chili powder - you can't even really taste it, but just a pinch adds depth of flavor.
Tomato soup - I used equal parts Campbell's condensed tomato soup and water. But you can use any type of tomato soup, or even substitute tomato puree or tomato sauce. Tomato soup is essentially tomato puree anyway, with added seasonings and a bit of starch to thicken it. So if you're using tomato puree, I recommend adding a little extra garlic, sugar, salt, pepper, and cornstarch or flour for a similar Beefaroni taste.
Sugar - totally optional, but I like to add just a little bit of sugar. I especially recommend it if your tomato product is sugar-free since sugar balances out the acidity of tomatoes.
Parmesan cheese - I usually use pre-grated Parm, like the powdered stuff, to better incorporate into the sauce.
Salt and pepper
See recipe card for quantities.
How to Make Homemade Beefaroni
Here's how to make this one-pot beefaroni recipe, step-by-step:
First, saute the onion in olive oil until translucent and just beginning to brown at the edges.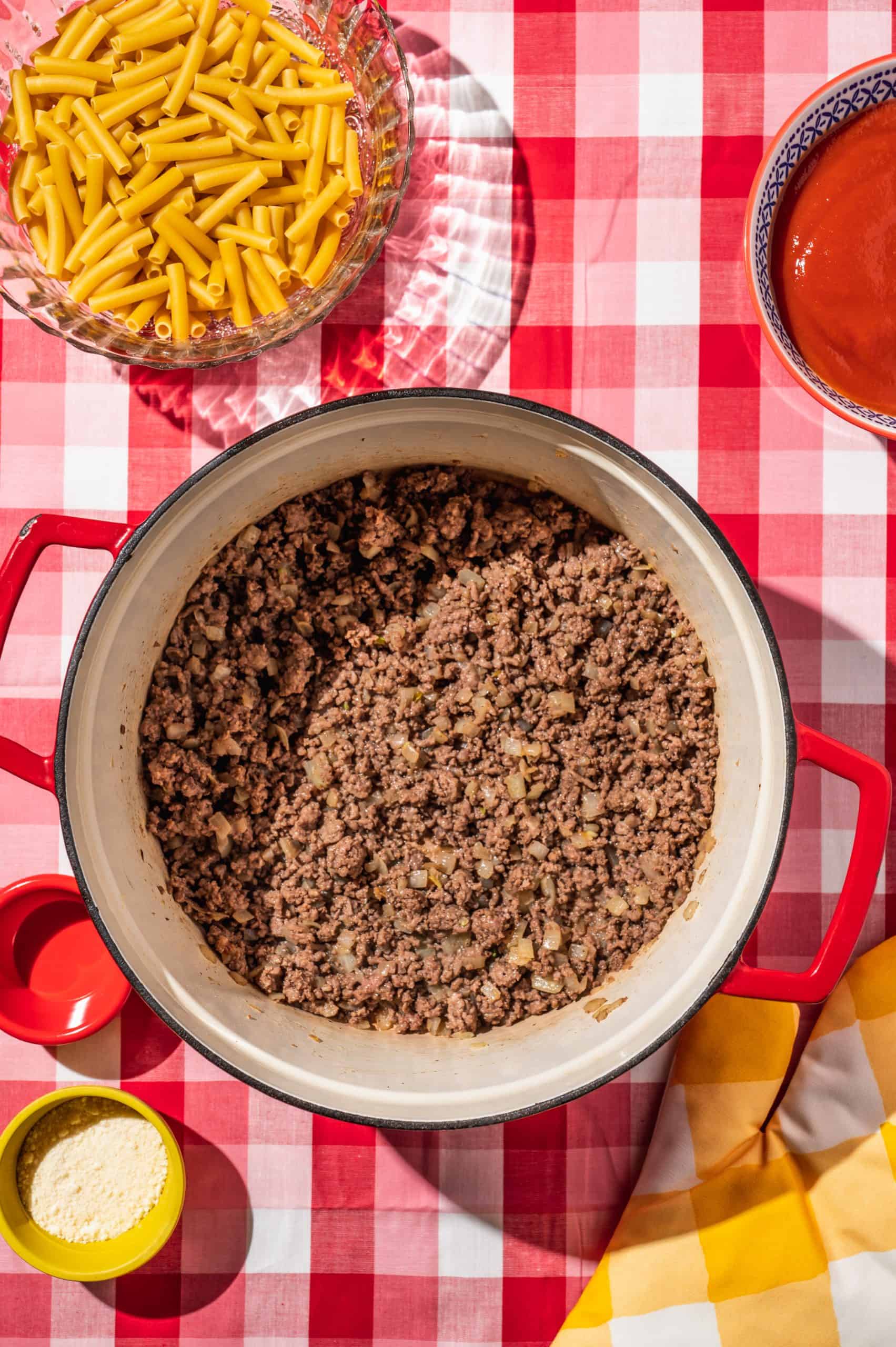 Then, add the ground beef and seasonings. Cook it until the meat is no longer pink.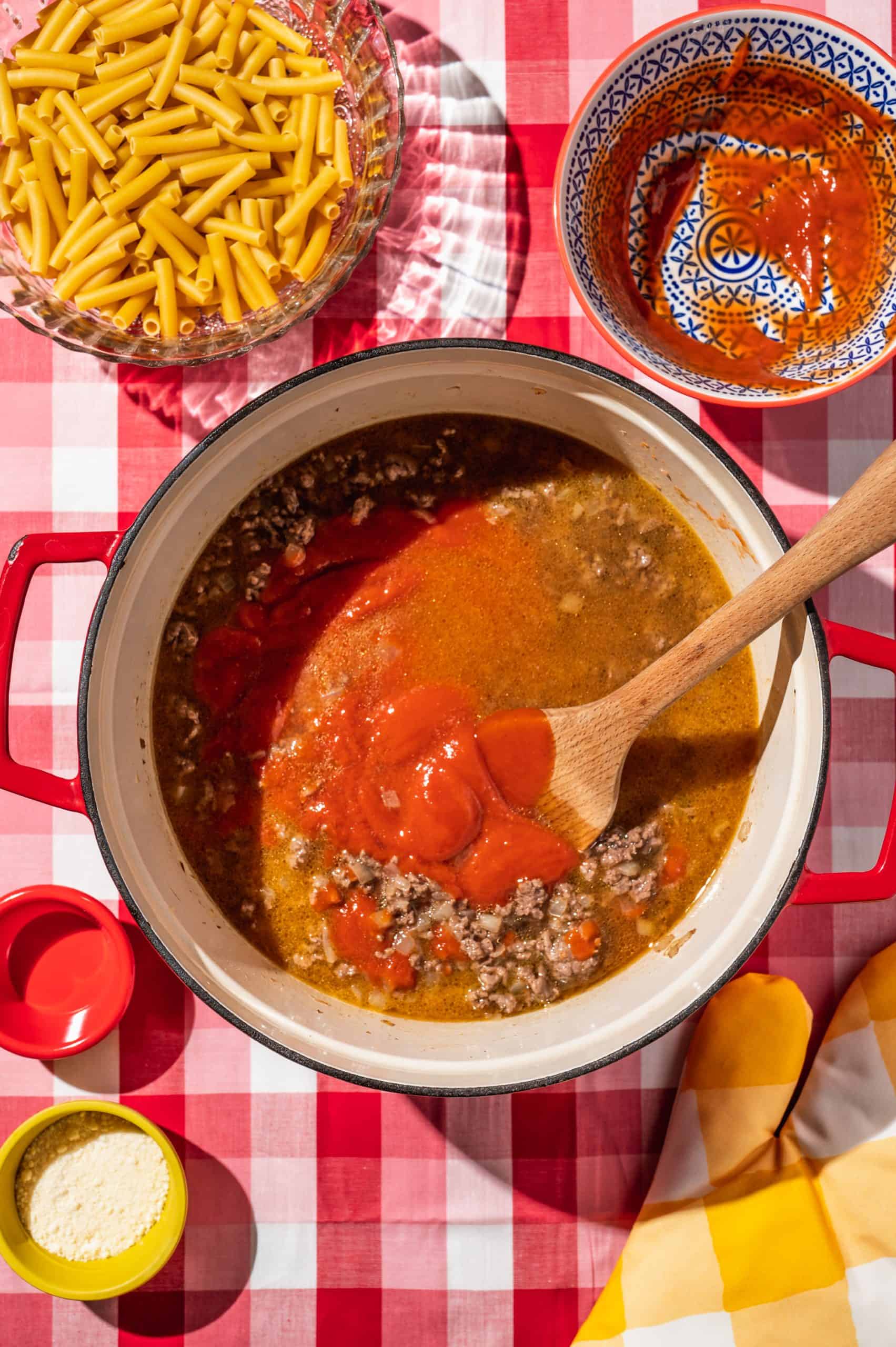 Now, add the tomato soup and water, and bring the mixture to a low boil.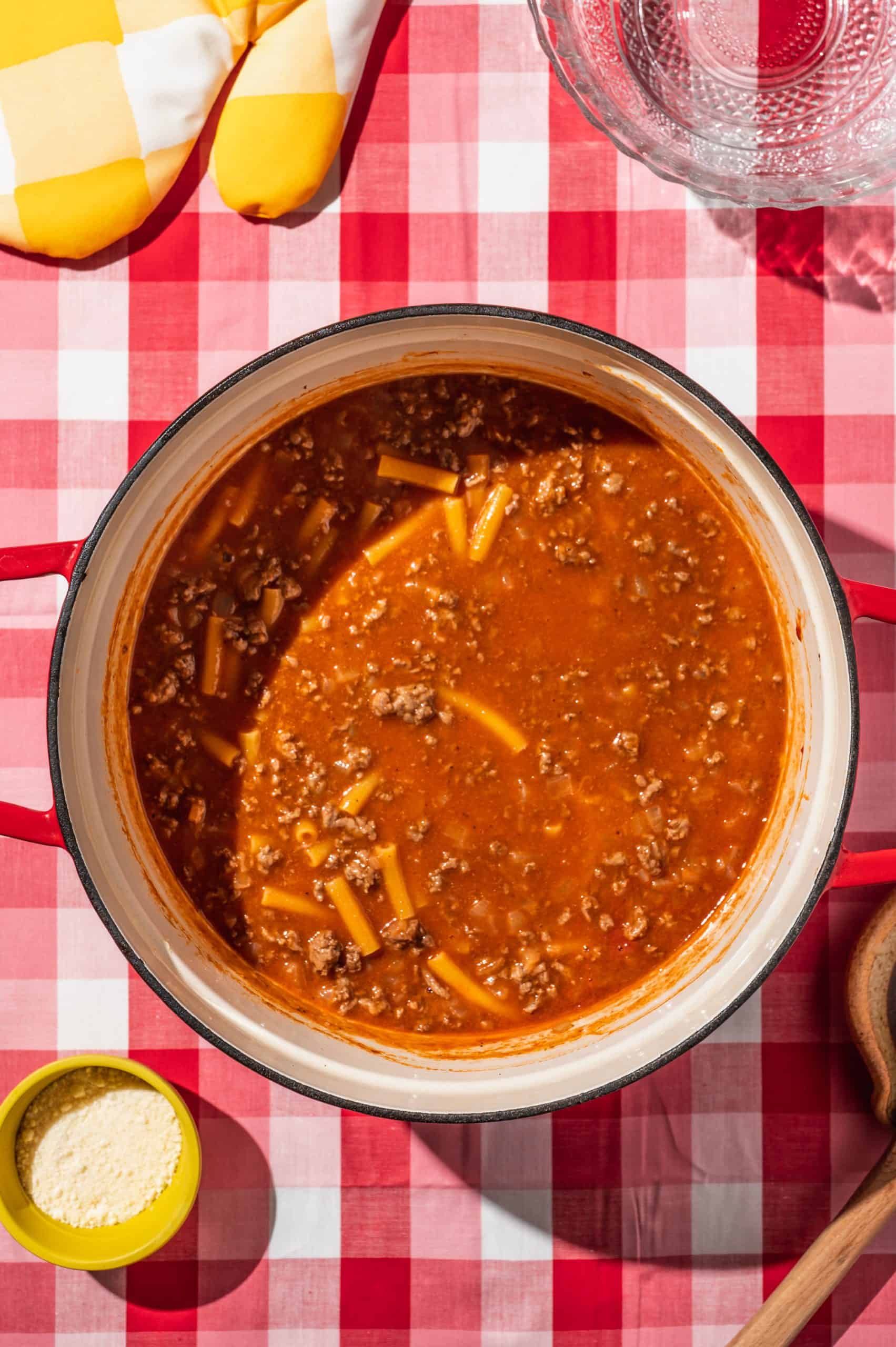 Add the macaroni, return to a low boil, then lower the heat to medium.
Adjust the heat as necessary to maintain a strong simmer. Stirring frequently, cook until the pasta is tender and the sauce is thickened (about 15-20 minutes). When it's ready, turn off the heat, stir in the Parmesan cheese, and serve warm!
Top Tip
This is a good recipe for learning how to cook by feel and follow your instincts since it's so flexible and pretty hard to mess up TBH! Once the ground beef is fully cooked, taste the sauce and adjust the seasonings. If it seems like it's getting too dry, add more water to achieve the right consistency.
Substitutions & Variations
To make homemade cheesy beefaroni, all you have to do is more cheese! Mozzarella, American, or cheddar are all great options. Simply add shredded cheese (up to 1 cup) to the pot at the end of cooking and stir until fully melted.
To make this homely dish look a little fancier, add some garnish! Serving bowls of homemade beefaroni garnished with fresh parsley and freshly grated Parmesan will make it look more like a restaurant dish.
Another way to switch up the recipe is by adding more vegetables to it. For example, add chopped eggplant, mushrooms, or bell peppers and saute them at the same time as the onion. This would definitely make it a healthier and more nutritionally balanced one-pot meal!
If you add green bell pepper to it and replace the chili powder with Italian seasoning, it becomes more like American Chop Suey, a well-known comfort food dish if you're from Massachusetts or New England!
Also, this recipe is pretty beefy (it is Beefaroni after all!) So if you prefer a higher noodle-to-beef ratio, you can absolutely lower the amount of ground beef to ½ pound.
Equipment
Here's everything you'll need to make this one-pot beefaroni:
Storage & Make-Ahead Instructions
I like making big batches of this recipe because it makes great leftovers! It will keep in the refrigerator for about 4-5 days. Be sure to store it in an airtight Tupperware container.
You can easily reheat leftovers in the microwave or on the stovetop and it'll taste just as great as the first day! If it's too thick, you may need to add a little more water or soup when reheating it to loosen it up.
Unfortunately, this recipe doesn't freeze well because the pasta gets mushy when heated and defrosted. What you can do, however, is make the meat sauce without the pasta and freeze it. You can even freeze the meat sauce in smaller portions and defrost only as much as you want to eat. Then proceed with the recipe by adding dried pasta to the simmering sauce and cooking until tender.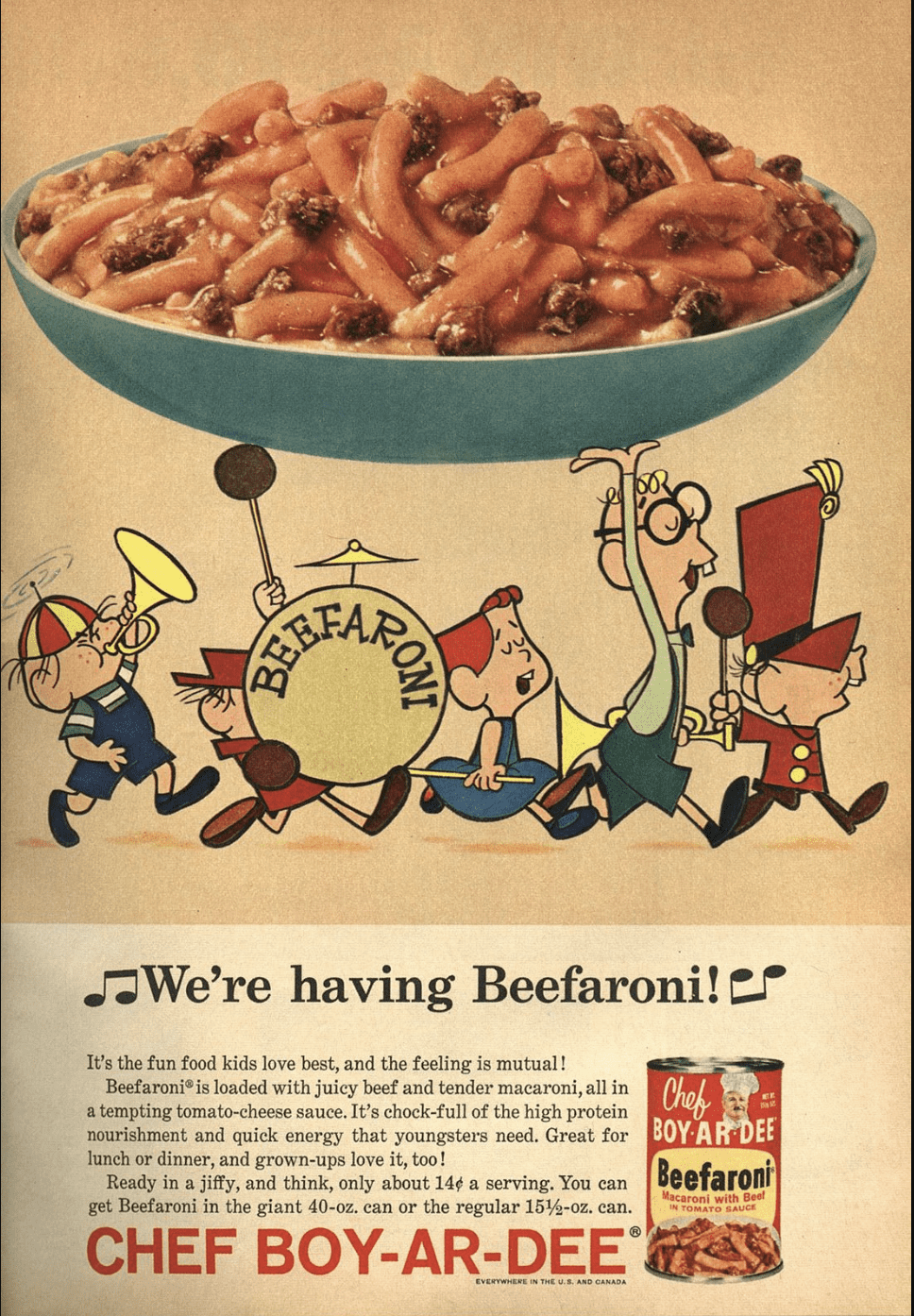 FAQ
What is Beefaroni vs. Goulash vs. American Chop Suey?
All 3 dishes consist of macaroni noodles in a tomato-based meat sauce, so they look and taste fairly similar. American Chop Suey (also called American Goulash) is usually flavored with Italian seasoning and has green bell pepper. It comes from traditional Hungarian Goulash which is very similar but is seasoned with paprika. Beefaroni has a little more beef and doesn't have bell peppers.
Is cheesy beefaroni the same as chili mac?
It's really similar! Chili mac usually has a stronger chili taste because it uses more chili powder. It also usually has chopped tomatoes and sometimes beans. And it may be cheesier (depending on how much cheese you add to the beefaroni).
When was beefaroni invented?
I couldn't find the exact answer to this, but sometime in the early to mid-1900s. The Chef Boyardee brand started in 1928, with Beefaroni growing in popularity in the 1960s (as evidenced by the ad above).
Print
📖 Recipe
One-Pot Homemade Beefaroni
If you love hearty, nostalgic comfort food dishes that are quick and easy to make, you'll love this one-pot homemade Beefaroni copycat recipe! 
Author: Kelly @ Butter and Thyme
Prep Time:

5 minutes

Cook Time:

25 minutes

Total Time:

30 minutes

Yield:

4

servings

1

x
Category:

Comfort food, quick & easy

Method:

stovetop, one-pot

Cuisine:

American, Italian
1 tablespoon

olive oil

1

small onion, finely chopped

1

lb

. ground beef, 90-93% lean*

1 teaspoon

garlic powder

¼ teaspoon

chili powder

2

cans of tomato soup, 10.75 ounces each (or sub. tomato puree or tomato sauce)

22

ounces

of water (2 cans full)*

8

oz

. ziti or elbow macaroni

1 ¼ teaspoons

salt

¼ teaspoon

black pepper

¾ teaspoon

sugar (or to taste, optional)

2 tablespoons

Parmesan cheese, finely grated
Instructions
Make the meat sauce: set a Dutch oven or large pot over medium heat, and add olive oil. Add the onion and cook for about 5 minutes until translucent. Then, add the ground beef, garlic, and chili powder, and cook until the meat is no longer pink. Add the tomato soup and water, and bring the mixture to a boil.
Add the macaroni: once the sauce is at a low boil, add the macaroni and return to a simmer. Season with salt, pepper, and sugar if using. Continue to cook at a strong simmer for about 15-20 minutes, stirring frequently, until the pasta is tender and the sauce is thickened.*
Finish and serve: once the pasta is cooked, remove the pot from the heat and stir in the Parmesan cheese. Serve warm. 
Notes
Lower the amount of ground beef to ½ lb. if you want it to be less beefy. 

To measure the water, fill the soup cans with water after pouring out the soup (no need to rinse out!) This helps measure the water without dirtying utensils and also helps get all of the soup out of the cans.
Cook the pasta "al dente" or to taste. Try not to overcook the pasta, especially if you're going to be reheating leftovers, or the pasta may become a little mushy. (Although, the noodles in the canned version are pretty mushy so I don't mind it too much!) If the mixture becomes too dry before the pasta is fully cooked, add more water as needed.
To make cheesy beefaroni, add up to 1 cup shredded cheese at the end with the Parmesan (i.e. American, cheddar, mozzarella, and/or extra Parmesan)
Keywords: one pot beefaroni, homemade cheesy beefaroni, chef boyardee beefaroni copycat recipe