This isn't just another recipe for soft chocolate cookies with buttercream frosting claiming to be copycat Oreos-- these homemade Oreos actually live up to the name! They taste just like real Oreo cookies!
My goal with this Oreo copycat recipe was to create cookies as close to storebought Oreos as possible, using ingredients you can easily find at the grocery store. In researching other homemade Oreo recipes, I found the filling was often just buttercream frosting, and cookies were too soft and chewy. They may be delicious, but they're not really Oreos.
I wanted to develop a recipe for homemade Oreo cookies that lives up to its name. Chocolate wafer cookies with a dry crisp melt-in-your-mouth texture, sandwiching that nostalgic and familiar oreo cream filling. And I think I've come pretty dang close... these homemade Oreos taste just like storebought Oreos... but maybe even better!?
For another dose of nostalgia, try these copycat Cinnamon Toast Crunch Milk N Cereal Bars or these homemade orange Creamsicle ice cream bars next!
Jump to:
Why You'll Love This Recipe
They taste just like Oreos, only better cause they're homemade! This way, you're in full control of what ingredients you're putting in and can avoid high fructose corn syrup and other GMOs.
It's easy to adapt – you can flavor the copycat oreo filling with extract and/or food coloring. Or keep it original if you want. Or use an obscene amount of filling for super-stuffed Oreos!
Ingredients
Here's everything you'll need to make this Oreo copycat recipe:
Sugar
Butter - unsalted is almost always better, so you have full control over the amount of salt. Different brands of salted butter contain varying amounts of salt, so results can be inconsistent depending on what brand you use.
Salt
Eggs
Vanilla extract
Flour - all purpose.
Cocoa powder - I used black cocoa, which is a type of Dutch-processed cocoa that is super dark. But you can use any type of Dutch-processed cocoa powder since black cocoa is hard to find in stores (although you can easily order it online!) When I was testing this recipe with Droste cocoa powder, the cookies still turned out super dark after baking, very similar to Oreos!
Powdered sugar
Vegetable shortening - shortening like Crisco is what gives the copycat oreo filling recipe its notable tacky texture. But if you really don't want to use shortening, you can substitute butter instead.
Corn syrup - light corn syrup, like Karo brand, is a liquid sweetener derived from corn. It's different than high fructose corn syrup! Try Wholesome Sweeteners organic corn syrup, which is derived from non-GMO corn.
See recipe card for quantities.
How to Make Oreo Cookies
Here's how to make those crispy chocolate wafer cookies for homemade Oreos: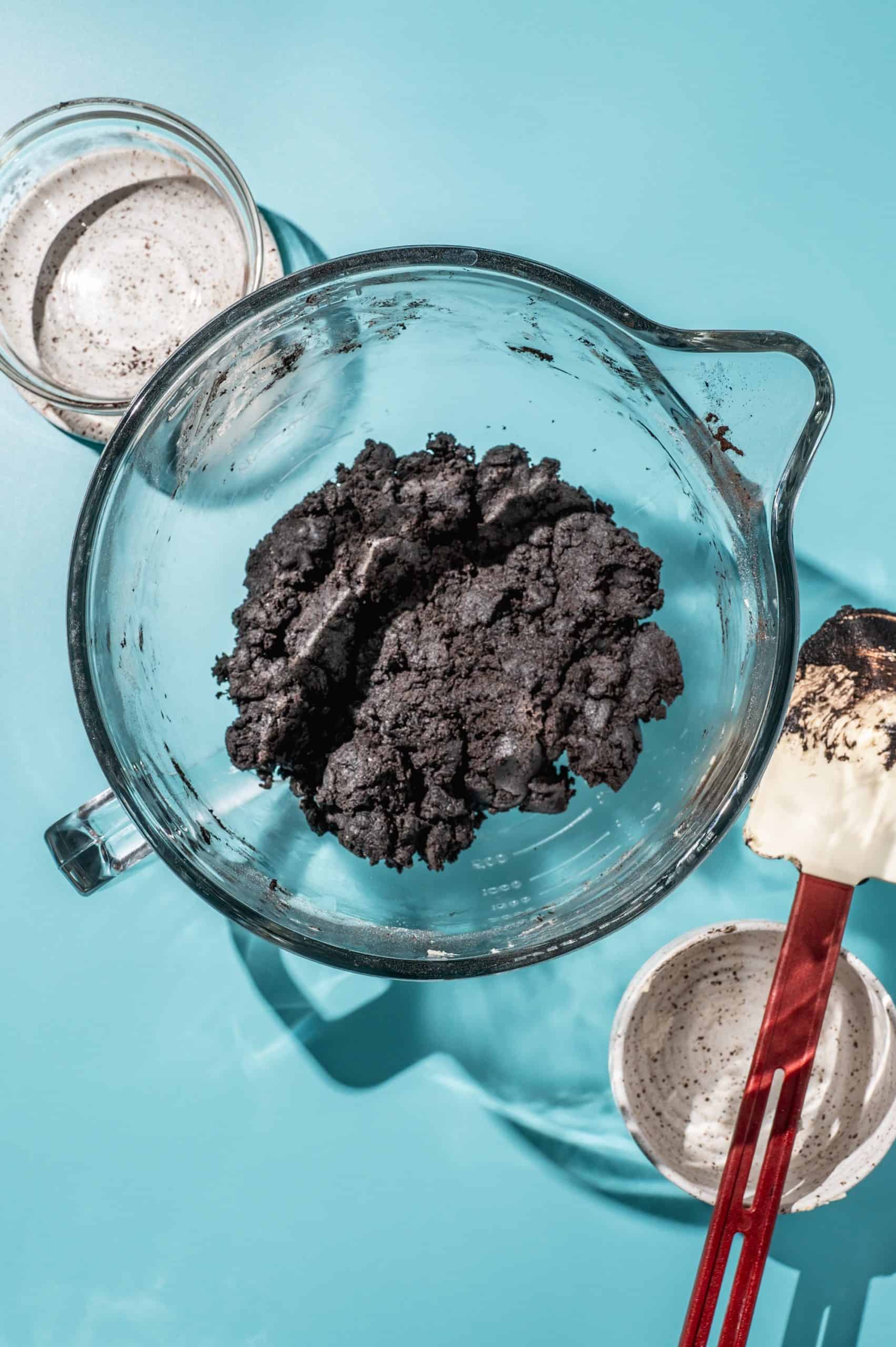 The cookie dough is actually really simple to make. In the bowl of a stand mixer, cream the butter and sugar together. Then, add the egg, vanilla, and salt. And finally, add the cocoa powder and flour and mix until just combined. The dough should be stiff but should hold together when pressed.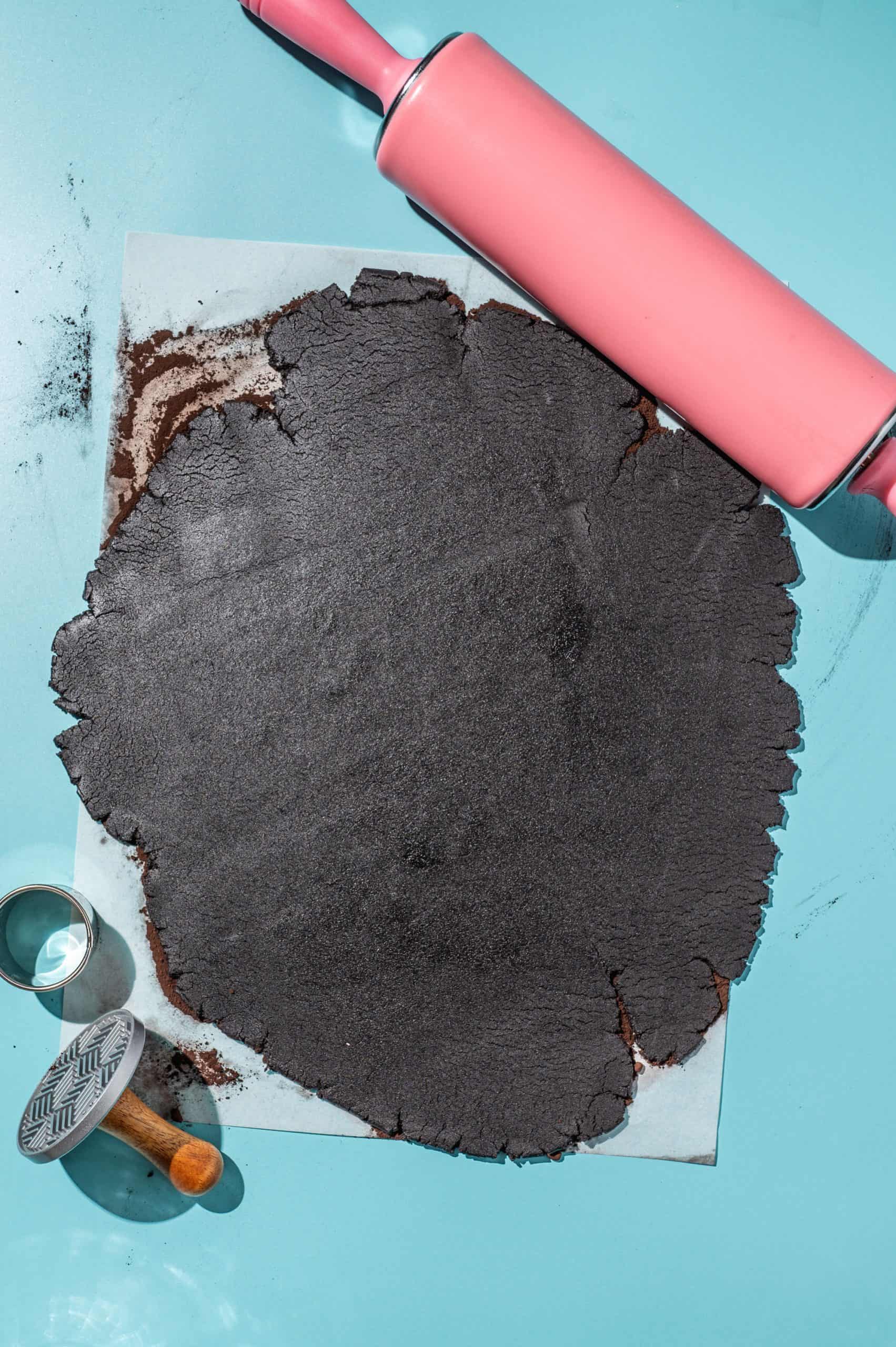 The dough is easier to work with when it's chilled, so I'd recommend putting it in the fridge for 20-30 minutes. Then, roll out the dough to ⅛ inch thickness. Really, almost as thin as you can get it to best emulate Oreo cookies. Keep in mind though, it gets a bit harder to work with if you roll it super thin.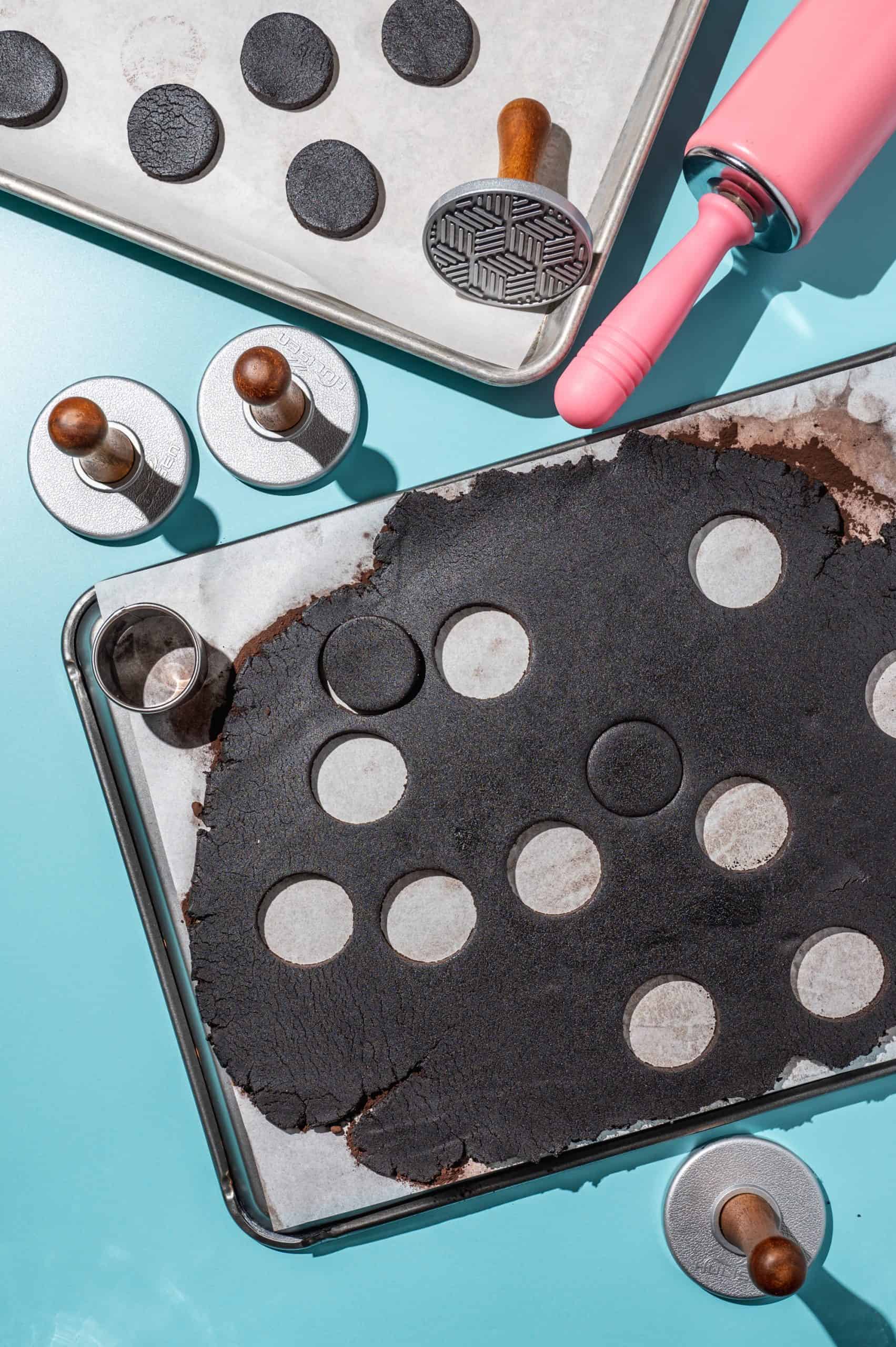 Now, cut cookies from the dough using a small round biscuit cutter, about 1 ½ inches in diameter, and transfer to baking sheets lined with parchment paper. Dust everything liberally with cocoa powder to prevent sticking, i.e. the surface, rolling pin, cookie cutter, cookie stamps, etc. (Warning: it's gonna get messy!! You're definitely gonna want to wear an apron for this one.)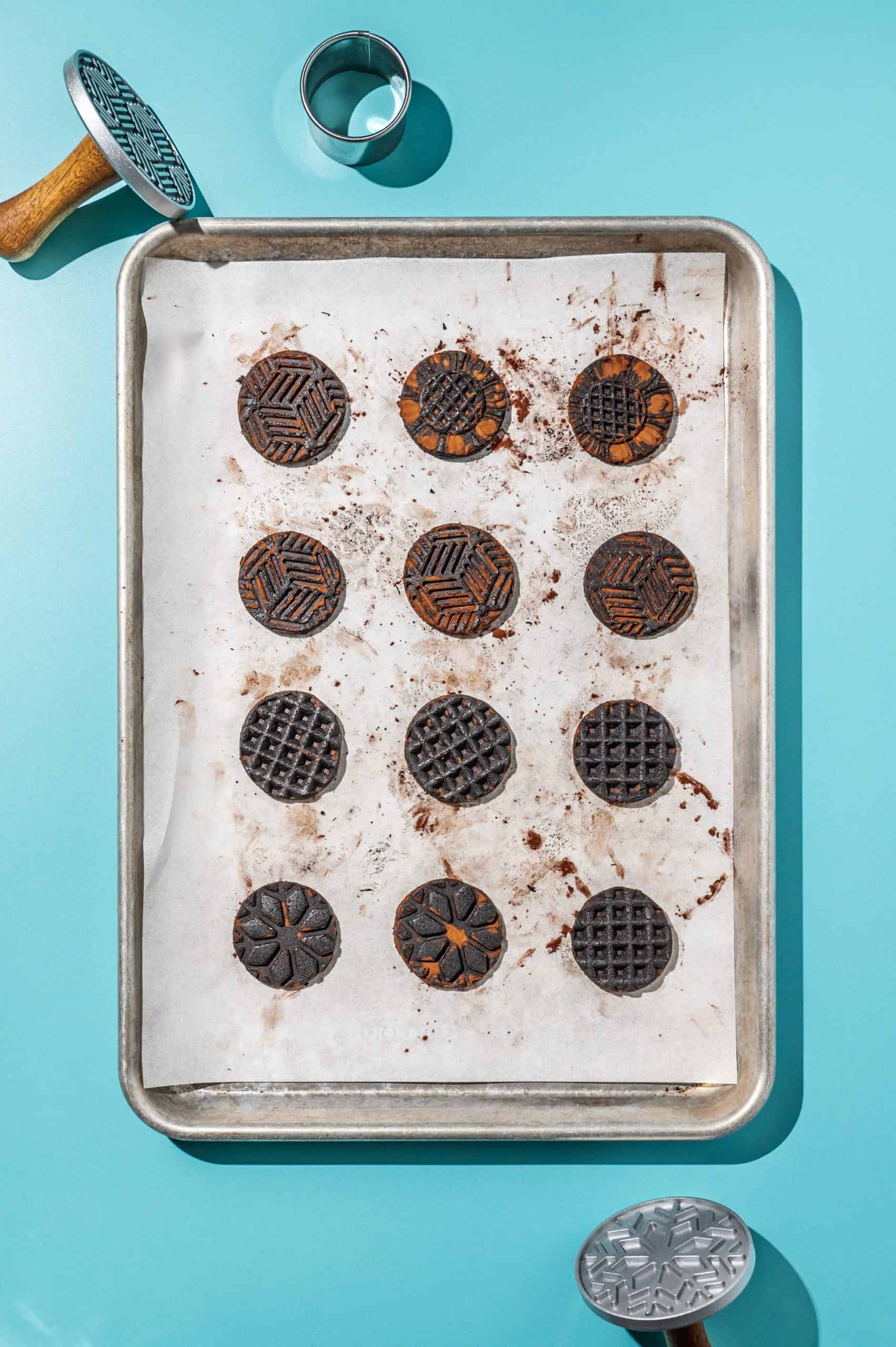 Finally, if you want, use cookie stamps to create designs on the surface of the cookies. (This is totally optional, but the indentations make them look more like real Oreos!) Then, bake the oreo cookies at 300 °F until crisp. They're baked at a slightly lower temperature than most cookies to get a light, crispy texture. Let the cookies cool completely before filling.
Top tip
Chilled cookie dough is easier to work with and holds its shape better! You can place the cookie dough in the refrigerator at any point in the process. I like to roll out the dough on a marble slab or cutting board to easily transfer it to the refrigerator if needed. It also helps to chill the trays of cookies before baking!
How to Make Oreo Filling
I actually can't believe how much this oreo cream-filling recipe tastes like the real thing! You'll want to eat it with a spoon!! And it's so easy to make!
Don't worry, this recipe makes plenty of filling. Enough for double-stuffed Oreos ◡̈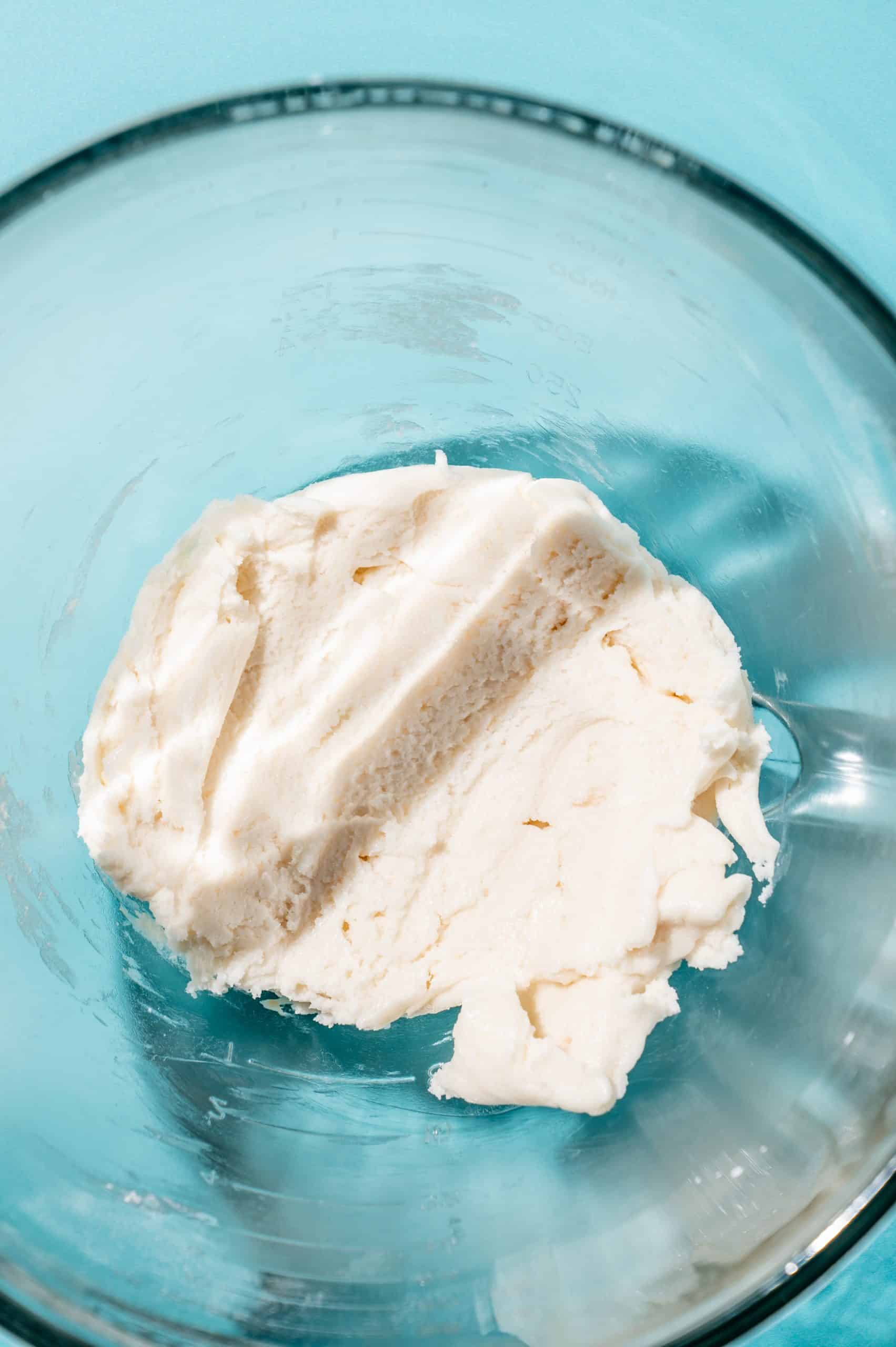 To make the copycat oreo filling, simply combine the ingredients in a bowl and mix until smooth. I used my stand mixer with the paddle attachment, but you can use a handheld electric mixer, or even mix it by hand with a little bit of elbow grease.
Now, it's finally time to fill those homemade oreo cookies. Place about 2 teaspoons of filling on the center of the inside surface of one of the chocolate cookies. Then, place a second chocolate cookie on top and press lightly until the filling spreads almost to the edge.
As I mentioned before, you can substitute butter, but shortening is what gives the filling its trademark tackiness. Using butter will make the filling taste more like a typical vanilla frosting.
Helpful hint: match cookies of similar sizes in pairs before filling them. All of the cookies should be more or less the same size, but they can vary somewhat, especially if you used cookie stamps (they spread out to different thicknesses depending on how much force was used to press on the cookies).
Substitutions & Variations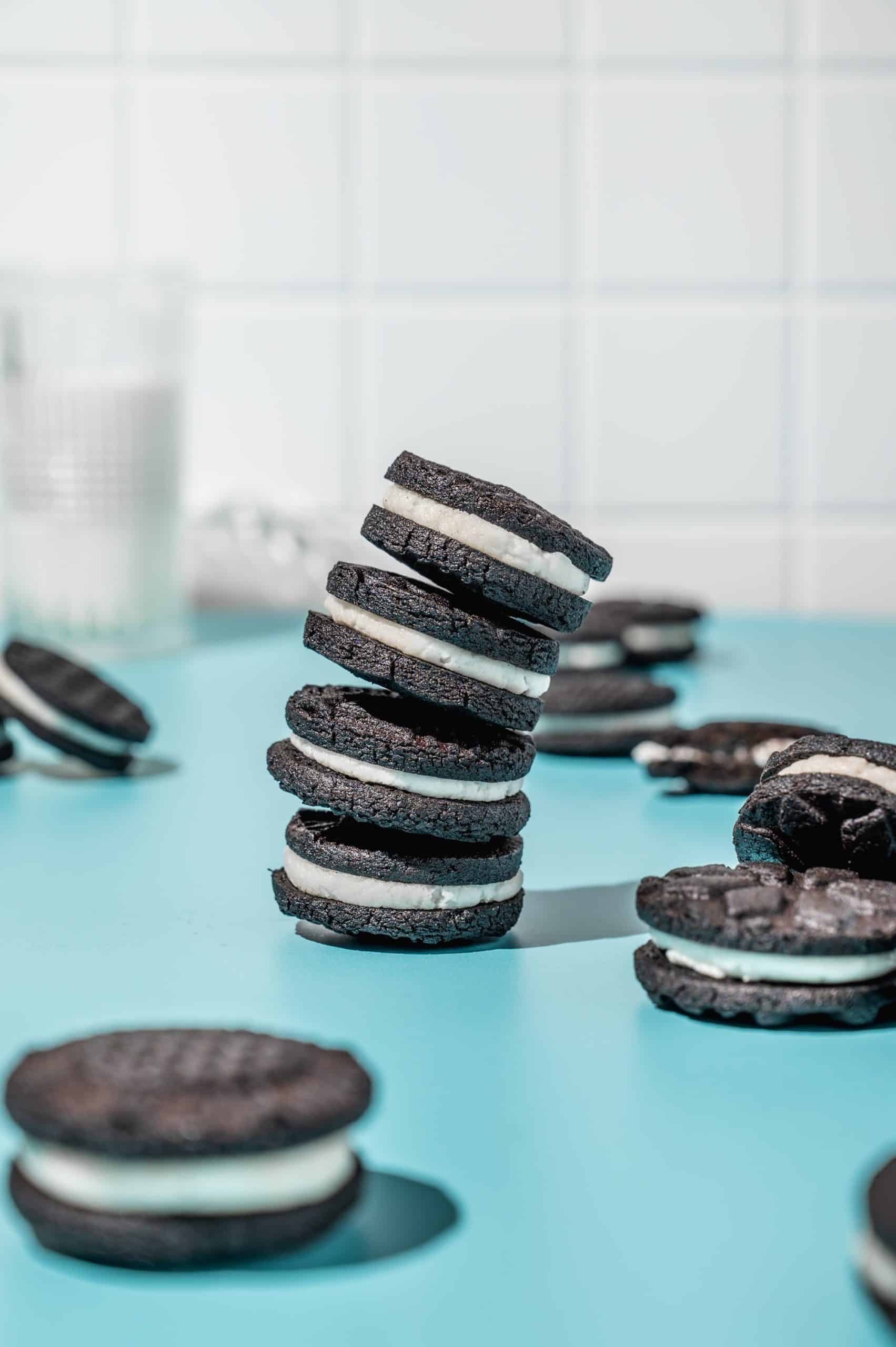 One of the best parts about this Oreo copycat recipe is how easy it is to adapt! Here are some fun ideas to switch up the original recipe:
Make Flavored Oreo Filling - add different extracts such as raspberry or mint. You can also add food coloring to match the flavor (i.e. pink for raspberry or green for mint). You could even use pulverized freeze-dried fruit for a natural flavoring that also adds color. Or flavor the filling with cocoa powder for double chocolate Oreos!
Make Different Shapes and Sizes - what's stopping you from making giant Oreos out of 3-inch round cutters? Go for it! Or, use an even smaller cutter to make mini homemade Oreo cookies. You could even try differently shaped cookie cutters (i.e. stars, hearts, etc.) since these cookies don't spread much when baked and hold their shape pretty well.
Equipment
A lot of the specialty equipment in the recipe is optional, so take a look to see if you have everything you need:
Cookie stamps (optional) - I used these patterned cookie stamps to imprint designs on the cookies. So cute, and pretty inexpensive too! They're a little bigger than the Oreos, but I just tried to center them and it worked out fine. Can't wait to try these out with other cookie recipes!
Rolling pin - my rolling pin has a nonstick surface which I like, to prevent sticking when working with sticky dough.
Stand mixer (optional) - if you bake a lot, a KitchenAid is definitely worth the investment! It makes mixing cookie dough SO MUCH easier and also is great for kneading bread dough, whipping cream, etc. I got mine over 5 years ago and still works perfectly! (If you don't have a stand mixer though, you can make the Oreo cookie dough and filling using a handheld mixer or mix by hand.)
Cookie cutters - a set of round biscuit cutters is great to have on hand for cookies and biscuits. They fit nicely together in a tin, so they're easy to store.
Measuring cups and spoons
Baking sheets
Parchment paper - I love using precut parchment sheets!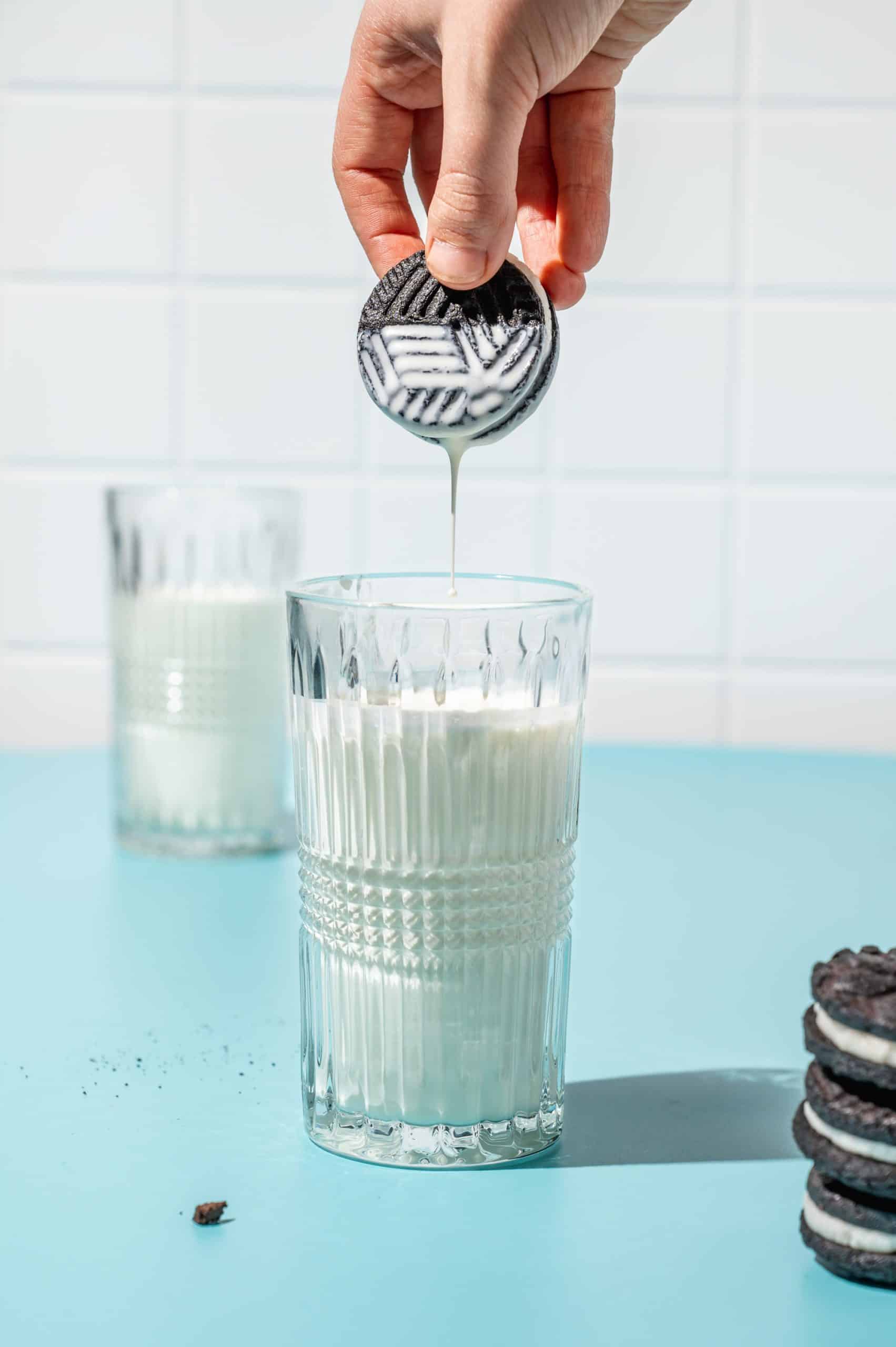 Storage & Make-Ahead Instructions
The cookie dough and filling can each be made ahead of time (up to 48 hours) and stored in the refrigerator. If making the cookie dough ahead, I would flatten it into a disk and wrap it well with plastic wrap to keep it from drying out too much.
Homemade Oreos don't last as long as commercial Oreos, unfortunately, due to the lack of artificial preservatives. These homemade Oreo cookies can be stored in an airtight container for up to 4-5 days. I think they'll start to get stale after that.
I'm not sure if the filling will hold up to freezing, so I wouldn't recommend freezing these homemade Oreos. However, unfilled chocolate cookies can be frozen for up to 1 month ahead of time, as an option.
FAQ
What is Dutch Process cocoa powder?
Dutch-processed cocoa, or alkalized cocoa, has undergone a process to alkalize it. This makes it less bitter and lets the chocolate flavor shine through. It also gives baked goods a deeper, richer chocolate color. For more information on Dutch-processed cocoa powder, check out my creme brulee brownies post.
Are Oreos Vegan?
Commercial Oreos are vegan, yes! They don't contain any real butter, eggs, or cream. These homemade Oreos however, are not vegan, as they contain butter and eggs.
Print
📖 Recipe
Homemade Oreos
Author: Kelly @ Butter and Thyme
Prep Time:

19 minutes

Chill Time:

30 minutes

Cook Time:

16 minutes

Total Time:

1 hour 5 minutes

Yield:

24

cookies

1

x
Category:

cookies, dessert

Method:

baking

Cuisine:

American
Cookie Ingredients
¾

cup

butter, unsalted

1

cup

sugar

¾ tsp

. salt

1

egg

1 tsp

. vanilla extract

⅔

cup

black cocoa or Dutch-processed cocoa powder

1 ½

cups

flour, all-purpose
Filling Ingredients
1 ½

cups

powdered sugar

6 tablespoons

vegetable shortening

½ teaspoon

vanilla extract

3 tablespoons

corn syrup
Instructions
To make the cookie dough: in a stand mixer with the paddle attachment, cream the butter and sugar together for 3 minutes until light and fluffy. Add salt, egg, and vanilla, and mix to combine. Then add the cocoa powder and flour, and mix until just combined.* Flatten the dough into a disk and chill for at least 20-30 minutes.
To bake the cookies: preheat the oven to 300

°F.

On a surface liberally dusted with cocoa powder, roll the cookie dough to ⅛" thick or thinner. Use a small circle cookie cutter (approx. 1.5 to 1.75-inch diameter) to cut circles from the dough, and transfer them to baking sheets lined with parchment paper. If desired, stamp patterns on the cookies by pressing down with a cookie stamp to indent.* Bake the cookies for about 16-18 minutes, and let them cool on the baking tray or transfer to a wire rack. 
To make the oreo cream filling: in the bowl of a stand mixer or a large bowl, combine all ingredients together and beat until smooth.
To form the Oreos: place about 2 teaspoons of filling in the center of one cookie (the flat side). Top with another cookie of the same size and squeeze gently until the filling is spread almost to the edge. 
Notes
The dough should be stiff but should hold together when pressed. If the dough is too crumbly and hard to work with, add cold water 1 teaspoon at a time until it holds together.
If using cookie stamps, dust them liberally with cocoa powder to prevent sticking. 
Keywords: homemade oreos, oreo copycat recipe, how to make oreo cookies, how to make oreo filling, oreo cream filling recipe