Aren't donuts the best?! They might be my favorite sweet treat! I admit, I'm usually more of a yeast donut girl, but these scrumptious chocolate cake donuts might have just changed my mind!
I love donuts because they're one of those desserts that are socially acceptable to eat for breakfast. Not that I care much about socially acceptable food schedules, but I do love grabbing a donut or sticky bun with my morning coffee.
These chocolate cake donuts have the best texture. Almost like a cross between a fudgy brownie and a fluffy cake donut. And to make the recipe easier and more adaptable, I've included two options for frying and two options for glazes.
Jump to:
Why You'll Love This Recipe
Ingredients
Here's what you need to make this recipe:
See recipe card for quantities.
How to Make Chocolate Cake Donut Dough
Making the dough for these chocolate cake donuts is pretty quick & easy, no stand mixer required! Here's how to make it:
Start by combining all of the wet ingredients in a mixing bowl: melted butter, sugar, egg, sour cream, and vanilla. Whisk until smooth.
Then, add all the dry ingredients to a large mixing bowl: flour, cocoa, baking soda, baking powder, and salt. Again, whisk to combine.
Now, pour the wet ingredient mixture into the bowl with the dry ingredients.
And finally, gently mix with a rubber spatula until well combined.
The donut dough is very stiff so it may get hard to mix at the end. If it's easier, you can knead it with your hands a few times until all the flour mixture is incorporated.
After you've finished the dough, cover the bowl and place it in the refrigerator to chill for at least 1 hour. This makes the dough easier to work with when rolling out and cutting the donuts.
How to Roll & Shape Donuts
Once the dough is well-chilled, liberally dust a clean surface with flour. I like to do this on a marble pastry slab or right on the countertop. It also helps to flour the rolling pin, the donut cutter, and your hands, since the dough is pretty sticky.
Then, using a rolling pin, roll the dough to about ½ inch even thickness.
Now, stamp the dough into donut shapes. I used a 3-inch circular biscuit cutter with a 1-inch circle hole in the center to make standard-sized donuts.
Since the dough is so heavily floured, I don't recommend rerolling the scraps. Instead, I like to make extra donut holes with the smaller parts of the dough.
Depending on how the dough rolls out, you should get at least 6 full-sized donuts (or up to 8). If you want a dozen donuts, you can easily make a double batch following these same instructions.
Air Frying vs. Deep Frying Donuts
Now it's time to cook the donuts! While I prefer the taste of deep-fried donuts, the convenience of the air fryer can't be beaten. So both are great options!
Deep frying method: Fill a heavy-bottomed pot with at least 3-4 inches of vegetable oil and preheat the oil to 375 °F. Then, carefully place the donuts into the hot oil in batches of 3-4 at a time and fry for about 2 minutes on each side. Let them cool on a wire rack or paper towel-lined plate to drain excess oil.
Air frying method: Preheat your air fryer to 350 °F. Then, spray the air fryer tray liberally with nonstick spray, place the donuts on the tray, and spray them with nonstick spray. (Alternatively, you can brush oil on the surface of the donuts with a pastry brush.) Air fry the donuts for 7-8 minutes.
For either frying method, make sure to fry in batches and not overcrowd the pan.
Donut holes cook in less time-- fry them in batches of 6-8 for just 1 minute on each side. Or if air frying, about 4-5 minutes total. I wouldn't recommend frying the donut holes at the same time as the larger donuts, since they cook at different rates.
Note: air-fried donuts will not rise as much as fried cake donuts and may appear a little flat. They also have a denser texture. But I promise, they're still delicious!!
Deep Frying Safety Tips
Heat oil slowly. Instead of cranking the heat to speed up the process, you want the oil to heat evenly, which means relatively slowly. It takes 20-30 minutes over medium heat, so start heating the oil early.
Use a heavy-bottomed pot like a Dutch oven to distribute heat evenly. Dutch ovens are excellent at retaining heat which helps maintain the temperature. This is safer and also leads to better-quality fried food!
Use an easy-to-read thermometer. You want a thermometer that is constantly monitoring the temp, like a Chef Alarm or candy thermometer, rather than an instant-read thermometer.
Wear an apron. Also, oven mitts or long sleeves help to protect your skin from potential oil splatter.
Drop food items into the oil slowly and gently.
Let oil fully cool before discarding/ transporting. Hot oil can melt plastic containers or sauce glass to crack.
Variations: Double Chocolate & Glazed
Which do you prefer-- glazed chocolate donuts or double chocolate frosted donuts? I couldn't decide, so you get both! Lucky you ◡̈
Both of the glaze recipes are super simple and don't involve any cooking or heating. Simply mix the ingredients together in a bowl until smooth.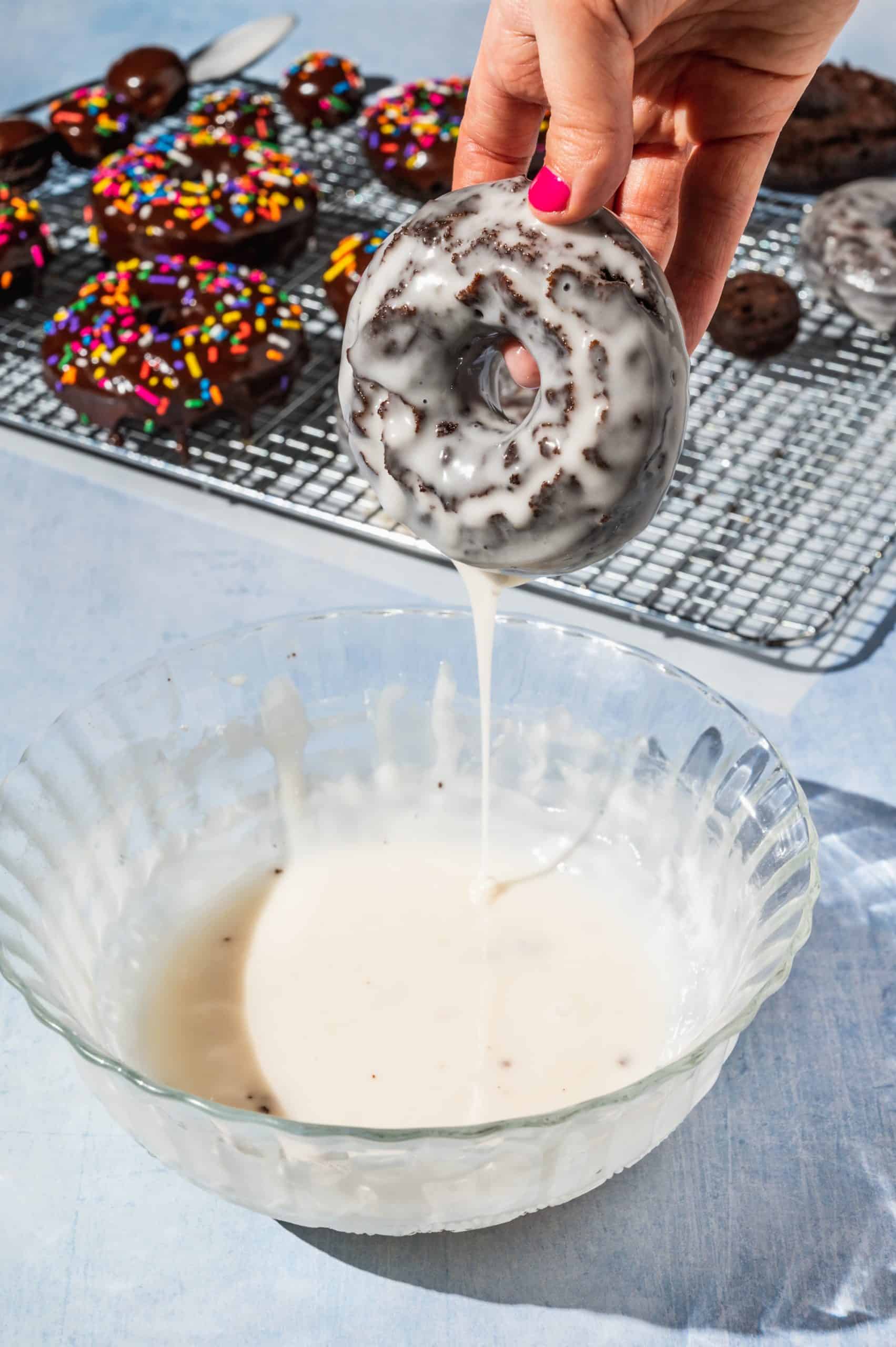 For glazed chocolate cake donuts, you'll want to completely submerge the donut in the glaze and let the excess drip off. The glaze should be relatively thin compared to the chocolate glaze. It looks white at first but will dry clear-ish like the cake donuts you normally find at bakeries (i.e. Dunkin Donuts!)
For double chocolate donuts with chocolate frosting, hold the donut parallel to the bowl of glaze. Then, dip the top half of the donut into the glaze, let the excess drip off, carefully flip over, and let the donuts dry on a wire rack. Top with sprinkles while the glaze is still wet if desired.
You can dip the donut holes in the glazes too! Again, I recommend completely covering the donuts with the clear glaze but only dipping the top half in the chocolate glaze, since it's a little thicker and messier.
You don't see chocolate frosted donut holes often enough-- aren't they so cute and fun?!
Equipment
You might think you need fancy kitchen equipment to make donuts, but you really don't! Here's everything you need:
Extras for the deep frying method:
Make-Ahead Instructions
Pretty much everything tastes best right after you make it, but this is especially true for donuts. There's nothing like a warm donut!
To make these chocolate donuts ahead of time, you can make them fully without the glaze the day before. Reheat them in the air fryer or oven to warm them, and then glaze them while warm.
The dough should be chilled for at least 1 hour but can be chilled overnight, as another option. In the morning, roll out the dough, then stamp, fry, and glaze the donuts. Making the dough ahead will save you some time!
FAQ
Are cake donuts baked?
They can be, but not always. Traditional cake donuts are fried not baked, like these. What makes a cake donut different from a yeast donut is the dough, not the cooking method.
What is an old-fashioned donut?
Old-fashioned donuts are a type of cake donut that usually contain sour cream or buttermilk and are fried at a lower temperature. This gives the donuts a moist texture and a crackly appearance.
How do I dispose of frying oil?
I think the easiest way to dispose of frying oil (after cooling!!) is by pouring it into a container like a plastic jug or milk carton. Once it's full, place the sealed container in the trash. Note: having a funnel really helps with the transfer!

Can I reuse frying oil?
Yes! After cooling, strain the oil into a container. You can reuse the oil up to 3-4 times. After that, it begins to break down.
Doughnuts vs Donuts - which is correct? 
Both! "Doughnuts" is the preferred spelling internationally, while "donuts" is also commonly used in the United States.
Print
📖 Recipe
Old-Fashioned Chocolate Cake Donuts
A cross between fudgy brownies and fluffy cake donuts, these chocolate cake donuts have the best moist texture and two options for glazes! They're traditionally deep-fried in oil, but I've also included air fryer instructions. 
Author: Kelly @ Butter and Thyme
Prep Time:

17 minutes

Chill Time:

1 hour

Cook Time:

8 minutes

Total Time:

1 hour 25 minutes

Yield:

6

-

8

donuts (+

1

dozen donut holes)

1

x
Category:

dessert, breakfast

Method:

air fryer (optional), deep frying

Cuisine:

Dutch, American
Donut Ingredients
4 tablespoons

butter, melted and cooled

1

cup

sugar

1

egg

1

cup

sour cream (or yogurt)

1 teaspoon

vanilla

2

cups

flour (+ extra for rolling out dough)

¾

cup

unsweetened cocoa powder

1 teaspoon

baking powder

½ teaspoon

baking soda

½ teaspoon

salt
Vegetable oil for frying (or nonstick spray for air fryer method)
Glaze Ingredients
2 ¼

cups

powdered sugar

2 teaspoons

corn syrup

½ teaspoon

vanilla
Pinch of salt

3 tablespoons

warm water
Chocolate Glaze Ingredients
2

cups

powdered sugar

6 tablespoons

cocoa powder

4 teaspoons

corn syrup

½ teaspoons

vanilla
Pinch of salt

3 tablespoons

warm water
Instructions
Make donut dough: in a medium mixing bowl, add the melted butter, sugar, egg, sour cream, and vanilla, and whisk until smooth. In another large bowl, add the flour, cocoa powder, baking powder, baking soda, and salt. Add the wet ingredient mixture to the dry ingredients and mix with a rubber spatula until just combined.* Cover and refrigerate for at least one hour (up to 12 hours or overnight).
Roll out and stamp donuts: liberally dust the surface with flour, then roll out the donut dough to ½ inch even thickness. Using a 3-inch round cutter, cut as many donuts from the dough as you can. Then, using a 1-inch cutter, stamp a hole in the center of each donut. Cut additional donut holes from the scraps (do not reroll the dough). 
To deep fry the donuts: fill a wide heavy-bottomed pan or Dutch oven with at least 3-4 inches of vegetable oil and preheat to 375-400 

°F.

Fry the donuts in batches of 3-4 each (or about 6-8 donut holes), 2 minutes per side (1 minute per side for donut holes), adjusting the heat to maintain the oil temperature. Remove the donuts from the oil with a spider strainer and transfer them to a wire rack or paper towel-lined plate to cool.  
To air-fry the donuts: preheat the air fryer to 350 °F. Spray the air fryer tray with nonstick spray, place the donuts on the tray (evenly spaced), and then spray the donuts. Cook for 7-8 minutes, flipping halfway if desired. (Spray very liberally with cooking oil for best results!)
Make the glaze (and/or chocolate glaze): combine all ingredients in a bowl and whisk until smooth. One at a time, dip the donuts into the glaze.* Then set them on a wire rack to dry and allow the excess glaze to drip off. 
Notes
The dough is very stiff so it may get hard to mix at the end. If it's easier, you can knead it with your hands a few times until all the flour is incorporated.
Donuts should be cool enough to touch, but can still be slightly warm when glazing.
For the regular glaze, completely submerge the donuts in the glaze. For the chocolate glaze, dip the top half of the donuts into the glaze, then invert on the wire rack to dry.
Keywords: chocolate cake doughnuts, cake donut with chocolate frosting, double chocolate donut, fried chocolate donuts, air fryer chocolate donuts