These delicious sticky toffee buns are like the best soft pillowy cinnamon rolls you've ever had topped with a thick layer of caramel and crunchy toffee bits. My family always makes cinnamon rolls on Christmas morning, but these sticky toffee rolls just might take over!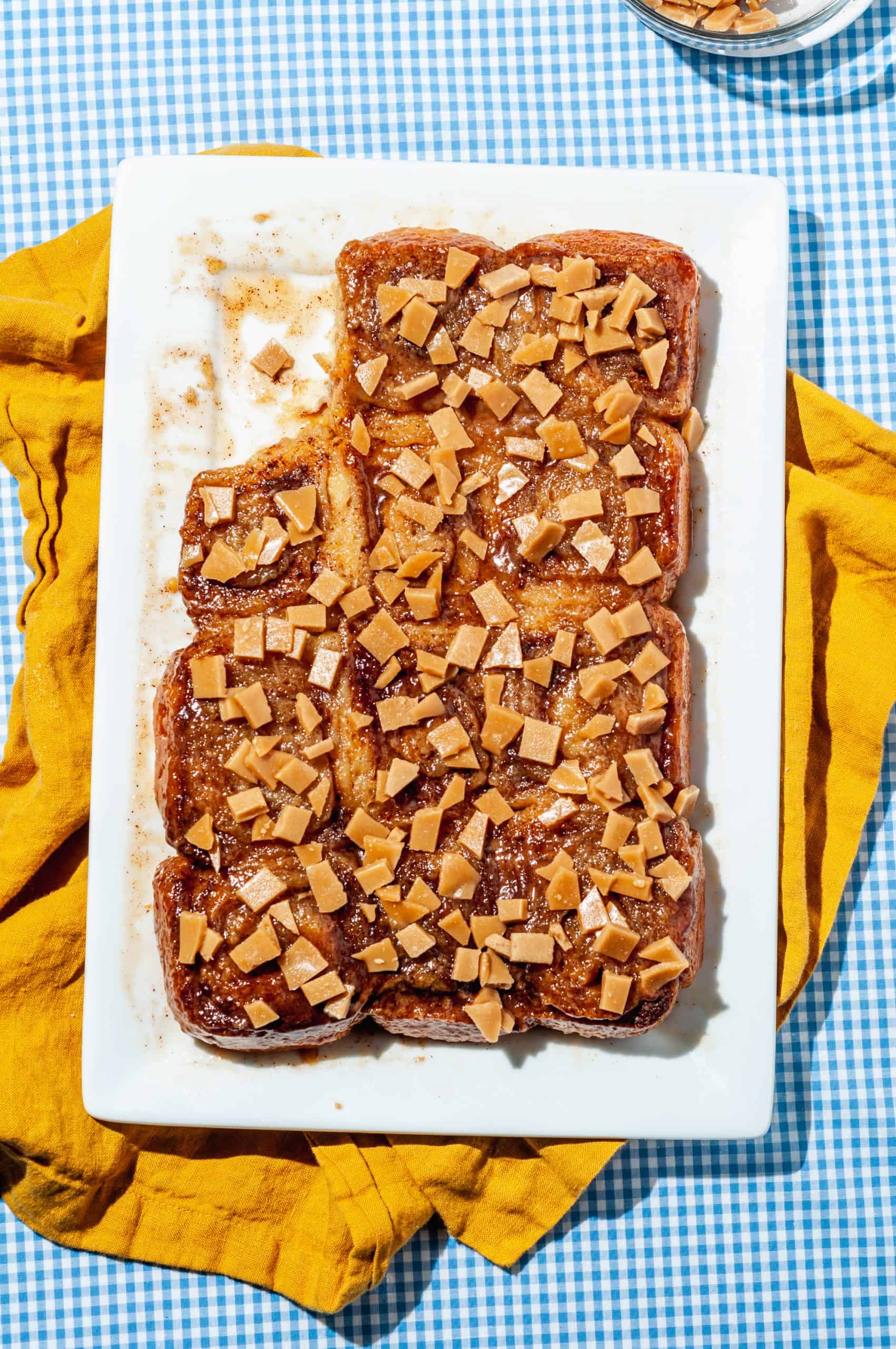 Those huge bakery-style sticky buns always look SO GOOD to me, but I usually find them a little too nutty. Plus, a few very important people in my life have nut allergies. So I wanted to create a sticky toffee buns recipe with all that caramel-y goodness on top, but without the nuts!
To keep the crunch factor, I decided to replace the pecans with toffee bits. If you have a nut allergy, make sure the toffee bits are nut free. Tessa from Handle the Heat has a great simple recipe to make your own toffee bits with just butter, sugar, and a pinch of salt– no nuts!
Oh, and if you love cinnamon desserts, you should try my recipe for Cinnamon Toast Crunch cereal treats too ◡̈ My Grandma's Easy Apple Snack Cake is another fan-favorite!
Jump to:
Ingredients
Here's what you'll need to make these ooey gooey sticky toffee buns:
Milk - I use whole, but you can substitute any milk.
Active dry yeast - or you can substitute instant yeast by using about 25% less (see recipe card notes for details)
Unsalted butter
Sugar
Eggs
Salt
Potato flour - potato starch or instant mashed potatoes also work just as well. This is like the secret ingredient to get the perfect texture! Just think of how soft and pillowy potato rolls are.
Flour - some people use bread flour for sticky buns, which you can do. I prefer all-purpose flour for the right balance between soft and chewy.
Brown sugar - you can use light or dark (I used light because that's what I usually have).
Cinnamon
Toffee bits - make your own nut free toffee or use Heath English Toffee bits. I think the plain toffee bits without chocolate are a little harder to find though, so you might want to order online.
Vanilla extract
Corn syrup or honey
Heavy cream - adding cream to the sticky caramel mixture helps it stay soft even after cooling.
See recipe card for quantities.
How to Make Sticky Toffee Buns
Start by making the dough: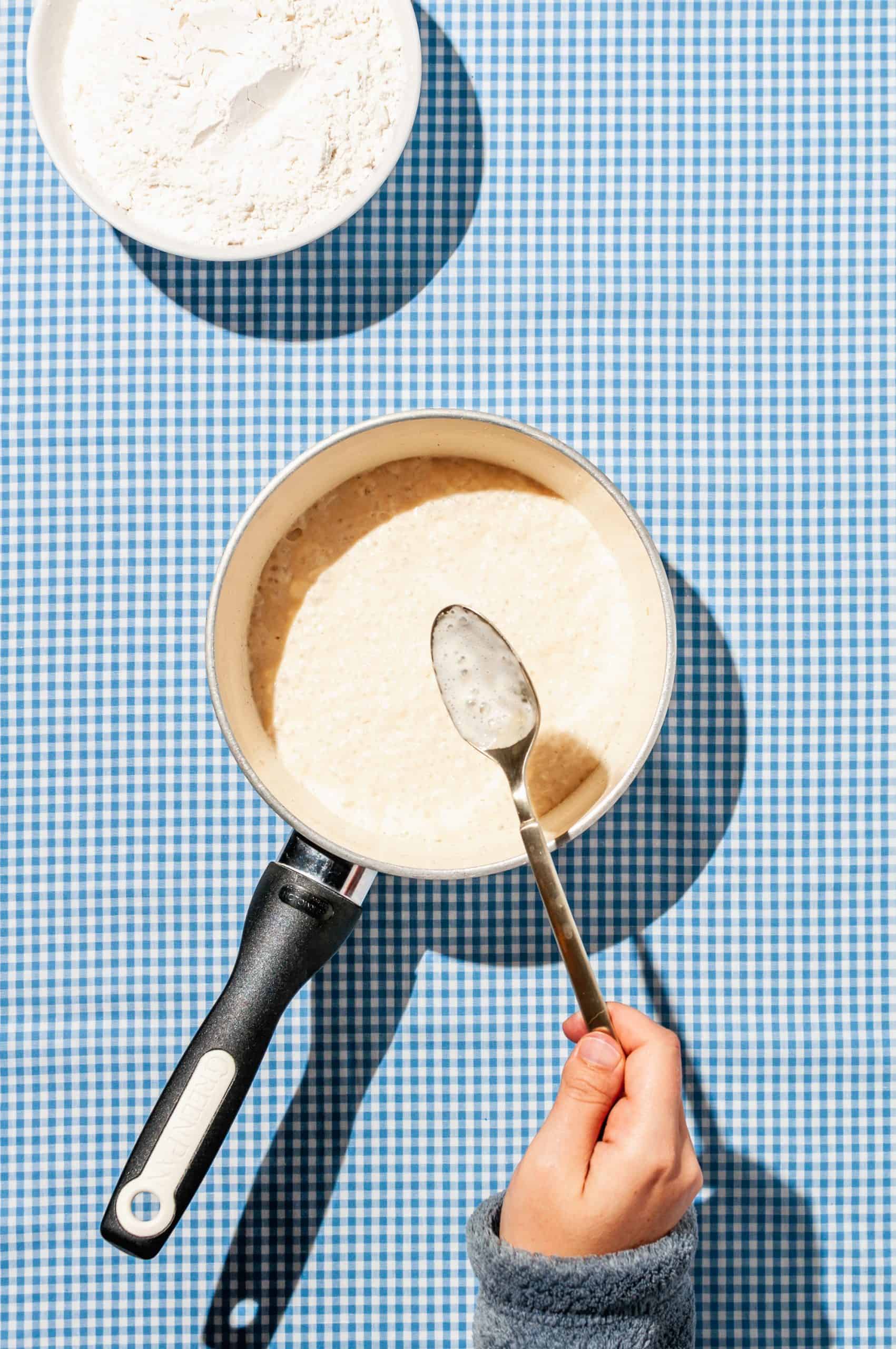 First, heat the milk to about 110 degrees, then add the yeast and half of the sugar. Be careful not to heat the milk past 120 degrees-- it will start to kill the yeast. The yeast mixture should be foamy after 5-10 minutes.
In the bowl of a stand mixer, cream the butter and remaining sugar. Then add the eggs one at a time, followed by salt, potato starch, and the yeast mixture. Mix to combine. It might look a little clumpy at this point- that's totally normal!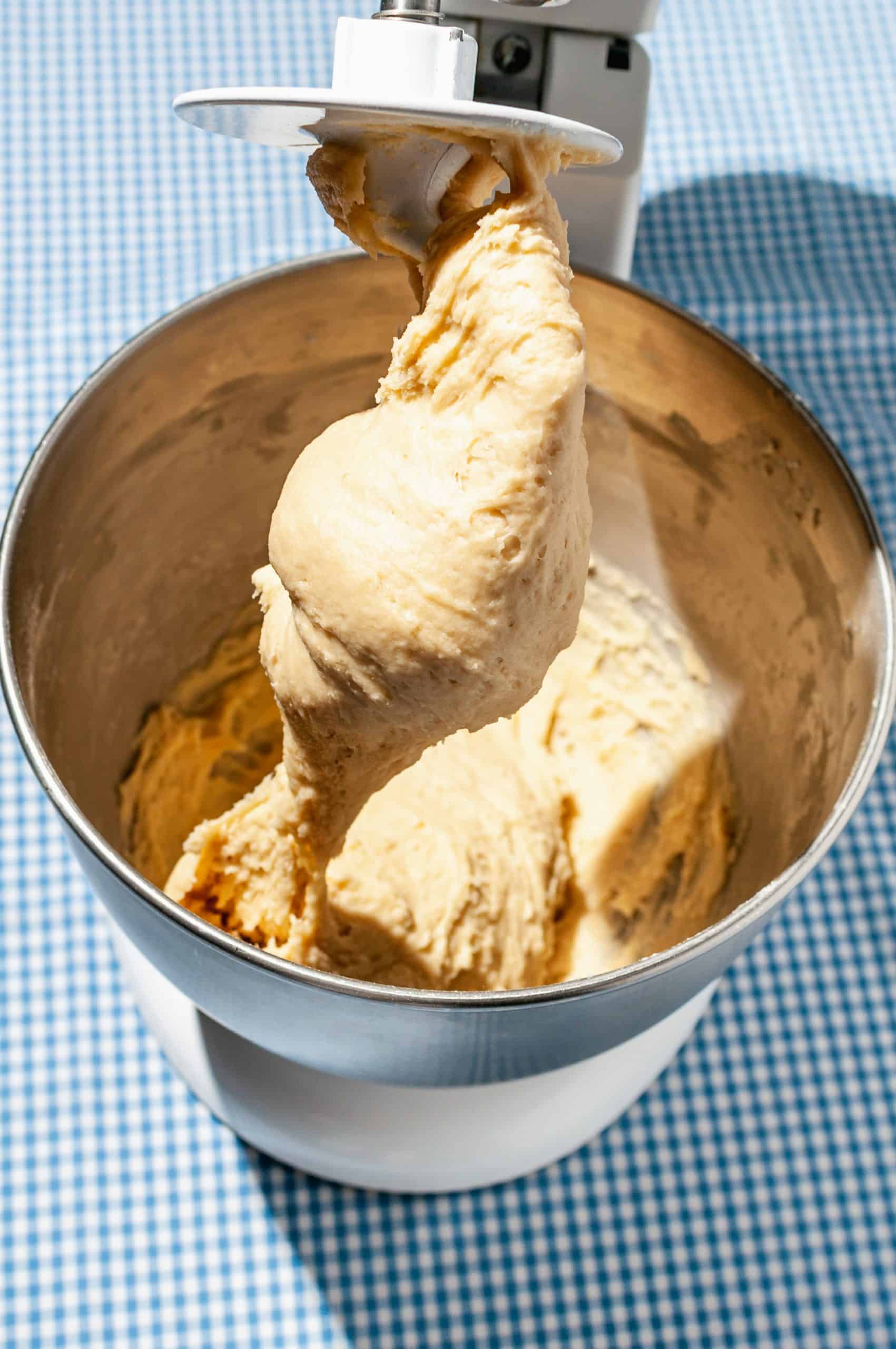 Switch to the dough hook attachment and add the flour 1 cup at a time. Knead the dough for about 5 minutes on medium-low speed until smooth.
Transfer the dough to a large greased bowl and cover with plastic wrap. Let rise for about 2 hours in a warm place until doubled in size.
Top tip
Let the dough rise in the warmest part of your kitchen. Ideally, you want it to be around 75-80 degrees. Usually, the best spot is near the stove, or in an oven that's turned off with the light on. Or you can preheat to oven to the lowest possible temperature, then turn it off, and put the bowl of dough in after it's cooled down to the right temperature range.
How to Roll & Assemble Sticky Buns
If you've ever made cinnamon buns, the process is nearly identical! The only difference is adding a sticky caramel to the bottom of the pan that will be inverted to become the top layer.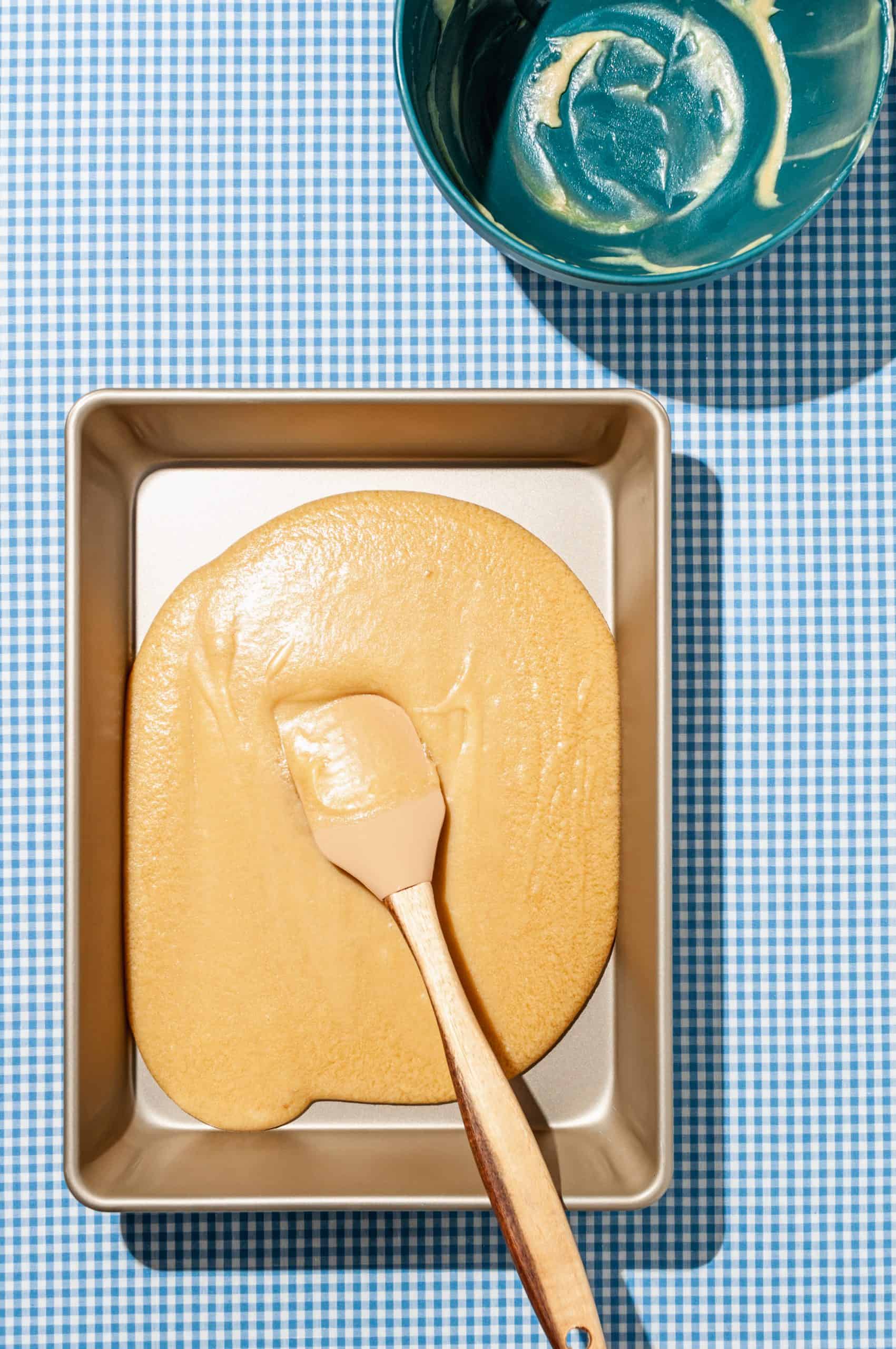 For the sticky topping, combine all ingredients in a bowl. Then pour the mixture into the pan.
Then, combine the butter, cinnamon, and sugar to make a paste for the cinnamon roll filling.
Spread the cinnamon paste over the rolled out dough and roll into a tight spiral.
The best way to cut the cinnamon sticky buns is actually with dental floss! NOT the mint-flavored stuff. Unflavored dental floss works perfectly to cut the rolls without squishing them.
To make sure the rolls are even, make an indent halfway. Then, make another indent in the middle of each half, dividing the log into 4 quarters. You should mark 3 sticky buns per quarter to get 12 total.
Carefully slide the floss under the log. Then, cross the floss over the top and pull in opposite directions to cut. You'll be surprised how easy it really is and how neatly the slices come out!
If you don't have unflavored dental floss to cut the cinnamon buns, you can use a wire cutter or a sharp knife instead.
After you've cut them, transfer the rolls to the prepared pan. Nestle them right in on top of the sticky caramel mixture and cover with plastic wrap. They'll need to complete a second rise (about 1 hour) before baking.
How to Serve Sticky Toffee Buns
After baking the sticky buns, first you'll need to invert the pan so the sticky caramel layer is on top. Here are a few helpful tips:
Let them sit for about 5 minutes before flipping.
Use oven mitts- the pan will still be hot!
Place a large plate or platter on top of the pan, then holding both the pan and the plate together, quickly flip them over.
Leave the lid on inverted for a minute before removing to let all the extra caramel sauce drip from the pan onto the sticky buns.
Now, top the sticky buns with toffee bits! The reason you add the toffee bits after and not before baking (like you would with nuts) is because they would melt and lose their shape/ texture in the oven. You can also sprinkle with a little bit of flaky sea salt if you'd like!
You can eat these with your hands, but they'll definitely be gooey and messy, so you might want to go with a fork and knife. How you serve them is up to you!
Substitutions & Variations
For more traditional sticky buns, you can add nuts and/or leave out the toffee bits.
If you don't love cinnamon, you can leave that out of the filling and do a simple butter-sugar mixture instead.
If you don't have potato starch, you can substitute with an additional ⅓ cup flour.
This also makes a great cinnamon roll recipe! The dough and the filling would be exactly the same. But instead of making the caramel topping, just place them into an empty lightly greased pan and bake. Then top with a simple vanilla icing after baking.
Equipment
Here's a list of everything you'll need to make these sticky toffee buns:
Small pot or microwave - to warm the milk.
Instant read thermometer - you'll need a thermometer to test the temperature of the milk AND see when the sticky buns are done (not necessary, but nice to have!)
Stand mixer - while you can still make this recipe without one, a stand mixer really helps. I use both the paddle and dough hook attachments to make the dough (paddle to cream the butter and sugar, and the hook to knead the dough)
Mixing bowls
Spoon or spatula
Plastic wrap
Rolling pin
Offset spatula - to spread the cinnamon filling.
Unflavored dental floss - or sharp slicing knife.
Rectangular cake pan - I recommend a nonstick 13x9 metal pan. Glass will also work, but you'll want to grease the bottom and sides of the pan to prevent sticking. As long as your nonstick is relatively new and in good condition, you don't have to grease it.
Large plate or serving platter
If you want to try to make homemade toffee, you'll need a small heavy-bottomed pot and a candy thermometer (you can also use an instant read thermometer but it will be a little more difficult). The first time I tried making toffee, it kept separating because my cheaply made pot heated really unevenly, so the heavy-bottom part is really important.
Make-Ahead Instructions
These sticky toffee buns are best eaten warm, the same day that they're baked. Luckily, you can easily make them the night before and bake them the next morning.
Make-ahead method: make the sticky toffee buns through step 5, cover the pan, and place it in the refrigerator. The next morning, take the sticky buns out of the fridge and let sit (covered) at room temperature for about 2 hours or until nearly doubled in size. Once that final proof is complete, bake them as you normally would.
Storing & Reheating
If you have extra sticky toffee buns, keep them in a ziptop bag or airtight container at room temp for up to 2-3 days. You don't need to reheat them, but I think they taste better quickly reheated in the microwave for 20-30 seconds.
If you anticipate not eating all of the sticky toffee buns right away, store the sticky buns and the toffee topping separately. Unfortunately, the toffee bits will soften when they're reheated and lose their crunch. They'll mostly retain their shape though, and they'll still taste great! If you store the toffee separately, it will keep for 1-2 weeks.
FAQ
What's the difference between cinnamon buns and sticky buns?
They have a lot of similarities. Both are made from a sweet yeasted dough and are usually rolled out and filled with a sugar swirl. Typically, cinnamon buns are frosted with a thick vanilla icing and sticky buns are baked over a sticky layer of caramel sauce that becomes the topping. The syrup layer of sticky buns often contains pecans, but in this recipe, we've replaced that crunch with toffee bits. 
What's the difference between toffee vs. caramel?
Both are made primarily from cooked butter and sugar so they are very similar! Caramel is cooked to a lower temperature so it stays chewy. Toffee is heated past that point so it hardens when it cools.
Does toffee have nuts in it?
The most simple toffee recipes will only contain butter, sugar, and salt. But, most commercially available toffee (like the popular Heath Bar) also contains almond. The pieces of almond are so small you might not even see or notice them! But if you have a nut allergy, or you're baking for someone with a nut allergy, make sure you check your ingredient label!!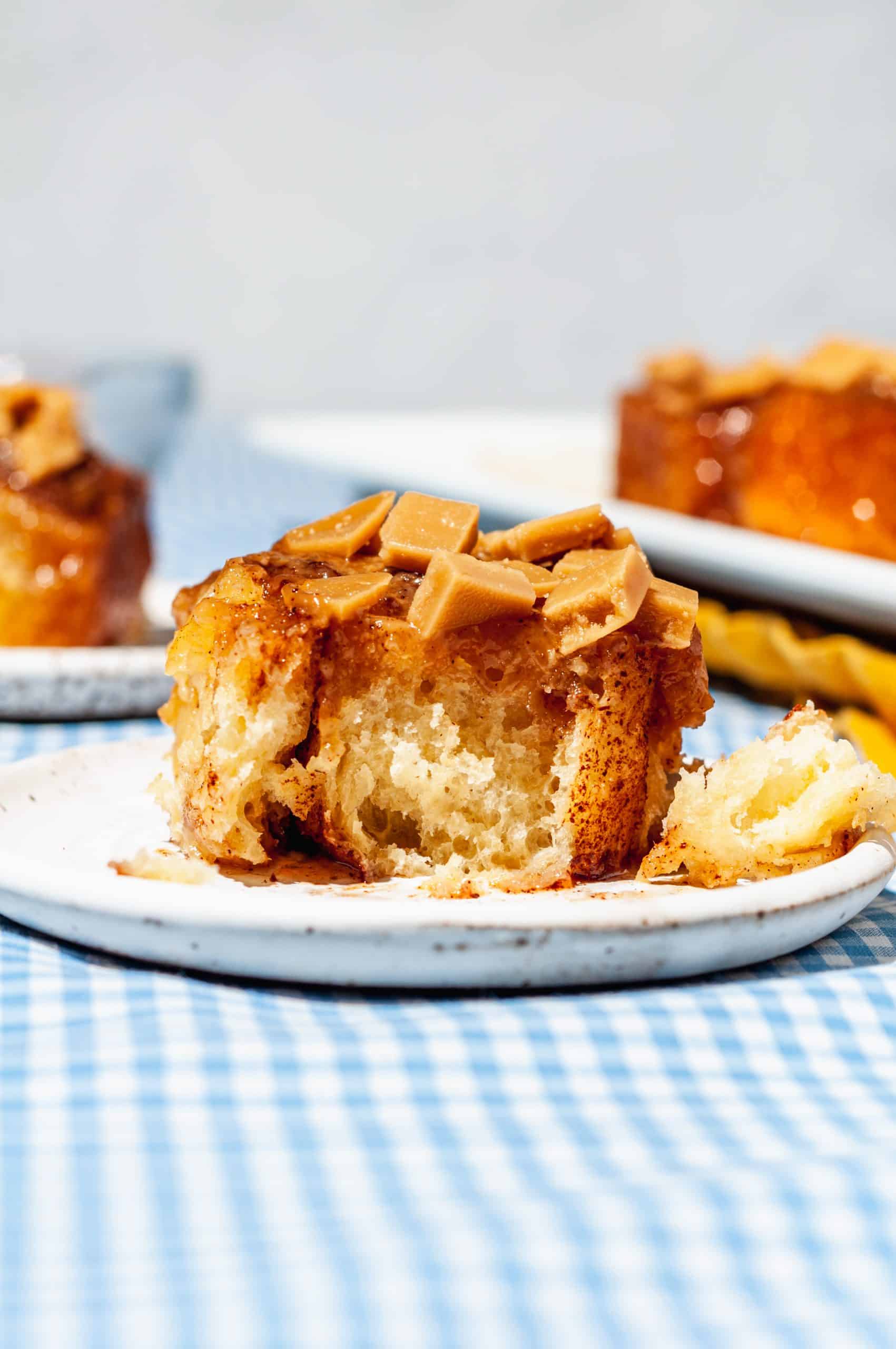 Print
📖 Recipe
Sticky Toffee Buns (no nuts!)
Think of the best soft pillowy sticky buns you've ever had, but without the nuts! These still have that sweet caramel layer on top, but instead of pecans, these are topped with crunchy toffee bits after baking. The same dough recipe can also be used to make cinnamon rolls. 
Author: Kelly @ Butter and Thyme
Prep Time:

25 minutes

Cook Time:

35 minutes

Total Time:

1 hour

Yield:

12

servings

1

x
Category:

dessert, breakfast

Cuisine:

American
Dough
1

cup

whole milk

½

cup

sugar, divided

3 ¼ teaspoons

active dry yeast (1 ½ packages) or sub. 2

½ teaspoons instant yeast

5 tablespoons

butter, room temperature

2

eggs

1 teaspoon

salt

⅓

cup

potato flour, potato starch, or instant mashed potatoes

3 ⅔

cups

all-purpose flour*
Sticky Toffee-Caramel Topping
½

cup

toffee bits

½ teaspoon

vanilla

½ teaspoon

salt

1 ¾

cups

brown sugar (light or dark)

½

cup

corn syrup or honey

¾

cup

melted butter

¼

cup

heavy cream
Cinnamon Filling
¾

cup

brown sugar (light or dark)

2 tablespoons

cinnamon

¼

cup

butter, softened*
Instructions
Warm milk to 110 degrees F in the microwave or stovetop. Add half of the sugar (¼ cup) and all of the yeast to the warm milk, and let sit 5-10 minutes or until foamy.
Make dough: in a stand mixer with the paddle attachment, cream the butter and remaining ¼ cup of sugar for 2-3 minutes. Add the eggs one at a time, scraping bowl in between. Then add the salt, yeast mixture, and potato starch. Switch the attachment on the mixer to the dough hook. Add the flour about 1 cup at a time until it's all added. Knead on medium-low speed until smooth, about 5-7 minutes.* Then transfer the dough to a lightly greased bowl and cover with plastic wrap or a damp kitchen towel. Let rise in a warm place for 2 hours, or until doubled in size.
Make sticky caramel topping: combine all ingredients except the toffee bits in a small mixing bowl. Then pour the mixture in the bottom of a 9x13 baking dish. 
Make cinnamon filling: combine ingredients in a small mixing bowl. 
Assemble sticky buns: roll out the dough into a large rectangle (about 18 inches long x 12 inches wide). Spread the cinnamon filling evenly over the surface, then roll into a tight spiral, creating a log about 18 inches long. Using a sharp knife or unflavored dental floss, trim about ¼" from each end and discard (optional). Then, cut into 12 individual pieces about 1 ½ inches wide.* Place the rolls evenly in the prepared pan on top of the caramel, and let rise for about 1 hour.*
Bake at 350 degrees F for 35 minutes, or to an internal temperature of 190 degrees, covering with foil after 20 minutes. Let sit for about 5 minutes, then carefully flip the baking dish onto a large platter and top with toffee bits.*
Notes
The dough won't completely pull away from the sides of the bowl like other bread doughs. It has a lower ratio of flour to liquid and fat like eggs, milk, and butter, that will contribute richness to the dough! The absorption of flour can vary based on brand and weather/humidity, so if your dough is too sticky to work with, add a couple extra tablespoons of flour until it holds together.

For the cinnamon filling, it's easiest to spread when the butter is VERY soft. You can microwave the butter in 10 seconds intervals and stir until it's not fully melted but very soft and spreadable.

To cut the sticky buns into 12 even pieces, it's easiest to first cut in half, then quarters. Then cut each quarter into thirds.
After forming the sticky buns, you can place the pan in the refrigerator overnight until ready to bake the next day. Remove from the fridge 1-2 hours before baking. 
After flipping, leave the cake pan inverted for 1 minute to let all of the caramel drip off the pan onto the buns.

Keywords: sticky buns, sticky toffee buns, sticky buns no nuts