Sour cream and onion dip has always been my favorite appetizer. I've been known to call it my kryptonite (lol). Usually, I reach for the Lipton soup mix onion dip, but when I'm feeling fancy, I'll make this baked caramelized onion dip recipe with bacon and gruyere!
It has all the things you love about sour cream and onion dip, but then you take it up a notch by adding a ton of caramelized onions and a layer of broiled cheese on top. It's kind of like if onion dip and french onion soup had a baby. I usually serve it with kettle-cooked potato chips, but it would also be great with crackers or toasted bread.
This cheesy caramelized onion dip is the perfect addition to your appetizer spread on football Sundays! If you're looking for more game day appetizer recipes, try these delicious air fryer croquettes too ◡̈ I also have a great recipe for Bloody Marys with Bacon to stay on the bacon theme!
Jump to:
Ingredients
Here's everything you'll need to make this cheesy caramelized onion dip:
Onions - use yellow or sweet onions. I use about 2 medium onions, sometimes 3 if they're smaller. I weigh the onions before dicing, but don't worry too much about that, it doesn't have to be exactly 1 lb.
Bacon - I used thick cut, but you can use regular too. Or you can leave it out if you prefer.
Butter - unsalted or salted works.
Shallot - shallots are like a delicious mixture of onion and garlic. You could also substitute minced garlic.
Dry sherry - to deglaze the pan after caramelizing the onions. You could use white or red wine instead, or if you want to omit alcohol, you can use chicken or beef stock.
Sour cream - I'd avoid low-fat sour cream for this onion dip recipe, since low-fat dairy is more prone to curdling when heated.
Cream cheese
DIY Lipton onion soup mix - a mix of garlic powder, onion powder, and dried minced onion flakes.
Flour - helps prevent sour cream from curdling in the oven.
Worcestershire sauce - leave this out (along with the bacon) if you're making a vegetarian onion dip (it has anchovies).
Thyme - fresh, not dried (or substitute ¼ teaspoon dried if you can't find fresh). Thyme adds to the french onion soup flavor.
Salt and pepper
Gruyere - a type of Swiss cheese that's an excellent melting cheese! It's usually what's on the cheesy top layer of french onion soup. You can substitute any good melting cheese - cheddar would be great!
Potato chips - or bread for serving.
See recipe card for quantities.
How to Make Baked Caramelized Onion Dip
To make this delicious cheesy baked onion dip, start by crisping up the diced bacon in a large skillet. Choose a larger pan than you think you'll need. You'll use the same pan to caramelize the onions later.
I'd also recommend using a stainless steel skillet over a nonstick skillet for this recipe. This way, you can scrape off the caramelized bits of bacon and onion when you deglaze the pan. These flavorful bits, called fond, then get mixed into the caramelized onion mixture and it adds SO much flavor to the dip!
Once the bacon is nice and crispy, remove it from the pan using a slotted spoon, leaving the rendered bacon fat behind. Now, we'll caramelize the onions in the bacon fat for extra bacon-y flavor. Or if you skip the bacon, start out with a little vegetable oil instead.
How to Caramelize Diced Onions
Typically, caramelized onions are thinly sliced. I'm not sure if this is due to tradition, but you can caramelize onions no matter how they are sliced or diced. The important thing is that they are cut into evenly sized pieces so they cook evenly. Also keep in mind, smaller cuts will cook more quickly.
I chose to dice the onions for this recipe to make the onion dip easier to eat. If you want to learn more about how to dice an onion, this video is an excellent resource.
Time needed: 45 minutes
Here, I'll go through how to caramelize diced onions for maximum sweetness and depth of flavor.
Add raw diced onions to a large greased skillet.

Add onions to the same pan as the bacon with a pinch of salt (Salt helps the onions release moisture, which helps them soften.) If there's a LOT of bacon grease, you can get rid of some, but you want to leave a couple of teaspoons to prevent the onions from sticking. If you don't use bacon, start off with a little vegetable oil instead.

Cook over medium-low heat until translucent.

Stir frequently for even cooking. Note: these have a little more color than they normally would at this point because they've picked up some of the brown from the bacon that was cooked in the same pan.

Continue to cook over medium-low heat until lightly caramelized, then add butter and shallot.

Add a splash water as needed along the way to help soften the onions and promote even cooking. Wait until the last 15 minutes to add the butter and shallot until to prevent them from burning.

Deglaze the pan.

Add sherry or wine to scrape up all of the fond at the bottom of the pan. You can actually use any liquid to do this - beer works great too! If you don't want to use alcohol, you could use chicken or beef stock.
More Tips on Caramelizing Onions
There are some tricks that supposedly speed up the process of caramelizing onions, but they don't really work. Yes, the onions will brown faster if you add baking soda, but they won't produce the same depth of flavor. Caramelizing onions requires some patience. It takes at least 45-60 minutes to caramelize the natural sugars in the onions, turning them from bitter and pungent to sweet.
If you're curious to learn more about caramelizing onions and the science behind it, check out this article from Serious Eats.
How to Bake & Broil Caramelized Onion Dip
Combine the rest of the ingredients in a mixing bowl: cream cheese, sour cream, spice mix, thyme, and other seasonings. Add the cooked bacon and caramelized onions, and mix well to combine.
Transfer the onion dip mixture to a broiler-safe baking dish. Then, top with a layer of shredded cheese. Place the dish in the oven and cook at 350 degrees F until the cheese is fully melted.
After the cheese is melted, I like to lightly broil the top of the cheese so that it turns golden brown. You can skip this step if you don't feel comfortable using the broiler.
Important Notes on Broiling
When you place greasy foods too close to the broiler, it has potential to catch on fire. This dip contains bacon + gruyere, which is a relatively high-fat cheese, so you might see a layer of grease form on top after baking. You'll want to blot this with paper towels to remove excess grease before switching to broil.
Also, make sure there is at least 4-6 inches of space above the dish, and make sure your dish is broiler-safe. If you're not familiar with your oven's broiler, start with the broiler set to low and keep a very close eye on it. The onion dip should only take a minute or two to brown on top!
Substitutions & Variations
To make a vegetarian version of this baked caramelized onion dip, omit the bacon and Worcestershire sauce. (Worcestershire contains anchovies if you didn't know!) You can add a small splash of soy sauce instead if you'd like.
You can also turn this into a cold caramelized onion dip recipe! Just don't add the flour or cream cheese, and use the full pint of sour cream instead. You also won't need the cheese for a cold dip. It would be more like a copycat Lipton french onion dip this way, just jazzed up with caramelized onions.
How to Serve Baked Caramelized Onion Dip
Like many au gratin dishes, it's easiest to serve this dip in the same vessel that you bake it in. Since this onion dip recipe makes approximately 3 cups, it works best with a dish that has a capacity of about 4 cups (or 1 quart).
Something like this oval au gratin dish would be perfect! You want a dish that's thermal resistant, so it's safe to bake or broil under high temperatures. And ideally, it's also cute enough to double as a serving dish.
As far as portions go, this recipe serves approximately 3-4 people. It's meant to be an appetizer, so it really depends on how many other appetizers you're having and how hungry you are...
This recipe can easily be doubled (or even tripled!) if you're feeding a larger group. Just make sure to choose a baking dish that fits the volume of the dip you're making. The process is the same, just double all of the ingredients.
You can easily make this dip ahead of time, and it actually tastes better that way! Letting onion dip chill in the fridge for a few hours or even days allows flavors to meld. Make the dip through step 3, then finish by topping with cheese and broiling just before serving.
And because it's onion dip, I like to serve it with potato chips. Thicker kettle-cooked chips work better since this dip is fairly thick and heavy. Especially with the cheese layer, thin potato chips are just too brittle. You could also serve this dip with crusty bread or hearty crackers, if you prefer.
Equipment
Here's what you'll need to make this baked caramelized onion dip:
1-quart shallow broiler-safe dish - a shallow au gratin dish is preferred, but not necessary. Any shape dish will work-- square, rectangular, circular... use whatever you've got. You can use a deeper dish instead, but it wont have as much space for the cheese layer on top.
Large stainless steel skillet - a 10-inch skillet is good for a smaller batch, 12 inches is better if you're doubling the recipe.
Slotted spoon - to remove the bacon. A spider strainer also works.
Rubber or wooden spatula - to deglaze the pan. I prefer a wooden spatula with pointed corners for this.
Box grater - to shred the cheese. You could also use a food processor with the grater blade attachment.
Mixing bowl
Cutting board
Chef's knife - I love this 8-inch Victorinox
Storage
This onion dip keeps for about 4 days in the refrigerator. I personally wouldn't recommend reheating it. I find that the cheese layer is usually the first to go anyway. So I just transfer the extra dip to a Tupperware and eat the leftovers as a cold dip.
FAQ
What does it mean to sauté vs. caramelize onions?
The main difference is the amount of time and the taste. You can sauté onions over high heat for 10 minutes, and they will soften and brown, but they will still taste pungent and oniony.

Caramelizing onions is done over low heat and takes at least 45 minutes to an hour. This slow cooking method breaks down the onions in a way that transforms their natural sugars, so they taste sweeter and less pungent.
Can you caramelize onions in the oven?
Yes! Although, I prefer the stovetop method because you can get a better look at them as they're caramelizing. And you can stir them often, which helps them to cook more evenly.

If you want to try the oven method for caramelizing, toss sliced or diced onions with some oil and place on a rimmed sheet tray with a little bit of water. Then bake at 400 degrees F. You'll still want to stir them every 10 minutes or so for even cooking.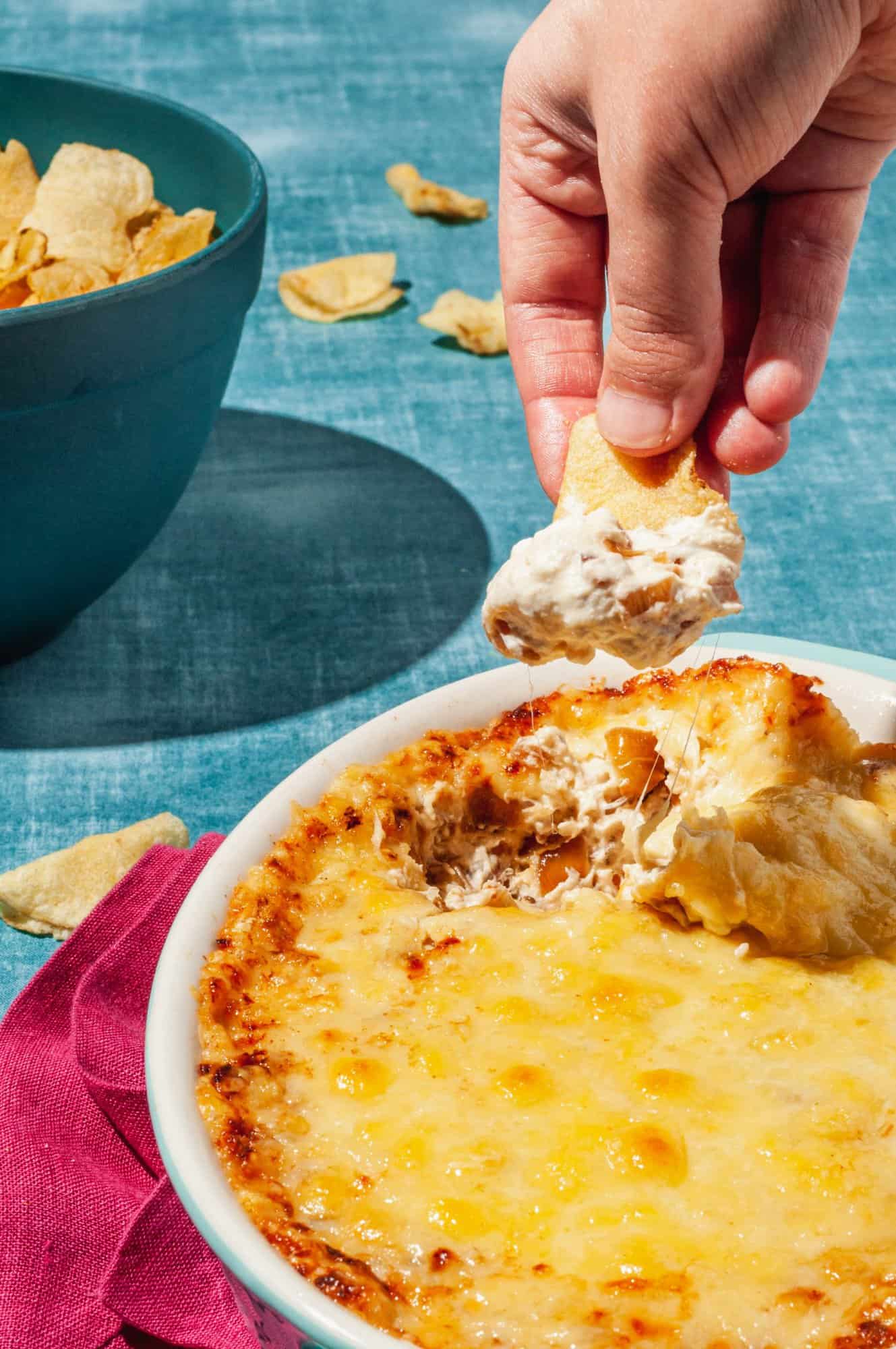 Print
📖 Recipe
Baked Caramelized Onion Dip with Bacon and Gruyere
Author: Kelly @ Butter and Thyme
Prep Time:

1 hour

Cook Time:

15 minutes

Total Time:

1 hour 15 minutes

Yield:

3 cups

1

x
Category:

appetizers

Method:

oven, broil

Cuisine:

French, American
2

oz

. bacon, diced small

1

lb

. yellow or sweet onions, diced small (2-3 medium onions)

1 tablespoon

unsalted butter

1

small shallot, minced

3 tablespoons

dry sherry (or sub. white wine)

1 ½

cups

sour cream

4

oz

. cream cheese, softened

1 teaspoon

garlic powder

1 teaspoon

onion powder

2 teaspoons

dried minced onion flakes

2 teaspoons

flour

¼ teaspoon

Worcestershire sauce

½ teaspoon

fresh thyme
Salt and pepper, to taste

4

oz

. Gruyere cheese, shredded
Potato chips (for serving)
Instructions
Cook the chopped bacon until crisp. Once crispy, remove the bacon from the pan with a slotted spoon and transfer to a plate lined with paper towels to drain excess grease. Carefully wipe out excess grease from pan if necessary (keeping about 2-3 teaspoons or enough to just barely coat the bottom of the pan).
Caramelize the diced onion: In the same pan, add the onions and cook over medium-low heat until soft and translucent. Continue to cook the onions over medium-low heat until they slowly begin to caramelize* After about 30 minutes, add the butter and minced shallot, and cook for about 15 more minutes until the onions are a deep brown color. Finally, add the sherry and deglaze the pan (scrape up all the stuck on bits with a wooden spoon or rubber spatula). Set the caramelized onions aside to cool slightly, and preheat oven to 400 degrees F. 
In a mixing bowl, combine sour cream, cream cheese, garlic powder, onion powder, dried onion flakes, flour, Worcestershire, thyme, salt and pepper. Mix in the cooled bacon and caramelized onions.
Transfer the dip mixture to a large, shallow broiler-safe dish and top with shredded cheese. Bake for 10-15 minutes, until cheese is melted and bubbly. Turn on the broiler for last 1-2 minutes until cheese starts to brown on top*
Serve warm with kettle-cooked potato chips, crackers, or toasted bread. 
Notes
When caramelizing onions, be patient and let them cook low and slow for maximum flavor. If the onions start sticking to the pan and burning, add a splash of water as needed. You can find more helpful tips on caramelizing onions in the blog post above.
Once the cheese is fully melted, first, blot the top with paper towels to absorb any excess grease. Then, turn on your oven's broiler setting to lightly brown the top cheese layer. I used the low setting on my oven, but you may want to use the high setting if the oven rack is further away from the heating element. Be sure to get rid of excess grease before broiling and keep the dish at least 4-6 inches from the heating element to avoid fire!
If you're not sure if your dish is broiler safe but it's safe at high temperatures in the oven, you can skip the broiler step and instead bake at the highest temperature your dish recommends (425-450 degrees) to try to brown the cheese.
Keywords: baked caramelized onion dip, cheesy caramelized onion dip, caramelized onion dip with bacon