This is one of my FAVORITE strawberry desserts (along with creamy strawberry pie bars!) Made with angel food cake-- a fluffy, delicate, mild sponge cake-- this angel cake strawberry shortcake is the perfect texture to absorb all of those sweet, delicious strawberry juices.
I love making this recipe when strawberries are in season because it lets fresh strawberries shine as the main ingredient. But this recipe is also great for utilizing less-than-perfect strawberries-- tossing the berries in sugar helps to soften them and release their juices.
Jump to: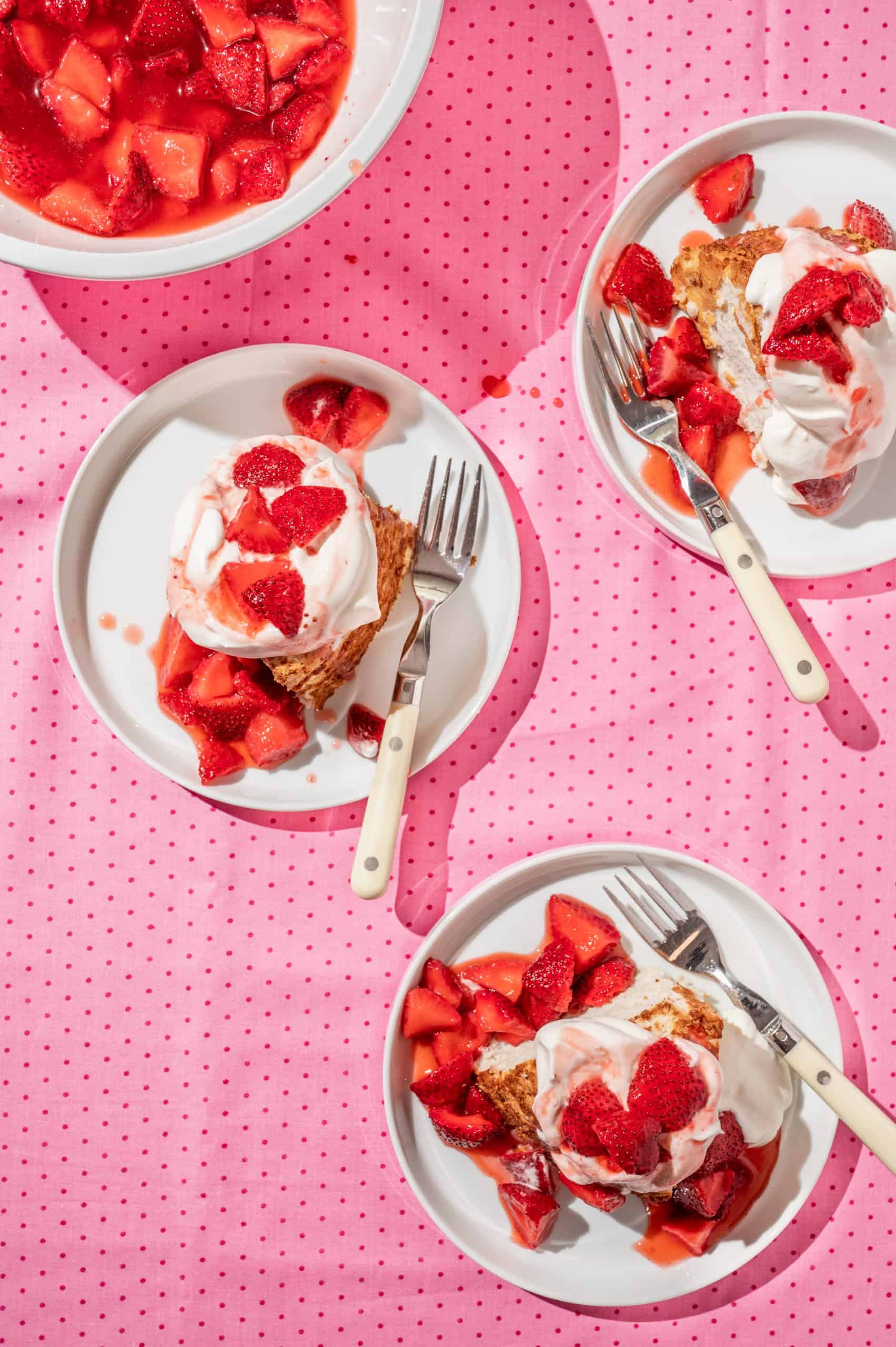 Why You'll Love This Recipe
If you've never had it, angel food cake is sure to be the lightest, fluffiest sponge cake you've ever tasted! It contains no butter or egg yolks so it's super light and naturally fat-free. And it pairs perfectly with fresh fruit and whipped cream.
The simple strawberry topping is AMAZING! Strawberries are first tossed with sugar to release their juices. Then, we lightly thicken the juices to create a light strawberry syrup.
Ingredients
Strawberries - fresh strawberries when they're in season, or frozen and defrosted works too.
Egg whites - the volume of angel cake comes from whipping the egg whites with sugar to create a meringue.
Cream of tartar - a white powder that looks similar to baking powder. It helps stabilize the meringue or keeps it from deflating, which keeps the angel cake light and fluffy.
Sugar - I used a combination of granulated sugar + powdered sugar in this recipe. Granulated sugar for the traditional meringue and macerating the strawberries (aka tossing with sugar and letting them sit). Powdered sugar is best for seamlessly folding into the cake batter and lightly sweetening whipped cream without the risk of graininess.
Salt - just a tiny bit for added flavor.
Vanilla extract - to lightly flavor the angel cake and whipped cream and provide depth to the dessert.
Cake flour - while you can use all-purpose flour, I prefer cake flour because it has a lower protein content. This makes it easier to get the lightest possible cake texture.
Cornstarch - to thicken the strawberry juices into a perfect light syrupy consistency.
Lemon juice - instead of using water, I mix the cornstarch with a little lemon juice to add tartness and balance out the sweet strawberry topping.
Heavy cream - for making fresh whipped cream! Or you can use store-bought whipped cream.
See recipe card for quantities.
How to Make Angel Cake for Strawberry Shortcake
Angel food cake is known to be a bit troublesome to make. But I'll walk you through the process step-by-step to make it easy!
First, whip the egg whites and cream of tartar until foamy. Make sure the bowl is clean and dry for best results.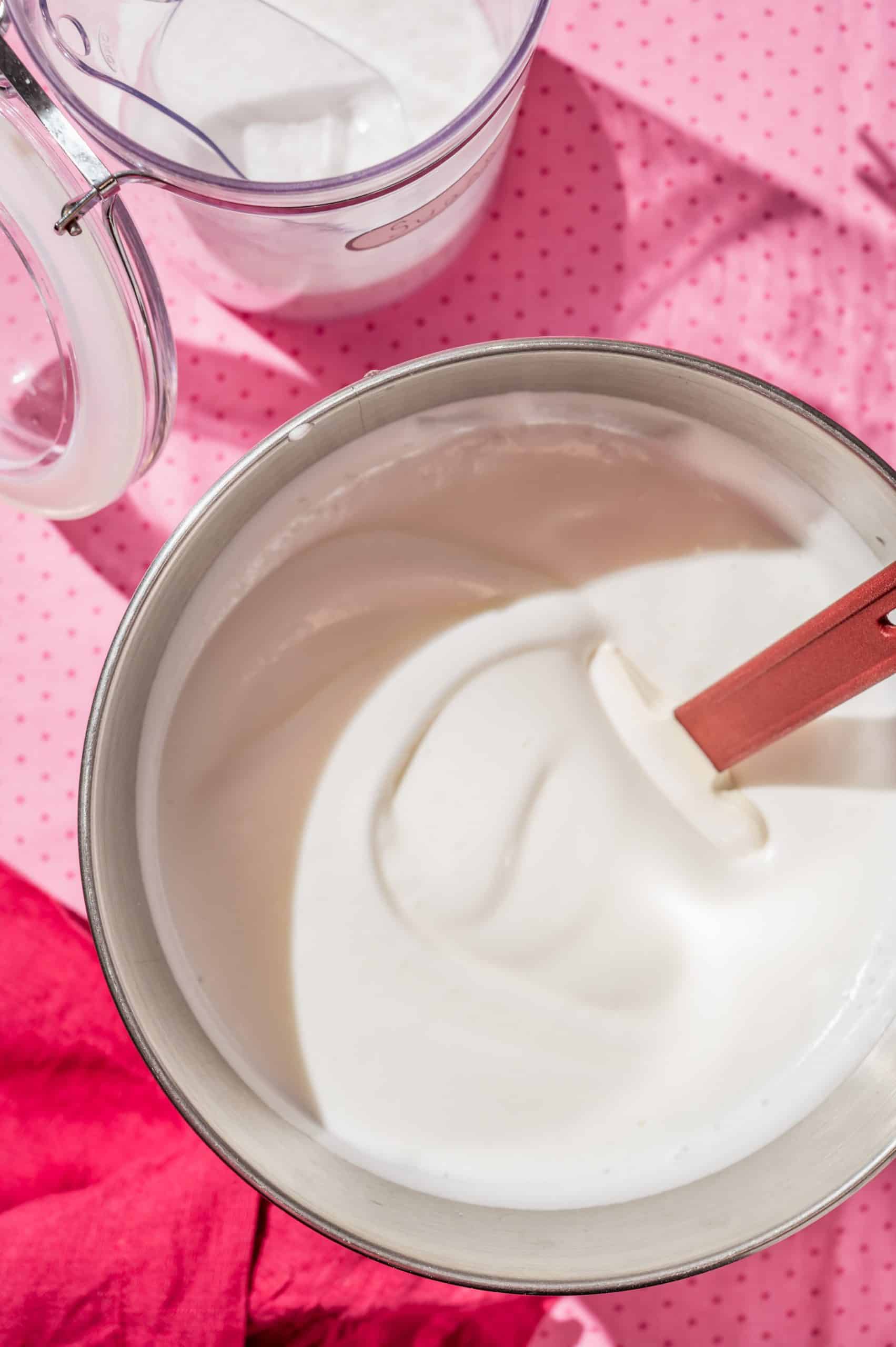 Now, make a French meringue by slowly adding sugar to the egg-white mixture and whipping to soft peaks.
Now, add the flour and powdered sugar to the meringue and gently fold to incorporate. Try not to overmix, which will deflate the batter. Mix only until no large pockets of flour remain.
Finally, carefully spoon the batter into an ungreased tube pan. If you come across any small pockets of flour, gently mix them in with a spoon or fork. Then bake the cake for about 35 minutes at 350°F.
When the cake comes out of the oven, you want to cool it upside down on a wire rack with air circulating underneath. This is to keep it from deflating-- if you skip this step, the cake may collapse on itself after cooling. After FULLY cooling (about 2-3 hours), cut the cake away from the sides of the pan to release it.
After it's cooled, invert the angel food cake once again onto a serving platter or cake stand. Now it's ready to slice and serve- just look at that fluffy interior texture! I recommend using a serrated bread knife to slice it so you don't squish it down too much.
Top Tips for Foolproof Angel Cake
Start with a clean, dry bowl and utensils.
Separate egg whites one at a time into a small bowl. This way, if you break a yolk, it won't contaminate the whole batch of egg whites. Just a tiny bit of yolk in the mix can keep the meringue from fully inflating.
Add the granulated sugar slowly so it fully dissolves into the meringue.
Whip the meringue to soft peaks - it should dissolve back into the mixture within a few seconds. If you over-whip to stiff peaks (which hold their shape better) the cake may collapse in the oven.
Don't over-mix (but don't under-mix either). Use a large flat rubber spatula to scrape the sides of the pan, folding the batter in on itself, until no large pockets of flour remain. It's okay if it's a little lumpy.
Use an UNGREASED pan with removable sides for easy release. If you grease the pan, the cake won't be able to climb up the sides to rise to its signature fluffy texture, and it'll end up dense instead.
Cool upside down, allowing air to circulate underneath. Make sure to let the cake FULLY cool before flipping it back over to slice and serve.
How to Make Strawberry Topping
If you have really fresh, juicy strawberries, you can serve angel food cake with strawberries and skip the step of making the sauce. Personally, I love strawberry syrup to drizzle over the top-- I love how it gets absorbed into the cake, almost like a poke cake.
When I was a kid, we used to buy frozen strawberries in light syrup. This is like that, but the homemade syrup is a little bit lighter and thinner (and just tastes better since it's homemade!) This simple strawberry topping is also great served over vanilla ice cream ◡̈ Here's how to make it:
Start by tossing the strawberries with sugar in a large mixing bowl. Let them sit for at least 30 minutes (or up to 8 hours/ overnight). Then strain them in a strainer, reserving the juices in a bowl below.
Place the strawberry juices in a small pot and set over medium heat. While it's heating up, combine cornstarch and lemon juice in a small bowl to make a slurry. It's easiest to mix it with your finger until no lumps remain.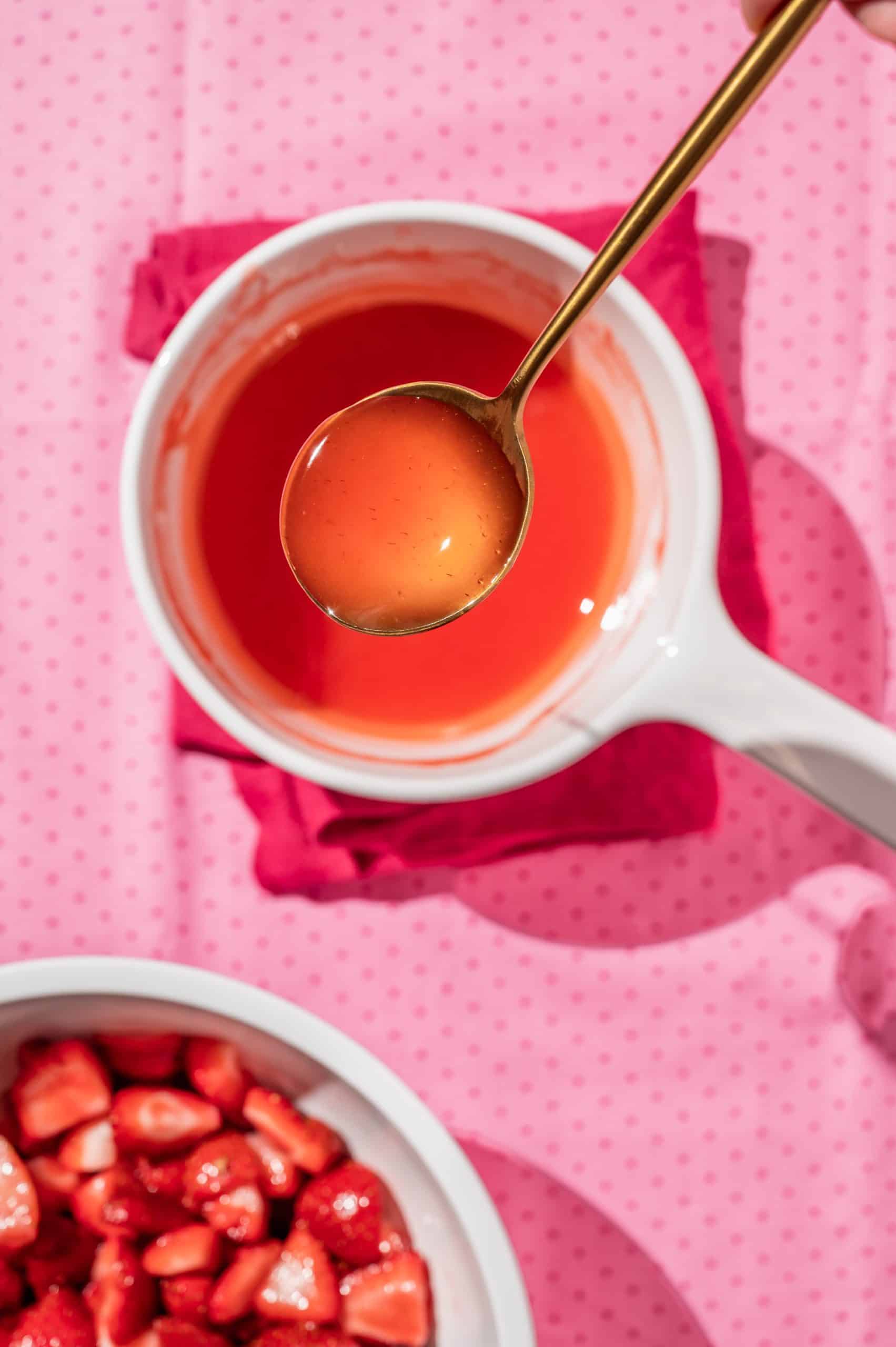 When the juices come to a low boil, add the lemon and cornstarch slurry, then remove the pot from the heat. The consistency should be thickened to a light syrup at this point.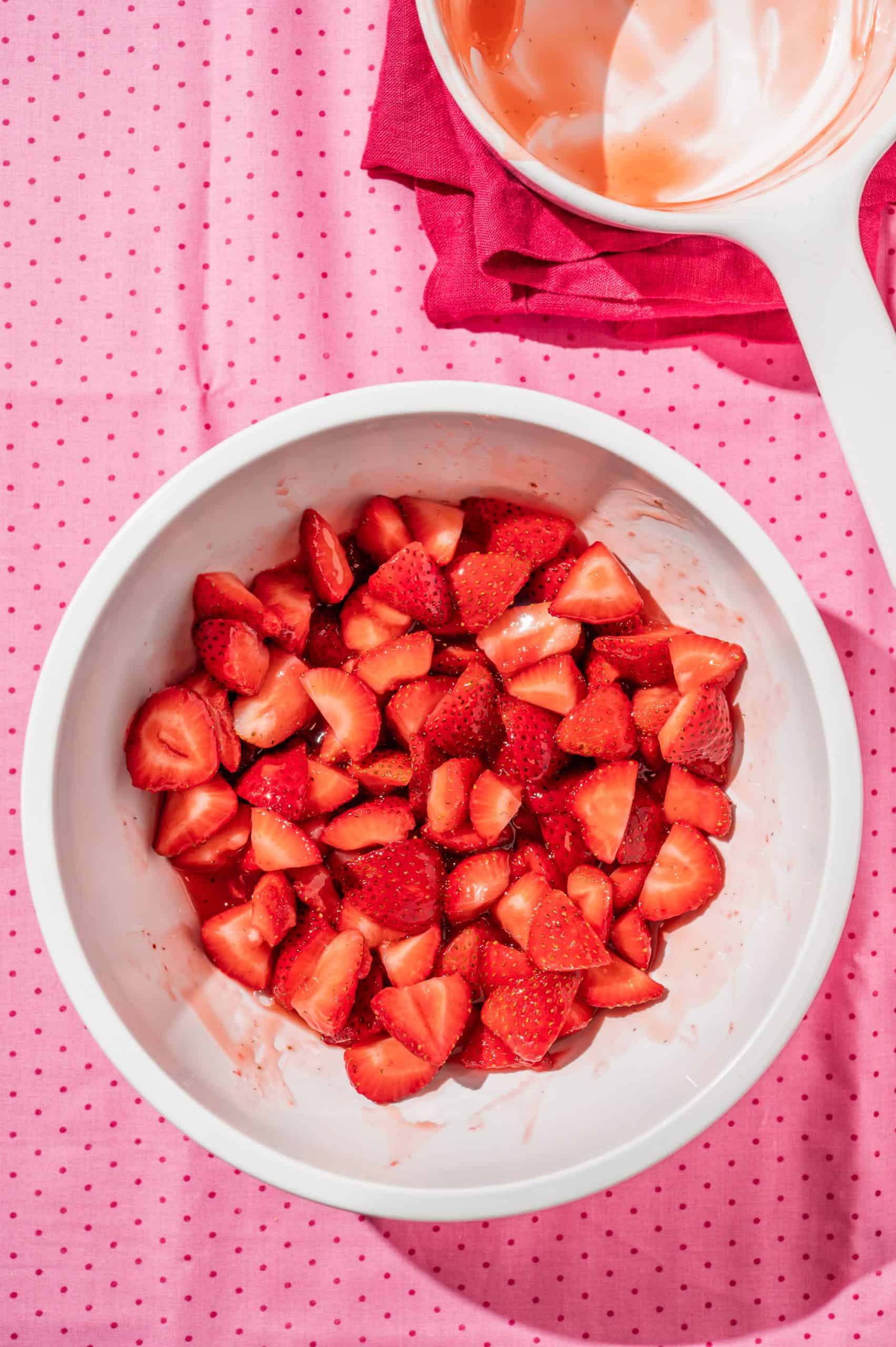 Pour the warm strawberry syrup mixture over the quartered strawberries and mix to combine. Cover the bowl with a lid or plastic wrap, and refrigerate until ready to serve.
I don't cook the strawberries at all because I like the fresh taste of the raw strawberries. But they'll be slightly softened from sitting in the sugar and mixing with the warm syrup. 
Equipment
Here's everything you'll need to make this recipe:
Tube pan - the best choice for angel food cake is a tube pan or springform pan with removable sides. The tube pan I linked even has little feet that extend to help it cool upside without the need for a rack. If you use a springform pan without the hole in the center, you can use an empty can to create the same angel cake shape. You can also use a loaf pan. DON'T use a bundt pan, as pans with intricate designs will be too hard to remove.
Cooling rack - if your pan doesn't have feet to cool upside down, place it on a rack so air can circulate underneath.
Stand mixer - while you can technically whip by hand, there's a lot of whipping in this recipe, so a stand mixer with a whisk attachment will be way easier. You can also use a hand mixer.
Small saucepan - about 1 quart, to make the strawberry syrup.
Fine mesh strainer - to strain the strawberries after macerating in sugar. You can use the same strainer to wash the strawberries with water before prepping.
Rubber spatula - a large, flat spatula is the best tool for "folding" to keep the batter light and airy.
Offset spatula - to release the angel cake from the pan. You can also use a paring knife or butter knife.
Cutting board and chef knife - to quarter the strawberries.
Mixing bowls - I love this set of mixing bowls with lids, perfect for transferring the strawberries to the fridge without dirtying a Tupperware.
Strawberry huller (optional) - easily removes the green top and core of the strawberry for less food waste.
Serving & Storage
This dessert is perfect for summer because you can make all the components ahead of time! The angel food cake should be stored at room temperature and will keep for 3-4 days. You can store it in the tube pan or in a cake carrier.
The strawberries should be stored in the refrigerator and served chilled. The berries in syrup will also keep for about 3 days. They will continue to soften and the sauce may thin a bit over time.
Once you have the cake and strawberry topping ready to go, make the fresh whipped cream. If you've never made whipped cream from scratch before, it's super easy! Especially if you have a stand mixer. Add cold cream, a tiny bit of sugar and vanilla, and whip to medium peaks (peaks should hold their shape but curl at the edges).
If you want to make whipped cream ahead of time, consider adding a stabilizer like Whip It. Fresh whipped cream without a stabilizer lasts only a couple hours before it begins to weep or deflate. Adding a stabilizer keeps it fluffy for days!
To serve angel food strawberry shortcake, start with a slice of angel food cake. Add a large dollop of whipped cream. Finally, top with a generous portion of strawberries, pouring extra strawberry syrup on time. SO delicious!
For a fancier presentation, you can spread the whipped cream in an even layer on top of the whole angel food cake and top with strawberries. Or make a trifle in a glass dish! These are visually stunning, but any leftovers will turn soggy. So I usually top it just one slice at a time, right before serving ◡̈
FAQ
Why is it called angel food cake?
Angel food cake got its name from its super light and delicate texture. It's so light and fluffy, it's cloud-like and heavenly. Vs. Devil's food cake, which is the opposite-- rich, dense, and "sinful" (lol).
What kind of cake do you use for strawberry shortcake?
Traditional shortcake is crumbly and dry, almost like a biscuit. But you can really use any kind of vanilla cake. Sponge cakes are common, but I find them a little too rich.

I think strawberry shortcake with angel food cake is the best of both worlds-- a mild, delicate flavor with a soft, fluffy texture that's perfect for absorbing strawberry sauce!
What are macerated strawberries?
When you macerate strawberries, it means you toss them in sugar and let them sit, which softens them and they release juices. The added sugar also helps fresh berries last a few more days.
What to do with extra egg yolks?
If you're looking for recipes that use up the leftover egg yolks from this recipe, I highly recommend coffee creme brûlée! You could also make fresh lemon curd, which happens to pair perfectly with angel food cake!
Print
📖 Recipe
Angel Cake Strawberry Shortcake
This delectable strawberry shortcake is made with light, fluffy angel food cake, strawberries in a light syrup, and topped with fresh whipped cream. 
Author: Kelly @ Butter and Thyme
Prep Time:

30 minutes

Cooling Time:

3 hours

Cook Time:

35 minutes

Total Time:

4 hours 5 minutes

Yield:

8

-

12

portions

1

x
Category:

Dessert

Method:

baking

Cuisine:

American, British
Angel Food Cake
12

egg whites, room temperature

1.5 teaspoons

cream of tartar

1

cup

sugar, granulated

2 teaspoons

vanilla

¼ teaspoon

salt

¾

cup

powdered sugar

1

cup

cake flour
Strawberry Topping
2

lbs

. strawberries, quartered

½

cup

sugar

¼

teaspoon salt

2 tablespoons

lemon juice

1 tablespoon

cornstarch
Whipped Cream
1

cup

heavy whipping cream

3 tablespoons

powdered sugar, or to taste*

1 teaspoon

vanilla
Instructions
Make the angel food cake: Preheat oven to 350 °F. You will be using a tube pan, springform pan, or loaf pan, but DO NOT grease the pan or the cake will not rise properly.
Whip the egg whites and cream of tartar on medium speed for 2 minutes until foamy/bubbly.  Increase speed to medium-high, and slowly add the granulated sugar about 1 tablespoon at a time until all of the sugar is added. Continue to beat on medium-high speed until soft peaks form (about 3 minutes longer). 
Add vanilla and salt and mix until combined. Add the powdered sugar and mix by hand using a large rubber spatula, making gentle folding motions. Then add the flour and again, gently fold until until no large pockets of flour remain (a few small lumps are ok- do not over-mix). 
Bake the angel food cake for about 35 minutes until golden brown and a toothpick comes out clean. Then invert the cake to cool upside down on a wire cooling rack until completely cooled, about 2-3 hours.*
Make the strawberry topping: In a large bowl, combine strawberries with sugar and salt and let sit for 30 minutes (or longer- up to overnight). Then strain the strawberries over another bowl, reserving the juices and the berries separately. 
Pour the strawberry juices into a small pot and set over medium heat. In a small bowl, combine the lemon juice and cornstarch and mix until no lumps remain. Once the strawberry juices are bubbling, add the cornstarch mixture to the pot, mix to combine, and remove the pot from the heat (it should be lightly thickened at this point). Pour the strawberry mixture over the quartered strawberries and refrigerate until needed.
Make whipped cream: Combine heavy cream, powdered sugar, and vanilla in the bowl of a stand mixer (or a large bowl). Whip on medium speed until medium peaks form (about 5-7 minutes). 
To serve, slice the angel food cake into individual portions. Generously top with fresh whipped cream and the strawberries in syrup.
Notes
You can use store-bought whipped cream instead of making your own, as a shortcut. You can also use more or less sugar in the whipped cream based on your preferences. I recommend 2-3 tablespoons per cup of heavy cream for a lightly sweetened whipped cream.
If you're not sure when the angel food cake is done, use a thermometer. The internal temperature should be about 205 °F for the ideal texture. 
Angel food cake MUST be fully cooled upside down. If not, the weight of the cake will likely collapse in on itself as it's cooling. (For more angel food cake tips, see the blog post above!)
Keywords: angel food strawberry shortcake, strawberry shortcake with angel food cake, angel food cake with strawberries