This post was originally published on February 15, 2022, and updated on April 27, 2023.
This Strawberry Pie Bars recipe is one of my absolute favorite fruity desserts for spring and early summer (right up there with strawberry shortcake). Aside from being absolutely delicious, they're almost too pretty to eat!
This recipe starts with a simple graham cracker crust similar to my Lemon Meringue Pie recipe. Then the crust is topped with a smooth, creamy whipped mousse-like filling that is bursting with strawberry flavor. You can use fresh strawberries when they're in season, or you can use frozen berries to have that taste of early summer all year round!
I love celebrating strawberry season by making strawberry desserts. Depending on where you live, strawberries are in season beginning in April until June. That time of year makes strawberry desserts like this perfect for bridal showers, Mother's Day, early summer barbecues, and more! Whatever the occasion, these strawberry mousse dessert bars are sure to impress.
The pretty pink color makes them perfect for Valentine's Day or Galentine's Day! Try making these cranberry white chocolate shortbread cookies too, another gorgeous dessert with natural pink coloring!
Jump to:
Why You'll Love This Recipe
It's full of fresh strawberry flavor! The natural strawberry juices get boiled down to make it thicker and sweeter. This way, you can add the concentrated strawberry syrup without ruining the texture of the mousse.
The texture of the strawberry mousse is super creamy but still sturdy enough to slice into neat bars. It's similar to the strawberry icebox pie I remember eating as a kid that was Strawberry Jell-O with cool whip folded in, set in a graham cracker crust. Except this version is made with real strawberries and fresh whipped cream!
Ingredients
Strawberries - you can use fresh or frozen. I usually use frozen unless strawberries are in peak season and use fresh strawberry slices as an optional garnish.
Graham crackers - I use Honey Maid original. You can also buy graham cracker crumbs, which is especially helpful if you don't have a food processor.
Gelatin - comes in powder or sheets (I used powdered gelatin, which you should find in your grocery store's baking aisle). Gelatin is what firms up the filling so you're able to neatly slice the bars. Strawberry mousse is traditionally thickened with gelatin.
Heavy cream – a.k.a. heavy whipping cream. This is essential to get that light and airy whipped cream texture. If you don't have an electric mixer to whip the cream, you can buy a can of whipped cream instead.
Flour – all-purpose.
Sugar – granulated.
Butter – unsalted and melted, used to hold the graham cracker crust together.
Salt – to balance and enhance flavors, used in the crust and strawberry mousse filling.
Cream cheese – just a tiny bit adds extra creaminess and a tiny bit of tang. It's not enough to make it cheesecake-like.
Lemon juice – just a little bit of lemon juice brings out the tartness of the strawberries to balance the sweetness of this dessert. You can also use lime juice—strawberry lime is a classic flavor combination!
How to Make Strawberry Pie Bars From Scratch
Here, I'll break down how to make these strawberry dessert bars step-by-step. First, the crust:
How to Make Graham Cracker Crust
Start by pulverizing the graham crackers in a food processor (see note below). Then add the other ingredients and pulse to combine. The mixture should resemble wet sand.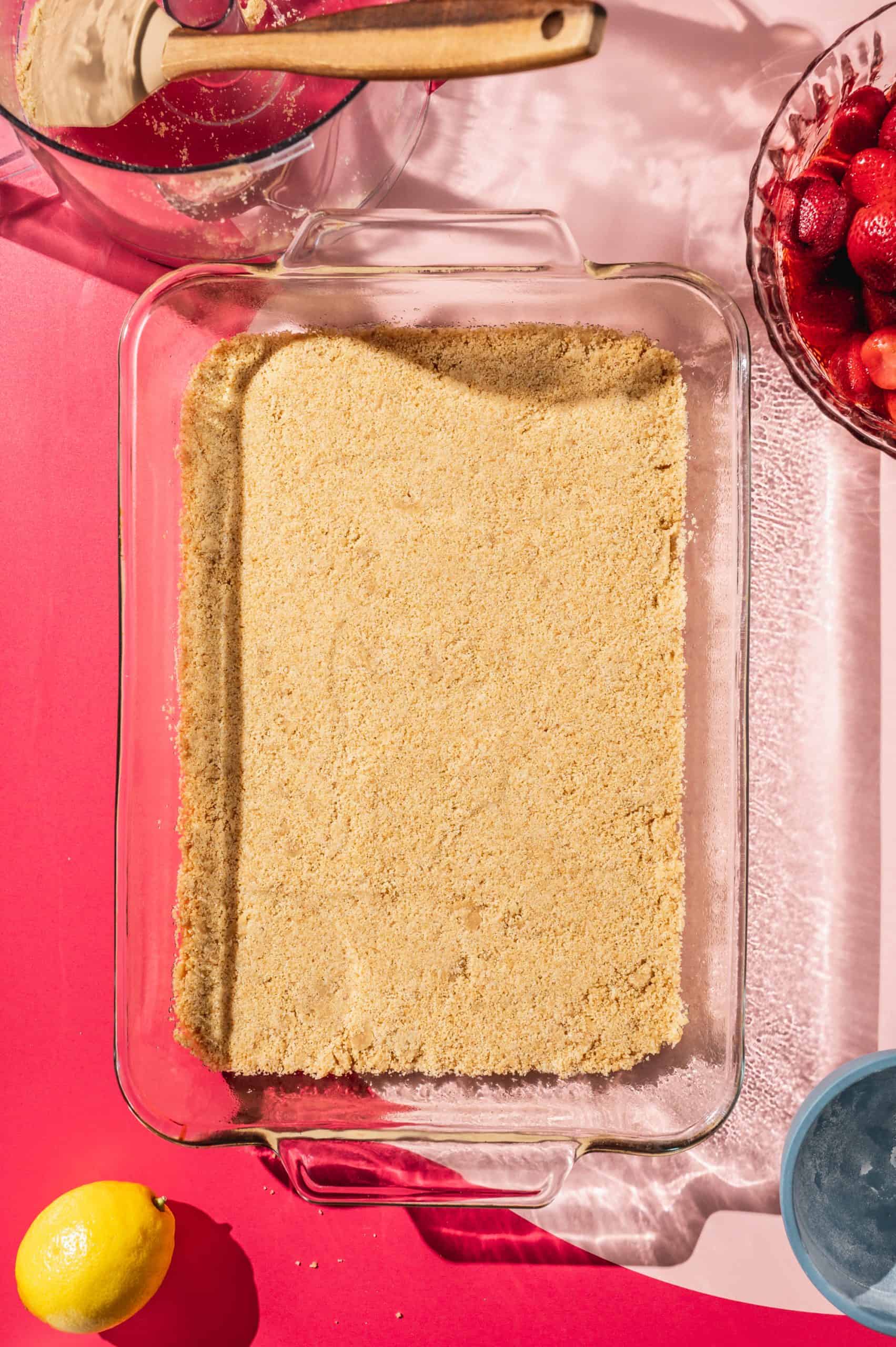 Now, press the graham cracker mixture into a 13x9 baking pan. It helps to use a flat-bottomed measuring cup (or any similar tool) to firmly press the crust into an even layer.
Now, bake the crust for about 30 minutes. The no-bake strawberry filling sets in the fridge, so the pie crust should be fully cooked when you take it out of the oven.
Note: if you don't have a food processor, buy graham cracker crumbs and mix everything together in a bowl.
How to Make Strawberry Mousse Filling
Strain the strawberries over a bowl to reserve the juices. Then, in a small bowl, sprinkle lemon juice + 2 tablespoons of strawberry juice over the gelatin and let it sit for about 5 minutes. This is called "blooming" the gelatin so that it evenly dissolves into the filling instead of clumping up.
Place the strawberries in a food processor and puree until smooth. Then, combine the strawberry puree and the strawberry-gelatin-cream cheese mixture in a large bowl.
Place the remaining strawberry juices in a small saucepan and set it over medium heat until it reduces to 3 tablespoons. Then remove the pot from the heat, add the bloomed gelatin mixture, and stir until fully dissolved. Finally, add the cream cheese and whisk until completely smooth.
Whip the heavy cream to stiff peaks in a stand mixer with the whisk attachment. And finally, fold the whipped cream into the strawberry mixture with a rubber spatula.
A couple of notes about the strawberry filling:
If you use fresh strawberries, you likely won't have as many juices as frozen strawberries. To allow the strawberries to release more liquid, toss them with a few tablespoons of sugar (this is called macerating strawberries). Then you can use a few tablespoons less sugar in the whipped cream filling to compensate.
Make sure the cream cheese is completely softened. If it's a little chunky in the gelatin mixture, you can add it to the food processor with the strawberries before transferring it to a bowl. Or use a few spritzes of an immersion blender.
It takes about 7 minutes on medium speed to whip cream to "stiff peaks." Alternatively, use sweetened canned whipped cream and omit the sugar.
How to Assemble Strawberry Pie Bars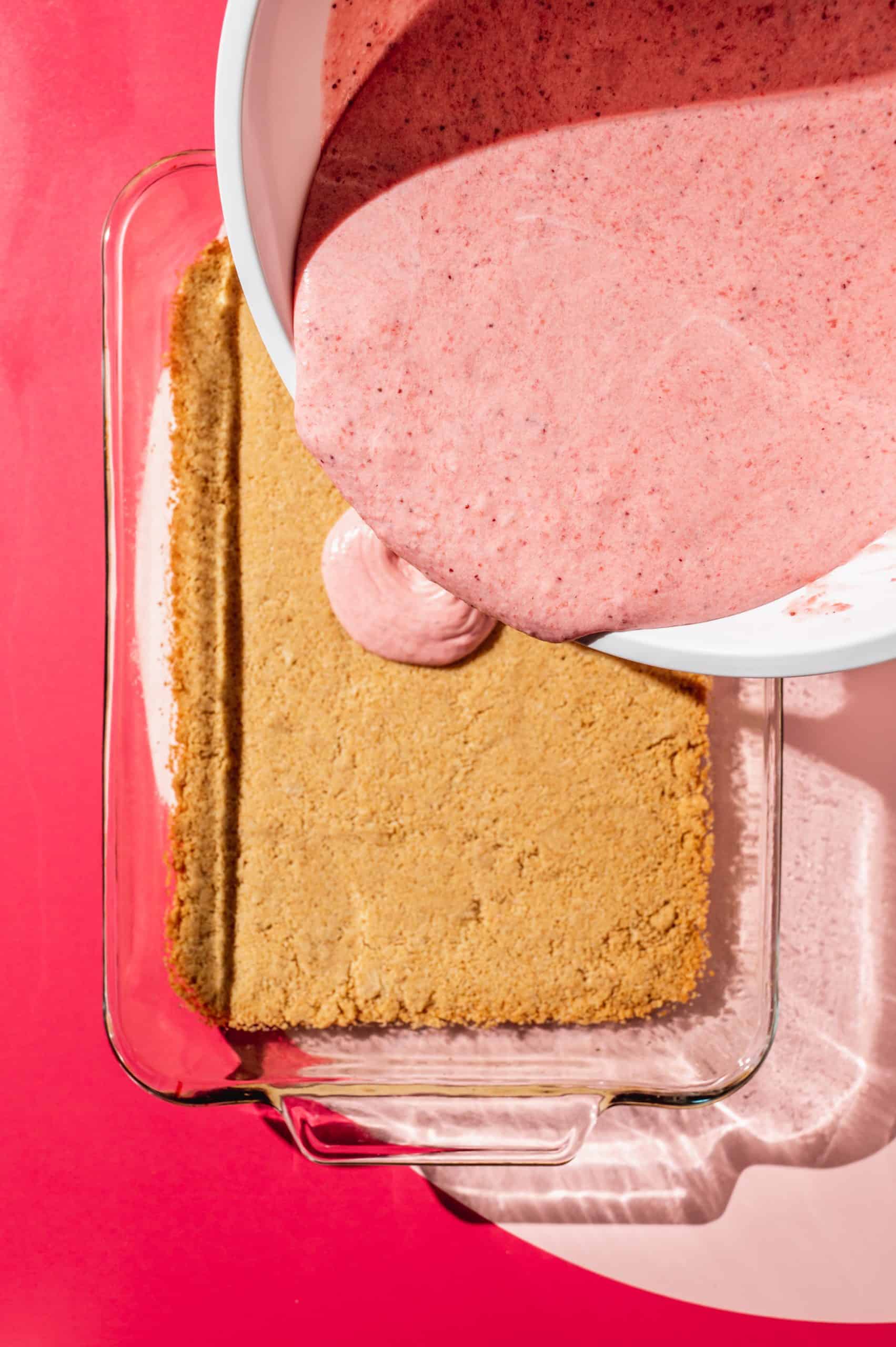 Pour the filling over the pre-cooked graham cracker crust. Make sure the crust is completely cooled before adding the filling!
Smooth out the top with a spatula. Then, cover the pan with plastic wrap and place it in the fridge to set.
The filling takes about 4-6 hours to set, so you have to plan ahead a little bit. I usually make it the day before and refrigerate it overnight.
After the filling is set, slice into bars and serve! I like to garnish each piece with a few fresh strawberry slices. The crust is thick enough that you can eat these with your hands, but using a fork and plate is a little less messy. Either way works ◡̈
Top Tip
To get bars with clean slices, use a sharp slicing knife and wipe it clean with a slightly damp towel in between each cut. A slicing knife (also called a carving knife) is long and skinny with less surface area for the mousse to stick to. This tool/ technique makes a big difference in the presentation!
Variations
You can try this recipe with all kinds of frozen berries instead of just strawberries. Try any combination of:
Blueberries
Blackberries
Raspberries
Mixed berries
If you do try this recipe with another type of berry or fruit, please leave a comment, I'd love to hear how it turns out!
Instead of making bars, you can also make a creamy strawberry pie. Make the filling recipe as written, and let it set in a premade 9-inch graham cracker pie crust. The amount of filling in this recipe should work perfectly.
Another option is making the strawberry mousse to serve on its own in individual-sized dessert cups. You can even put crushed graham crackers on the bottom of each cup before topping it with the mousse, like mini parfaits. This would be a super cute party dessert that's easy to serve!
Equipment
Here's the equipment you'll need to make these strawberry mousse dessert bars:
13 x 9 baking pan - glass, ceramic, or metal all work. I usually use glass to see the pretty layers from the outside!
Food processor - this is used twice - once for the graham cracker crust and again for the whipped strawberry filling. I use my Cuisinart food processor all the time, I love it! I highly recommend this brand/ model that I have. If you don't have a food processor, you can buy graham cracker crumbs and use a blender to puree the fruit.
Stand mixer with whisk attachment (optional) - if you don't have a stand mixer to whip the heavy cream, you can get store-bought whipped cream instead of heavy cream to use in the filling.
Large mixing bowl
Small pot or pan - to reduce the strawberry juices. Anything with a 1-quart capacity or smaller will work well. You can use the same pan to melt the butter for the crust if you don't have a microwave.
Strainer - a large fine mesh strainer works best to drain the strawberries. I like ones that have a lip so you can rest it on top of the mixing bowl to catch the juices.
Whisk
Rubber spatula - a large flat rubber spatula is the best tool for folding batters. In this case, use it to gently fold the whipped cream into the strawberry filling to keep it from deflating.
Aluminum foil - to cover the pie crust midway through cooking. (This keeps it from getting too browned.)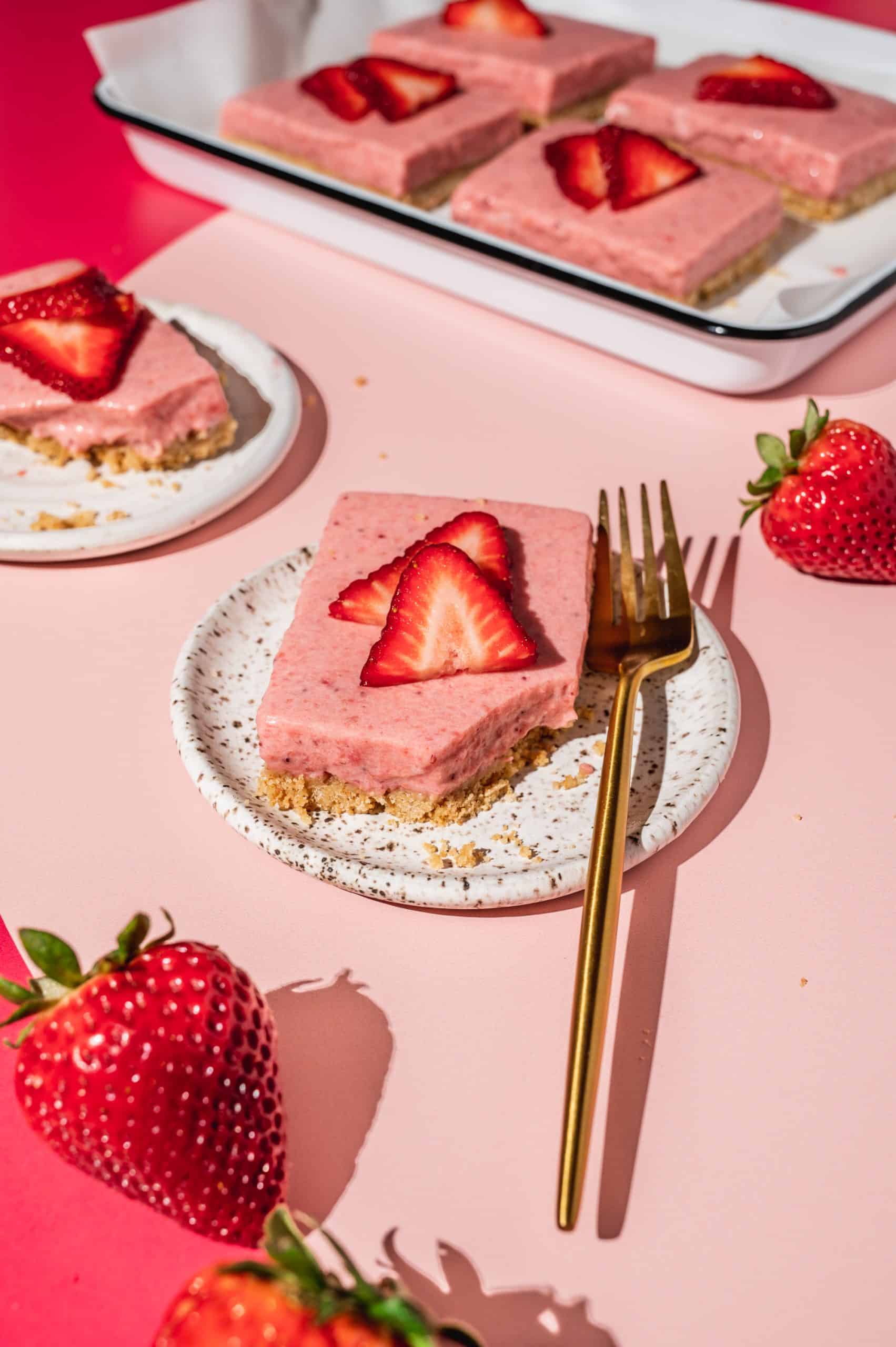 How to Store Whipped Strawberry Pie Bars
These strawberry bars are best chilled, so store them in the fridge. They will keep for 2-3 days. If making them ahead of time, wait to garnish the bars with the fresh strawberry slices until just before serving. They can get soggy and sad-looking if they sit too long.
Unfortunately, these bars don't hold up very well in the freezer.
FAQ
What is icebox pie?
Icebox pie is essentially a pie with a cold custardy filling and the filling is usually no-bake or minimally cooked on the stovetop. There's lemon icebox pie, strawberry icebox pie, and chocolate icebox pie, to name a few. An "ice box" is what early refrigerators were called.
 
So, this recipe could also be named strawberry icebox pie bars. Most versions I've seen are strawberry Jell-O mixed with cool whip or condensed milk. This has a very similar texture and flavor profile with a more natural strawberry fruit flavor!
What is gelatin made of?
Gelatin is a clear, flavorless substance that has the ability to thicken liquids. (Think of the texture of Jell-O, which is what gelatin is). It's derived from the skin and bones of animals, but it doesn't have any meat taste.
 
If you're a vegan or vegetarian, they have plant-based gelatin substitutes made from agar agar, a type of seaweed with similar gelling properties. Personally, I haven't tried it yet, but I'm excited to see how it compares!   
Print
📖 Recipe
Creamy Whipped Strawberry Pie Bars
These Whipped Strawberry Pie Bars are one of my all time favorite summertime desserts! Smooth, creamy, whipped strawberry filling sits on top of a crunchy salty-sweet graham cracker crust. They're a beautiful bright pink color and bursting with fresh strawberry flavor. 
Author: Kelly @ Butter and Thyme
Prep Time:

30 minutes

Chill Time:

4 hours

Cook Time:

40 minutes

Total Time:

5 hours 10 minutes

Yield:

12

bars

1

x
Category:

dessert

Method:

baking

Cuisine:

American
GRAHAM CRACKER CRUST
1

sleeve (9) graham crackers

¾

cup

all-purpose flour

⅓

cup

granulated sugar

¼ teaspoon

salt

½

cup

(1 stick) unsalted butter, melted
STRAWBERRY MOUSSE FILLING
1.5

lb

frozen strawberries, thawed

1 tablespoon

lemon or lime juice

1

envelope (2 teaspoons) gelatin

2 tablespoons

cream cheese, softened

¾

cup

heavy cream

¾

cup

granulated sugar
pinch salt
fresh strawberries for garnish (optional)
Instructions
Preheat oven to 300 °F and lightly spray a 13 x 9 baking pan with non-stick cooking spray.
Make graham cracker crust: process cracker pieces in a food processor until finely ground. Add flour, sugar, and salt, and pulse to combine. Slowly add melted butter and pulse until evenly distributed.
Firmly press the crumb mixture in an even layer on the bottom of the prepared pan. Bake for about 20 minutes, or until the edges are beginning to brown. Cover with aluminum foil and bake for an additional 10 minutes. Let the crust cool completely.
Make strawberry mousse filling: strain strawberries over a bowl, reserving juices. In a small shallow bowl, mix 1 tablespoon of lemon juice with 2 tablespoons of reserved strawberry juice and sprinkle gelatin over the juices-- let it sit for about 5 minutes. In a small saucepan, heat the remaining strawberry juice and cook until it reduces to 3 tablespoons*. Remove pan from heat, add gelatin mixture, and stir until gelatin has dissolved. Add cream cheese and whisk until smooth. Set aside.
Process strained strawberries in a food processor or blender until smooth. Add the strawberry juice-gelatin mixture to the processed strawberries and mix until evenly combined.
In a stand mixer with the whisk attachment, whip heavy cream on medium speed until soft peaks form, about 5 minutes. Gradually add sugar and salt and whip until stiff peaks form, about 2 minutes longer. Fold the whipped cream into the strawberry mixture until no white streaks remain. Pour mousse evenly over the prepared crust and chill for 4-6 hours until set. 
Slice into bars and serve! Garnish each bar with a fresh strawberry slice (optional). 
Notes
To reduce the strawberry juices, set the pot over medium heat until simmering. Constantly scrape the bottom of the pan while heating so that it doesn't burn. 
Keywords: strawberry bars, strawberry dessert bars, whipped strawberry pie bars