I LOVE a good Bloody Mary, ESPECIALLY if it comes with a slice of crispy bacon. But as someone with a pretty low spice tolerance, I hesitate to order them out. I prefer to make them at home so I can ensure they're made exactly the way I want, and they're so easy to make!
Disclaimer: This recipe is intended for adults over 21 or of legal drinking age. It is expected that if you try the alcoholic recipes on this website, you do so responsibly.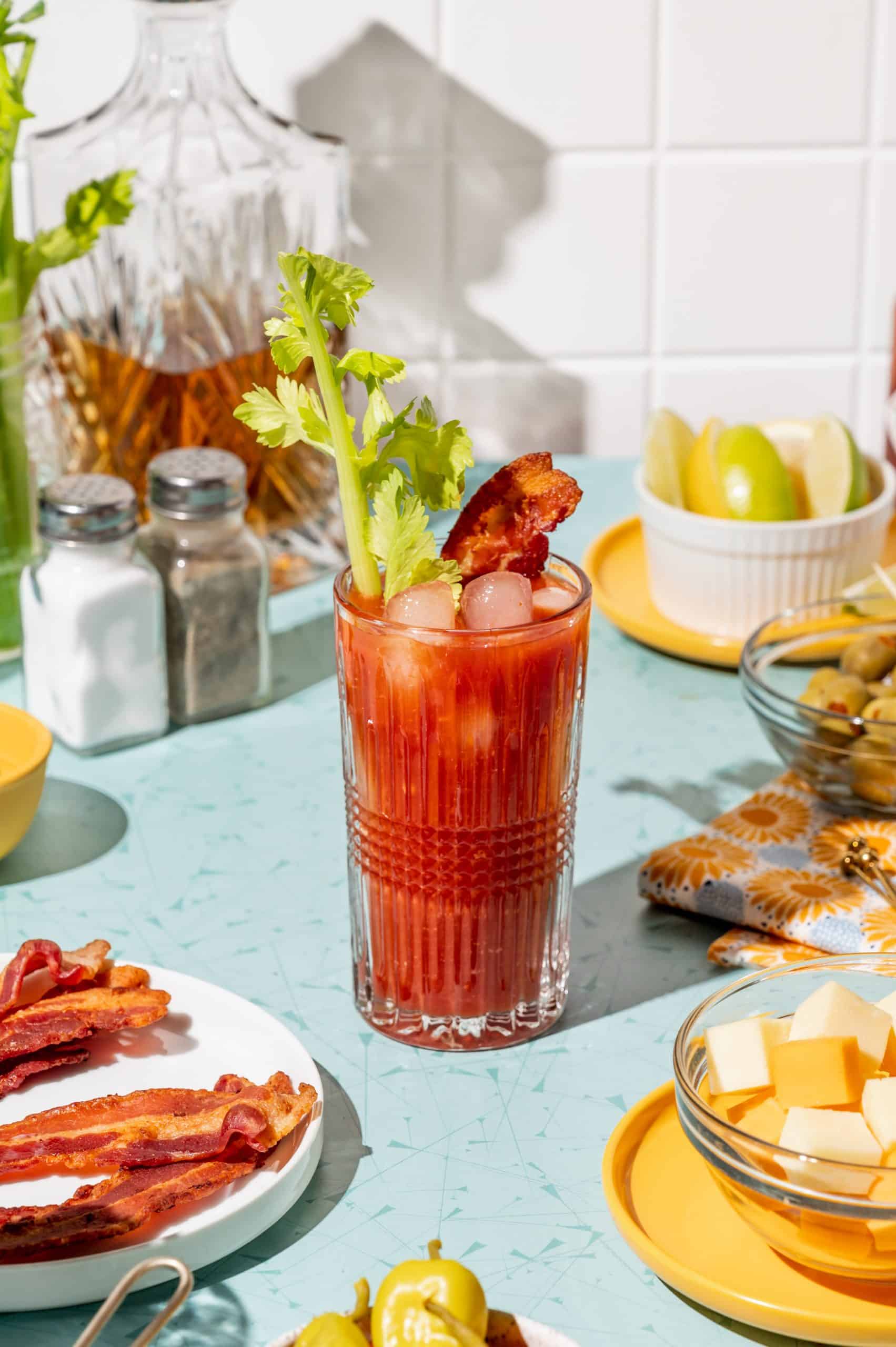 Bloody Marys... shouldn't be good. I remember as a kid and even in my early college years thinking nothing sounded more disgusting. Who (besides my grandma) actually drinks tomato juice?!
But as it turns out, they're delicious! And the perfect cure for a hangover. Especially when you don't want to eat but know you'll feel better once you do, loading up a Bloody Mary with filling garnishes like bacon is a good start.
Like all of my recipes, this one is super flexible. My DIY Bloody Mary mix is a great starting point, but feel free to spice it up however you want. I'll give you lots of topping ideas in this blog post too because that's arguably the best part.
To round out your brunch menu, this recipe goes perfectly with my Southwestern Eggs Benedict. Or for something sweet, try these Sticky Toffee Buns!
And for you football fans, I love making Bloody Marys to go with my football snacks! Try adding this Cheesy Buffalo Chicken Dip or these Air-Fried Ham and Cheese Croquettes to your appetizer spread - they will not disappoint!
Jump to:
Why You'll Love This Recipe
BACON! Adding bacon to your Bloody Mary gives it a subtle bacon flavor that is undeniably delicious. And then you can eat the bacon as a little snack.
It's super flexible, more like a guideline. Pick and choose your favorite garnishes and add-ons to make your ideal Bloody Mary.
Perfect for a crowd or a party of 2. I've given you the recipe in the amount of a single drink, as well as making a pitcher of Bloody Mary mix for a larger group.
Ingredients
Here's what you need to make this Bloody Mary recipe:
Tomato juice - you could also start out with a store-bought bloody mary mix and doctor it up by adding more ingredients.
Vodka - I usually use Tito's or Stoli, but use your favorite brand. Or substitute tequila for a Bloody Maria.
Prepared horseradish - horseradish that's been finely grated and pickled in vinegar so it's easier to use. Make sure you get prepared horseradish, not horseradish sauce. The only ingredients should be horseradish, vinegar, and salt.
Hot sauce - I personally love Cholula's, but Tabasco and Frank's are also fan favorites.
Banana pepper juice or pickle juice - this is like my secret ingredient, adding a bit of the brine from banana peppers. It's vinegary and a little bit spicy. You could also add pickle juice if you love pickle flavor.
Lemon or lime juice - fresh squeezed or storebought works too.
Worcestershire sauce
Salt and pepper - you'll probably want to use more salt than you think! Start out slow and taste as you go.
Sugar (optional) - a little bit of sugar cuts the acidity.
Bacon - I prefer thick-cut bacon, but any type is good. Pre-cooked bacon works too but will add less flavor to the Bloody Mary.
See recipe card for quantities.
How to Make a Bloody Mary with Bacon
Bloody Marys are very easy to make! Basically, just stir everything together. Minimal prep, no cooking, and it's ready for enjoying in just a few minutes. And for the bacon, either cook or reheat it and add it to your beverage.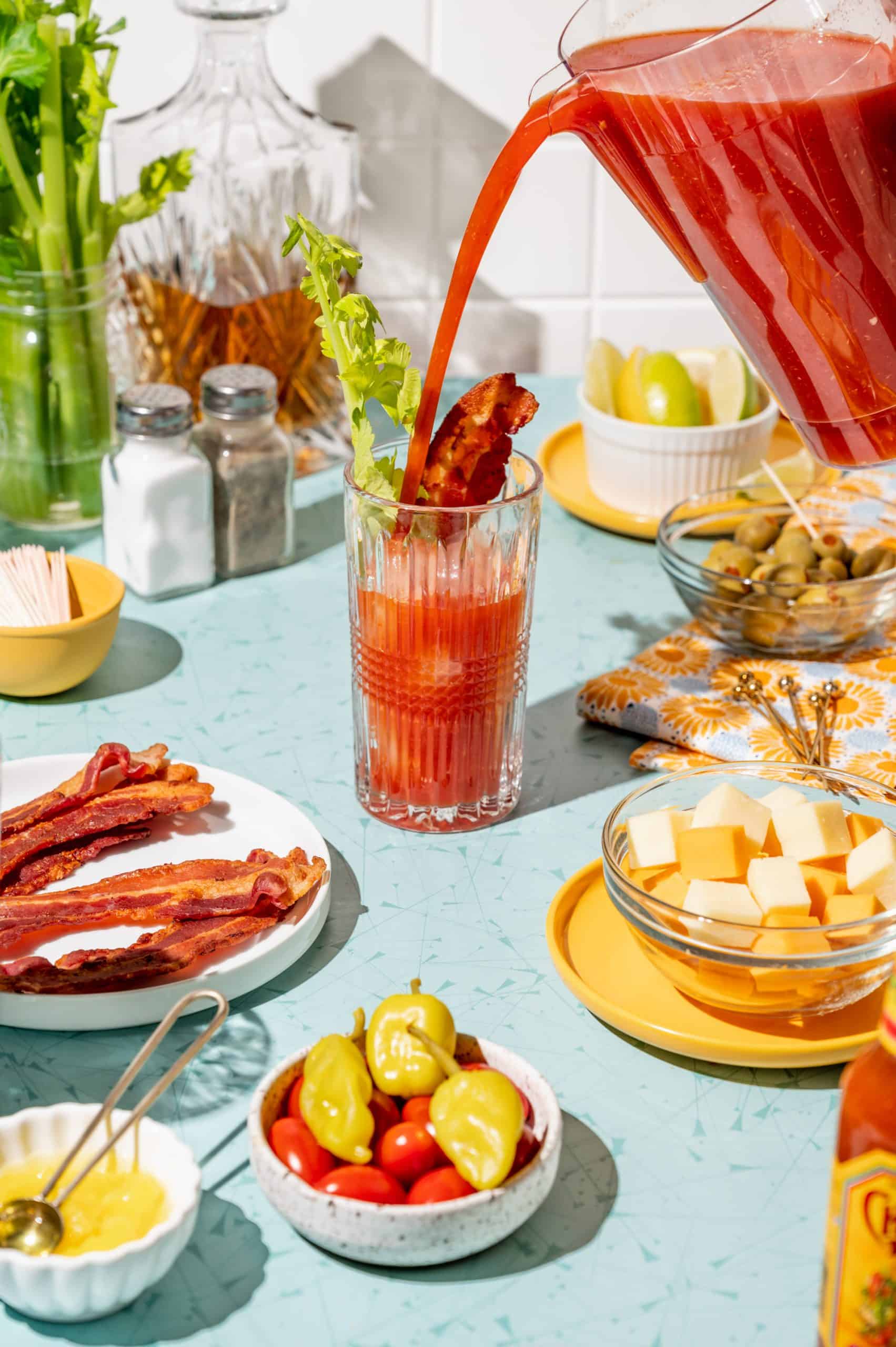 If you're making drinks for just 1 or 2 people, you can make the Bloody Mary right in the glass. Add all ingredients together and mix until well combined. Then add your bacon garnish and fill the glass up the rest of the way with ice.
You also have the option of making the Bloody Mary mix ahead of time. Mix everything together except the vodka in a large pitcher. This gives people the option of virgin Bloody Marys, deciding whether to add alcohol or not. It also gives you the option of choosing vodka or tequila for your breakfast cocktail if you have both available.
Or, you could mix everything together including the vodka for a pitcher of premade Bloody Marys. Either way, you'll want to scale up the recipe by about 12X. I did it for you here in case math isn't your strong suit. The recipe makes about 2 quarts without vodka or 3 quarts with vodka added:
8 cups tomato juice
4 tablespoons prepared horseradish
3 tablespoons hot sauce (or to taste)
3 tablespoons sugar
¾ cup banana pepper juice or pickle juice
½ cup lemon or lime juice
1 tablespoon Worcestershire sauce
Salt and pepper, to taste
1 ½ teaspoons garlic and/or onion powder
3 cups vodka
Tips for Perfectly Cooked Bacon
The key to pan-frying bacon so that it's evenly crispy is to cook it low and slow. Or even if you like your bacon on the less crispy side, I'm assuming you still want the fatty pieces to render out so they melt in your mouth. If cooked too quickly, the fatty parts of bacon are just flabby and overly chewy. So it requires a little bit of patience.
The time it takes to pan-fry bacon depends on its thickness. For most regular-cut bacon, it should take around 5 minutes on each side over medium-low heat.
More tips for perfectly cooked bacon:
Keep a close eye on it, and move it around if you have to. The pieces in the middle of the pan tend to cook a bit faster than the outside pieces, which have less direct heat.
Always wear an apron! Trust me, I've ruined too many shirts from oil splatter. Splatter screens also help control the mess.
Use a nonstick pan.
Use a fork or tongs to carefully flip the bacon. Nonstick tongs are great but it can be hard to grip bacon with these, so I usually use a fork and try my best not to scrape the pan.
Press down with a fork on raised areas to increase the surface area touching the pan and promote even cooking.
Wipe the pan in between batches to remove excess grease and any burnt bits. Use a big wad of paper towels to prevent the hot grease from reaching your fingers. I know this seems wasteful, but I think it's worth using extra so you don't burn yourself. Grease burns hurt!! I know from experience.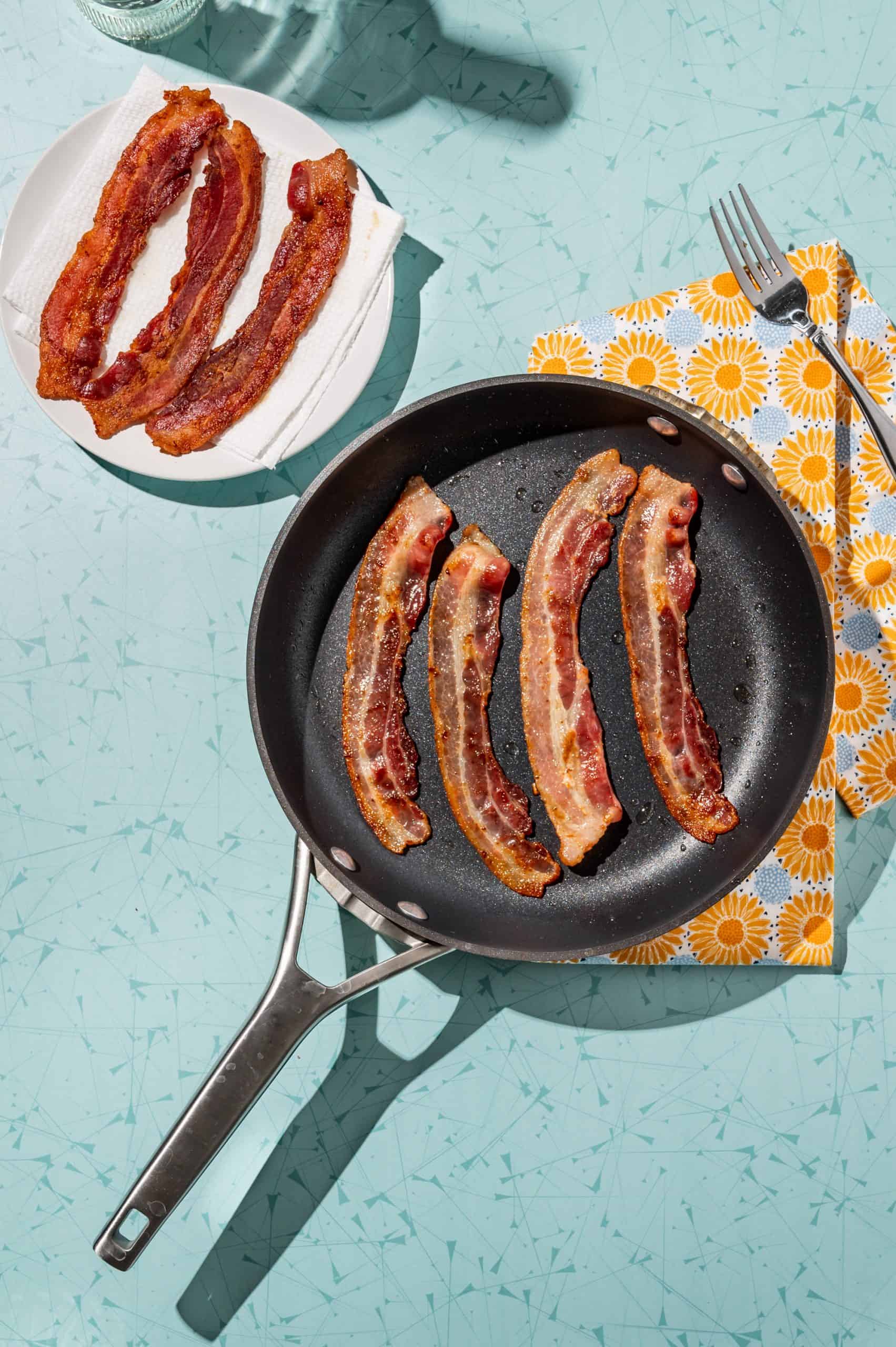 More Ways to Cook Bacon
There are a few different ways to go about cooking bacon. Usually, I pan fry it because it's the quickest and I think it gives the best results. But cooking bacon in the oven is also pretty easy and turns out great. I think oven-cooking is the best method for cooking large batches at once!
Cook bacon in the oven at 400 °F for about 15 minutes (or longer for extra crispy bacon). Make sure to keep a close eye on it! Sometimes oven cooking can be out of sight out of mind, and it does cook pretty fast. Here are some more helpful tips on how to make perfect bacon in the oven.
I've also heard people use their air fryer for cooking bacon, but I personally wouldn't recommend it. I love air fryer recipes, but it can get dicey with really fatty foods like bacon. With all that grease dripping from the basket, you're prone to a grease fire, or at least a lot of smoke.
For Extra Bacon-y Bloody Marys
I love this recipe because the bacon flavor is subtle. I personally don't love when the drink itself is overly smoky from excess bacon flavor. But if you're someone who loves that, here are some more ways to turn up the bacon flavor in your Bloody Mary:
Bacon-flavored vodka - I've seen this in stores but I've never tried it, not sure what you'd use it for besides Bloody Marys. You can also make your own bacon-infused vodka by adding bacon drippings to it, letting it sit for a while, and then straining it.
Liquid smoke - adding a few drops of liquid smoke to your Bloody Mary adds smoky flavor that compliments the taste of bacon.
Candied bacon - this is actually one I'd love to try! I love this candied bacon recipe from America's Test Kitchen, and I think it would be AMAZING in Bloody Marys.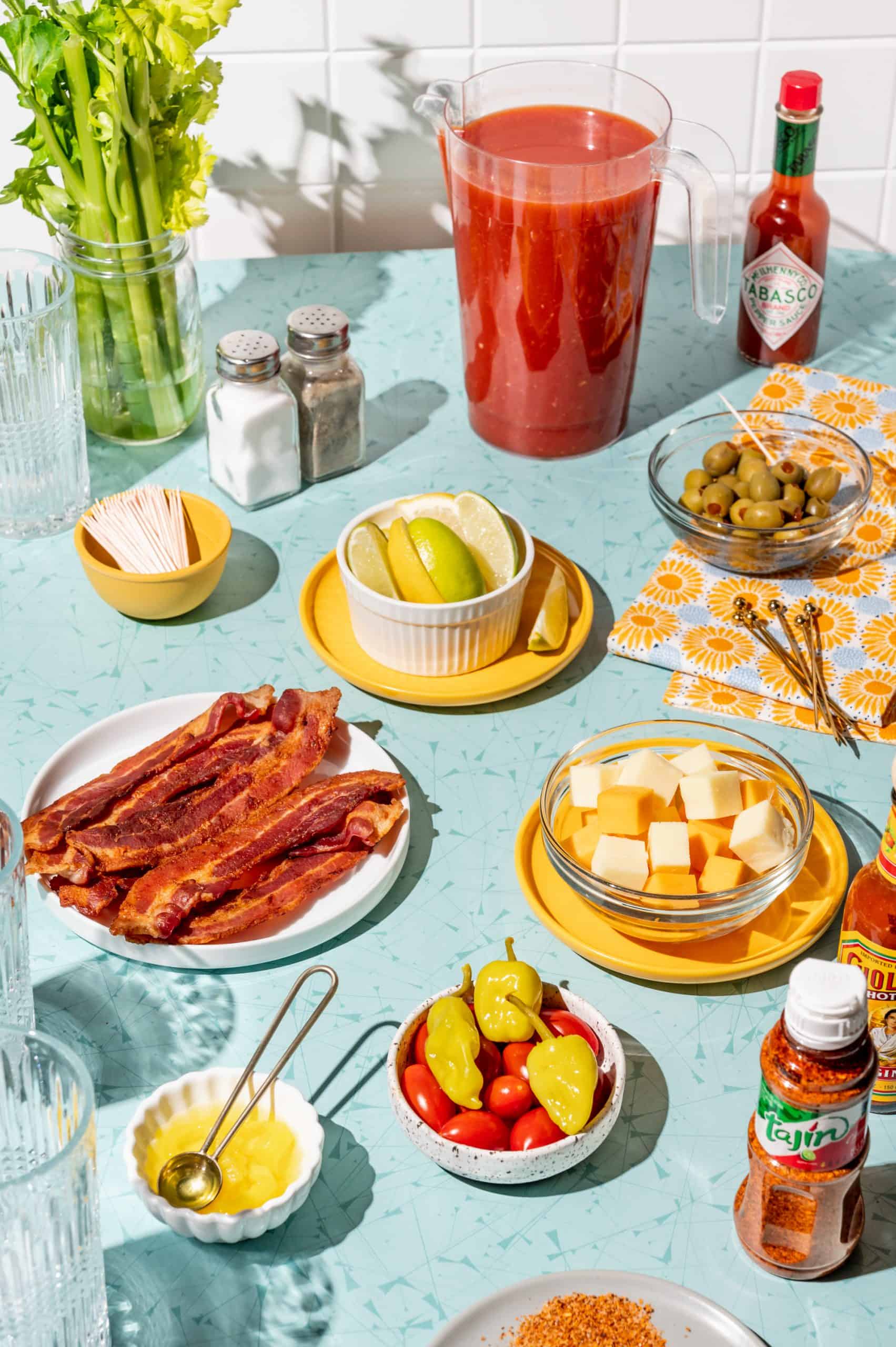 DIY Bloody Mary Toppings Bar
This is such a fun idea for a gathering that's actually pretty easy to execute. Basically, just set up a bunch of Bloody Mary garnishes alongside a pitcher of Bloody Mary mix and a bottle of vodka. It's perfect for the holidays, football-watching parties, and Mother's Day brunches... anytime you have people over on the weekends really!
One option is serving a pitcher of Bloody Mary mix and offering ingredients to spice up the mix (i.e. hot sauce, horseradish, pickled peppers). Or, you could serve a bottle of plain tomato juice and have people go at it from scratch. I would recommend the first option (it's less overwhelming) but start with a pretty mild mix. You can always add things, but you can't take them out!
In addition to bacon, which IMO is necessary, here's some great Bloody Mary garnishes to choose from:
Celery - store celery stalks upright in a glass with a little cold water at the bottom to keep them crisp and fresh.
Lemon and lime wedges
A variety of olives - olives stuffed with blue cheese or pimento peppers are a hit!
Cheese cubes - I used white and yellow cheddar.
Cherry or grape tomatoes
Pickled pepperoncini peppers or banana peppers
Shrimp - cocktail sauce is really similar to Bloody Marys in terms of flavor, so shrimp is an excellent choice for a garnish!
Breakfast sausage links
Mini burger sliders - this one is a lot, but so fun!
Coarse salt or seasonings for the rim - Tajin is a delicious chili-lime seasoning.
Top tip: make some skewers of garnish ahead of time, as an option. These reusable cocktail picks are perfect! Or use toothpicks to serve items like olives and cheese cubes.
Storage & Make-Ahead Instructions
Non-alcoholic Bloody Mary mix will last for at least 2 weeks in the refrigerator (up to 3-4 weeks). The seasonings will likely fall to the bottom, so be sure to give it a good mix before using it again. I also recommend that you don't add ice to the mix, since it will dilute it. Just pour the mix over ice in a glass to serve.
Plain tomato juice has a much shorter shelf life than Bloody Mary mix. Once opened, tomato juice is good for about 5-7 days in the refrigerator. You'll know when it's gone bad by either smelling it or seeing mold start to form on the top.
To make a pitcher of Bloody Mary mix ahead of time, store it in a pitcher with a lid, and keep it chilled. You can also store it in an airtight container and transfer it to a pitcher or glass.
FAQ
What's a Bloody Mary vs. Bloody Maria?
They are similar tomato-based cocktails, but a Bloody Mary is made with vodka and a Bloody Maria is made with tequila. This recipe works for either! Offer your guests mezcal as an option for an extra smoky Bloody Maria.
Can you eat raw bacon?
Usually, no. Bacon is already cured and smoked when you buy it. However, most commercially available bacon isn't actually smoked. Instead, it's injected with a smoky flavor. So it's not safe to eat raw bacon, due to the potential risk of foodborne illness (not that you'd want to anyway, I bet).

Also, because it's cured, bacon may appear pinkish evenly though it's fully cooked and totally safe to eat, FYI.
How long does cooked bacon last in the fridge?
Cooked bacon lasts for about a week in the fridge. It's easy to reheat on the stovetop or in the microwave. And cooked bacon freezes well too!
Print
📖 Recipe
Bloody Mary with Bacon
Adding a strip of crispy bacon to this Bloody Mary recipe gives it such a delicious flavor. Plus, you have bacon to snack on! This recipe, which is really more of a guideline, is super flexible. See the blog post above for a full list of garnish ideas and how to create a DIY Bloody Mary bar. 
Author: Kelly @ Butter and Thyme
Prep Time:

5 minutes

Cook Time:

10 minutes

Total Time:

15 minutes

Yield:

1

drink

1

x
Category:

drinks, alcoholic beverage, brunch, quick & easy

Method:

stovetop (bacon)

Cuisine:

American, French, English
⅔

cup

tomato juice

1 teaspoon

prepared horseradish

1 teaspoon

hot sauce, i.e. Cholula's (or to taste)

¾ teaspoon

sugar

1 tablespoon

banana pepper juice or pickle juice

2 teaspoons

lemon juice or lime juice

¼ teaspoon

Worcestershire sauce
Salt and pepper, to taste

⅛ teaspoon

garlic and/or onion powder

2

oz

. vodka

1

-

2

strips of bacon
Optional garnishes: celery, shrimp, sausage, cheese cubes, olives, pickled peppers, grape tomatoes
Instructions
Cook the bacon on the stovetop (or use your preferred method of cooking) until crispy.* Make 1-2 strips per person.
Prepare other optional garnishes if using - cook shrimp or sausage, dice cheese into large cubes, wash and cut celery. 
Make Bloody Marys: combine all ingredients except bacon and garnishes in a glass, and stir to mix well. Add a slice of cooked bacon and fill the glass the rest of the way with ice. Top with additional garnishes if using. 
Notes
See the blog post above for instructions and tips on how to cook bacon. 

If making for more people, you can make the Bloody Mary mix in a pitcher by combining all ingredients except vodka and bacon. In a glass filled with ice, add 2 ounces of vodka, and a slice of cooked bacon, and fill with Bloody Mary mix. 

For the recipe scaled to accommodate a pitcher, go to the section "How to Make a Bloody Mary with Bacon." I've scaled the recipe 12X to make 2-3 quarts. 
Keywords: bloody mary with bacon, DIY bloody mary bar