These crab rangoon egg rolls are like a mashup of two favorite Chinese takeout dishes-- egg rolls and crab rangoons. The filling is sweet and creamy, almost like an Asian-inspired crab dip flavored with soy sauce, garlic, green onion, and REAL crab!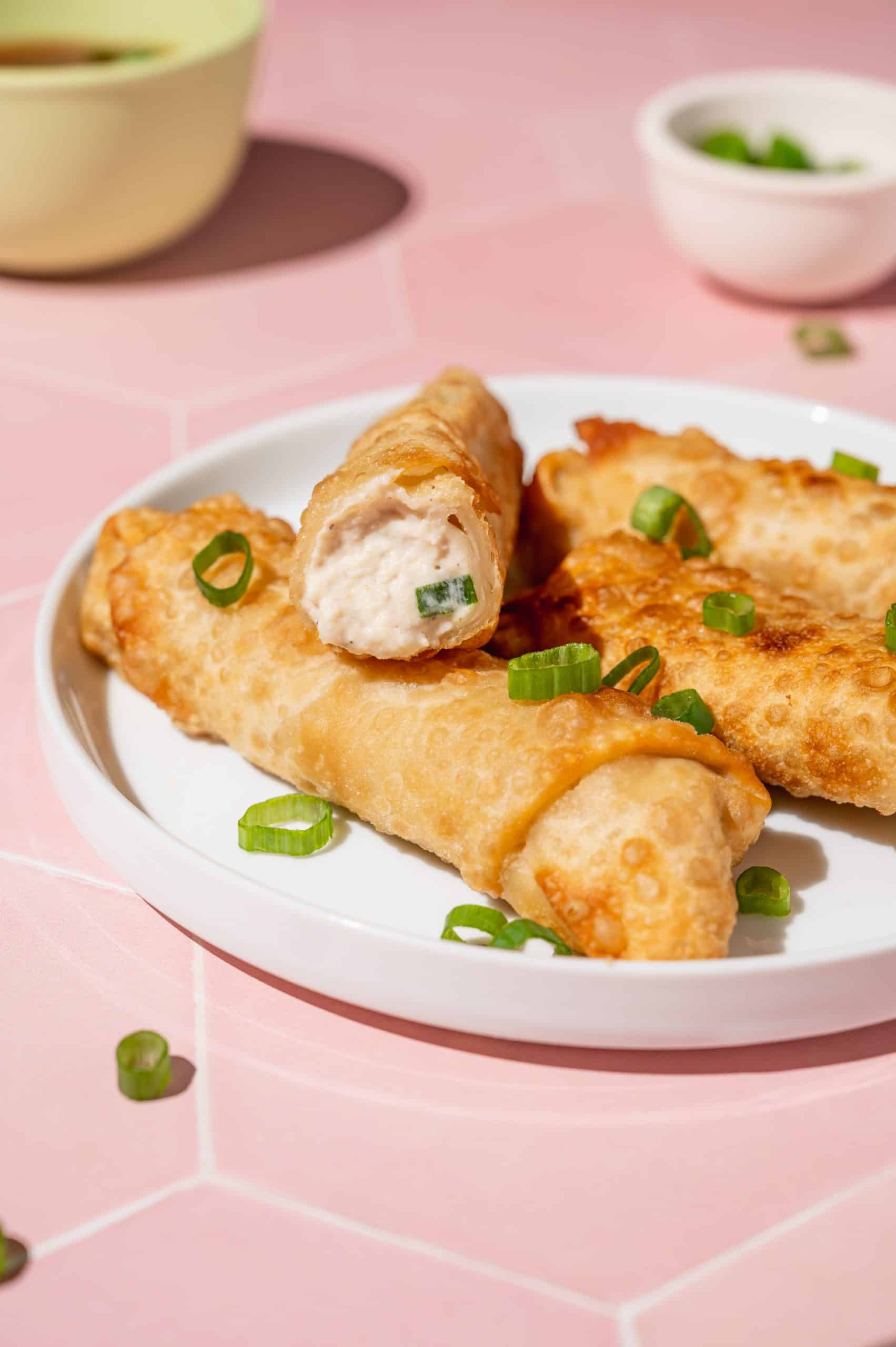 To make it even more approachable, I've included instructions for traditional pan frying AND air frying. If you like this recipe, you'll LOVE these air fryer ham and cheese croquettes!
Jump to:
Why You'll Love This Recipe
The filling has lots of real crab meat with a higher ratio of crab to cream cheese.
It's so flavorful! Instead of plain cream cheese, the cream cheese base is seasoned with garlic, onion, and savory-salty soy sauce-- almost like onion dip flavor.
The ratio of filling to wonton is flexible - you have the option to add more or less filling per egg roll. I chose to keep mine with minimal filling, like taquito size.
There's an air fryer option! Easier and less messy than deep frying, although I've included traditional frying instructions too.
Ingredients
Here's what you need: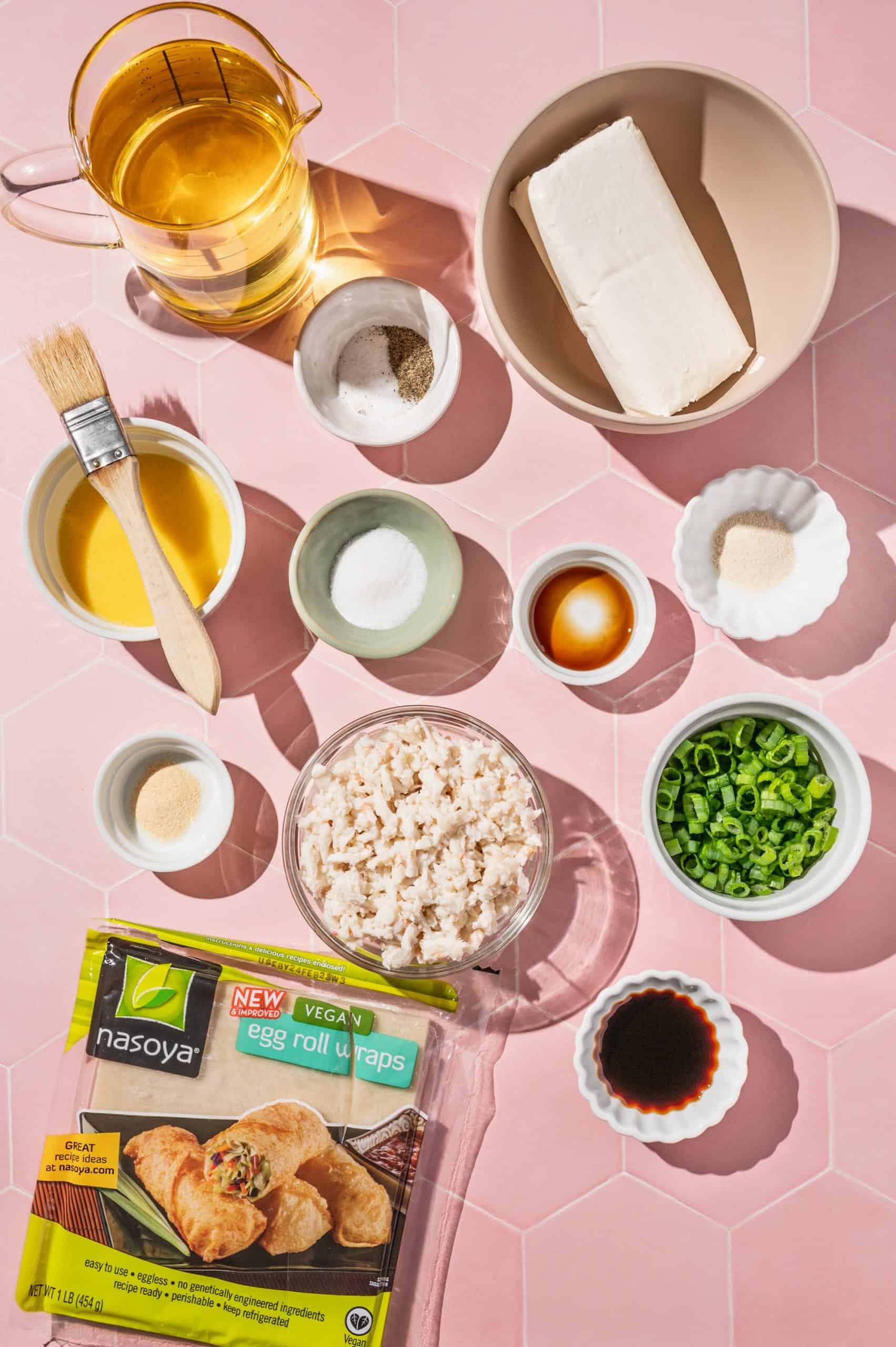 Cream cheese - preferably the bar kind instead of a tub, and full-fat, so it's thicker and creamier.
Sugar - you can leave it out if you prefer, but just a hint of sugar with the crab makes the filling a little bit sweet, balanced out by the other flavors.
Soy sauce
Worcestershire sauce
Garlic powder
Onion powder
Salt and pepper
Green onions - a.k.a scallions
Crab - I use jumbo lump crab meat, which comes canned in the refrigerated section of the grocery store near the fish counter. You can also use fresh or frozen crab meat, or imitation crab meat if you prefer.
Egg roll wrappers - Nasoya brand is most common in my area and found in the refrigerated section of larger grocery stores next to the tofu. Nasoya egg roll wrappers and most other brands I've seen are actually vegan (no egg!) Although some may contain eggs it's not the norm. There are about 20 wrappers in a package (so it's perfect to make a double batch of this recipe, or freeze the extras to save for later!)
Egg wash - 1 egg + 2 teaspoon water, used for sealing the egg rolls. Or can use just water instead, but I think the egg wash is a little more effective.
Vegetable oil - or any oil with a high smoke point. You'll need at least a couple of cups for frying, or use nonstick spray for the air fryer method.
See recipe card for quantities.
How to Make Homemade Crab Rangoon Filling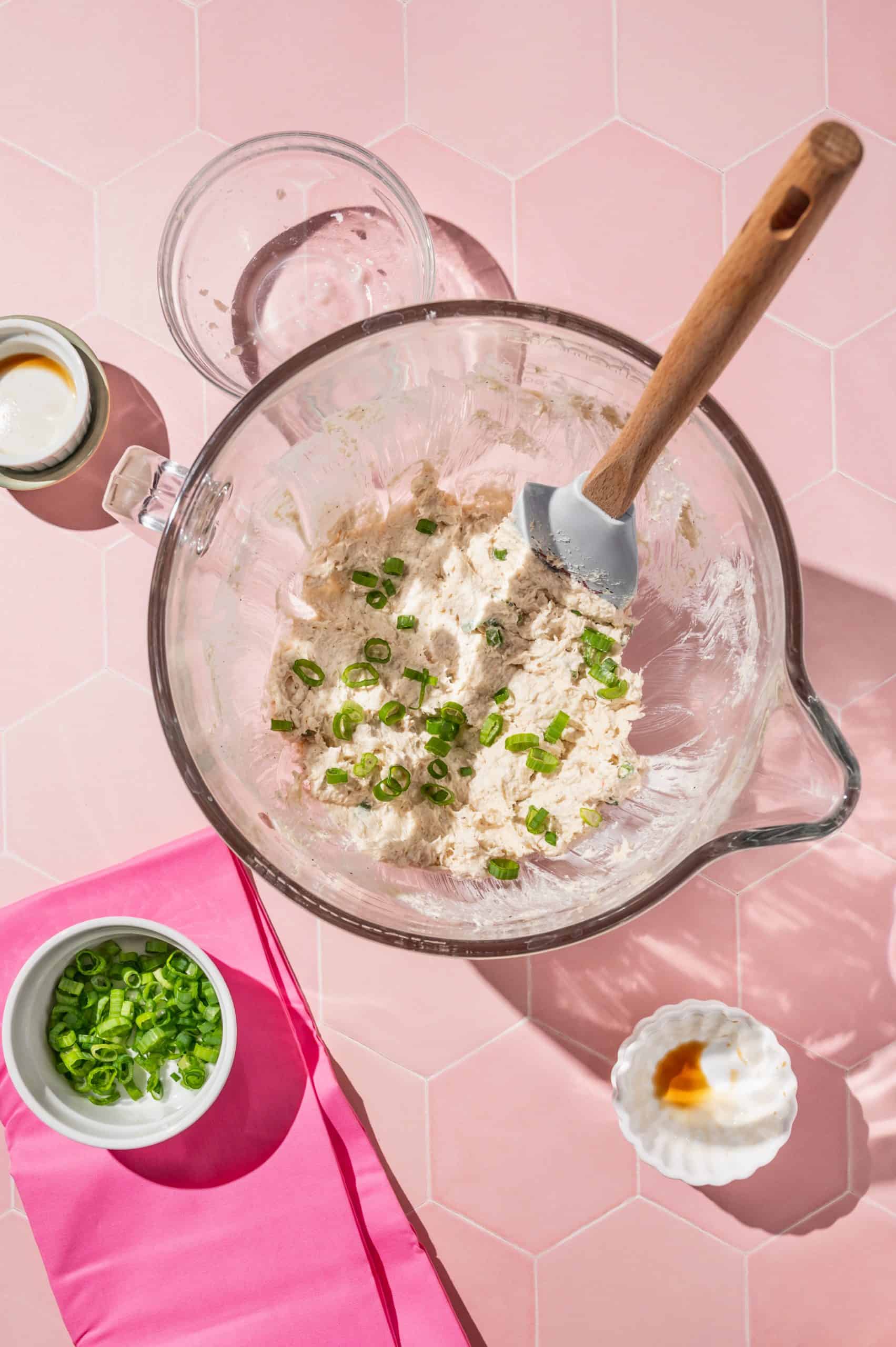 How to Fold an Egg Roll
I think folding egg rolls is actually way easier than wrapping tortillas. Egg roll wrappers are easy to work with! Here's how I fold an egg roll, step by step:
Time needed: 1 minute
How to Fold an Egg Roll
Place the filling in the center of the wrapper.

Place an egg roll wrapper on a clean flat surface, and place the filling in the center. I recommend using approximately 2 tablespoons for a skinny egg roll, but you can use up to 3 tablespoons of filling (or more). Then, use a pastry brush to brush a thin layer of egg wash around the edges.

Fold the top corner down.

Fold the top corner of the egg roll wrapper down, covering most of the filling. Hold the wrapper close to the filling and press down the top corner to the center to seal in a log.

Fold the two sides in to fully conceal the filling.

Working on one side at a time, fold the egg wrapper in towards the center while pinching or folding the corner over itself. Press down on the edges where the egg wash is to seal.

Roll the egg roll into a log.

Brush a little more egg wash on the exposed area of the egg roll wrapper below the filling (egg wash only goes on the inside of the egg roll, not the outside). Then gently roll the egg roll down to form a log shape.
Top tip
Work one at a time, and keep the egg roll wrappers covered in the original packaging or a ziplock bag to keep them from drying out. Also, try to work relatively quickly after brushing on the egg wash for best results.
How to Fry Egg Rolls (+ Air Fryer Option)
Now that you've made the crab filling and assembled the egg rolls, here's how to fry the egg rolls (2 ways!):
Option 1: Shallow Fry Method
Fill a wide heavy-bottomed saucepan or Dutch oven with 1-2 inches of vegetable oil and heat the oil to 350 °F.
Once the oil is preheated, add the egg rolls 3-4 at a time and fry for 1-2 minutes on each side until golden brown.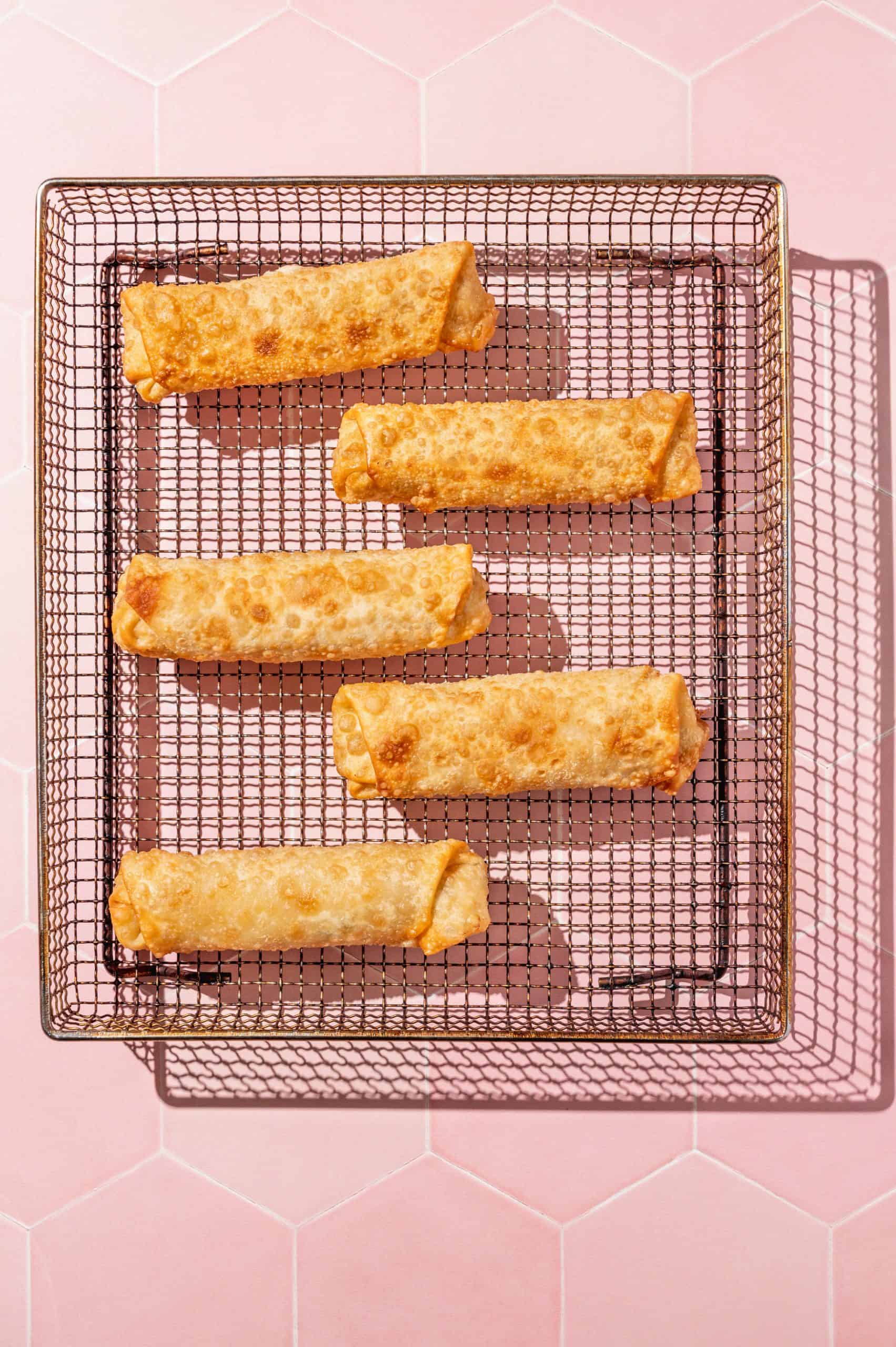 Option 2: Air Fryer Method
To make air fryer crab rangoon egg rolls, preheat the air fryer to 325 °F. Spray the air fryer tray and the egg rolls liberally with nonstick vegetable oil spray.
Once the air fryer is preheated, cook for about 3 minutes, then flip and continue to cook for 2-3 more minutes (5-6 minutes total) until golden brown and heated through.
Variations
Instead of egg rolls, you could also make traditional crab rangoon shapes instead. Follow the same recipe for the filling, but use square wonton wrappers instead of rectangular egg roll wrappers.
Alternatively, you could make traditional Chinese-American egg rolls like you would get at a Chinese restaurant. I found this great authentic Chinese egg roll recipe I can't wait to try!
You can also make different types of egg rolls by changing up the filling. The directions for air frying or shallow frying would still apply. Here are some other egg roll-filling ideas:
Buffalo chicken egg rolls - fill with leftover buffalo chicken dip and serve with ranch dressing on the side for dipping.
Reuben egg rolls - corn beef, sauerkraut, and swiss cheese with thousand islanding for dipping.
Cheeseburger egg rolls - ground beef, sauteed onions, + American or cheddar cheese.
Dipping Sauces for Serving
I'm really big on sauces and dips, and these crab rangoon egg rolls are a perfect vessel for dipping sauces! Here are some of my favorite recommendations:
Sweet chili sauce - this is my favorite because it's tangy, sweet, and a little bit spicy. The garlic flavor and sweetness of sweet chili sauce is a perfect pairing for crab rangoons!
Duck sauce - or plum sauce is mild, sweet, and a little fruity.
Sweet and sour sauce - similar to sweet chili sauce, but without the spiciness.
Dumpling dipping sauce - anything that's like soy sauce or hoisin base flavored with sesame, ginger, garlic. etc. would be a great choice. Add some red chili flakes if you like it a little spicy! You can even make your own dipping sauce.
Equipment
You can make crab rangoon egg rolls without any specialty equipment! Here's what you'll need, plus some optional equipment recommendations that might be helpful:
Stand mixer (optional) - you can mix the filling by hand, but I love using a stand mixer because it's just so easy. Especially with the cream cheese, I find the stand mixer with the paddle really mixes it well. I also highly recommend getting a stand mixer bowl with a lid, perfect for chilling batters and doughs. (Side note: check out this article on chilling cookie dough and how it makes it taste 10x better)
Wooden spoon
Pastry brush - I think a small skinny pastry brush works best for brushing the egg wash along the edges.
Air fryer (optional) - I don't love the idea of overly specific kitchen equipment especially when it takes up a lot of space. That's why I love my combination 8-in-1 air fryer and toaster oven! Highly recommend!
Dutch oven or heavy bottom pan - essential for safe deep frying. Or, you could use a deep fryer if you have one.
Tongs and/or slotted metal spoon - my go-to tools for deep frying and shallow frying.
Thermometer - one that constantly monitors the temperature of the oil is essential. You can use a candy thermometer, but I prefer a digital thermometer that constantly monitors like a Chef Alarm.
Storage & Make-Ahead Instructions
Easily make this filling up to 24 hours in advance! Keep it stored in an airtight container in the refrigerator until ready to use.
Or you can make the crab rangoon egg rolls in advance and easily reheat them in the air fryer. What I like to do, especially if I have guests over, is deep fry the egg rolls the day prior to serving. Then I'll quickly reheat them in the air fryer the next day.
I love this make-ahead option because deep frying makes them crispier, but air frying is less messy. They taste like they were just fried fresh, without the mess!
Crab rangoon egg rolls freeze pretty well too, which is great if you have leftovers! Freeze them on a baking sheet after cooking, then transfer to a plastic bag once frozen solid. You can reheat them from frozen in the air fryer.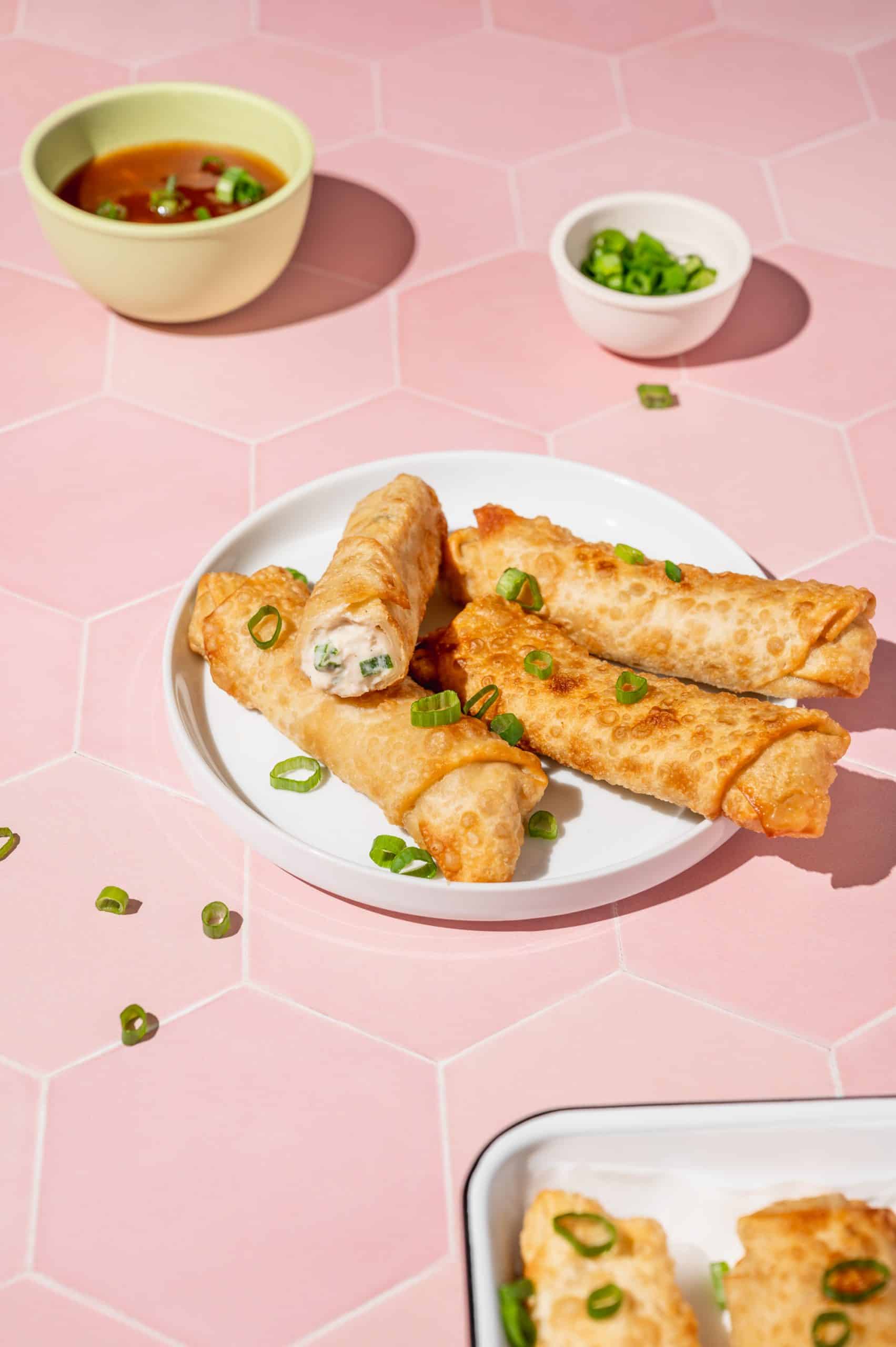 FAQ
How do you make duck sauce?
Duck sauce, also called plum sauce, is usually made from plums and/or peaches plus vinegar and other seasonings. It's commonly served with egg rolls and crab rangoons at Chinese-American restaurants.
Are egg roll wrappers the same as wonton wrappers?
They are very similar, but they are a little bit different. For one, wonton wrappers are usually square, and egg roll wrappers are rectangular. And even though the doughs are made from similar ingredients, wonton wrappers work better for steamed dumplings. But you can substitute one for the other in most applications.
Why are egg rolls called egg rolls?
Egg rolls were first named about 100 years ago in a Chinese-American cookbook, and the dough used for wrappers contained egg. Nowadays the wrappers often don't contain eggs but the name stuck anyway.
Print
📖 Recipe
Crab Rangoon Egg Rolls (Air Fryer Option)
Crab rangoon egg rolls are a mashup of two Chinese takeout dishes, egg rolls, and crab rangoons. Except even better because the creamy filling is made with real crab and flavored with garlic, onion, and soy sauce. 
Author: Kelly @ Butter and Thyme
Prep Time:

10 minutes

Chill Time:

1 hour

Cook Time:

6 minutes

Total Time:

1 hour 16 minutes

Yield:

8

-

12

egg rolls

1

x
Category:

appetizers

Method:

air fryer (optional), pan frying

Cuisine:

Chinese-American
8

oz

. cream cheese, softened at room temperature

1 tsp

. sugar

2 tsp

. soy sauce

¼ tsp

. Worcestershire sauce

¼ tsp

. garlic powder

½ tsp

. onion powder

½ tsp

. salt

¼ tsp

. pepper

¼

cup

green onions, thinly sliced

½

lb

. jumbo lump crab meat, drained/ dried to remove excess moisture

1

dozen egg roll wrappers*
Egg wash (1 egg + 2 teaspoon water) or water
Vegetable oil for frying method or nonstick spray for air fryer method
Instructions
Make the crab filling: in a large mixing bowl or bowl of a stand mixer, add cream cheese, sugar, soy sauce, Worcestershire, garlic powder, onion powder, salt, and pepper, and mix until totally smooth. Then, add in the green onion and crab and mix on low speed to evenly disperse. (You can use an electric mixer with a paddle attachment or mix by hand with a wooden spoon.) Chill the crab filling for at least 1 hour (up to 24 hours).
Form the egg rolls: working one at a time, add 2-3 tablespoons of crab filling in the center of each egg roll wrapper and brush the edges lightly with egg wash or water. Roll the wrapper gently but tightly around the filling in a log shape to seal.*
Pan-fry method: add 1-2 inches of oil to a Dutch oven or heavy-bottom saucepan and preheat the oil to 350 

°F

. Carefully add the egg rolls in batches of 3-4 at a time and fry for about 1-2 minutes on each side until golden brown. Be careful and watch closely, they splatter a lot especially when they're done (if they start to splatter a lot, remove them immediately). Drain the egg rolls on a plate lined with paper towels or a wire rack set.
Air-fry method: preheat the air fryer to 325 °F. Spray the air fryer basket with nonstick spray, add the egg rolls in batches of 4-6 at a time, and spray the egg rolls liberally with nonstick spray.* Cook the egg rolls for 3 minutes, then flip them over and cook for 2-3 more minutes until golden brown and heated through. Keep a close eye on them, the filling may leak if overheated!* 
Notes
This recipe makes approximately 8-12 egg rolls, depending on how much filling you use per egg roll.
For more detailed instructions on how to fold egg rolls, see the blog post above.

For the air fryer method: totally saturate the egg rolls with oil for best results. Instead of nonstick spray, you could brush oil on them with a pastry brush. 
Refrigerating the egg rolls before frying helps prevent them from leaking/exploding, since it takes the filling longer to heat up from cold while allowing the outside to get golden brown.
Keywords: crab rangoon egg rolls, air fryer crab rangoon egg rolls