I'm generally an indecisive person, which is probably why I love creating mashups of multiple foods I love (see also... s'mores chocolate chip cookies). In this case, probably my two favorite desserts of all time– creme brûlée + fudge brownies = these ridiculously decadent creme brulee brownies.
Creme brulee brownies are an amazing treat to celebrate a special occasion. They look impressive, but they're actually easier to make than you might think. And if using a blow torch sounds intimidating to you, I also include instructions on how to make these using the broiler setting in your oven.
And if you love rich and chewy fudge brownies, try out my other popular brownie recipe, Nutella brownies!
Jump to:
Ingredients
Here's what you'll need to make this Creme Brulee Brownie recipe:
Granulated sugar
Light brown sugar - adding a little brown sugar helps makes the brownies chewier, which I love. If you don't have it, you can replace it with additional granulated sugar and the brownies will still turn out great.
Eggs - this recipe calls for 2 whole eggs for the brownies + 5 yolks for the creme brûlée. The extra egg whites are great for making meringues or fun frothy cocktails!
Vanilla - I use pure vanilla extract for the brownies and vanilla bean for the custard, but you can substitute vanilla bean paste or additional vanilla extract.
Salt
Semisweet chocolate - or bittersweet chocolate if you like dark chocolate
Vegetable oil
Flour
Cocoa powder - I use Droste dutch-process cocoa for the brownies. Dutch-process cocoa is alkalized so it tastes a little less acidic. It also has a deeper brown color that makes baked goods look irresistible! But, you can use either dutch-process or regular natural cocoa in this recipe, and it'll still taste great!
Heavy cream
Cornstarch
Fine turbinado sugar - also known as superfine sugar or caster sugar. This is what I use for the brûlée topping to get the most evenly golden brown top, but you can also substitute regular granulated sugar.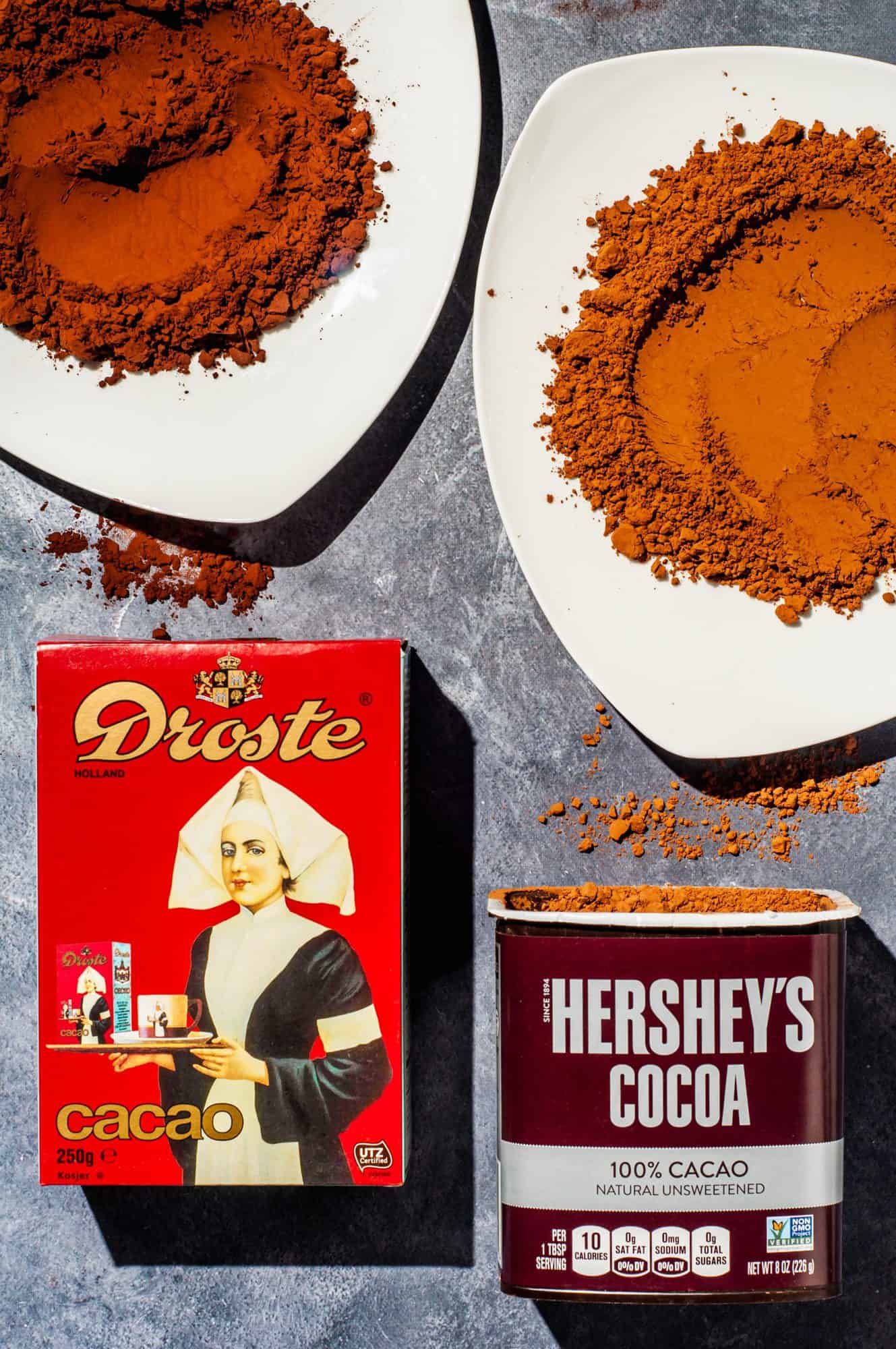 It's subtle, but if you look closely you can see the difference in texture. Superfine sugar feels similar to table salt in your hands, while granulated sugar has slightly larger crystals.
How to Make Creme Brûlée Brownies
We'll start by making one-bowl fudge brownies. I make them in a stand mixer, but you can also mix them by hand or with an electric handheld mixer.
Start by whisking the eggs with sugar, salt, vanilla, and water, until light and fluffy. This step incorporates air to give the brownies lift. Since there are no chemical leaveners in this recipe (i.e. baking powder or baking soda) it relies on mechanical leavening method by whipping the eggs.
Then, add the melted chocolate and oil. Finally, fold in the cocoa powder and flour. Do this step by hand to avoid over-mixing.
Pour the brownie batter into an 8x8 baking pan lined with parchment paper. See the notes in my Milk & Cereal Bars recipe for the easiest way to neatly line a pan with parchment paper.
Bake the brownies at 350 for about 25 minutes or until a toothpick comes out with a few moist crumbs. Slightly underbake the brownies for the most fudgy texture!
While you let the brownies cool, you can make the creme brûlée topping. First, heat the heavy cream and vanilla bean to a boil, then remove the pot from the heat. Mix the eggs with sugar, cornstarch, and a pinch of salt.
Now, carefully add the warm vanilla cream to the egg mixture a little bit at a time, whisking after each addition. You need to do this part slowly because the cream is hot, and you don't want the eggs to curdle.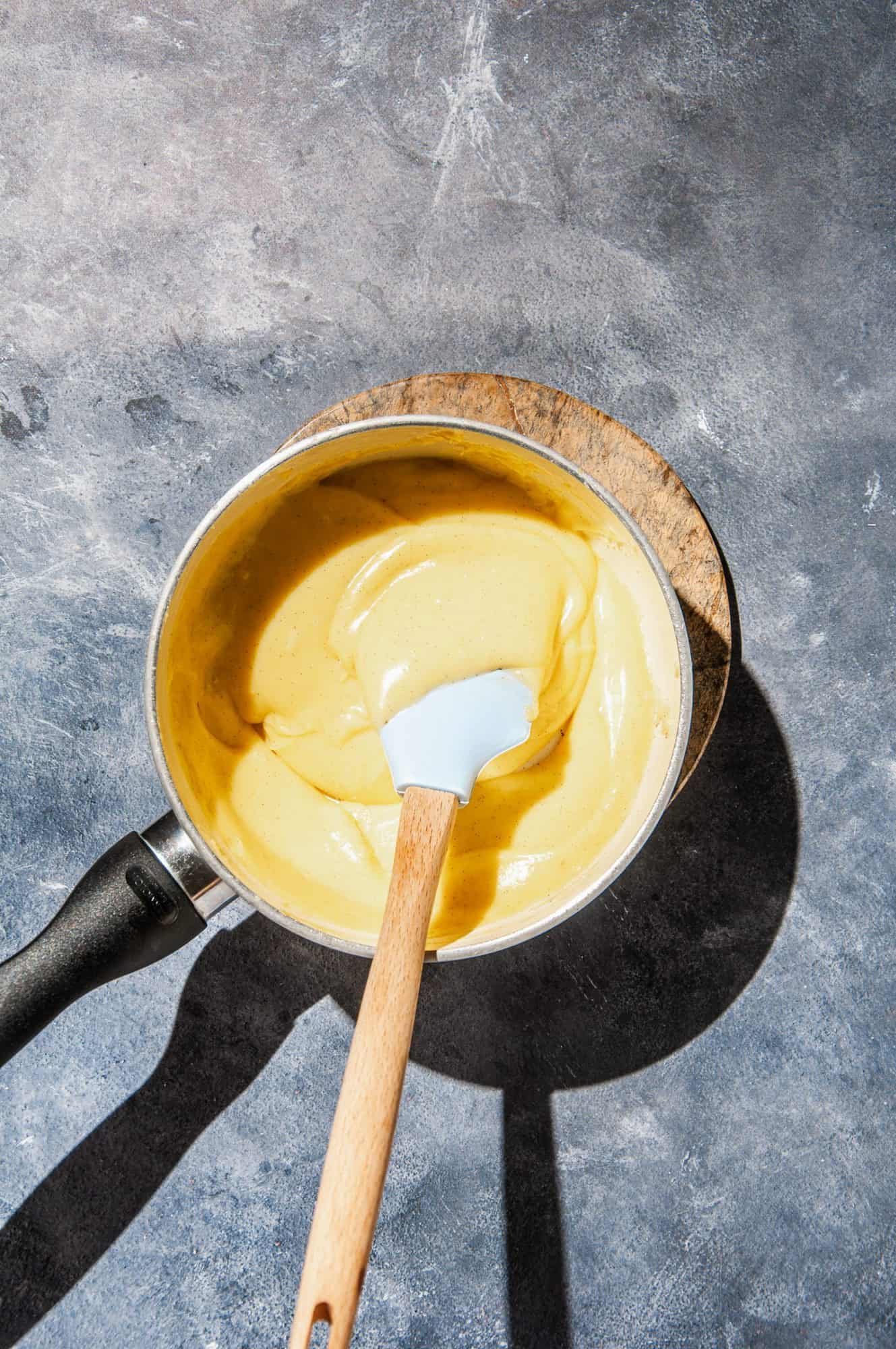 After all the cream is incorporated, return the mixture to the pot and heat until thickened.
Now, spread the creme brûlée mixture on top of the cooled brownies in an even layer.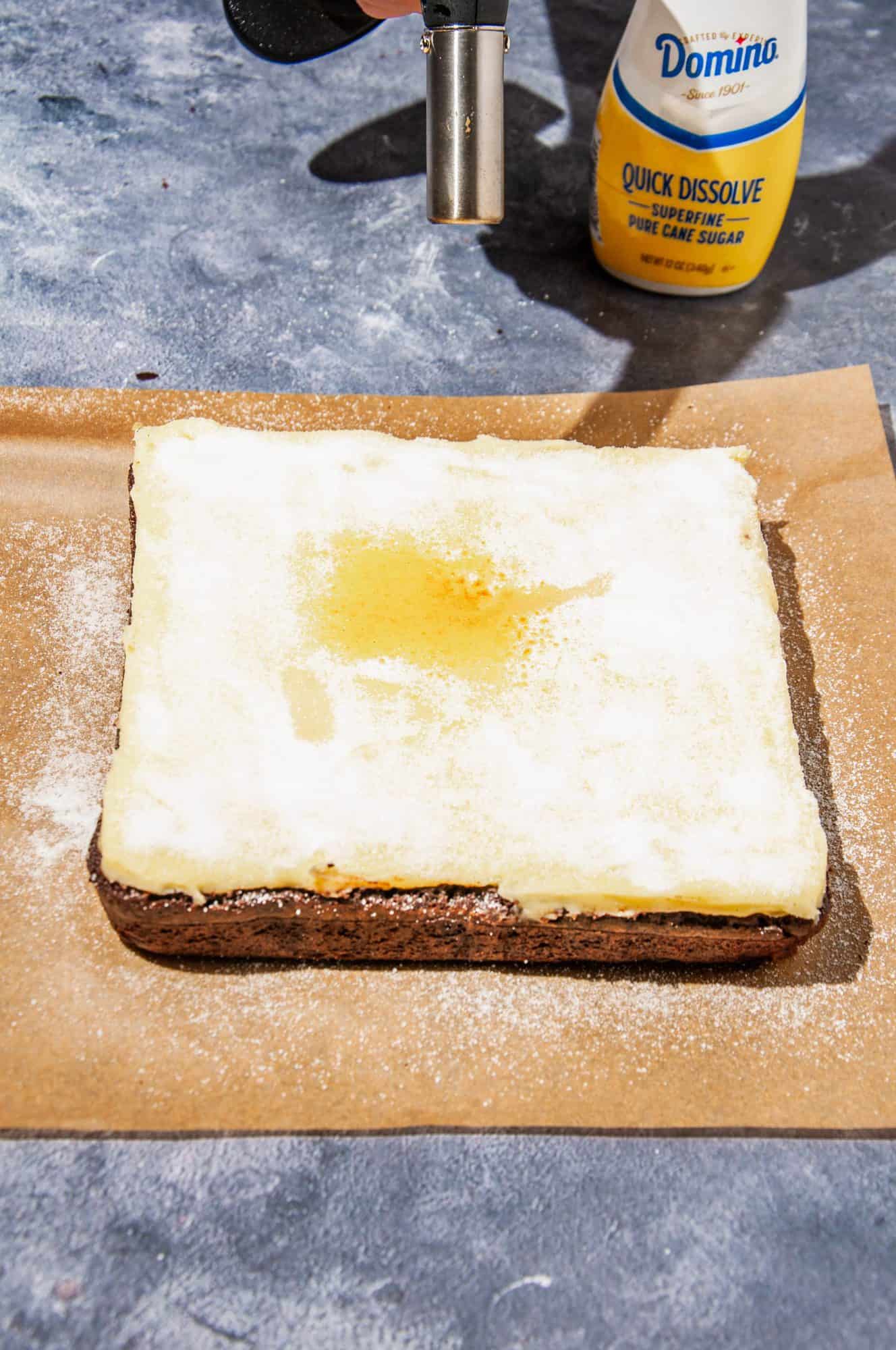 Once the creme brûlée layer is cooled and set (after a few hours in the fridge) sprinkle a thin, even layer of sugar over the top.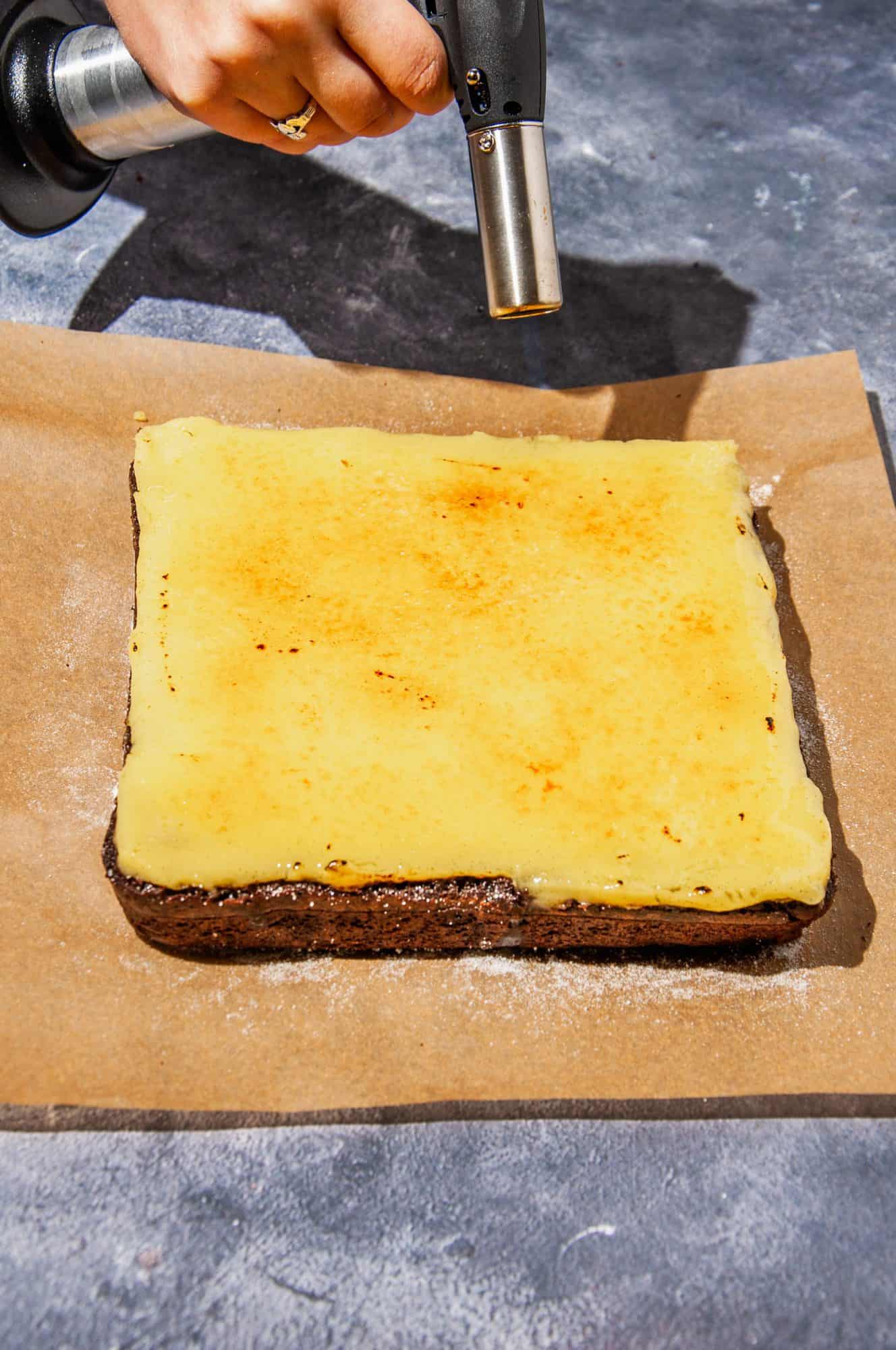 Melt and caramelize the sugar using a blowtorch. If you don't have a blowtorch, you can use your oven's broiler setting (see notes below).
Be careful! If you are using the broiler setting, first make sure that your pan is broiler safe. Glass pans could potentially shatter under the extreme heat of a broiler. I would start with the low broiler setting and check after a couple of minutes. Keep a close eye on it, because it will change color very quickly, and you don't want it to burn.
If you're using a kitchen blowtorch, you should hold it a few inches above the surface. Aim for constant slow movement back and forth. It will take a little bit of time for the sugar to turn the desired golden brown color, but if you do it too quickly or with too intense of a flame you risk burning some areas.
Variations
Use your favorite brownie recipe for the brownie portion of this recipe. This recipe is great for people who love fudgy, chewy brownies. For a shortcut, use boxed brownies! If I'm being honest, I LOVE boxed brownies. I purposely formulated my own brownie recipe to have a similar texture.
For the creme brûlée, try experimenting with different flavors! Vanilla is amazing, but one of my other favorites is coffee creme brûlée. Instead of adding a vanilla bean, steep the cream with coffee or espresso beans for 30 min. Here are some other fun flavor ideas to try:
Orange - add orange zest or orange liqueur like Grand Marnier
Lavender - when adding lavender to food, make sure it's culinary grade
Raspberry - spread a thin layer of raspberry jam on top of the brownies before topping with creme brûlée. Top with fresh raspberries!
Equipment
Here's the equipment you'll need to make this creme brulee brownie recipe:
Stand mixer, handheld mixer, or whisk and a mixing bowl - a mixer is useful to fully whip the eggs and dissolve the sugar in the brownies. It can be done by hand, but it's a lot more tiring!
8x8 baking pan - this recipe can also be doubled and made in a 13x9 pan, but it will take longer to cook through. If you're using the broiler-method for creme brûlée, make sure your pan is broiler safe. Or, you can slice the brownies, transfer them to an aluminum baking sheet, and then broil them individually.
Parchment paper - to line the pan. See the best way to line a pan with parchment here.
Small saucepan
Whisk
Rubber spatula
Offset spatula (optional) - it helps to spread the creme brûlée in an even layer, but you can also do this with a rubber spatula or butter knife.
Butane torch - these are relatively small and inexpensive, and they're so fun to use!
Technique: How to Split a Vanilla Bean
Time needed: 1 minute
Splitting a vanilla bean exposes the seeds for maximum flavor extraction. Here's how to do it step-by-step:
Cut vanilla bean in half

Use a paring knife to make a deep slit down the center of the vanilla bean.

Open pod to expose seeds

Use your fingers to gently open the sides, revealing the tiny seeds inside.

Scrape the seeds

Use a small offset spatula, a spoon, or the back of a knife to scrape the seeds from inside the vanilla bean.

Use the seeds and the pod for maximum flavor

Add the seeds to the cream for creme brûlée. Save the pod and throw that into the cream too for extra flavor extraction!
If you can't find vanilla beans at your local grocery store, they are easily available online. And they'll keep for about a year!
Storage Tips
Creme Brûlée Brownies are best eaten immediately after caramelizing the sugar. After you brûlée the tops, you can store them in the refrigerator for a few hours. But wait much longer than that, and the crunchy tops will begin to soften. Which isn't horrible, they just won't be quite as good.
For this reason, it's better to finish only the brownies you'll eat right away. You can store creme brûlée brownies without the crunchy sugar topping in the fridge for 2-3 days. When you're ready to eat them, top with sugar and quickly torch before serving.
FAQ
Is creme brûlée a custard or a pudding?

Traditional creme brûlée is a custard that's baked in a water bath. However, this recipe isn't traditional for two reasons: 1) it's not baked in a water bath and 2) it includes cornstarch.

Custards rely on baking to set because they do not include a thickening agent (like cornstarch). In this recipe I added cornstarch to help set the "creme brûlée" since we don't bake it, which technically makes it a pudding. Cornstarch also helps prevent curdling! It's just a minor difference, they are very similar in terms of taste and texture.

AND if you add a little more cornstarch to pudding and finish with butter, it becomes pastry cream. Which is what's used as the cream filling in treats like eclairs and Boston cream donuts.
How do you fix a broken custard?

This actually happened to me when I was testing this recipe, so I can say this works for sure! I'm still getting used to my gas stovetop, everything happens so much faster-- it went from perfect to curdled in a matter of literally 10 seconds. 

So naturally, I quickly Googled "how to fix a broken custard" and I was instructed to put the pan into cold ice water and whisk it vigorously. So that's what I did. But that wasn't working and my arm was getting tired. So I grabbed my immersion blender, and with the pan still in the ice water, I started to pulse the blender a few seconds at a time. It took a minute or two, but eventually it came back together! So if you have to do this, just be patient, and it should work eventually. 

Can I make creme brûlée without a torch?

Yes! You can make creme brûlée using a broiler instead of a torch. Many recipes will include instructions for this, since most people probably don't have a kitchen torch.
Does expensive vanilla make a difference?

Yes... sometimes. When vanilla is the star of the recipe, as it is in creme brûlée, I recommend splurging on real vanilla beans or a high quality vanilla bean paste. You can taste the difference!

But in most cases, like adding a splash to cookies or brownies to balance out chocolate flavor, I'll use any regular vanilla extract. Or if you get a high quality extract like this double strength pure vanilla extract, you can use about half as much and get the same results.
Print
📖 Recipe
Creme Brûlée Brownies
These creme brûlée brownies are the most ridiculously decadent brownies I've ever tasted!! The brownie layer is chocolatey, chewy and fudgy. That's topped off with a layer of smooth and creamy creme brûlée made with real vanilla beans! For the final touch, they're finished with a layer of sugar that gets melted and caramelized for a delicious crunchy topping.
Author: Kelly @ Butter and Thyme
Prep Time:

15 minutes

Chill Time:

3 hours

Cook Time:

30 minutes

Total Time:

3 hours 45 minutes

Yield:

9

large brownies (or

16

small brownies)

1

x
Category:

dessert

Cuisine:

French, American
Brownie Ingredients 
¾

cup

granulated sugar

¼

cup

brown sugar

2

eggs

1 teaspoon

vanilla

½ teaspoon

table salt

3 tablespoons

water

4

oz

. semisweet or bittersweet chocolate, melted and cooled slightly

⅔

cup

vegetable oil

½

cup

flour

½

cup

dutch-process cocoa powder (or sub. regular natural cocoa powder)
Creme Brûlée Topping Ingredients
2

cups

heavy cream

1

vanilla bean (or sub. vanilla bean paste or vanilla extract)

5

large egg yolks

2 tablespoons

cornstarch
pinch salt

⅓

cup

sugar
Fine turbinado sugar, for brûléeing (or sub. regular granulated sugar)
Instructions
Make the brownies: Preheat oven to 350 and line a pan with parchment paper. Combine the following in the bowl of a stand mixer fitted with the whisk attachment: sugar, eggs, salt, vanilla, and water. Whisk until light and fluffy and sugar is fully dissolved, about 3-5 minutes on medium speed. Add oil and melted chocolate. Add cocoa powder and flour and mix until just combined using a rubber spatula- don't over-mix! Pour batter into prepared pan, bake for ~ 25 min. (or until toothpick or cake tester comes out with a few moist crumbs) Let cool completely!

Make creme brûlée pudding mixture: Heat cream with vanilla bean and seeds until bubbling, about 5 minutes - let cool slightly. (Note: see above "How to Split a Vanilla Bean") While it's cooling, whisk together egg yolks, cornstarch, salt, and sugar in a small bowl. Slowly pour the warm vanilla milk into the egg mixture a little bit at a time, whisking after each addition, until it's all added. Return the mixture to the saucepan and cook over medium heat until it begins to bubble. Once it thickens, immediately remove the pot from the heat and continue to whisk for another minute to prevent curdling. 

Assemble brownies: spread the creme brûlée pudding mixture evenly on top of the cooled brownies. Refrigerate uncovered for at least 3 hours (or overnight). 

Top with sugar and brûlée! It's easier to cut the brownies first, then torch each brownie individually.
Notes
Make ahead instructions: Follow steps 1-3 and allow brownies to sit overnight. The next day, slice, top with sugar, brûlée, and serve. 
After bruleeing, I like to put the brownies back in the fridge for about 10 minutes so that the creme is on the cooler side. But not for much longer than that, or the crunchy top will start to soften. 
Keywords: creme brulee brownie recipe, brownies creme brulee