This post was originally published on February 16, 2022, and updated on April 8, 2023.
I am absolutely obsessed with all things Nutella! What's the only way to improve on brownies with Nutella in them? Add a layer of Nutella on top too!
These scrumptious Brownies with Nutella Frosting have Nutella in both the batter AND easy homemade Nutella frosting for a double dose of your favorite chocolate hazelnut spread. 
Naturally, I've tested a lot of variations of Nutella brownies over the years. And while almost all of them taste fantastic, I found they usually fell short of actual Nutella flavor. When Nutella is baked into a brownie, the flavor gets seriously muted, and you end up with what tastes like a normal chocolate fudge brownie.
My solution? Topping the brownies with a layer of delectable Nutella buttercream frosting. This way the Nutella flavor really shines through and it also adds an amazing creamy texture that just melts in your mouth. These Nutella Brownies are a must-try for Nutella lovers!!
Looking for more chocolate recipes?! Try my other popular dessert recipes, Creme Brûlée Brownies and Molten Lava Cakes!
Why You'll Love This Recipe
if you really love Nutella flavor, these are the best Nutella brownies, hands down. Since baking Nutella subdues the flavor, you really need some kind of unbaked Nutella topping for the full effect.
The Nutella brownies are super fudgy with that gorgeous crackly top!
The Nutella frosting is so easy to make and SO good, you'll want to eat it with a spoon!
Ingredients
Nutella - or any other brand of chocolate hazelnut spread. I use a healthy dose of Nutella in the brownie batter AND in the frosting, so make sure you have at least 1 ¼ cups.
Chocolate - I used a combination of bittersweet and milk chocolate for a flavor balance that I think compliments the intensity of the Nutella, but you can use whatever chocolate you have on hand. Use all bittersweet if you love dark chocolate, or you can use semisweet chocolate chips, or whatever combination, just keep it to 6 ounces total.
Butter – unsalted, or you can use salted and skip the added salt.
Sugar – By adding melted butter and chocolate when they're still slightly warm, it dissolves the granulated sugar for a super smooth brownie batter. If the sugar doesn't fully dissolve, the batter might be grainy or sandy.
Vanilla – enhances the chocolate flavor.
Salt – also a flavor enhancer.
Eggs – there aren't any chemical leaveners in this recipe (i.e. baking powder) so this recipe relies on whipping the eggs until frothy to create a little bit of volume.
Flour – just a little bit, since we want a fudgy (not cakey) brownie texture.
Powdered sugar – for the Nutella frosting.
Milk – I use whole milk to make the frosting as creamy as possible, but you can use whatever milk you have (it's only a couple of tablespoons). Even non-dairy milk like almond milk works.
See the recipe card for quantities.
How to Make Nutella Brownies
These Brownies with Nutella Frosting are pretty easy to make, you'll see. Let's start with the Nutella Brownies:
First, melt the chocolate chips and butter together. (I do this in the microwave in 30-second intervals. You can also use a double boiler). Once it's all melted and smooth, stir in the Nutella. Then set it aside to let cool slightly.
Meanwhile, combine the eggs and sugar in a large bowl. Whip with a whisk until light and fluffy. Add the vanilla and salt, then add the melted Nutella chocolate mixture. (Add slowly while whisking to temper the eggs and keep the batter nice and smooth.)
Finally, add the flour to the batter. Using a rubber spatula, gently fold the flour into the batter until combined. Try to avoid overmixing.
Pour the brownie batter into an 8x8 baking dish lined with parchment. Then bake the brownies for about 30 minutes.
Pro tip – To line a baking pan with parchment paper, cut 4 diagonal slits in the corner of the parchment paper so it fits neatly in the pan. Click on the link for the full explanation with step-by-step photos!
How to Make Nutella Frosting for Brownies
This Nutella frosting is super simple to make. You can use it on cupcakes or cookies too!
In the bowl of a stand mixer (or a large bowl with a handheld mixer) beat the butter until smooth and creamy. Then add the other ingredients and continue to beat until smooth.
Spread the frosting in an even layer on top of the cooled brownies. Try to get all the way to the edges so you get frosting in every bite!
This recipe makes just enough frosting for a modest layer on top of the brownies. I didn't want to go too crazy, since the brownies themselves are already so decadent.
If you LOVE frosting and want a thicker layer, you might want to make a double batch ◡̈
Variations on Frosted Nutella Brownies
These brownies taste great even without the frosting! So if you prefer, you can make the brownies and ignore the frosting portion of the recipe.
Or, you can top these brownies with any kind of frosting! Try using a vanilla hazelnut buttercream to really bring out the hazelnut flavor of the Nutella.
You can also choose to emphasize the hazelnut flavor by adding chopped, toasted hazelnuts. Add hazelnuts to the batter and/or put some crushed hazelnuts on top of the brownies with Nutella topping.
Equipment
Here are all the tools and equipment you'll need to make these brownies with Nutella frosting:
Mixing bowls – make sure you have one that's microwave-safe for melting the chocolate and butter.
Microwave (optional) - I use my microwave to melt the chocolate, but if you don't have one, no problem! You can use a double boiler setup instead, which I'll explain in the techniques section below.
8x8 baking dish - the one I have is a nonstick baking dish. So you could probably get away without the parchment layer. But I like to use parchment to easily remove the brownies from the pan before frosting and slicing.
Stand mixer with paddle attachment (optional) - this is what I use to make the frosting, but if you don't have one, you can mix by hand or use a handheld electric mixer.
Rubber spatula
Whisk
Parchment paper
Oven mitts - or you can use a durable kitchen towel to handle the hot pan out of the oven.
How to Store Nutella Brownies
These will be fine at room temp for a couple of days, or you can store them in the refrigerator for up to 5 days. Although, I doubt they'll last that long without anyone eating them!
The best way to store them is by placing them back in the baking pan and covering it tightly with aluminum foil. You want to avoid stacking the brownies because of the frosting. I also love using my cake and cupcake storage container to store any type of frosted baked goods in a single layer.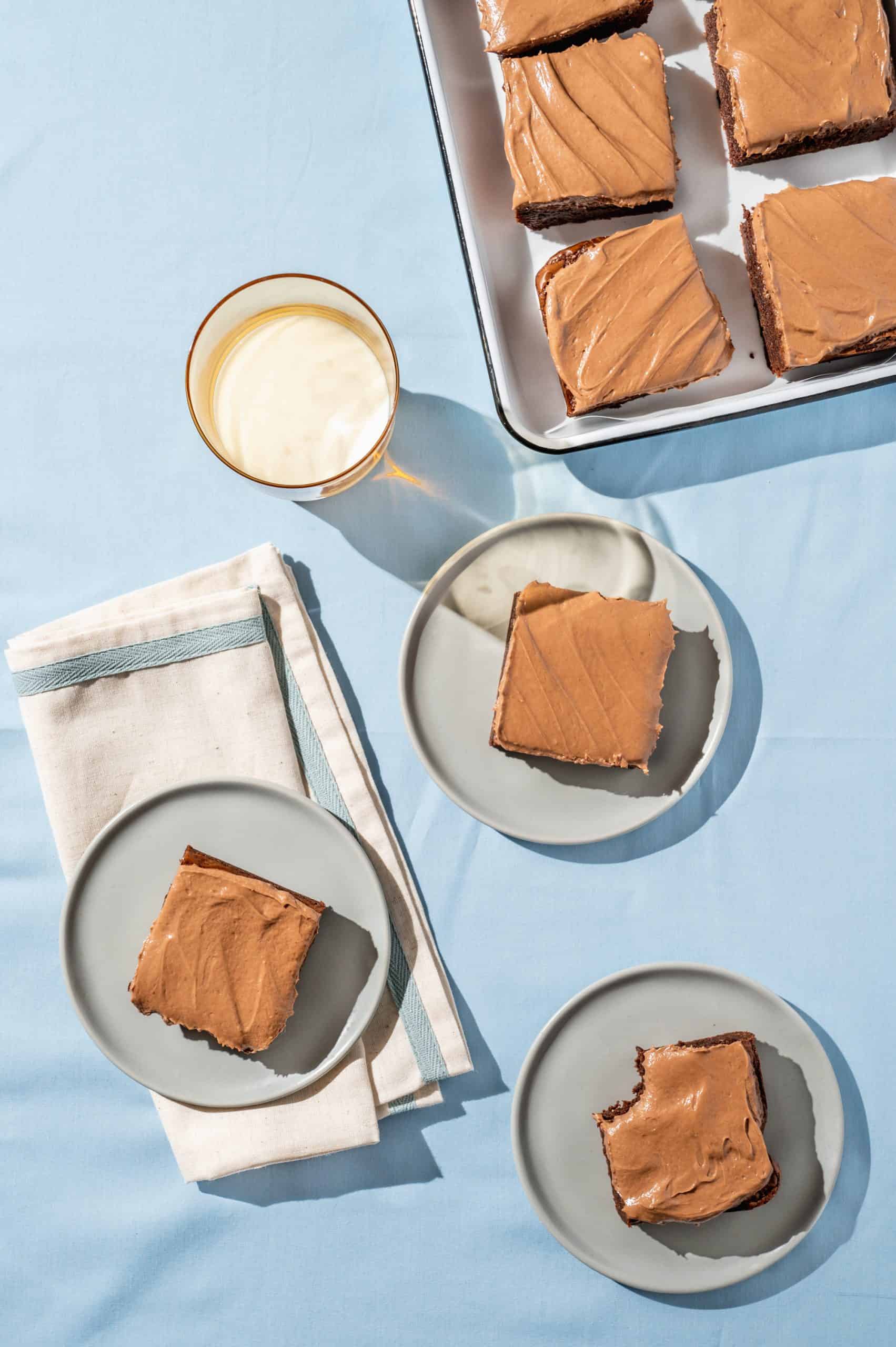 Technique: How to Melt Chocolate
Because chocolate has the tendency to scorch, it needs to be melted slowly and carefully so it doesn't burn. If you've ever had chocolate turn a weird chalky consistency in the microwave, you've probably overheated it.
It's also important to avoid adding any water or liquid to the chocolate because it will seize immediately. Even with just a couple of drops! This means not covering it with a lid while it's being heated, because that can create steam that drips into the chocolate. Also, make sure your dishes are clean and dry before starting.
Method 1: Microwave
Chop chocolate into small pieces (if using bars instead of chips). Place into a microwave-safe bowl, and microwave on high power for 30 seconds at a time, stirring after each interval. Repeat until the chocolate is fully melted and smooth.
Method 2: Double Boiler
To make your own double boiler setup, you will need a heatproof metal or glass mixing bowl and a small pot. Something like this insert with a handle works perfectly! But you can also use a regular bowl. You want the bowl to sit on top of the pot so that it dips into the pot slightly but is a few inches away from touching the bottom.
Fill the saucepan with about 2 inches of water and bring it to a gentle simmer over medium-low heat-- it should start to create steam and bubbles but should not be at a full boil. Then, place the chopped chocolate into the bowl and place the bowl on top of the simmering water. Make sure it's not actually touching the water. If it is, you can dump some of the water out, and get a larger/ wider bowl.
Top tips
Don't overcook the brownies! It's better to take them out when they are slightly underdone so they remain fudgy after they cool.
To get clean brownie slices, use a sharp slicing knife and wipe it off with a slightly damp towel in between each cut. This is not necessary but will make them look more professional (if that's what you're going for).
FAQ
What is Nutella made out of?
Nutella is a thick, smooth spread made out of sugar, palm oil, hazelnuts, milk powder, cocoa powder, vanilla, and soy lecithin (an emulsifier, which preserves the creamy texture and prevents the oil from separating).
Does melted chocolate need to be tempered?
No, you don't need to temper chocolate that's being added to a batter or dough (like in this case). It's more important for candy-making or dipping things in chocolate to get a hard shiny coating that is more melt-resistant.
Print
📖 Recipe
Double Nutella Fudge Brownies with Nutella Frosting
These Brownies with Nutella Frosting have Nutella in both the batter AND the easy Nutella frosting for a double dose of your favorite chocolate hazelnut spread. 
Author: Kelly @ Butter and Thyme
Prep Time:

15 minutes

Cook Time:

30 minutes

Total Time:

45 minutes

Yield:

16

brownies

1

x
Category:

dessert

Method:

baking

Cuisine:

American, Italian
BROWNIES
4

oz

. bittersweet chocolate, chopped

2

oz

. milk chocolate, chopped

6

oz

. unsalted butter, cubed

¾

cup

Nutella

⅔

cup

granulated sugar

2

eggs

1 teaspoon

vanilla

¼ teaspoon

salt

¾

cup

flour
NUTELLA FROSTING
¼

cup

unsalted butter, softened

⅓

cup

Nutella

¼ teaspoon

vanilla

1

cup

powdered sugar

2 tablespoons

whole milk
pinch salt
Instructions
Make brownies: Preheat oven to 350 

°F

. Line an 8x8 baking dish with parchment paper (or aluminum foil and spray lightly with non-stick cooking spray).
Melt the chocolate together in the microwave in 30-second intervals, stirring every 30 seconds, until almost melted. Add butter and microwave for another 30 seconds, and stir until completely melted. Stir in Nutella, and let cool slightly.
In a large bowl, whisk together the eggs and sugar until frothy and well combined.
Add the vanilla and salt. Then, slowly incorporate the warm chocolate mixture. Gently stir in the flour by hand, careful not to overmix. 
Bake brownies for approximately 30 minutes, or until a toothpick comes out with a few moist crumbs.
Make the Nutella frosting: in a stand mixer with the paddle attachment, cream butter until smooth. Add other ingredients and beat until smooth.
Let brownies cool completely before frosting and slicing.
Notes
Don't overcook the brownies! It's better to take them out when they are slightly underdone so they remain fudgy after they cool.
I like using a combination of milk chocolate and bittersweet chocolate for a flavor intensity that compliments the Nutella. But you can substitute all bittersweet, semisweet, or whatever you have on hand.
Keywords: nutella brownies with frosting, nutella frosted brownies, nutella brownies with nutella frosting, brownies with nutella topping