You know Totino's Pizza Rolls, those little bite-sized pizza pockets in the freezer aisle? I used to LOVE them as a kid, so I set out to create the BEST homemade pizza rolls. This pizza roll recipe is easy to make too (with a few shortcuts) and infinitely flexible with all of your favorite pizza toppings ◡̈
So let's start with Totino's Pizza Rolls. I tried them again recently and TBH they weren't even that good. They definitely didn't live up to my memory of them.
When I looked at the ingredient list, the first thing I noticed is that it was VERY long. The second thing I noticed is that they're filled primarily with imitation mozzarella cheese. And the "pepperoni seasoned pizza topping" had a long list of questionable ingredients too...
I thought about making homemade dough, but that's a lot of work. So instead, I used store-bought egg roll wrappers for these semi-homemade pizza rolls. They're also perfect for making crab rangoon egg rolls!
Homemade pizza rolls make an excellent appetizer. I like to serve them as part of a snack spread along with Asian grilled chicken wings, perfect for football season!
Jump to:
Why You'll Love This Recipe
Natural ingredients! Once you look into the ingredient list on the pizza roll box, you'll understand why I prefer to make my own instead.
It's super flexible-- fill them with your favorite pizza toppings! For example, I'll show you how you can make sausage pizza rolls if you prefer, a fan-favorite flavor that's been discontinued by Totino's.
These semi-homemade pizza rolls use store-bought wonton wrappers or egg roll wrappers to make the process easier.
Kids love it, and it's full of nostalgia for adults! P.S. If you're into that sort of thing, check out my thin mints and Creamsicles recipes.
Ingredients
Here's what you need to make this homemade pizza rolls recipe:
Egg roll wrappers or wonton wrappers - you can find them in the refrigerated section of the grocery store, usually next to tofu products. Egg roll wrappers are made from a simple dough that usually contains flour, water, and sometimes (but not always!) egg. If you prefer to make your own, here's an authentic Chinese egg roll wrapper recipe you can use.
Mozzarella cheese - you'll want to use low-moisture shredded mozzarella for this recipe, rather than fresh mozzarella, which has a high water content.
Pizza sauce - marinara sauce, or any red tomato sauce will work.
Pepperoni - or whatever pizza toppings you choose, chopped into small pieces. Any raw toppings (like peppers and onions, or ground Italian sausage) should be cooked, drained, and cooled, before adding to the filling.
Vegetable oil - or you can use any neutral frying oil with a relatively high smoke point (i.e. canola, grapeseed, peanut). You can also use nonstick oil spray for the air fryer method of cooking.
See recipe card for quantities.
How to Make Homemade Pizza Rolls with Wonton Wrappers
Here, I'll show you how to assemble these easy pizza rolls with wonton wrappers (or egg roll wrappers) step-by-step: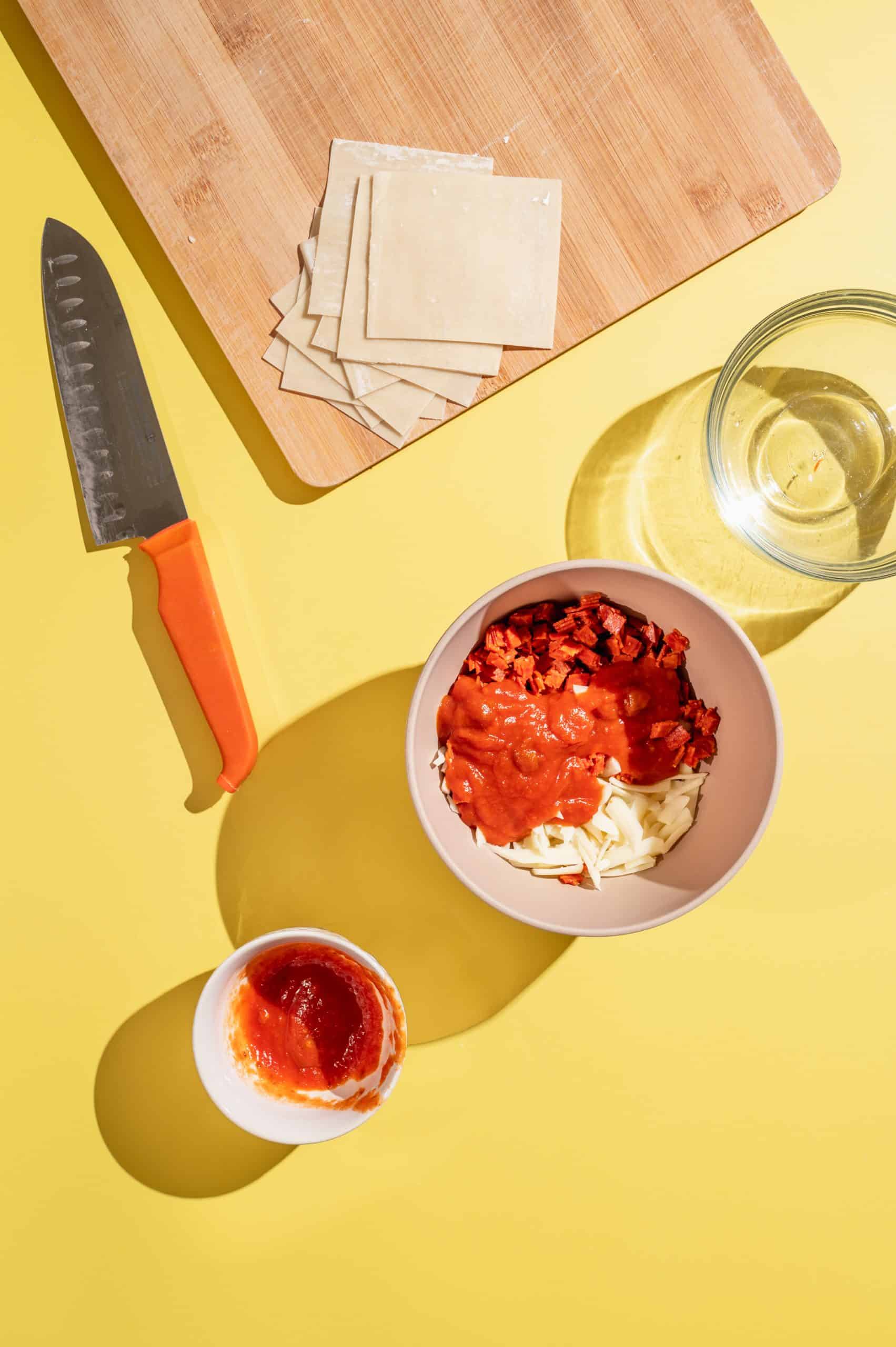 First, prepare the wrappers and the filling. Cut egg roll wrappers into quarters or wonton wrappers (which are smaller) in half. To make the filling, combine the cheese, tomato sauce, and pizza toppings in a mixing bowl.
Working 1 or 2 at a time, place a heaping teaspoon of filling in the center of each cut wrapper. Keep the other cut wrappers in a ziptop bag or under a damp paper towel to keep them from drying out while you're working.
Put a few tablespoons of water in a small cup or bowl. Dip your finger in the water and moisten the outer edges of the wrapper. Then, carefully fold the wrapper in half over the filling and press down to seal.
For an extra tight seal, I like to double-enforce the edges with an extra shallow fold. First, take the two short edges, moisten with a little more water, and fold over by about ⅛ inch. Then, do the same thing with the long edge (bottom).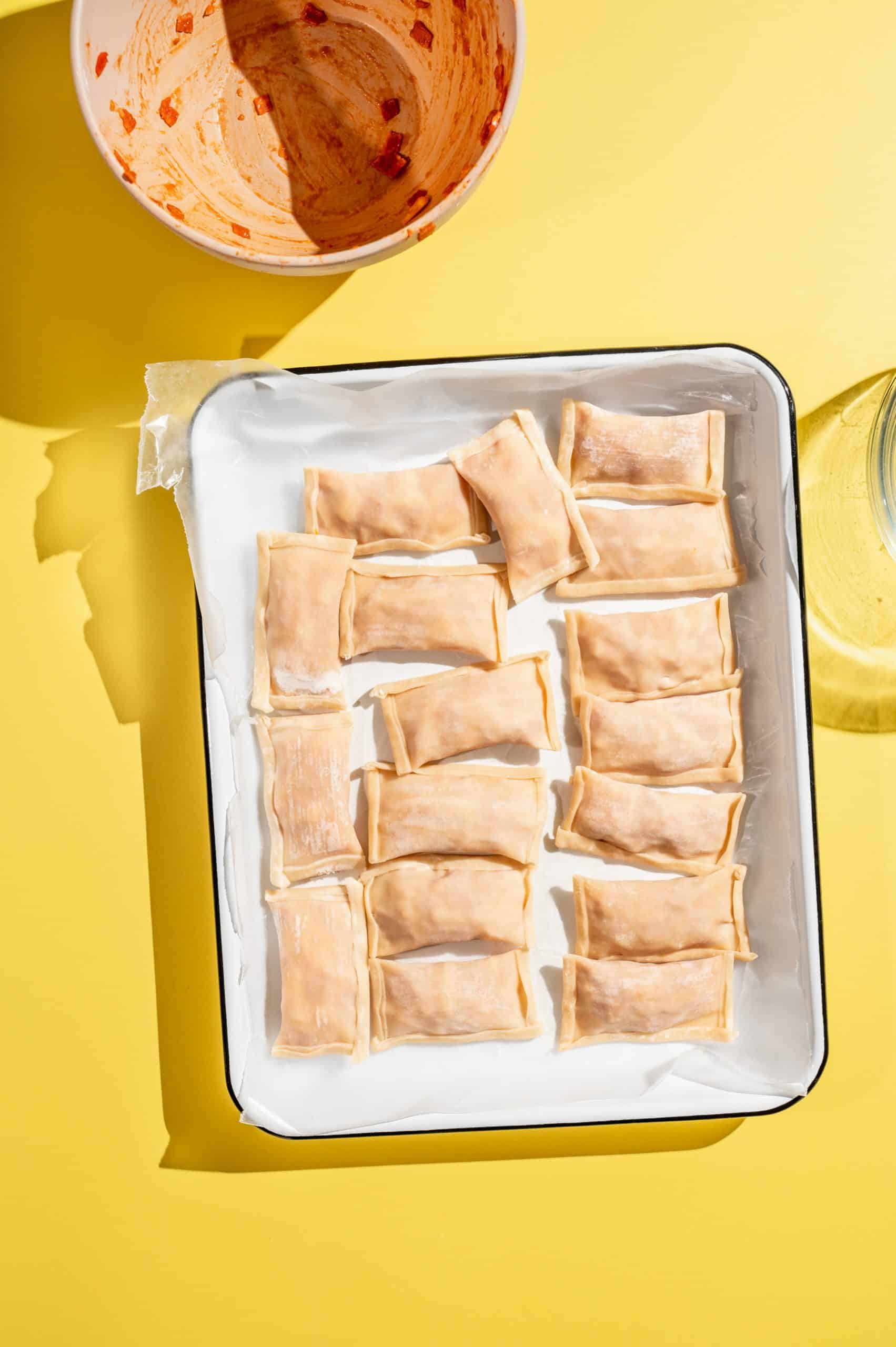 Repeat the process until you have used up all of the filling. This amount of filling should make approximately 16-20 pizza rolls. The amount depends on the size of the wrappers and the amount of filling you're able to use per pizza roll.
Place the pizza rolls on a tray lined with wax paper and cover them loosely with a damp paper towel until ready to fry!
Top tip
For easier assembly, don't overstuff the pizza rolls! I know it's tempting to fill them up as much as possible, but they'll be a lot harder to roll without breaking if there's too much filling. (And if they're not sealed as tightly, or if there are holes in the wrapper, the filling may leak.)
Frying Instructions
I tested this recipe a lot of times with different frying methods. And my recommendation for the best pizza rolls is pan frying.
Unfortunately, the air fryer pizza rolls were always still somewhat doughy when the cheese filling was fully heated. Cooking them in a pan is the best way to get a crispy texture. Then you can store them in the fridge or freezer and pop them in the air fryer when you're ready to eat them!
But for those who don't mind them being less crispy, I've included the air fryer option here too.
To pan fry: in a large skillet, add ⅛ to ¼ of an inch of oil. Once the oil is hot, carefully add a couple of pizza rolls at a time and fry until golden brown and crispy. This takes only about 1 minute on each side!
To air-fry: preheat the air fryer to 300 °F. Saturate the pizza rolls with nonstick spray (or brush a thin layer of oil on both sides). Then place them in the air fryer tray and cook for about 5-6 minutes.
Since these pizza rolls cook up quickly, you have to work fast and keep a close eye on them. For either method, take them out as soon as they start to puff up. If not, they may start to leak out filling.
Variations
The best part of making your own pizza rolls is you can fill them with whatever toppings you like! Here are some of my favorites:
Black olives - make sure to thoroughly drain and dry canned olives.
Mushrooms, peppers and/or onions - finely chopped and lightly sautéed.
Italian sausage - you can cook sausage links and then chop them into small pieces. Or cook up some loose ground sausage. Either way, the sausage should be fully cooked and cooled. Also, drain or blot any excess oil before adding to the filling.
You can also easily make a vegetarian or vegan version of this popular snack food using this recipe. Just make sure all the ingredients are vegetarian (or vegan). Here are some guidelines:
Vegetarian pizza rolls - use a meat substitute (like vegetarian sausage) or stick to veggies (mushrooms, peppers, and onions would be delicious!)
Vegan pizza rolls - first, make sure the egg roll wrappers are vegan (store-bought wrappers usually are!) Use a vegan cheese substitute instead of mozzarella for the filling. And of course, stick to veggies or other vegan topping options.
Equipment
No specialty equipment for this recipe! Here's everything you might need to make your own pizza rolls (a lot of this is optional, but helpful to have):
Cutting board and knife - to chop the toppings. Kitchen shears are also great for cutting egg roll wrappers and pepperoni into tiny pieces!
Cheese grater - if you're shredding your own cheese. Although, I use pre-shredded mozzarella here for its lower moisture content.
Spoon
Large skillet - anything 8-12 inches in diameter will work well. You also want to have a bit of a lip on it to contain oil splatter. I recommend Tri-ply frying pans, meaning they're constructed of stainless steel layers surrounding an aluminum core. This way, heat is distributed more evenly. No hot spots for safer pan frying!
Fork - since these little pizza rolls are delicate, I prefer to use a fork for flipping them (as opposed to tongs). You can also use a heatproof slotted fry spoon if you prefer.
Pastry brush (optional) - a thin pastry brush be used for brushing water on the edges of the wrappers to seal them. Or, brushing on oil for the air fryer method.
Air fryer (optional) - did you know an air fryer is essentially just a mini convection oven? This is the model I have -- it's an air fryer + toaster oven in one!
Thermometer (optional)- helpful to check the oil, especially if you're nervous about frying. However, you can make this recipe without a thermometer if you rely on visual cues. For example, the oil should lightly sizzle immediately after adding the pizza rolls. If it doesn't sizzle, it's a little cold. And if it spatters like crazy, you probably want to turn it down.
Storage & Reheating
This is a great make-ahead recipe! You can store the fully cooked pizza rolls in the fridge or freezer and quickly reheat them. My preferred way to reheat pizza rolls is using my air fryer, so I don't have to use too much oil.
To reheat pizza rolls in the air fryer:
From refrigerator: air fry at 375 °F for about 3 minutes.
From frozen: air fry at 375 °F for about 4-5 minutes.
In under 5 minutes, you can have a delicious, filling snack ready to go!
Be careful-- just like the Totino's pizza rolls, these get VERY hot inside. Let them sit for at least 1-2 minutes before serving so you don't burn your mouth!
Store the homemade pizza rolls in a Tupperware or Ziptop bag. They will keep for about 4 days in the refrigerator or up to 4 months in the freezer.
If you don't have an air fryer, reheat the pizza rolls in your oven (use the convection setting if possible). Or, reheat them in a pan with a tiny bit of oil.
FAQ
Are sausage pizza rolls discontinued?
Yes, in 2021, Totino's sausage pizza rolls were discontinued. That's why this recipe is great-- you can make your own sausage pizza rolls! Substitute cooked ground Italian sausage for the pepperoni. Or use both for a meat lover's special!
Egg roll wrappers vs. wonton wrappers
Store-bought egg roll wrappers and wonton wrappers are made from very similar wheat doughs, so they can be swapped for one another in most applications. The biggest difference is their shape. Wonton wrappers are smaller and usually rectangular or round, while egg roll wrappers are larger and usually square.
Are egg roll wrappers vegan?
Sometimes. Most widely available brands of egg roll wrappers (like the popular Nasoya brand) are vegan (so they don't contain egg). Some brands do contain eggs though, as do many homemade recipes. So be sure to check the ingredient label!
Print
📖 Recipe
Easy Homemade Pizza Rolls
These delicious copycat Totino's Pizza Rolls use store-bought wonton wrappers. Easily customize them by filling them with your favorite pizza toppings!
Author: Kelly @ Butter and Thyme
Prep Time:

20 minutes

Cook Time:

5 minutes

Total Time:

25 minutes

Yield: approximately

16

pizza rolls

1

x
Category:

Appetizers & Snacks

Method:

air fryer, pan frying

Cuisine:

American, Italian
¾

cup

low-moisture mozzarella, shredded

¼

cup

pizza sauce (or marinara sauce)

½

cup

pepperoni, finely chopped (or substitute cooked ground sausage or whatever toppings you want!*)

4

egg roll wrappers, cut into quarters (or wonton wrappers cut in half)
Vegetable oil for frying (or nonstick spray for air frying)
Instructions
Make the pizza roll filling: combine shredded mozzarella, pizza sauce, and pepperoni (or other toppings) in a mixing bowl and stir to combine. 
Assemble the pizza rolls: place 1 or 2 small egg roll wrappers on a clean surface. Then, place 1-2 teaspoons of filling on the center of each wrapper. Dip your finger or a small pastry brush in water, and moisten the edges of the wrapper around the filling. Then carefully fold each wrapper in half and press around the edges to seal*. Repeat the process with the rest of the egg roll wrappers and filling.
To pan fry (recommended): add oil to a large skillet to cover the bottom by at least ⅛ inch and set over medium heat. Once the oil is hot (300 °F) carefully add a couple of pizza rolls at a time and fry until golden brown and crispy, about 1 minute on each side. Remove the pizza rolls from the oil as soon as they start to puff up and drain on a paper towel.
To air-fry: preheat the air fryer to 300 °F. Saturate the pizza rolls with nonstick spray or brush a thin layer of oil on both sides. Then place them in the air fryer tray and cook for about 5 minutes. 
Let the pizza rolls sit for 1-2 minutes before serving.
Notes
For more topping suggestions, see "Variations" in the blog post above. 
For visual instructions on how to fold and shape the pizza rolls and double-enforce the edges, see step photos in the blog post above. 
Keywords: pizza rolls with wonton wrappers, homemade pizza rolls in air fryer, air fryer pizza rolls homemade, homemade pizza rolls air fryer